I am obsessed with these Crispy Oven Roasted Baby Yukon Potatoes, or in my opinion fries. Seriously these little potatoes get all crisp and salty on the outside and creamy and tender on the inside. The perfect side dish for just about anything. Plus they take very little effort to make, so they are made a lot at our house.
I like to toss them in some sort of fresh herb when they are done like minced parsley or chives. And of course just like a fry they are great dunked in ketchup.
So in a time before The Schmidty Wife I used to make crispy baby potatoes all the time but the old way I used to make them was so much work. I would boil them whole until almost done, cut them in half and then get out the cast iron skillet and crisp them up in the skillet, too much work. Then I discovered the sheet pan method, albeit kind of by accident but I have continued to go back to this method time and time again.
The Ingredients
Baby Yukon Gold Potatoes or Yukon Creamer Potatoes, these little guys are so smooth and creamy and delicious, they basically melt in your mouth. So when the edges get nice and crisp you can imagine, basically a French fry, but almost maybe even better than a fry, if that is possible. The Yukon Potato is known for its yellow flesh and it's thin skin that is perfect for almost all cooking methods.
Olive oil, I love what the mild buttery taste of olive oil brings to this dish. The oil keeps these potatoes moist and is responsible for giving the potatoes its crispiness. If you don't want to use olive oil, a neutral oil like vegetable or canola oil would also work well.
Salt and pepper, what would we do without salt and pepper? Did you know that salt has played a huge roll in history, in fact it has at points been used as currency. Well in this recipe I recommend a nice sea salt or pink Himalayan salt opposed to just table salt. Same goes for pepper, fresh ground black pepper also does these potatoes justice.
That's it. Unless if you count adding a herb as a garish. I often will run out back and grab a couple of chives to toss with the potatoes or chop up some parsley. It gives it a little bit of freshness if that is what you are looking for.
The Method
So to get these Crispy Oven Roasted Baby Yukon Potatoes the trick it to not toss during cooking. The potatoes will be cut in half, tossed in the oil, salt, and pepper. They will then be spread out to a single layer in the sheet pan flesh side down, so that the skin of the potato is faced up. By keeping the potatoes face down in the sheet pan in the oil, it gives them time to cook and get crisp against the hot surface, much like you would crisp the potato in a skillet. By not touching or tossing them you let that crispness build up that you otherwise wouldn't if you stopped and tossed them halfway.
So easy right?! These Crispy Oven Roasted Baby Yukon Potatoes make a perfect side to almost every dish. I like to replace them in situations where I would otherwise make fries. Perfect with burgers, sandwiches, and roasted meats.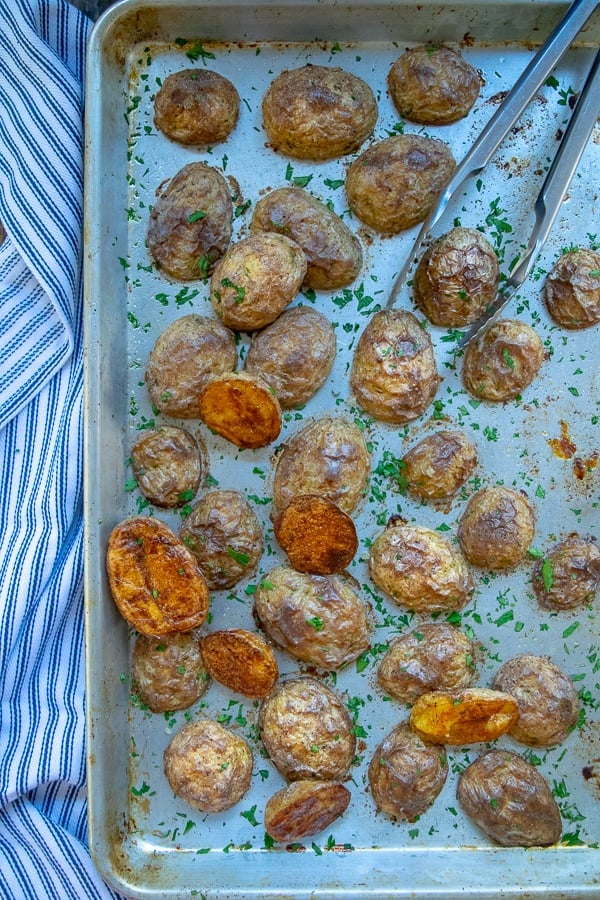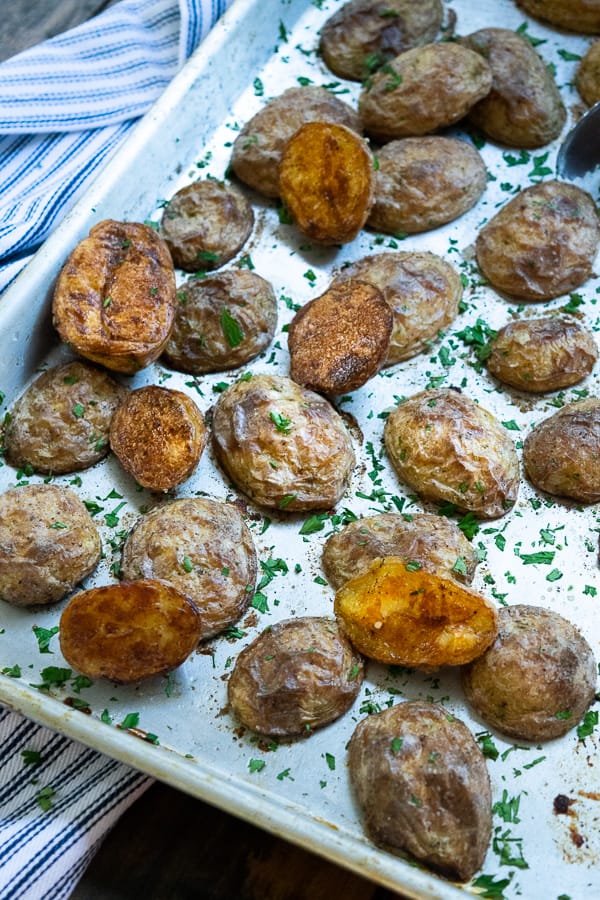 TIPS & TRICKS
• You can add other spices or herbs to the potatoes to cook, a seasoned salt would be good, so would adding chives before cooking
• This method does work for other types of baby potatoes as well, not just Yukon gold
• If you don't have great sheet pans yet, I recommend Nordic Ware Baker's Half Sheet Pans
Yield: 4 servings
Crispy Oven Roasted Baby Yukon Potatoes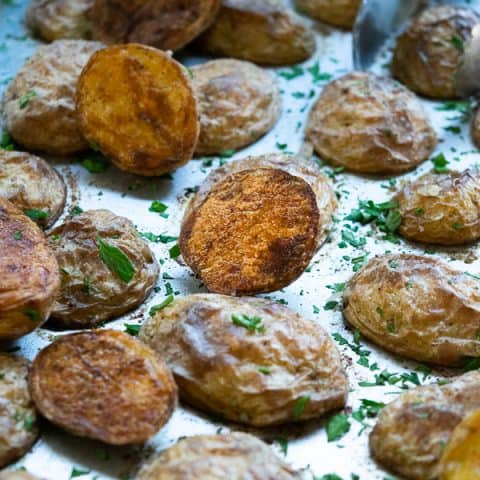 crisp baby Yukon potatoes made in the oven
Total Time
1 hour
5 minutes
Ingredients
2 pounds baby yukon potatoes (yukon creamer potatoes)
2 tablespoons olive oil
1/2 teaspoon sea salt
1/2 teaspoon fresh cracked black pepper
Instructions
Preheat oven to 350º F. Half each of the potatoes and add to a sheet pan.
Drizzle sheet pan with olive oil, salt, and pepper. Toss to combine ensuring all the potatoes are covered in oil.
Spread potatoes out in a single layer and lay the cut side down on the sheet pan so that the skins are facing up.
Transfer sheet pan to the oven and bake 50-60 minutes.
Serve potatoes immediately. Best garnished with fresh herbs like parsley or chives and served with ketchup.
Notes
Nutritional data is automated, final nutritional information will depend on ingredients used and any changes made.
Recommended Products
As an Amazon Associate and member of other affiliate programs, I earn from qualifying purchases.
Nutrition Information:
Yield:
4
Amount Per Serving:
Calories:

198
Total Fat:

7g
Cholesterol:

0mg
Sodium:

220mg
Carbohydrates:

40g
Fiber:

3g
Sugar:

2g
Protein:

5g
Peace & Love
Lauren, The Schmidty Wife
P.S. Need a main dish to go with these Crispy Oven Roasted Baby Yukon Potatoes? Check out my Crockpot Rotisserie Chicken or my Prosciutto Pesto Burger.
Please note that my links above may be affiliate links, and I will earn a commission if you purchase through these links. I recommend them because they are helpful, and are companies that I trust, not because of the commissions that I may earn from you using these products.