To me bacon and blue cheese is one of those quintessential flavor combinations that just always will go together, whether on a wedge salad, stuffed together in chicken, or with a pork chop. The saltiness from the bacon and the tanginess from the cheese are just perfection. Now throw in a sweet apple and BOOM, Flavor Town (as Guy Fieri would say). Now I could easily stuff this flavor combo into a pork chop but why go through all that work? Introducing Apple Bacon Blue Smothered Pork Chops.
Made in one skillet this dinner is ready to go in half an hour, and packs so much flavor you won't believe how easy it is to make. This recipe also boasts a simple list of ingredients, let's take a look.
The Ingredients
Pork chops, go for the bone in variety (although boneless would work), the meat around the bone is usually the tastiest. Pork chops are a great weeknight dinner option, cheap, cook fast, and great tasting. These pork chops will get seared on the stove top before being transferred to the oven to finish cooking.
Apples, with a touch of cinnamon, diced apples bring a touch of freshness, sweetness, and fall flavor to this dish. Go with a hard variety apple so it doesn't get to mushy while cooking, like a honey crisp of gala apple. The apple will be diced into bite size pieces then sprinkled in cinnamon Just enough cinnamon to bring flavor to the dish but not to much that it will overpower the other flavors of the dish.
Bacon, topping your pork in more pork!
Blue Cheese, everyones favorite mold right?! I guess I have always enjoyed blue cheese so it is hard for me to believe that some people don't enjoy it. Even if someone "didn't like" blue cheese they might find hard to resist in this dish. melted overtop the pork chop, it brings the perfect tang to offset the bacon and apples.
Lastly, Balsamic Vinegar. I think one thing that is often missing from this flavor combination is a touch of acid. Just a drizzle of balsamic vinegar is that secret to this delightful dinner. That smash of acid brings in the final balance to this complexly flavor but easy to make dish.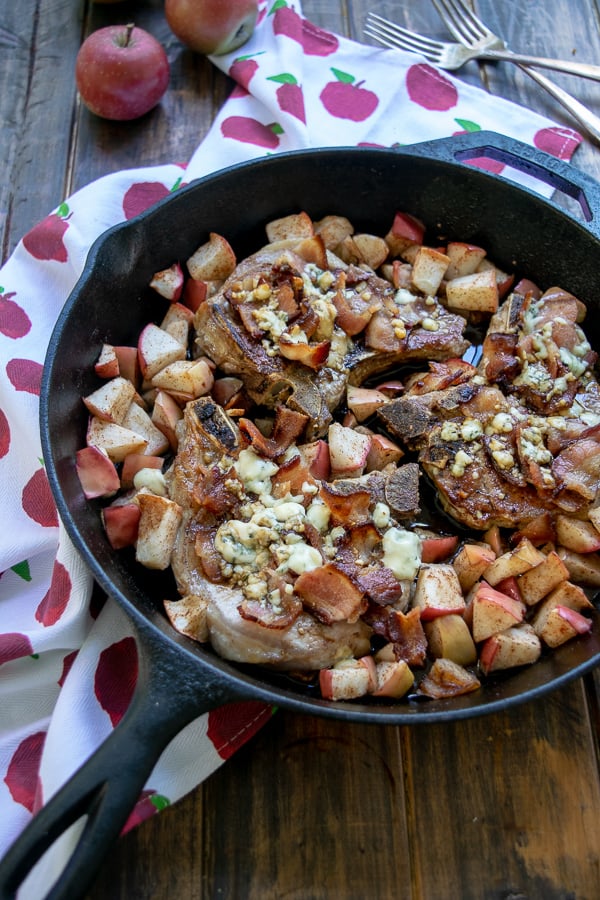 The Method
The bacon is cooked to crisp on the skillet. Then using residual bacon grease the pork chops are then seared on the stove top so each gets some flavorful browning. Apples are added around the pork chops and the bacon is crumbled onto the pork along with the blue cheese. A quick drizzle of balsamic vinegar and the skillet in ready for the oven. The pork finishes cooking in the the oven for about 10 minutes, the cheese gets all melty, and all of the flavors blend together.
Such a simple meal right? Apple Bacon Blue Smothered Pork Chops pair well with a simple side salad or steamed vegetables.
TIPS & TRICKS
• I would like to note that while the recipe calls for 3 pork chops, you probably could fit 4 if you wanted, especially if they were smaller.
• A cast iron pan works best for this recipe, I love my cast iron skillet, my go to is my Lodge 12 Inch Cast Iron Skillet.
Yield: 3 servings
Apple Bacon Blue Smothered Pork Chops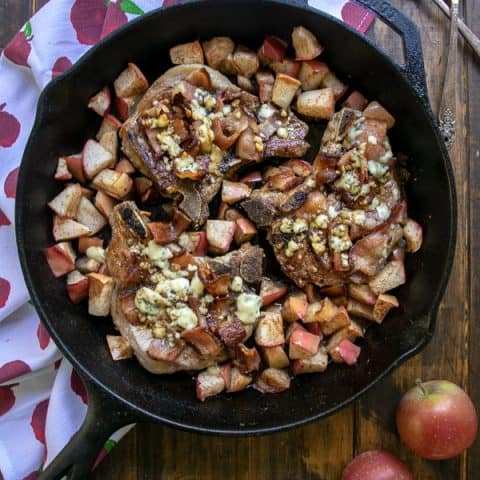 sweet apples, salty bacon, and tangy blue cheese smothered over a baked pork chop
Ingredients
3 bone-in center cut pork chops
6 strips bacon
2 apples, hard variety
1/2 teaspoon ground cinnamon
3 tablespoons blue cheese crumbles
2 tablespoons balsamic vinegar
Instructions
Preheat oven to 350º F.
Add bacon to a large cast iron or oven proof skillet. Heat over medium-high heat to cook bacon, 5-8 minutes tossing occasionally until brown. Transfer bacon to a paper towel lined plate to cool. Once cool, crumble or chop into small pieces.
While bacon is cooking, core and dice the apples. Sprinkle cinnamon over top the diced apples and toss to coat.
Drain bacon grease from skillet, leaving just a little to cover the bottom of the pan. Add Pork chops to the pan. Cook 3-4 minutes until bottom is browned and flip. Add the apples to the skillet, fill in all of the free space around the pork chops with the apple. Cook another 3-4 minutes.
Remove from heat, evenly sprinkle bacon pieces and blue cheese crumbles on top of the pork chops. Drizzle balsamic vinegar over the pork chops.
Transfer the skillet to the oven. Cook for 10 minutes, or until pork is fully cooked and cheese is melty. Serve immediately.
Notes
Nutritional data is automated, final nutritional information will depend on ingredients used and any changes made.
Recommended Products
As an Amazon Associate and member of other affiliate programs, I earn from qualifying purchases.
Nutrition Information:
Yield:
3
Amount Per Serving:
Calories:

522
Total Fat:

28g
Saturated Fat:

11g
Trans Fat:

0g
Cholesterol:

127mg
Sodium:

941mg
Carbohydrates:

25g
Fiber:

3g
Sugar:

20g
Protein:

43g
Peace & Love
Lauren, The Schmidty Wife
P.S. Need a side dish to go with Apple Bacon Blue Smothered Pork Chops? Check out my Crispy Oven Roasted Baby Yukon Potatoes or my Roasted Pear & Pecan Salad.
Please note that my links above may be affiliate links, and I will earn a commission if you purchase through these links. I recommend them because they are helpful, and are companies that I trust, not because of the commissions that I may earn from you using these products.