This Chocolate Avocado Smoothie is full of super foods and tastes delicious! Easy to make, dairy free, and super chocolatey you will love it!
It is the beginning of 2017, so how are everyone's New Year Resolutions going? I personally have never been a New Years person and have never made a New Years Resolution. To me time is just way to cyclical, it is weird to me that people feel the next day is going to be entirely different because the calendar year has changed. But just because I am not a New Years person does not mean I don't think people who have goals to be healthier, more organized, and nicer are wrong for doing so. It is very noble to have a goal to make you a better person, I just don't see it as something that necessarily has to happen in January. With that being said I do believe in trying to get back to healthier eating in January, not because of the New Year but because I always gain weight over the Christmas season. I know I am not the only one who gets carried away with cookie baking, holiday flavored treats, and huge delicious meals. So in the spirit of trying to get healthier I have a delicious smoothie to share with you today, a Chocolate Avocado Smoothie.
If you have never thought of putting avocado into a smoothie and especially mixing avocado with chocolate you are just going to have to trust me on this one and try it. The avocado makes an unbelievably smooth and creamy texture base, plus avocados are full of good fats and fiber to keep you full and focused. In addition to avocados this smoothie has bananas, coconut milk, cocoa powder, and optional honey. The bananas add plenty of health benefits as well with tons of vitamins such as, B6, manganese, C, and of course potassium. I chose coconut milk honestly because I like that flavor it brings to the smoothie (so really you can use any milk of your choosing) but coconut milk just like avocados are full of healthy fats which can help keep you full longer. While cocoa as long as it is raw has health benefits, chocolate is delicious so that is why I choose a chocolate smoothie. And I consider the honey in this smoothie as optional because if you have a very ripe banana you might not need it or if you are avoiding sugars you can leave it out and still have a delicious smoothie. These ingredients are tossed into a blender and blended until smooth, and that is a Chocolate Avocado Smoothie. Enjoy your delicious smoothie and I wish you luck with all of your New Years Resolutions 😉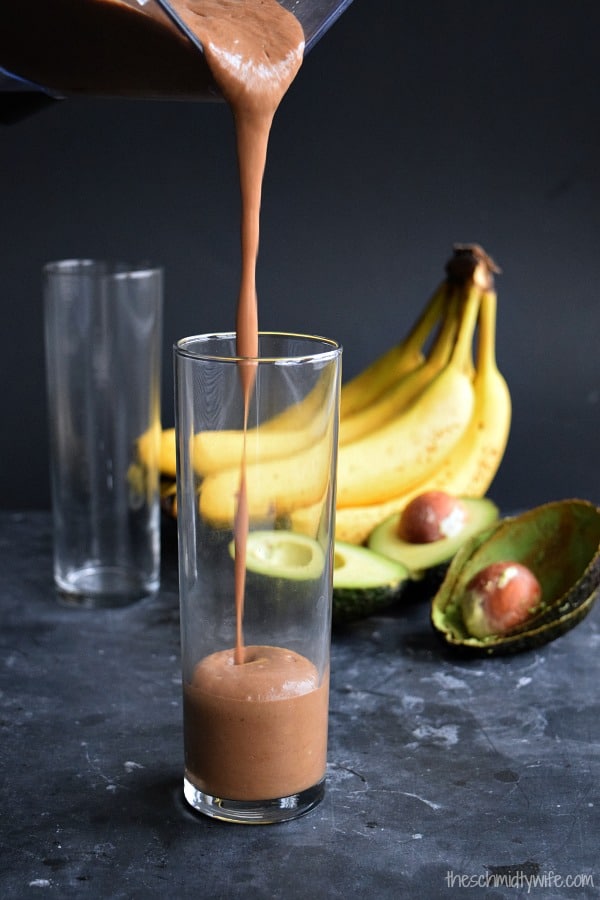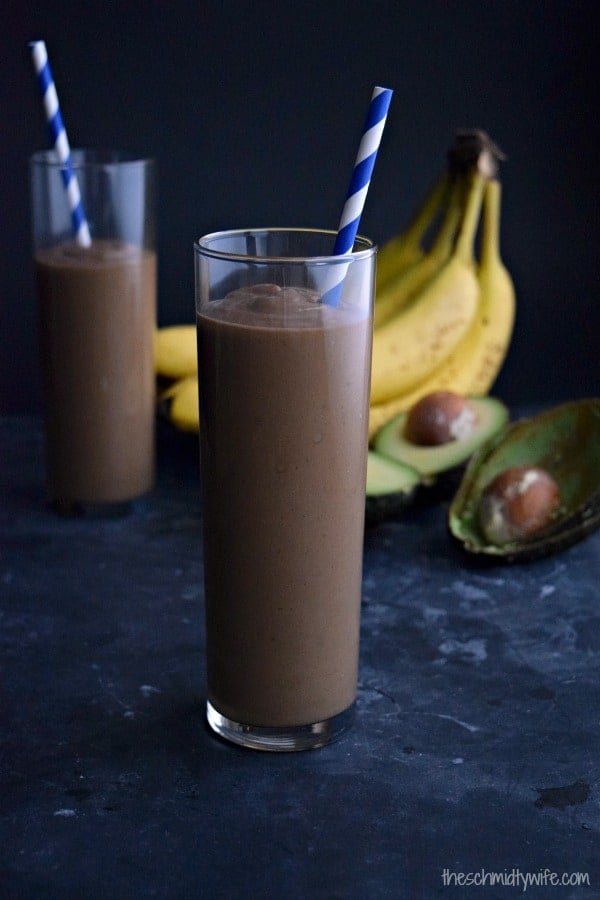 Yield: 2 Servings
Chocolate Avocado Smoothie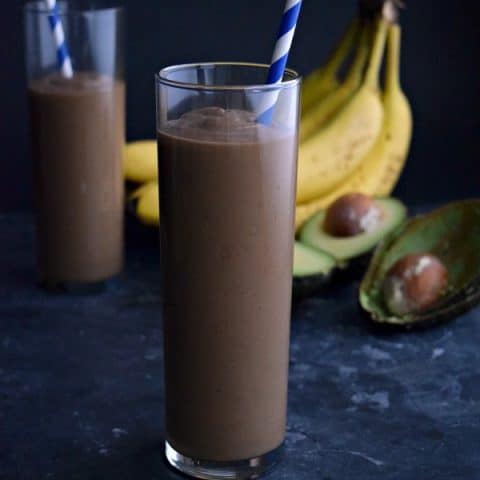 This chocolate-y avocado based smoothie is the perfect healthy treat in smoothie form.
Ingredients
2 bananas
1 large avocado
1 cup coconut milk
1 tablespoon cocoa powder
1 tablespoon honey (optional)
Instructions
Add banana, avocado, coconut milk, cocoa powder, and honey to blender.
Blend on high for about 1 minute until everything is smooth.
Serve immediately.
Nutrition Information:
Yield:
2
Serving Size:
1
Amount Per Serving:
Calories:

531
Total Fat:

39g
Saturated Fat:

24g
Trans Fat:

0g
Unsaturated Fat:

13g
Cholesterol:

0mg
Sodium:

23mg
Carbohydrates:

49g
Fiber:

10g
Sugar:

24g
Protein:

6g
Nutritional data is automated, final nutritional information will depend on ingredients used and any changes made.
If you enjoyed this recipe or any of my others let me know by using #theschmidtywife on social media!
And make sure you are following me on Instagram, Pinterest, and Facebook for all the latest recipes!
Peace & Love
Lauren, The Schmidty Wife
P.S. Looking for more smoothie recipes? Check out my Banana Oatmeal Breakfast Smoothie or my Sunshine Smoothie.
Sign up for recipes straight to your inbox!
[mc4wp_form id="753″]
Please note that my links above may be affiliate links, and I will earn a commission if you purchase through these links. I recommend them because they are helpful, and are companies that I trust, not because of the commissions that I may earn from you using these products.