A perfect fall breakfast this Cinnamon Apple Topped Dutch Baby is very easy to make. The batter for the dutch baby pancake is made in the blender and the cinnamon apples are made easy on the stove while the pancake bakes.
I wanted to make a really fun fall flavored breakfast and ladies and gentleman I found myself a winner, need proof? My 2 year old spent all last weekend asking me for "apple pamcakes", it was so adorable I made this delicious Cinnamon Apple Topped Dutch Baby Pancake for him without reservation.
So in case you haven't made a dutch baby pancake before I need to let you know, they are so so so much easier then they look. I was intimidated by them for forever until I actually caved in and made one and guess what, now I actually prefer making these to regular pancakes because yes they are that simple.
Your skillet is preheated in the oven and all of the pancake ingredients are mixed in a blender and then the batter is simply poured into the skillet and baked. So much easier then flipping a bunch of pancakes right!?
So to spice this dutch baby pancake up I wanted to make something fun with apples to top it off. So I made simple cinnamon apples on the stove top while the dutch baby is cooking, and the result is mouth watering!
So have some delicious fun this weekend and make your family a Cinnamon Apple Topped Dutch Baby.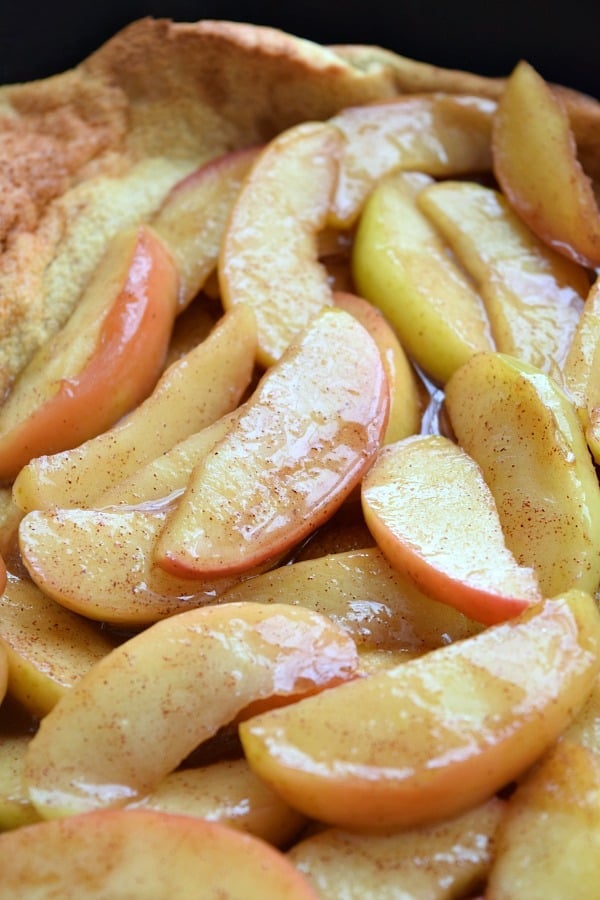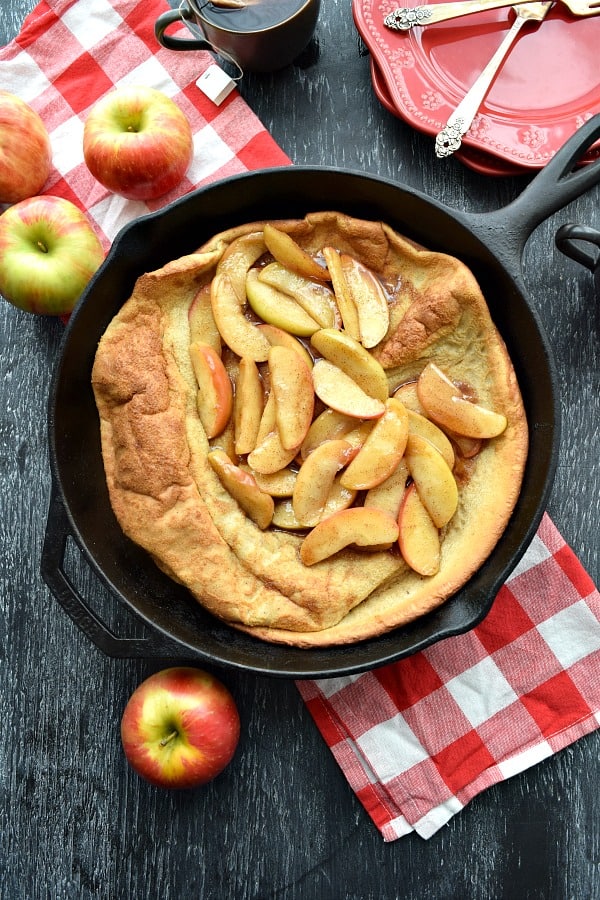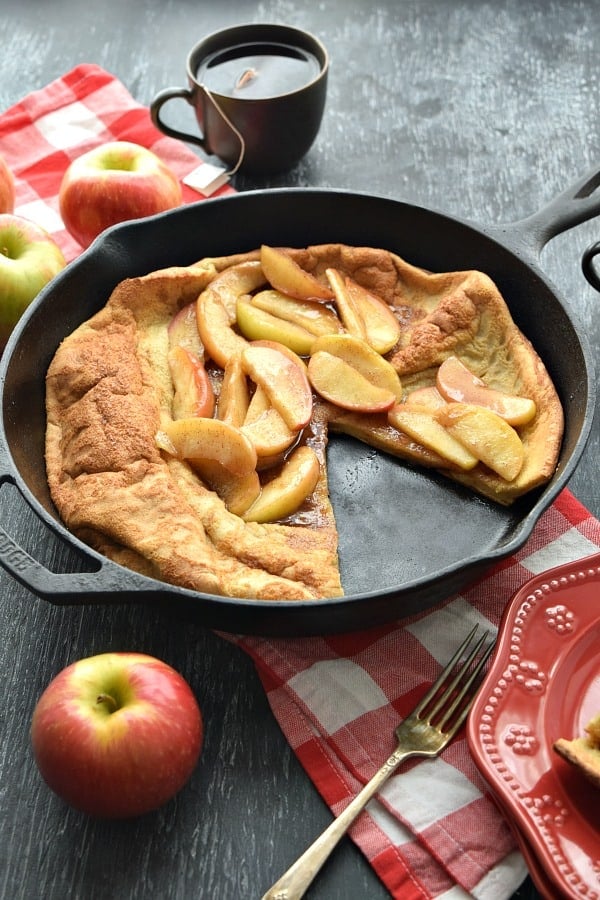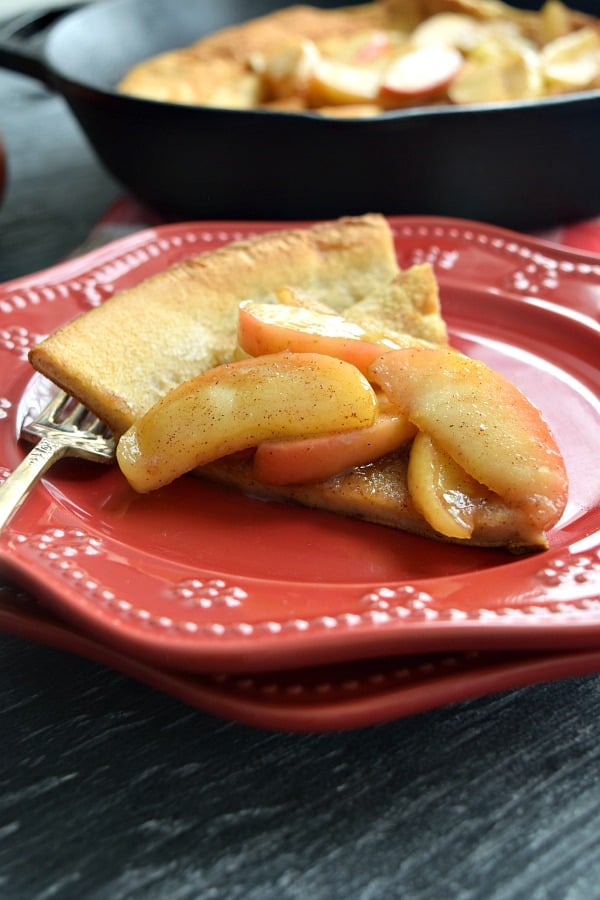 TIPS & TRICKS:
• I use a Lodge Cast Iron Skillet, 12-inch
and while this pan is the lifeblood of my kitchen and couldn't give it anymore praise this dish can be made with any oven safe skillet
• For the apples make sure you use a harder textured variety, if you use a soft apple the slices will start to fall apart as you cook them
• I think that this taste delicious without any extra whipped topping but if you want to indulge yourself go for it and add that whipped topping!
Yield: 4 servings
Cinnamon Apple Topped Dutch Baby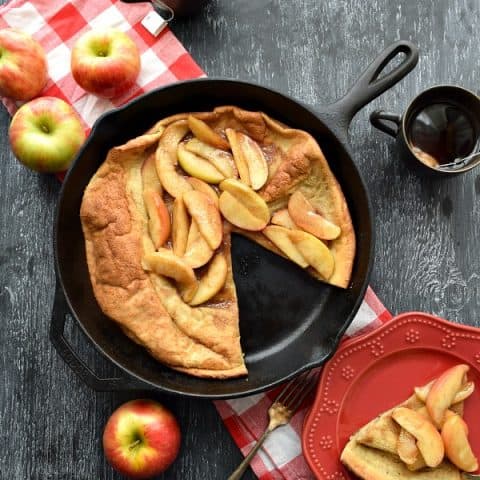 an easy blender dutch baby pancake topped with simple warm cinnamon apples
Ingredients
for the Dutch Baby:
4 eggs
1 cup flour
1 cup milk
3 tablespoons sugar
3 tablespoons melted butter + 2 tablespoons butter, divided
1/2 teaspoon cinnamon
1/2 teaspoon vanilla extract
1/2 teaspoon salt
1/4 teaspoon ground nutmeg
for the Cinnamon Apples:
2 apples, hard variety (I use honeycrisp)
3 tablespoons butter
2 tablespoons brown sugar
1/2 teaspoons cinnamon
Instructions
Place a cast iron skillet into the cold oven, preheat oven to 425º F.
To make the dutch baby add eggs, flour, milk, sugar, 3 tablespoons of butter, cinnamon, vanilla, salt, and nutmeg to a blender.
Blend on high until fully blended.
Once oven is to temperature carefully take out the skillet, add 2 tablespoons of butter. Swirl the butter around the skillet until it is fully coated.
Pour the batter into the skillet, place the skillet back into the oven.
Bake for 22-24 minutes until the dutch baby has risen and is golden brown.
While the dutch baby is baking make your cinnamon apples. Slice your apples.
Heat a pan over medium heat, add butter and warm until butter starts to bubble.
Add the apple slices and toss in the butter.
Sprinkle the brown sugar and cinnamon over the apple slices. Toss to coat.
Cook the apples 7-10 minutes until the apples are soft stirring occasionally. Remove from heat once the apples are soft.
When dutch baby is done baking remove from oven and top with the cinnamon apples, add whipped topping if using. Slice and serve immediately.
Nutrition Information:
Yield:
4
Serving Size:
1
Amount Per Serving:
Calories:

529
Total Fat:

29g
Saturated Fat:

17g
Trans Fat:

1g
Unsaturated Fat:

10g
Cholesterol:

252mg
Sodium:

553mg
Carbohydrates:

55g
Fiber:

3g
Sugar:

25g
Protein:

12g
Nutritional data is automated, final nutritional information will depend on ingredients used and any changes made.
If you enjoyed this recipe or any of my others let me know by using #theschmidtywife on social media!
And make sure you are following me on Instagram, Pinterest, and Facebook for all the latest recipes!
Peace & Love
Lauren, The Schmidty Wife
P.S. Looking for more breakfast recipes? Check out my Pancakes From Scratch or my Lemon Dutch Baby with Berry Compote and Whipped Cream.
Please note that my links above may be affiliate links, and I will earn a commission if you purchase through these links. I recommend them because they are helpful, and are companies that I trust, not because of the commissions that I may earn from you using these products.