A Mediterranean inspired twist on a layer dip, this Greek Layer Dip is perfect for any party. This appetizer is made in many layers, including hummus, marinated artichokes, and feta cheese!
So football and party season is in full swing, which means many tailgates and potlucks, in which the invite always says 'bring a side to share' am I right? I have come to find out that to many people this means stopping at the store on the way and grabbing a few bags of chips with some salsa or a platter of store made mini cupcakes. So because people can't live on and should not live on tortilla chips and mini cupcakes I usually make it my own responsibility to make something generally healthier/more exciting. So recently one of my favorites dishes to bring has been Greek Layer Dip.
When you bring something that is homemade, healthier, and exciting people will genuinely thank you, and you will feel all warm and fuzzy and proud of yourself. I love that feeling 🙂
Greek Layer Dip is easy to make and full of vegetables, beans, and a good helping of healthy dairy. I use my own Easy Hummus recipe as the base because homemade hummus is the best but your favorite store bought variety will work just as well. Also use whatever flavor your little heart desires, I tend to use plain or a roasted garlic but really I can imagine all flavors in this dip. Next you just layer on the rest of the ingredients greek yogurt (or sour cream but greek yogurt is going to be a lot lighter/healthier), cucumber, marinated artichokes, cherry tomatoes, kalamata olives, red onion, and feta cheese. The dip is then garnished with a little olive oil drizzle and a generous sprinkle of dill weed. Now it is ready to be devoured. (Don't forget to grab a bag of pita chips to serve with it.)
So be a party hero this party season and make a Greek Layer Dip.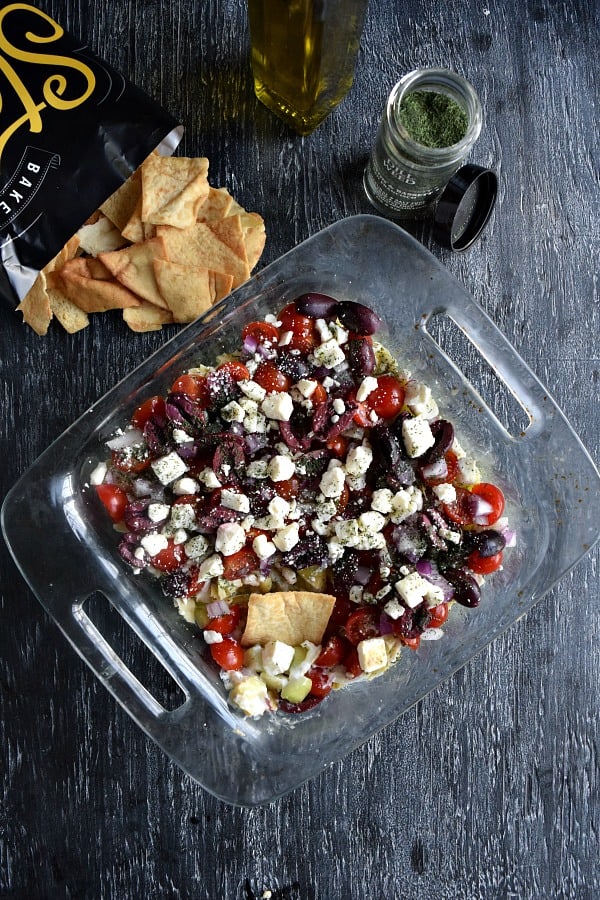 TIPS & TRICKS:
• Make this dip your own, use your favorite flavor hummus, or your favorite homemade hummus
• Feel free to swap out/in different ingredients you don't like/like
• I think the dill at the end really makes a big difference, dried or fresh either tastes great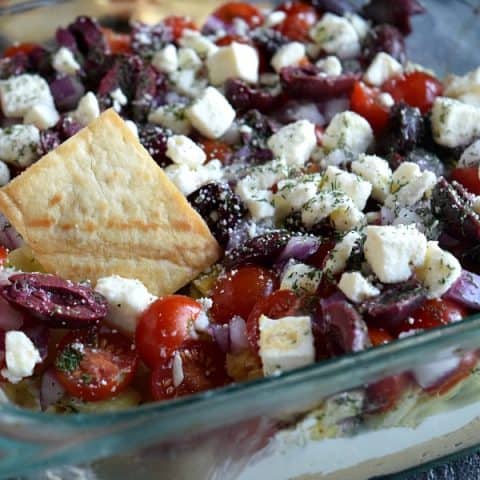 Greek Layer Dip
Greek inspired layer dip, full of Mediterranean flavors perfect for dipping pita chips
Ingredients
1 1/2 cups hummus
1 cup greek yogurt
1 cucumber
1 7.5 ounce jar marinated artichoke hearts, drained and roughly chopped
1 cup cherry tomatoes, halfed
1/2 cup kalamata olives, sliced
1/4 cup diced red onion
1/2 cup crumbled feta cheese
drizzle of olive oil
sprinkle of dill weed
Instructions
Prep your cucumber, peel, slice in half the long way, use a spoon to scoop out the seeds. This will keep your dip from getting to wet, discard the seeds and dice the remaining cucumber. Set aside.
To begin layering. In an 8x8 inch dish start by spreading all of the hummus as the bottom layer, spread out as evenly and smoothly as possible.
Next spread your greek yogurt on top of the hummus as evenly and smoothly as possible.
Sprinkle the cucumber evenly on top of the greek yogurt, followed by the artichokes, then the tomatoes, olives, red onions, and then finishing up with the feta cheese.
Garnish with a drizzle of olive oil and a hearty sprinkling of dill weed.
Dip is best if refrigerated for at least 30-60 minutes or longer before serving. Serve with pita chips or vegetables. Leftovers should keep for about 3 days in the refrigerator.
Nutrition Information:
Yield:

8
Serving Size:

1
Amount Per Serving:
Calories:

123
Total Fat:

9g
Saturated Fat:

2g
Trans Fat:

0g
Unsaturated Fat:

6g
Cholesterol:

10mg
Sodium:

459mg
Carbohydrates:

7g
Fiber:

2g
Sugar:

3g
Protein:

5g
Nutritional data is automated, final nutritional information will depend on ingredients used and any changes made.
If you enjoyed this recipe or any of my others let me know by using #theschmidtywife on social media!
And make sure you are following me on Instagram, Pinterest, and Facebook for all the latest recipes!
Peace & Love
Lauren, The Schmidty Wife
P.S. Looking for more party recipes? Check out my Fresh Restaurant Style Salsa or my Lemon Squares.
Please note that my links above may be affiliate links, and I will earn a commission if you purchase through these links. I recommend them because they are helpful, and are companies that I trust, not because of the commissions that I may earn from you using these products.