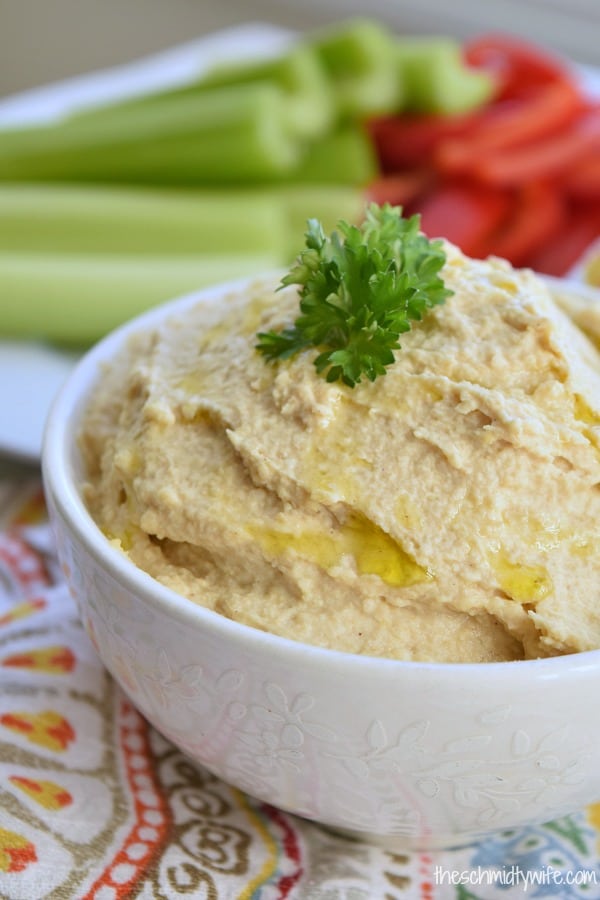 Easy Hummus is a staple in our house, not only because it is an amazing snack but because we eat so many Mediterranean inspired meals that it always pays to have some made. Most importantly my son loves hummus, so who am I to deny him a healthy snack. Hummus really is so versatile, it can be a great snack, side dish, dressing/sauce, and not going to lie I have had it as a main dish dinner many times before. And the best part of hummus is it is so stinking easy to make.
I will say I do love the flavor options that a lot of grocery stores have these days when it comes to hummus. There are fun flavors everyone love such as roasted red pepper, extra garlic, and there are the crazy ones, like chocolate dessert hummus!?! Like what? Have you guys tried that stuff yet? I haven't, for some reason I just can't comprehend how a dessert hummus would satisfy an urge for chocolate or a sweet tooth (hello have you heard of brownies?), but to each there own… moving on. As cool as some of the hummus flavors are nothing is as great as homemade classic hummus. If you are looking for a classic flavor homemade is always the way to go, so bring on the Easy Hummus.
So this is how easy it is to make hummus: add ingredients to food processor, blend until smooth, eat. So simple, enjoy as a snack with veggies or pita chips or use in your favorite Mediterranean recipes like my Chickpea Shawarma Buddha Bowl. My son absolutely loves hummus on a piece of toast for a great afternoon snack.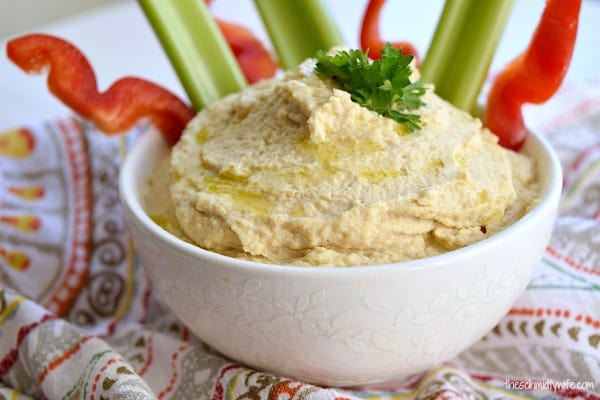 Easy Hummus
Ingredients
1 15.5oz can chickpeas, drained
1/3 cup tahini
2 tablespoons olive oil
2 tablespoons lemon juice
3 garlic cloves
1 teaspoon ground cumin
2 tablespoons water
Instructions
Add chickpeas, tahini, olive oil, lemon juice, garlic, and cumin to food processor.
Blend until smooth, with processor still running slowly drizzle water until hummus comes to a smooth paste consistency.
Serve immediately or keep in an airtight container in refrigerator for up to a week.
https://theschmidtywife.com/easy-hummus/

Peace & Love
The Schmidty Wife
P.S. Sign up for tasty recipes straight to your inbox!