Who doesn't love pizza? I honestly have never meet a person who has said they hate pizza. We have pizza at our house at least every other week. Pizza is so incredibly easy to make and you can make so many different types, there are different toppings, crusts, sauces, the possibilities are truly endless. In the summer I love to experiment more with grilled pizzas or low carb/veggie crusts but once the weather starts getting chillier I crave my carbs in the form of my classic Pizza Dough.
Pizza Dough is so simple, it takes about 13 minutes to mix together, an hour of rising and you have yourself dinner. It is as simple as letting the water and yeast bloom, adding the oil & salt, and kneading in the flour. Then cover and wait an hour. You can choose to get stuff done during this time, like do the dishes, sweep, play with your kids, or sit on Facebook and Instagram, the choice is all yours 😉 Once the dough has risen, you will divide the dough into 2 large or 3 medium pizza. Roll out on a floured surface. Add your favorite toppings and bake on a pizza stone in the oven at 450º for 10-15 minutes.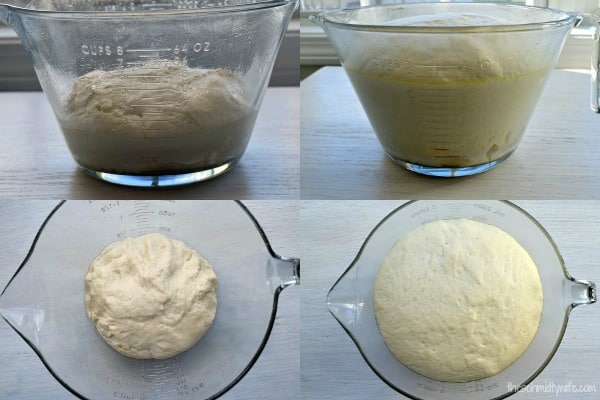 The difference between fresh pizza dough like this and any take out or store bought pizza is absolutely astounding. The dough is so light and airy on the inside but the bottom gets crunchy, my mouth is drooling thinking about some homemade pizza right now. Once you see how easy (and cheap) it is to make your own homemade Pizza Dough I guarantee pizza night will become a part of your weekly meal rotation. Your family will thank you and you will save a ton by not ordering out, it's a win win! Enjoy your pizza!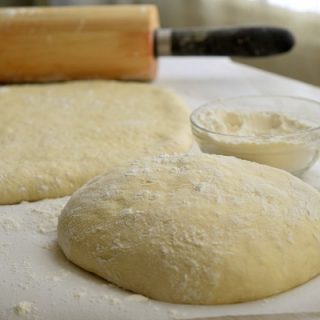 Pizza Dough
Yield:
2 large or 3 medium pizzas
Total Time:
1 hour
13 minutes
Ingredients
1 1/2 cup warm water
1 1/2 teaspoons instant dry yeast
1 teaspoon salt
1 tablespoon olive oil
4 1/2 cups all purpose flour
Instructions
Add water to the bowl of a stand mixer. Sprinkle the yeast on top of the water. Let sit for 5 minutes so the yeast can bloom.
Add salt and olive oil to the bowl. Stir to combine.
With the dough hook attachment on a low speed slowly add the flour one cup at a time.
Knead the dough on medium speed for 5 minutes.
Grease large bowl with olive oil. Place dough in bowl and cover. Place in a warn non draft area for 1 hour or until doubled in size.
Use dough immediately or refrigerate in an airtight container up to 2 days until needed.
Peace & Love
The Schmidty Wife
P.S. Sign up for tasty recipes straight to your inbox!