We have pizza at our house usually once a week, never take out because homemade pizza is so dang good. One of the elements of homemade pizza that can be so over complicated is the sauce. For a long time I worked on trying to perfect a pizza sauce by slaving over the stove, spending an hour trying to simmer a perfect sauce and for so many reasons this didn't work.
First and foremost I don't want to spend an hour making pizza sauce, second reason even though I would spend an hour making sauce I still was never crazy about it on my pizza. So I took a big step back and took my sauce in a different direction, simple.
Once I went simple, I never went back. 5 minute pizza sauce has made pizza night so much better at our house. It is as simple as mixing all of the ingredients in a bowl and you are ready to make your pizza. Voila, pizza here we come.
It is seriously as easy as adding tomato sauce, olive oil, sugar, salt, and a combination of Italian seasonings into a bowl or jar or container and mixing it together. I often like to use Tupperware to mix it together because I will prepare it beforehand and that way it just goes straight into the fridge until I am ready to use it. It keeps it super simple!
This recipe is for real made in my house almost every week and we thoroughly enjoy it every time. So made your next homemade pizza night a little easier with this 5 minute pizza sauce!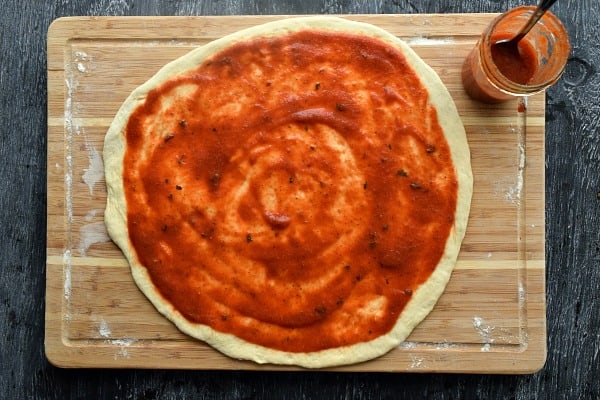 TIPS & TRICKS:
As easy as this recipe is, customize it to your taste, I like to add a little extra black pepper sometimes for an extra kick or some dried basil for a little added sweetness
It might be tempting to skip the sugar but don't, it really takes away the bitter bite from the tomatoes
For the best homemade pizza invest in a pizza stone, they make pizza night at home about 110% better

 
5 Minute Pizza Sauce
easy flavorful pizza sauce mixed together in less than 5 minutes
Ingredients
1 15 ounce can tomato sauce
1 tablespoon olive oil
1 teaspoon sugar
1 teaspoon salt
3/4 teaspoon black pepper
1/2 teaspoon garlic powder
1/2 teaspoon oregano
1/2 teaspoon dried parsley
optional pinch of red pepper flakes
Instructions
In a small bowl combine all of the ingredients.
Use immediately or keep refrigerated in an airtight container.
Notes
Makes enough sauce for about 2 large pizzas.

Nutritional data is automated, final nutritional information will depend on ingredients used and any changes made.
Nutrition Information:
Yield:

8
Amount Per Serving:
Calories:

37
Nutritional data is automated, final nutritional information will depend on ingredients used and any changes made.
Peace & Love
Lauren, The Schmidty Wife
P.S. Looking for pizza recipes? Check out my Pizza Dough recipe, my Cheesy Buffalo Chicken Pizza, or my Loaded BBQ Chicken Pizza.
Please note that my links above may be affiliate links, and I will earn a commission if you purchase through these links. I recommend them because they are helpful, and are companies that I trust, not because of the commissions that I may earn from you using these products.