Pizza night is a regular occurrence at the Schmidt house, and one of my favorites is Cheesy Buffalo Chicken Pizza. My Cheesy Buffalo Chicken Pizza is definitely a little different then most Buffalo Chicken Pizza recipes because I took it a little bit of a different direction, instead of the typical ranch dressing mixture I grab the ricotta cheese.
No offense to those ranch dressing lovers but for the love of god stop putting ranch dressing on everything. I really don't mind it as a little treat for dipping every once in a while but please stop drenching all of your food in it. So basically if you are looking for a ranch lovers buffalo chicken pizza you have stopped at the wrong food blog.
So now that my rant about ranch dressing is over lets get to my Cheesy Buffalo Chicken Pizza. I wanted the pizza a little bit more smooth and sophisticated (is sophisticated and buffalo chicken even aloud in the same sentence??) so I went for the ricotta cheese. I think the ricotta gives the pizza a smooth yet cheesy flavor. So the ricotta is mixed with the buffalo sauce, topped with mozzarella, chicken, celery, and blue cheese. All of the classic buffalo wing favorites on top of your pizza!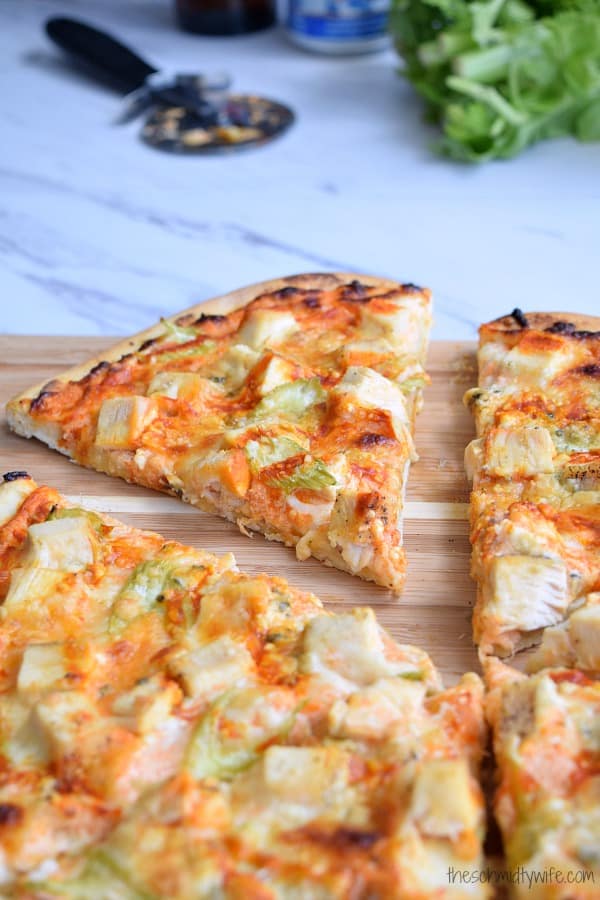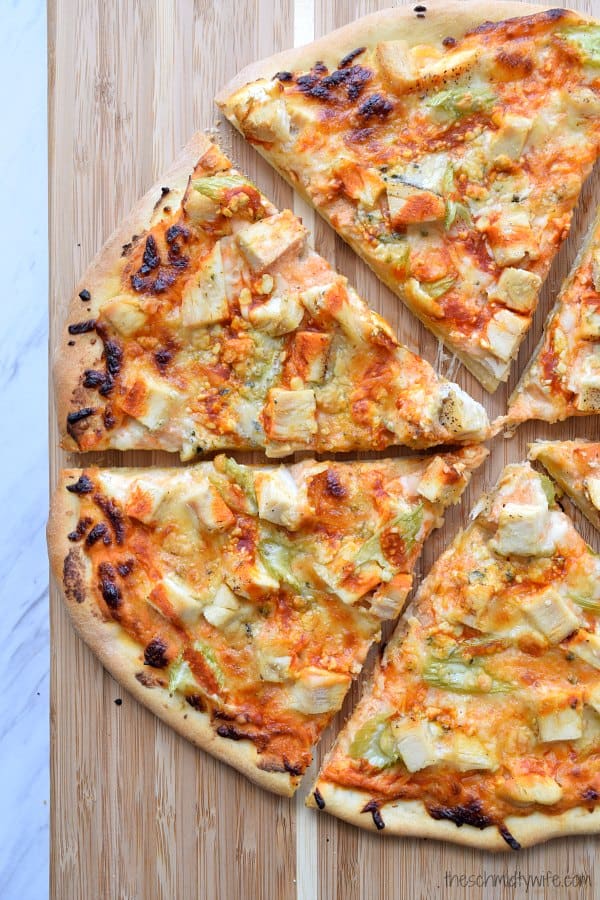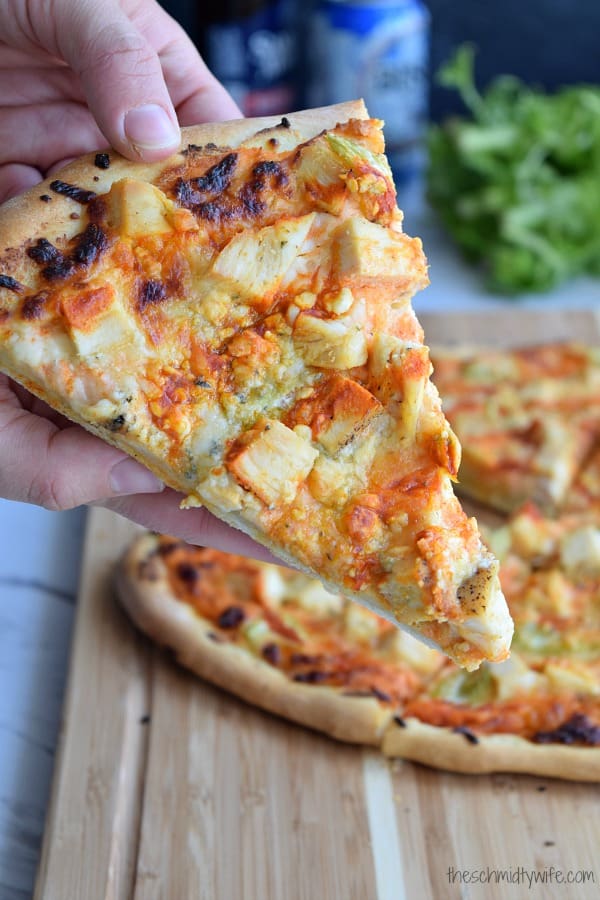 TIPS & TRICKS:
I recommend making your own Pizza Dough, just plan on getting it made an hour before you want to make your pizza
Don't be afraid to change the amount of buffalo sauce to your personal preference, I usually make it pretty light so everyone can enjoy it, plus you can always add more to each individual slice
I use a pizza stone in the recipe and I highly urge you to use one, you can make it on a sheet pan but the quality of the pizza crust really does not compare to if you use a pizza stone, they really aren't that expensive and they make any homemade pizza infinity times better plus they last for forever if you use them properly
Yield: serves 4
Cheesy Buffalo Chicken Pizza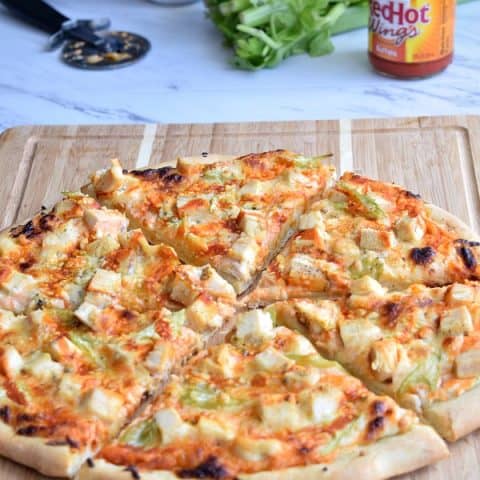 super cheesy buffalo chicken pizza
Ingredients
Pizza Dough for a 12 inch pizza crust
1 cup chopped or shredded chicken (about 1 chicken breast)
1 1/2 cups shredded mozzarella cheese
1 stalk celery, thinly sliced
1/3 cup ricotta cheese
1-2 tablespoons buffalo sauce, plus more for drizzling
2 tablespoons blue cheese crumbles (or parmesan cheese)
Instructions
Place pizza stone into the oven, preheat oven to 450º F and let the stone warm up for at least 20 minutes.
Once the stone is hot remove from oven. Carefully place the pizza crust on the stone. (Careful as you are working the stone will burn you and that is no fun.)
Add ricotta cheese to the pizza, spread out to a thin layer using the back of a spoon or your fingers. Drizzle 1 to 2 tablespoons (depending on taste, I usually do 1) of buffalo sauce onto the ricotta. Use spoon to spread around mixing the sauce into the ricotta.
Sprinkle mozzarella cheese evenly over the pizza.
Add chicken and celery onto pizza, spreading out evenly. Sprinkle blue cheese on top and drizzle with more buffalo sauce.
Place pizza stone with pizza back into the oven. Bake 17-20 minutes until cheese is melty and bubbling. Serve immediately.
Nutrition Information:
Yield:
4
Serving Size:
1
Amount Per Serving:
Calories:

605
Total Fat:

22g
Saturated Fat:

8g
Trans Fat:

0g
Unsaturated Fat:

12g
Cholesterol:

77mg
Sodium:

1143mg
Carbohydrates:

66g
Fiber:

3g
Sugar:

2g
Protein:

34g
Nutritional data is automated, final nutritional information will depend on ingredients used and any changes made.
If you enjoyed this Recipe or any of my others let me know by using #theschmidtywife on social media!
And make sure you are following me on Instagram, Pinterest, and Facebook for all the latest recipes!
Peace & Love
Lauren, The Schmidty Wife
P.S. Looking for more pizza? Check out my Pesto Pizza with Prosciutto or my Low-Carb Supreme Pizza Chicken Bake.
Please note that my links above may be affiliate links, and I will earn a commission if you purchase through these links. I recommend them because they are helpful, and are companies that I trust, not because of the commissions that I may earn from you using these products.