This Roasted Butternut Squash & Carrot soup recipe boasts bold flavors from the vegetables being roasted and curry powder. This aromatic soup is perfect for a chilly fall evening.
Can you really make it through fall without making butternut squash soup? My answer, no you can't. So I wanted to share my version, Roasted Butternut Squash & Carrot Soup. This butternut squash soup is full of squash and carrots as well as red pepper, onion, garlic, curry powder for spiciness, coconut milk for creaminess, and bacon to top it off.
I love roasted soups, for a couple reasons. First I find them so easy, everything diced up and roasted, blended and done. Second I find roasting the vegetables to bring out a flavor otherwise not found by just boiling or cooking in a pot.
So this easy and delicious soup is a real winner, perfect for a fall night. So next time you are at the farm stand or grocery store make sure to grab a squash and some carrots to make Roasted Butternut Squash & Carrot Soup.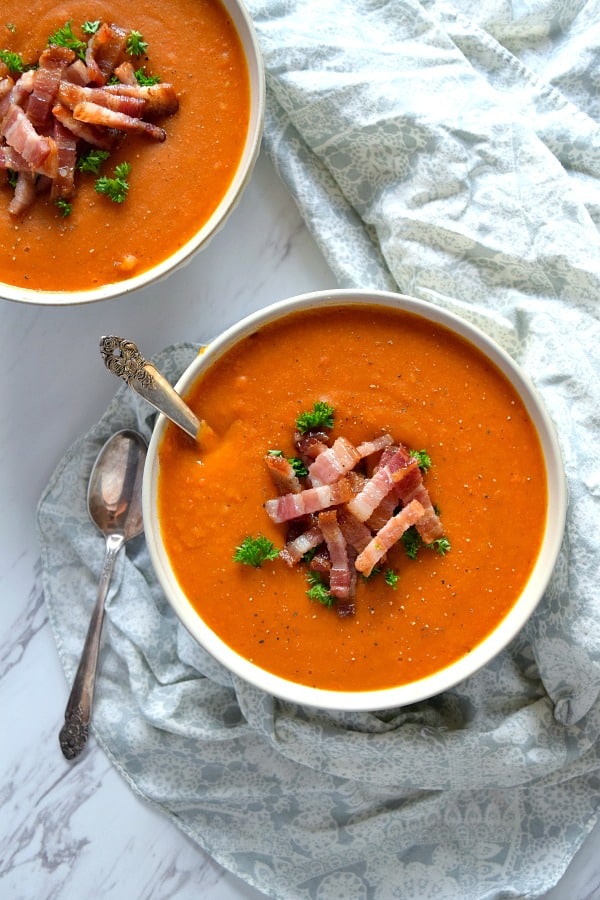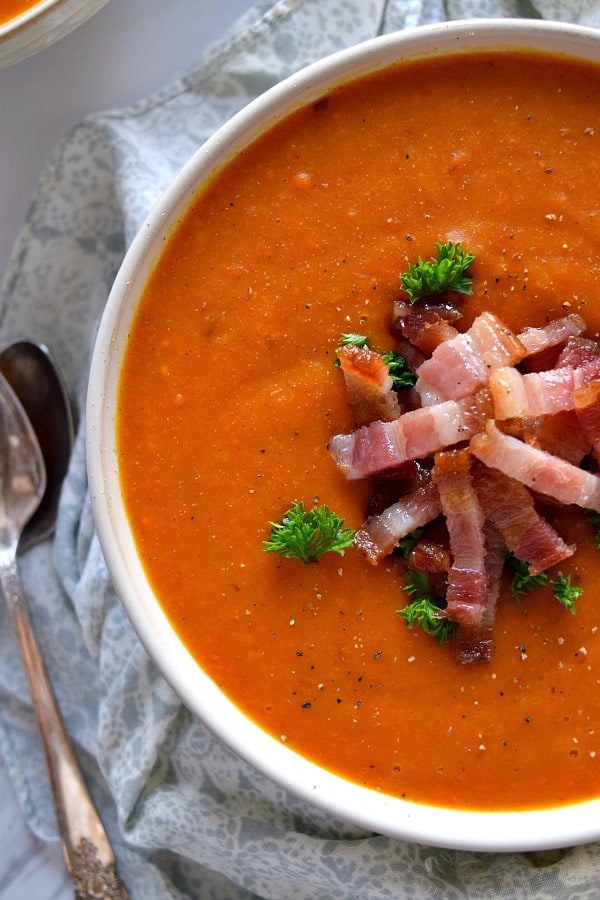 TIPS & TRICKS:
• To make the squash easier to peel and dice, pierce with a knife a few times and microwave 4-5 minutes, and let it cool to the touch before peeling, the squash will be a lot easier to slice and handle
• Remember to check on your bacon as it cooks especially towards the end, different brands and different thicknesses will cook at different rates
• I love to use Better Than Bouillon in this soup, I always keep this stuff stocked in the refrigerator
Roasted Butternut Squash & Carrot Soup
creamy and flavorful soup made by roasting vegetables to obtain maximum deliciousness
Ingredients
1 medium butternut squash
1 red pepper
3 carrots
1 medium onion
3-4 cloves garlic
drizzle of olive oil
salt & pepper
2 cups water or vegetable stock*
1 15oz can coconut milk
1 tablespoon curry powder
4 slices bacon
Instructions
Preheat the oven to 425º F.
Peel and dice the squash** and carrots, add to a sheet pan. Cut the red pepper in half the long way, remove the stem, seeds, and white parts, lay skin side up on the sheet pan. Peel and slice onion, add to the sheet pan. And finally add the garlic cloves to the sheet pan.
Drizzle the sheet pan lightly with olive oil and salt & pepper to taste.
Cook for 15 minutes. Remove from oven, place the bacon slices on top of the vegetables and return to oven. Cook another 25-30 minutes, until the bacon is done and the vegetables are all soft.
About 5 minutes before the vegetables are finished cooking add the water/ stock and curry powder to a large pot. Heat over medium heat until simmering.
Remove the sheet pan from the oven, remove bacon from the sheet pan and set aside to cool. Once cooled crumble.
In two batches (as not to crowd) add the cooked vegetables to a food processor or blender, pour in about 1/4 of the can of coconut milk (to keep the veggies blending smoothly) and blend until smooth. Add the blended vegetables to the simmering pot (repeat). Or if you have an immersion blender, add the vegetables and coconut milk to the pot and blend.
Stir in the rest of the coconut milk into the pot, stir until the soup becomes smooth.
Continue to heat until steaming and hot, top with crumbled bacon and serve immediately.
Notes
* I use Better Than Bouillion; Vegetable Base (8 oz)
**To make the squash easier to peel and cut, pierce the squash a few times with a knife and microwave 3-4 minutes
Nutrition Information:
Yield:

4
Serving Size:

1
Amount Per Serving:
Calories:

358
Total Fat:

31g
Saturated Fat:

22g
Trans Fat:

0g
Unsaturated Fat:

7g
Cholesterol:

11mg
Sodium:

478mg
Carbohydrates:

19g
Fiber:

4g
Sugar:

5g
Protein:

8g
Nutritional data is automated, final nutritional information will depend on ingredients used and any changes made.
If you enjoyed this recipe or any of my others let me know by using #theschmidtywife on social media!
And make sure you are following me on Instagram, Pinterest, and Facebook for all the latest recipes!
Peace & Love
Lauren, The Schmidty Wife
P.S. Looking for more soup recipes? Check out my Slow Cooker Black Bean Tortilla Soup, Roasted Red Pepper & Tomato Soup or my Homestyle Crockpot Chicken Noodle Soup.
Please note that my links above may be affiliate links, and I will earn a commission if you purchase through these links. I recommend them because they are helpful, and are companies that I trust, not because of the commissions that I may earn from you using these products.