Most of my favorite recipes are the ones that just organically happen. Not that I don't love sitting and planning out recipes but there is something I love about meals that just naturally come together with no prepping and little thought. These meals just happen and as you sit there eating you think to yourself, 'I sure hope I can recreate this recipe again because it is so good it needs to be shared'. Well this One Pan Fall Harvest Chicken Dinner happens to be one of these thrown together dinners that I have now recreated many times because let me tell you it is so good.
This meal came to be about 5pm on a Saturday night when we decided last minute to have a few people over for dinner. I was planning on whipping something up with a family pack of chicken thighs I had in the fridge for dinner but now I had to ensure there was going to be enough food for everyone. So I started looking around my kitchen, it being the middle of fall I had a lot of fall flavors hanging out. So I went for it, I decided lets just make a Fall Harvest dinner!
I started with some leftover squash, some cranberries, grabbed a sweet potato, a couple of carrots. It was a great beginning looking around more I grabbed an apple from our apple picking stash. I had a good pile of veggies (and fruits) going so I moved on to spices. I started by looking at my herb garden to see what was fresh, Rosemary, I love Rosemary and it goes perfectly with fall flavors. To match the Rosemary I knew Rubbed Sage would marry the whole pan together. I quick marinade the chicken while I chopped up the fruits and vegetables for the 'fall harvest'. I mixed the fall harvest together with olive oil, rosemary, and sage. The chicken was then placed upon the fall harvest, it was missing something but i couldn't quite decide and then Bam, bacon. I grabbed a few pieces cut them into small strips and sprinkled them on top, voila! Into the oven for 40 minutes and you have yourself a One Pan Fall Harvest Chicken Dinner.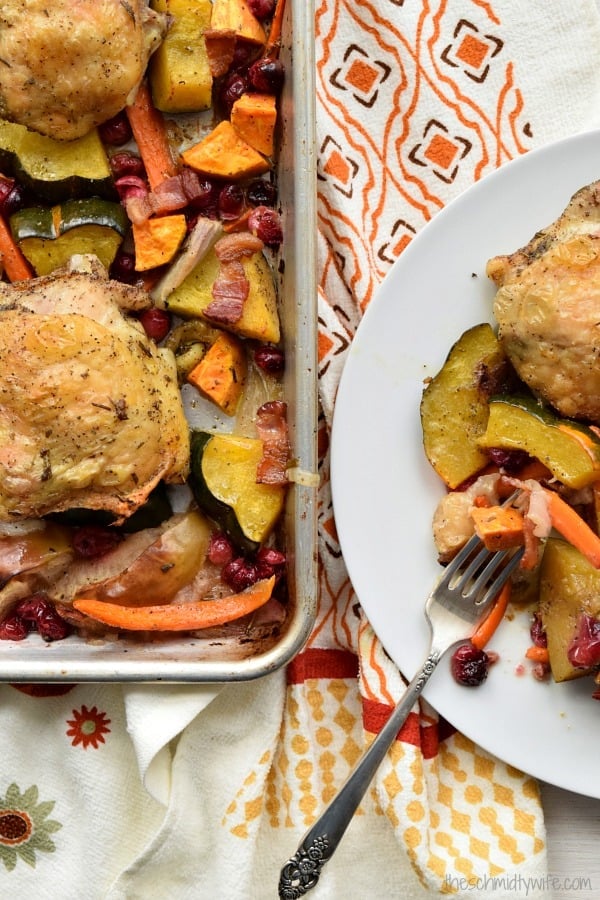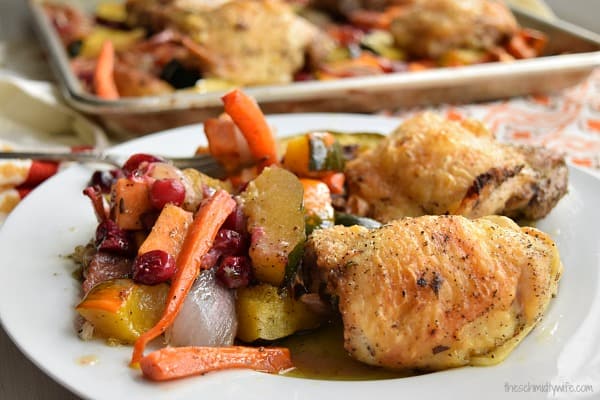 One Pan Fall Harvest Chicken Dinner
Author: Lauren Schmidt

Yield: 4 servings
Ingredients
6 chicken thighs, bone in and skin on
1/4 cup olive oil
2 teaspoons chopped fresh rosemary
2 teaspoons rubbed sage
1/4 teaspoon salt
1/4 teaspoon ground black pepper
2 carrots
1 small sweet potato
1 scallion
1 small acorn squash
1 cup cranberries
1 medium apple
2 pieces of bacon
Instructions
Preheat oven to 450.
In a small bowl mix olive oil, rosemary, sage, salt, and pepper.
In a gallon ziplock bag add chicken thighs and half of the olive oil spice mixture. Shake bag so that the olive oil mixture fully covers the chicken. Set aside.
Clean all fruits and vegetables. Peel and cut carrots, sweet potato, scallion, acorn squash* into bite size pieces. Slice apple into wedges.
Place all fruits and vegetables onto a jellyroll pan and pour the second half of the olive oil/spice mixture over. Mix fruits and vegetables so they are covered in the olive oil mixture and then spread mixture to a single layer over the pan.
Place the chicken thighs evenly throughout the pan on top of the vegetables.
Slice the 2 pieces of bacon into half an inch pieces. Sprinkle the bacon pieces over the pan.
Roast in the oven for 35-40 minutes until the chickens internal temperature reads 160º. Turn the oven to broil to brown the top of the chicken for 1-2 minutes (watch carefully to avoid burning). Serve immediately.
Notes
*You can soften the acorn squash to make it easier to cut by placing it in the microwave for 2 minutes, just make sure to puncture the skin with a knife first to let out steam.

https://theschmidtywife.com/one-pan-fall-harvest-chicken-dinner/
Peace & Love
The Schmidty Wife
P.S. Sign up for tasty recipes straight to your inbox.