Growing up durning the holiday season Sunflower Seed Pie was always on the dessert table, it is the one dessert I remember my mom making every single year. So when I found out that Sunflower Seed Pie is not a normal thing in every American household during the holiday season I was in shock. Growing up I always assumed my family was very normal with our traditions but as I have drifted into adulthood I have found myself having to explain things that my family always ate or did for different holidays. It has gotten to the point where I am pretty sure my husband just starts to laugh when I hear something my family did was not what everyone else did. But c'est la vie, to me this dessert is such an essential part of the holiday season I knew I had to share it so everyone else can make it a part of their holiday dessert table.
Sunflower Seed Pie can easily be described as 'just like pecan pie but made with sunflower seeds instead', I told you I have had practice explaining. Although it is similar to Pecan Pie in my opinion Sunflower Seed Pie is so much better, the flavor is a little more salty and the seed crust is much crispier. As far as easiness this pie is a winner, the whole process is just a few easy steps. Once your pie shell is ready you make a egg/sugar mixture mostly containing the most important ingredient for any Pecan/Sunflower Seed Pie, corn syrup. From there you fill the pie shell with the sunflower seeds and pour the egg/sugar mixture on top. You watch in amazement as the sunflower seeds float to the top of the pie and then you let it bake at 350 for one hour. So simple, so give your Pecans a break this holiday season and whip up a Sunflower Seed Pie that will impress all of your family and friends!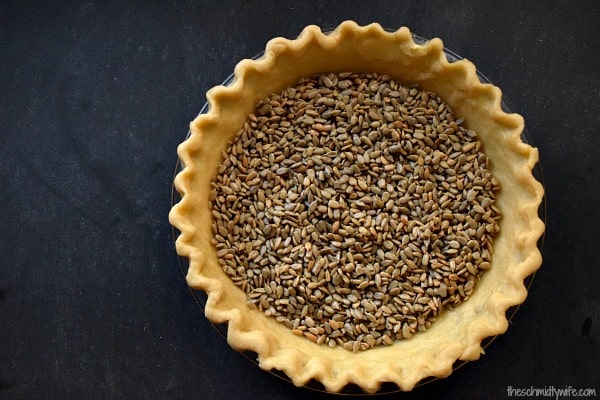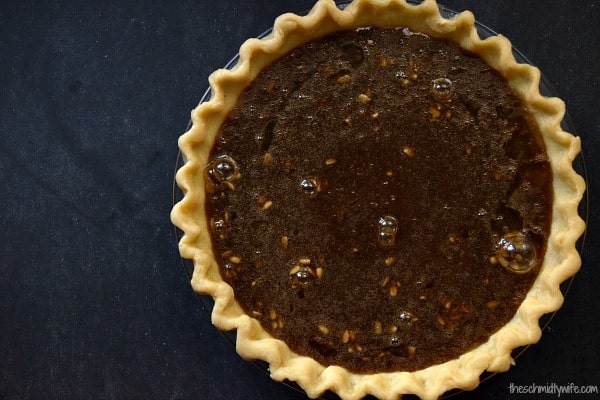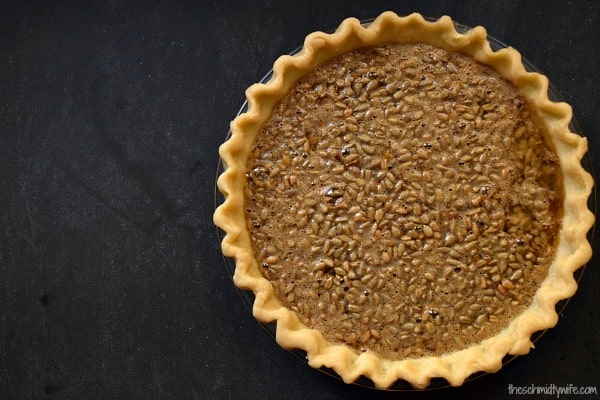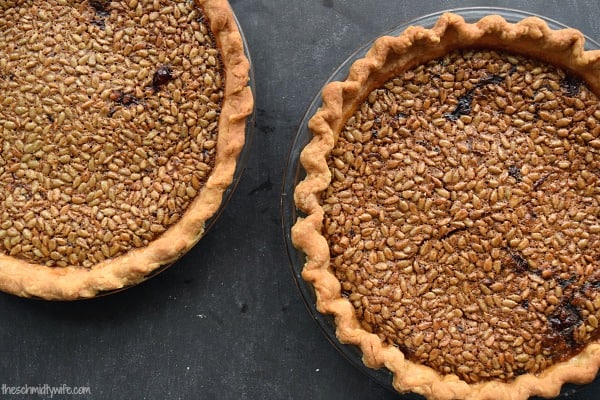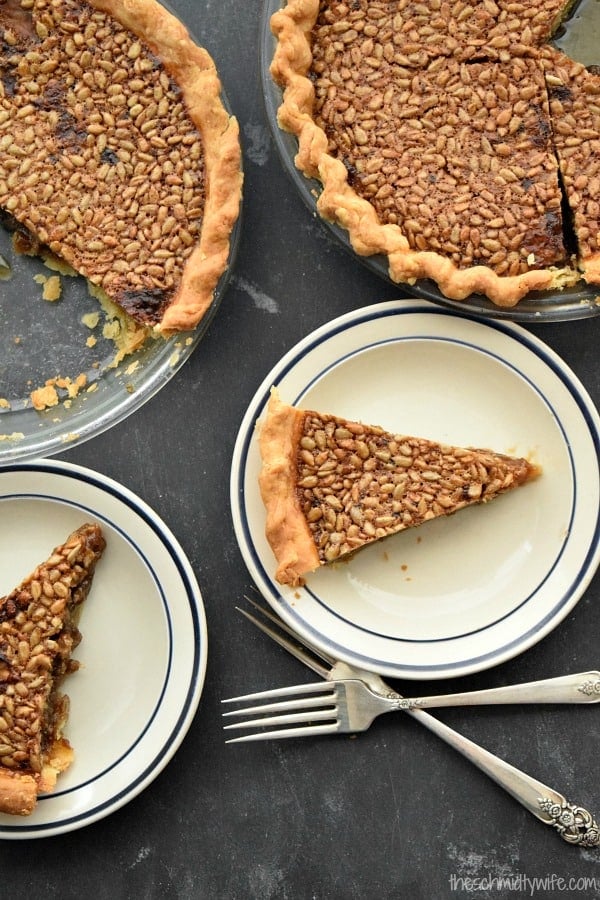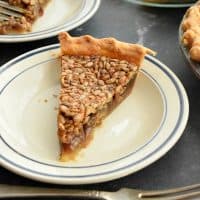 Sunflower Seed Pie
a crust of crunchy sunflower seeds baked over a sweet and gooey center makes this nut free pie perfect for any occasion
Ingredients
1 9 inch pie shell
3 eggs
3/4 cup packed dark brown sugar
1/2 cup dark corn syrup
1/2 cup light corn syrup
3 Tablespoons melted salted butter
1 teaspoon vanilla extract
1 cup roasted & salted sunflower seeds
Instructions
Preheat oven to 350.
Put pie shell into a 9 inch pie plate and shape crust if preferred.
In a large bowl add eggs and beat together.
Add brown sugar, dark and light corn syrup, melted butter, and vanilla to eggs. Beat mixture until combined.
Add the sunflower seeds to the empty pie shell distributing evenly along the bottom.
Pour the egg/sugar mixture carefully and evenly into the pie shell.
Wait for 2 minutes for the sunflower seeds to float to the top of the pie. Place in oven and bake for 50-60 minutes.
The center of the pie will jiggle slightly when done but should not be soupy. Let pie cool completely before eating, pie is best after it has been in the refrigerator overnight.
Notes
adapted from Midwest Living Magazine October 1989
Nutrition Information:
Amount Per Serving:
Calories:

374
Total Fat:

16g
Saturated Fat:

5g
Cholesterol:

81mg
Sodium:

167mg
Carbohydrates:

56g
Fiber:

2g
Sugar:

41g
Protein:

6g
Nutritional data is automated, final nutritional information will depend on ingredients used and any changes made.

Peace & Love
The Schmidty Wife
P.S. Don't forget to sign up for recipes straight to your inbox!