Easy to prep ahead, this spinach salad is filled with sweet roasted pears, mellow pecans, tangy goat cheese, crunchy pomegranates with a simple homemade balsamic dressing is a perfect holiday side dish or a tasty fall dinner. This Roasted Pear Salad is a recipe you will be excited to make time and time again.
Roasted Pear Salad
How's everyones holidays going? I hope wonderful! I am totally loving on Christmas right now but I will tell you honestly with it still being a week out from Christmas that I am so over eating unhealthy. I know, I know I could adhere to a healthier diet during the holidays blah blah blah… I can't help it that I make delicious goods plus its cold and dark and those carbs call out to me. My husband and I have already started talking about how we are going to get back into a healthier lifestyle once the New Years come around. So that's right get pumped for a bunch of healthy recipes coming your way. So with that all being said I am sharing a salad with you today, a wonderful winter inspired salad. Using fruits that are in season I have created a Roasted Pear & Pecan Salad with a Maple Balsamic Vinaigrette.
So I will admit I am not really the first one to come up with a salad starring pears for the winter months but I will say that I greatly improved this salad! Roasting the pears and the pecans in the Maple Balsamic Vinaigrette. Let me tell you roasting improves the flavors of your pear salad by about 1,000%, the pears become more flavorful and make the goat cheese all melty while the pecans get candied and crunchy, ugh so good!
To top off the flavorful pears, melty goat cheese, and candied pecans, pomegranate seeds add a pop of color and freshness. The Maple Balsamic Vinaigrette that tops off the salad is so simple to make. This salad would be perfect to bring to a Christmas party or potluck.
While the roasted pears and pecans are wonderful warm if they cool down the salad is still just as good (trust me with this one).
So break up all of your holiday eating with this delicious Roasted Pear & Pecan Salad with a Maple Balsamic Vinaigrette 🙂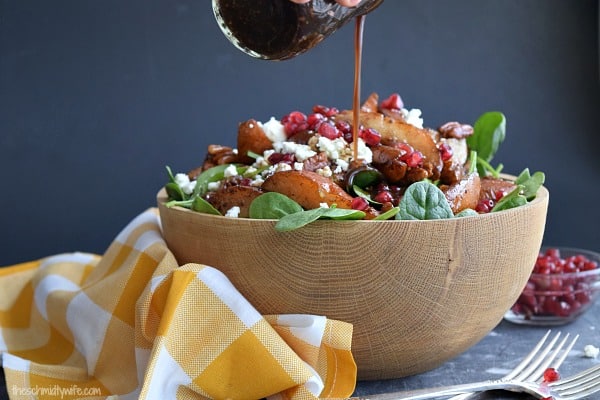 Can this salad be prepped ahead?
Absolutely. I make this ahead of time for Thanksgiving every year.
You will make the dressing. Roast the pears and pecans, wait for them to cool and then store them in an airtight container. Measure out the pomegranates and goat cheese and store in a separate container. Transfer the rest of the dressing to a container to store.
When it comes time to eat the salad, you can reheat the pears if you please or serve them cold.
Quickly add the spinach, pear mixture, pomegranates, goat cheese, and dressing to a large bowl.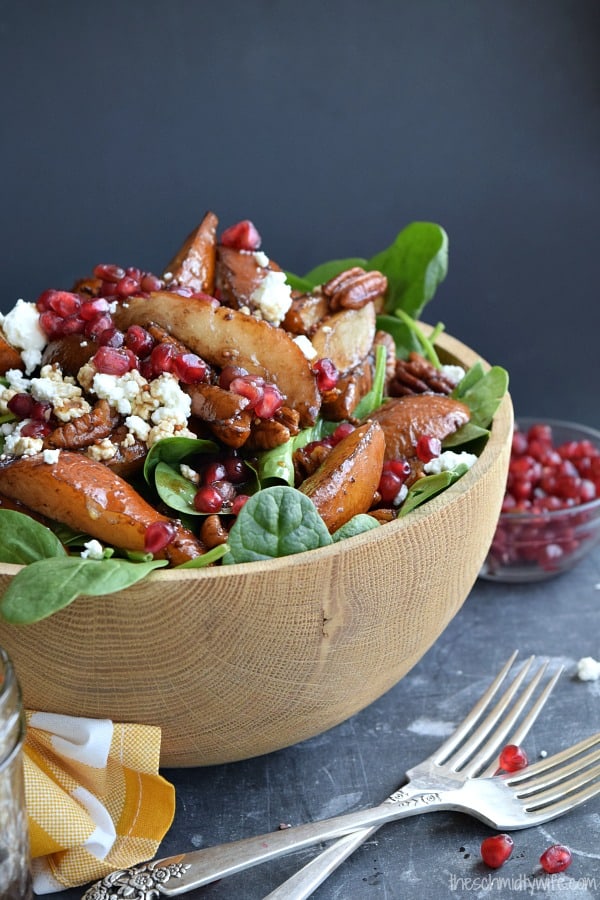 Yield: 6 servings
Roasted Pear & Pecan Salad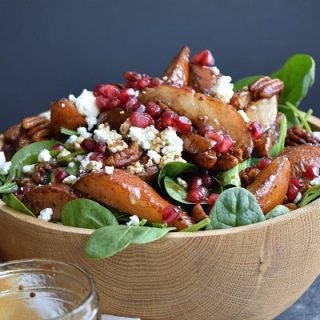 spinach salad filled with sweet roasted pears, mellow pecans, tangy goat cheese, crunchy pomegranates with a simple homemade balsamic is a perfect holiday side dish or a tasty fall dinner
Ingredients
for the Maple Balsamic Vinaigrette:
1/2 cup olive oil
1/2 cup balsamic vinegar
2 tablespoons maple syrup
2 teaspoons whole grain mustard
salt & pepper to taste
for the Salad:
3 bosc pears
1 cup raw whole pecans
1/2 pomegranate seeds
10 oz baby spinach
1/2 cup goat cheese
Instructions
Preheat oven to 400º F.
In a small bowl combine olive oil, balsamic vinegar, maple syrup, whole grain mustard, and salt & pepper to taste. Stir ingredients until fully combined to make vinaigrette.
Clean, pit, and slice each pear into 8 sections.
On a baking sheet combine pear slices, pecans, and 1/3 cup of the Maple Balsamic Vinaigrette. Toss together until pears and pecans are fully coated in the vinaigrette. Bake for 10 minutes, take out and toss. Bake for another 10 minutes (with the last 3-5 minutes remaining keep a close eye on the pecans to make sure they don't start to burn).
When the pears and pecans are finished baking place on top of the spinach. Top with pomegranate seeds, goat cheese, and your preferred amount of Maple Balsamic Vinaigrette. Enjoy!
Nutrition Information:
Yield:
6
Serving Size:
1
Amount Per Serving:
Calories:

447
Total Fat:

35g
Saturated Fat:

6g
Trans Fat:

0g
Unsaturated Fat:

27g
Cholesterol:

9mg
Sodium:

200mg
Carbohydrates:

30g
Fiber:

6g
Sugar:

20g
Protein:

7g
Nutritional data is automated, final nutritional information will depend on ingredients used and any changes made.
If you enjoyed this recipe or any of my others let me know by using #theschmidtywife on social media!
And make sure you are following me on Instagram, Pinterest, and Facebook for all the latest recipes!
Peace & Love
Lauren, The Schmidty Wife
P.S. Looking for more salad recipes? Check out my Apple Cranberry Salad with Turkey or my Summer Berry Salad.
Sign up for recipes straight to your inbox!
[mc4wp_form id="753″]
Please note that my links above may be affiliate links, and I will earn a commission if you purchase through these links. I recommend them because they are helpful, and are companies that I trust, not because of the commissions that I may earn from you using these products.