This post for Apple Cranberry Salad with Turkey and Apple Cider Vinaigrette is sponsored by Decas Farms Cranberries, all views and opinions are my own.
A couple of things I really love are loaded salads and cranberries. So when I was thinking what sort of fall and winter recipes I wanted to experiment with this year I knew a big salad with cranberries was a must. So I set out to make this delicious Apple Cranberry Salad with Turkey and Apple Cider Vinaigrette.
I've partnered up with Decas Farms Cranberries for this post, because I am such a big fan! If you have been a loyal Schmidty Wife follower you know each year I post about 3 cranberry recipes, maybe a bit excessive but probably not. I have always grabbed Decas Farms cranberries at the grocery store, both my favorite dried cranberries and fresh cranberries. So when they reached out I got so excited! And once I learned more about their company I got even more excited.
Decas Farms is a 3rd generation family run company that takes pride in their premium cranberries. Decas Farms produces their cranberries on family-owned bogs using sustainable agricultural practices, the Decas family owns over 400 acres of bogs in Massachusetts! So when my son is snacking on these cranberries by the handful I know that they are the best choice for him!
But you are here for an Apple Cranberry Salad with Turkey and Apple Cider Vinaigrette, so let's break this salad down.
The Ingredients
Organic Dried Cranberries. How good are dried cranberries in a salad?! They always add that texture and flavor factor that makes a salad phenomenal. With a little bit of sweetness, a little tartness, you seriously can't go wrong! Check out the recommended products below to order some for yourself!
Apples. Adding apples in a salad this time of year was a no brainer. I like to use a harder variety, my favorite are Cortland apples but a good Honeycrisp or Gala apple would be great. I love the sweet crunch it adds to the salad, but did you know that apples are also high in fiber and that is why they also make a great snacks, they keep you feeling full!
Turkey. I wanted to keep in simple as possible here, no turning on the oven or stove. So I grabbed some fresh deli turkey and chopped it up! If you are grabbing some from the deli counter, ask them to slice it a little thicker so the turkey doesn't just rip when you are slicing it. It is also helpful to note that you will probably want to grab about half a pound, you probably won't need it all, but then you can snack on some while you are getting dinner ready. 😉
Sharp Cheddar Cheese. In my opinion here, the sharper the better. In this salad I wanted the cheese to make a statement and not just blend in . So grab a block of sharp cheddar and cut it into small cubes for this salad. I was inspired by the pairing of apples with cheddar, isn't it weird how they pair so well together!?
Walnuts. This salad definitely needed the touch of a crunchy nut, I selected walnuts for their crunchy yet soft texture and mild sweet flavor blended in with the other fall flavors. Walnuts are also full of super nutrients and only 1/4 cup provides more than the daily value of recommend plant-based omega-3 fats, not to mention they are heart healthy and support brain health!
For the vinaigrette I also wanted it to be simple. Three ingredients along with a dash of salt is all you need, Olive Oil, Apple Cider, and Apple Cider Vinegar. Together they make a trio of tasty dressing that is delicious but doesn't take away from any of the ingredients.
The Method
I love it when I get to the method part and it is like 1 sentence long don't you!?
Gather your ingredients, chop them up, mix the vinaigrette, and toss all together in a large bowl!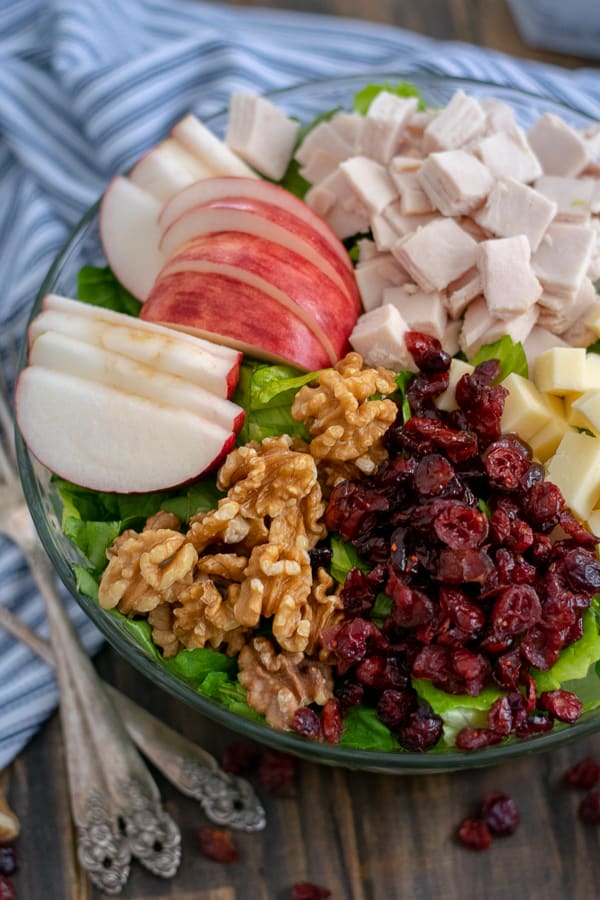 This salad is great as a main dish for about 2 people or as side dish for about 4 people. With plenty of fiber and protein it is great on its own or I like to pair it with soup especially my Homestyle Crockpot Chicken Noodle Soup. And you should have enough cranberries left to make a great snack the rest of the week, seriously both of my boys go crazy for them!
TIPS & TRICKS:
• You can swap out romaine for any other kind of lettuce such as baby spinach, iceberg, butterhead, or arugula (you'll need about 4-6 cups)
• If you have leftover Thanksgiving or Christmas turkey, feel free to substitute the deli turkey for some delicious roasted turkey!
• Need Cranberries? Buy them below or locate them in a store by clicking here.
Yield: 4 servings as a side
Apple Cranberry Salad with Turkey and Apple Cider Vinaigrette Recipe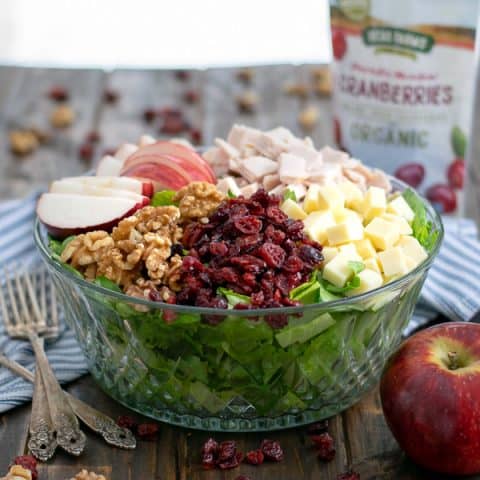 a late fall salad full of apples, cranberries, and turkey tossed with an apple cider vinaigrette
Ingredients
3 hearts of romaine lettuce, chopped
1 large apple, diced
1/2 cup cubed sharp cheddar cheese
1 cup diced deli turkey*
1/3 cup walnuts
for the vinaigrette
2 tablespoons olive oil
2 tablespoons apple cider
2 tablespoons apple cider vinegar
dash of salt
Instructions
In a small bowl or jar add olive oil, apple cider, apple cider vinegar, and salt. Whisk (or cover and shake jar) to combine to make the vinaigrette.
In a large bowl add lettuce, apple, cheese, turkey, dried cranberries, and walnuts. Pour vinaigrette on top and toss salad together. Serve immediately.
Notes
*either 4-5 slices of deli turkey chopped or you can also use leftover turkey chopped into pieces
Nutritional data is automated, final nutritional information will depend on ingredients used and any changes made.
Recommended Products
As an Amazon Associate and member of other affiliate programs, I earn from qualifying purchases.
Nutrition Information:
Yield:
4
Amount Per Serving:
Calories:

373
Total Fat:

23g
Cholesterol:

35mg
Sodium:

474mg
Carbohydrates:

23g
Fiber:

4g
Sugar:

16g
Protein:

12g
Peace & Love
Lauren, The Schmidty Wife
Please note that my links above may be affiliate links, and I will earn a commission if you purchase through these links. I recommend them because they are helpful, and are companies that I trust, not because of the commissions that I may earn from you using these products.