This Balsamic Cranberry Chicken Bake is a perfect fall weeknight dinner. Juicy balsamic marinaded chicken with cranberries and baby potatoes make for a flavorful and filling meal.
Soooo this might be my third recipe involving cranberries and chicken I have posted on my blog, sorry but they are a match made in heaven. This recipe for Balsamic Cranberry Chicken Bake I have been dreaming up for a while. I have wanted to do a healthy and fast chicken bake involving cranberries and balsamic and after a couple of failed attempts I finally found myself a delicious winner.
So before we move on to this delicious meal if you are obsessed with cranberries as much as I am my other cranberry chicken recipes are my Sheet Pan Cranberry Chicken Sausage and my One Pan Fall Harvest Chicken Dinner. Or if you like turkey check out my Apple Cranberry Salad with Turkey and Apple Cider Vinaigrette.
So like I said before I tried a couple of failed versions of this recipe before I found one I really liked. I tried a bunch of different flavor options like super onion-y and super sweet but in the and a more plain and easy version won, woo hoo.
During Thanksgiving I had made my Roasted Pear & Pecan Salad for our meal, and as I was prepping the dressing the day before I realized how much I loved the dressing, so much so I knew it needed to be used somewhere else. So with this little idea in my brain I got back to my Balsamic Cranberry Chicken Bake and decided to use my delicious balsamic vinaigrette as a chicken marinade. Winner winner chicken dinner.
To finish off the recipe I wanted to make the rest of the meal as easy as I could. So I added my cranberries to the marinading chicken (turing it into almost a dump meal). And I decided that the whole marinade should just be dumped onto a layer of baby potatoes.
All baked up this dinner is simple and delicious. The marinading makes the chicken juicy, and the potatoes and cranberries also soak up all of the delicious flavor. You can't go wrong with this Balsamic Cranberry Chicken Bake.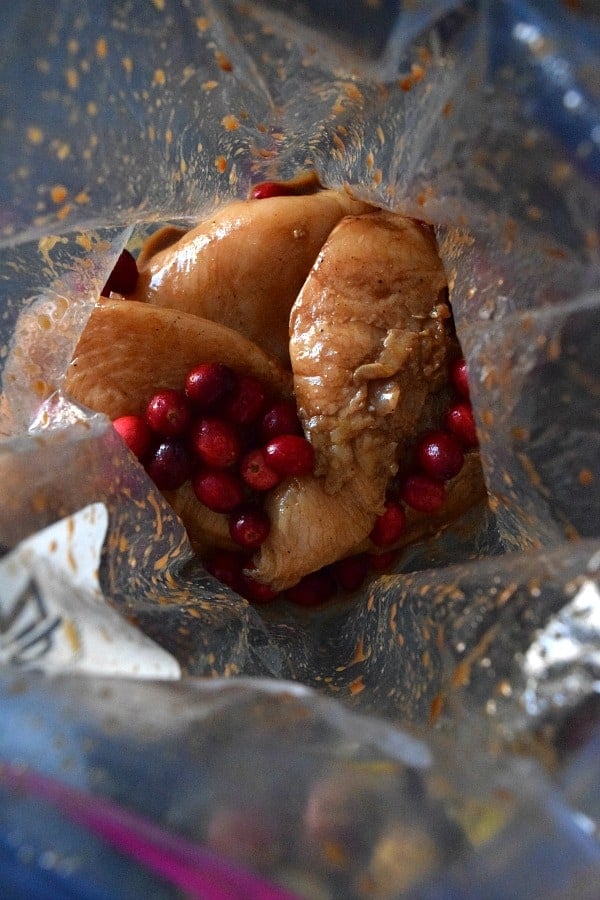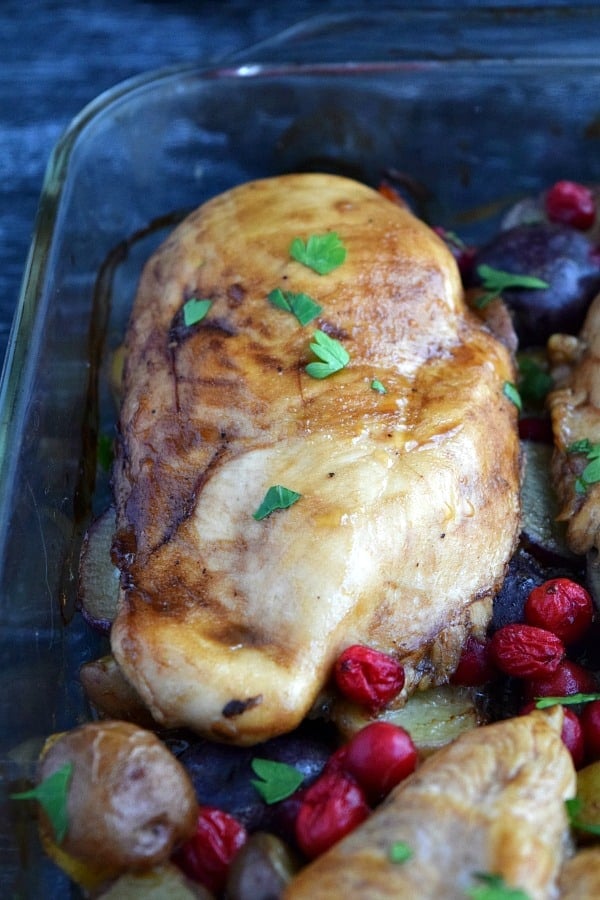 TIPS & TRICKS:
• Cranberries are pretty seasonal so feel free to use frozen
• If your potatoes are rather large, consider cutting them into fourths, the potatoes tend to take longer to cook than the chicken
• Since the chicken breasts sold in most grocery store are so large these days, I often take 2 large chicken breasts (ones that are about 1 pound a piece) and cut them in half horizontally, giving me 4 proper portions
Yield: 4 servings
Balsamic Cranberry Chicken Bake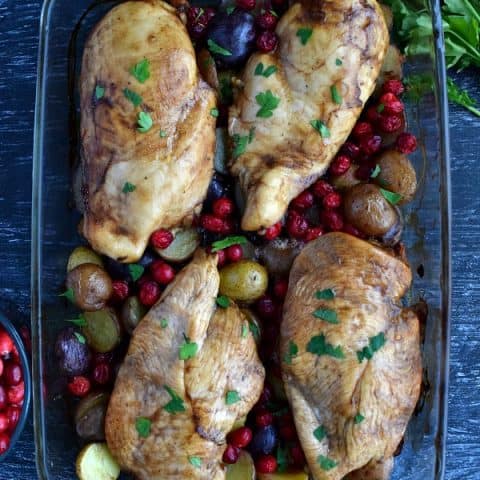 juicy balsamic marinaded chicken with cranberries and baby potatoes
Total Time
1 hour
40 minutes
Ingredients
4 8-ounce chicken breasts
1/4 cup olive oil
1/4 cup balsamic vinegar
1 tablespoon maple syrup
1 teaspoon dijon mustard
1 cup fresh cranberries (frozen will work too)
1 1/2 pounds baby potatoes
Instructions
In a large ziplock bag or airtight container add olive oil, balsamic vinegar, maple syrup, and dijon mustard. Add salt & pepper to taste. Mix together to make marinade (seal up bag/cover container and give a couple of good shakes).
Add chicken breasts and cranberries to the marinade. Refrigerate the marinade for at least 1 hour or as long as overnight.
Preheat oven to 400º F and lightly grease a 8x12 inch casserole dish.
Half baby potatoes. Add potatoes to the casserole dish in a single layer.
Dump the contents of the marinade overtop the potatoes, ensuring the chicken are in a single layer and not overlapping.
Bake for 35-40 minutes until the chicken is to temperature and the potatoes are tender. Serve immediately.
Nutrition Information:
Yield:
4
Amount Per Serving:
Calories:

602.81
Total Fat:

30.52g
Saturated Fat:

6.74g
Sodium:

143.4mg
Carbohydrates:

39.21g
Fiber:

5.06g
Sugar:

7.85g
Protein:

41.5g
Nutritional data is automated, final nutritional information will depend on ingredients used and any changes made.
Peace & Love
Lauren, The Schmidty Wife
P.S. Looking for more chicken recipes? Check out my Healthier Cajun Chicken Pasta or my Sticky Orange Chicken Thighs.
Please note that my links above may be affiliate links, and I will earn a commission if you purchase through these links. I recommend them because they are helpful, and are companies that I trust, not because of the commissions that I may earn from you using these products.