I love the time of year when everything switches from 'pumpkin spice' to 'gingerbread' flavors, don't get me wrong I am a basic white girl that enjoys a good pumpkin spice latte BUT I will take gingerbread flavors over pumpkin flavors any day. The funny thing is the two flavors are very closely related, only different concentrations of spices is what sets them apart but I love the addition of smokey molasses when mixed with the gingerbread spices. The flavors are a little bit more robust with gingerbread but still so easy to make, so today I am sharing with you Homemade Gingerbread Spice.
You can use this in cookies, pancakes, lattes, waffles, muffins, coffee, you name it. I recommend paring the spice mixture with molasses in order to achieve the true gingerbread flavors you love.
In the upcoming weeks I will be sharing a few recipes that use this delicious Homemade Gingerbread Spice mixture so grab yourself a jar and get measuring because trust me you are going to want to make them!
The Ingredients
5 simple spices you probably already have on hand.
Ginger. Known to be one of the most healthiest spices on the planet ginger is most well known for fighting nausea. High in anti-inflammatory powers this plant is native to southern Asia and can be seen fresh in many Asian dishes and dried for in baked goods.
Allspice. Amply named because it derives smells of cinnamon, nutmeg, and cloves Allspice comes from a Pimenta tree native to Southern Mexico and Central America. Allspice is actually the dried fruit of the tree and is picked when green and is traditionally dried in the sun. From savory dishes like jerk chicken to sweet baked goods the allspice is a versatile spice commonly found in Caribbean cuisine,the United States, and Great Britain.
Cloves. Cloves are the flowering bud of a tree native to Indonesia. Picked when flowering and dried in the sun you generally don't need to use a lot of cloves to have a big impact on flavors of a dish. Did you also know that cloves can be used as an ant repellant?! Who knew.
Nutmeg. The seed of a nutmeg tree is ground up to create the spice. Did you know that the spice Mace also comes from the same nutmeg tree? Mace is actually the seed covering of the nutmeg seed, that is why mace has a very similar taste to nutmeg.
Cinnamon. Another healthy spice cinnamon is loaded with antioxidants, has anti-inflammatory powers, and can lower blood sugars. Such a popular spice that in 2016, 223,575 tonnes were produced. That is a lot of cinnamon.
The Method
Let's be real, there isn't much a method here. Mix the spices together and keep it in an airtight container.
I have come accustomed to grinding a lot of these spices from the whole varieties with my Microplane Spice Mill
. I find that especially with nutmeg you can get a fresher tasting spice.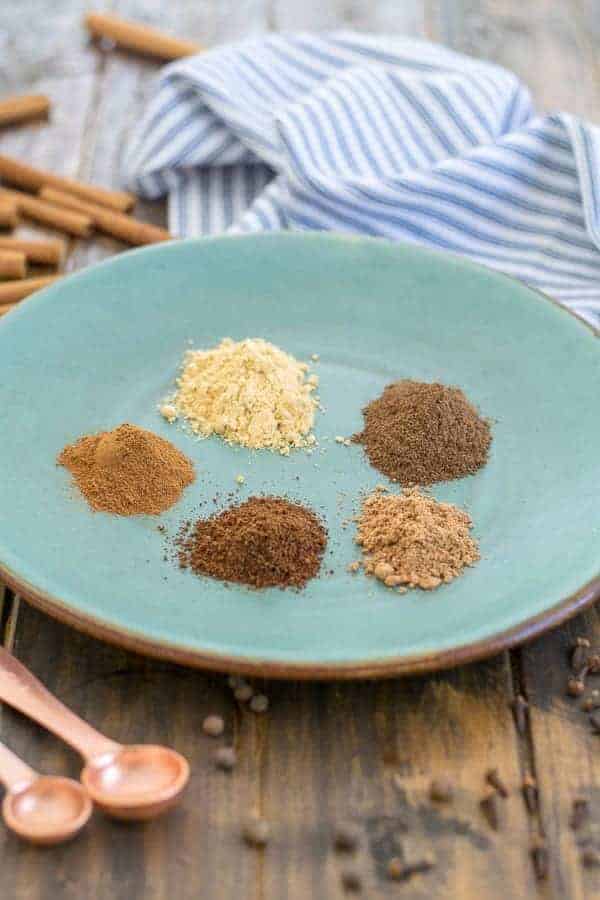 TIPS & TRICKS:
• For a full gingerbread flavor in whatever you are making also use molasses along with this homemade gingerbread spice. Remember though a little molasses goes a long way.
Yield: 1/4 cup
Homemade Gingerbread Spice Recipe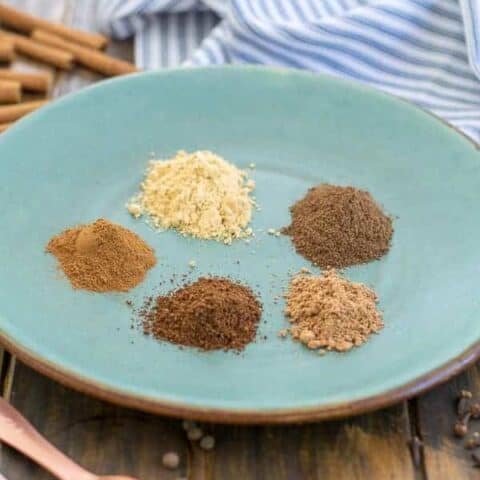 with only 5 spices you can make homemade gingerbread spice, perfect for muffins, lattes, cookies, and more
Ingredients
1 tablespoon ground allspice
1 tablespoon ground ginger
1 1/2 teaspoon ground cloves
1 1/2 teaspoon ground nutmeg
1 1/2 teaspoon ground cinnamon
Instructions
Add all of the spices to an airtight container, stir or shake with lid to mix together.
Notes
Nutritional data is automated, final nutritional information will depend on ingredients used and any changes made.
Recommended Products
As an Amazon Associate and member of other affiliate programs, I earn from qualifying purchases.
Nutrition Information:
Yield:
12
Serving Size:
1 teaspoon
Amount Per Serving:
Calories:

6
Total Fat:

0g
Cholesterol:

0mg
Sodium:

1mg
Carbohydrates:

1g
Fiber:

1g
Sugar:

0g
Protein:

0g
Peace & Love
Lauren, The Schmidty Wife
Please note that my links above may be affiliate links, and I will earn a commission if you purchase through these links. I recommend them because they are helpful, and are companies that I trust, not because of the commissions that I may earn from you using these products.