This Crockpot Wassail Recipe is easy to simmer together in the crockpot and will keep you and yours warm during the Christmas season. Featuring cozy apple cider, black tea, orange & lemon juice, honey, whole cloves, and cinnamon sticks it will leave your whole house smelling like Christmas!
Crockpot Wassail
As I sat down with my cup of coffee to write this post it began to snow for the first time this year, you guys it is so perfectly picturesque, the snow, Christmas music playing, and I get to share with you one of my favorite Christmastime recipes! I love sharing foods and drinks that mean a lot to me and bring joyful memories, it warms my heart! Today I am sharing with you Crockpot Christmas Wassail, I have adapted this favorite family recipe to a crockpot version, and as I made it the whole house began to smell like Christmas.
Every year growing up (except the handful of years we skipped the snow and headed to Florida for Christmas break, thanks G&G Post for wintering in FL) we always went to my Grandma and Grandpa Wohlers house for Christmas Eve dinner. The Wohlers is my mom's side of the family and let me tell you there is a lot of family, my Grandparents had 8 kids, so in turn I have 18 first cousins, add on their spouses, and then eventually a whole heap of great grand kids, even when only half of the family could make it, it was still a full house. It was always loud, very loud and I can't even get started on how hot it got in that house, we eventually learned that we had to layer for this get together otherwise you feared passing out. Over the years things changed but some things always stayed the same, a crowded kitchen, everyone's homemade stockings hung on the fireplace, a lot of laughter, and the little kids drinking so much Wassail it was almost a sure thing at least a few kids would be wetting the bed that night. The Wohler's Wassail is a Christmas staple every year, I can picture it now, it was always sitting on the corner of the counter in the little kitchen in a big old coffee percolator, like the kind from a church basement (big family remember). There were always fancy little glass cups to put the wassail in, and a child always there filling up their cup. Who would have thought that a simple warm beverage could bring back such wonderful memories.
So the recipe for Crockpot Christmas Wassail I am sharing with you today has gone through 3 slight modifications but it is still everything I remember it to be.
The first modification I made, I have switched the brewing on the stove or a church coffee percolator to a crockpot.
The second is I halved the recipe, big family means a lot of wassail, I figured a majority of people are not looking to serve 25 people wassail, if you are, double the recipe!
The last is probably the biggest change, I took out the granulated sugar completely and replaced it with a much less amount of honey. The amount of sugar in the recipe was pretty outstanding, and completely unnecessary with the amounts of apple cider and orange juice in the beverage but I felt like it still needed a little added sweetness so I went from what would be a 1 1/2 cups of sugar to 1/4 cup of honey, if you prefer extra sweet wassail, feel free to forgo the honey for the sugar.
The Crockpot Christmas Wassail itself could not be easier to put together. Add apple cider, black tea, orange juice, lemon juice, honey, cloves, and cinnamon sticks. Let simmer in the crockpot and serve. And although at our Christmas celebration we left the Wassail non-alcoholic feel free to add rum or your preferable beverage of choice to your glass as you enjoy. I hope that your family has a very warm and safe Christmas full of wonderful family memories.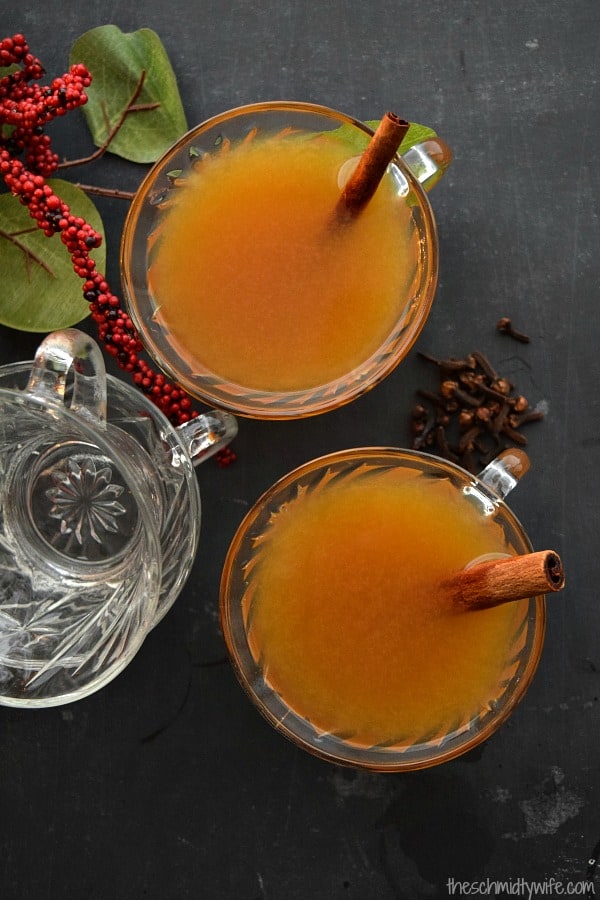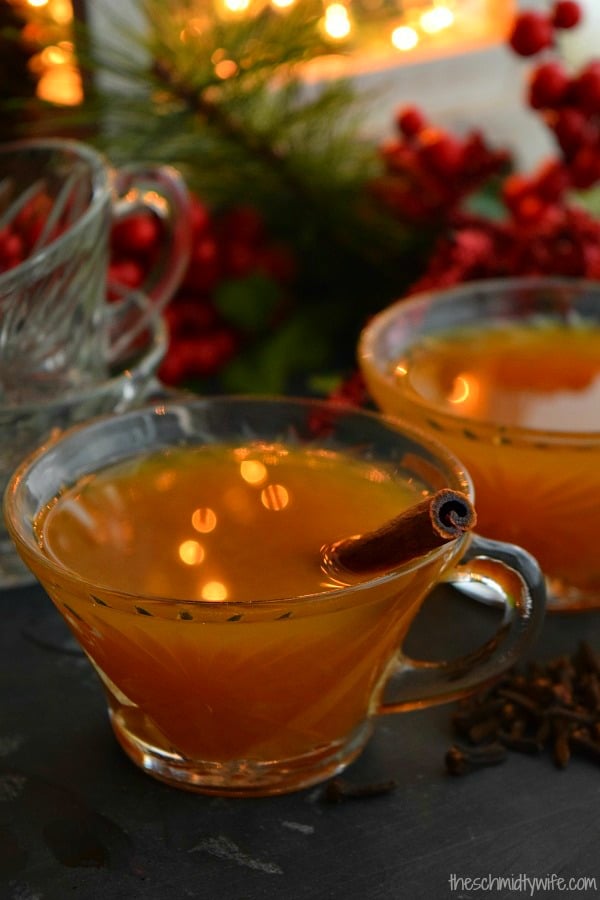 If you need some more Christmas inspiration check these recipes out:
Yield: 12 servings
Crockpot Christmas Wassail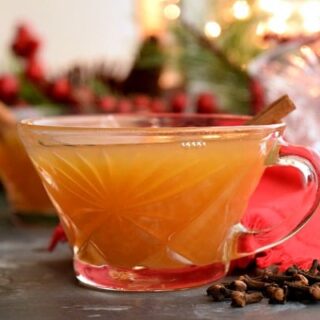 Crockpot Christmas Wassail is easily simmered together in the crockpot and will keep you and yours warm during the Christmas season.
Total Time
2 hours
5 minutes
Ingredients
8 cups (1/2 gallon) apple cider
2 cups prepared black tea*
2 cups orange juice
1/2 cup lemon juice
1/4 cup honey
1 heaping teaspoon whole cloves
2 cinnamon sticks
Instructions
Add apple cider, black tea, orange juice, lemon juice, honey, cloves, and cinnamon sticks to crockpot. Stir together.
Simmer on high for 2-3 hours or low for 5-6 hours.
Before serving use a slotted spoon to remove cloves and cinnamon sticks. Enjoy hot.
Notes
*decaffeinated works great here too
Nutrition Information:
Yield:
12
Serving Size:
~1 cup
Amount Per Serving:
Calories:

120
Total Fat:

0g
Saturated Fat:

0g
Trans Fat:

0g
Unsaturated Fat:

0g
Cholesterol:

0mg
Sodium:

11mg
Carbohydrates:

30g
Fiber:

1g
Sugar:

25g
Protein:

1g
Nutritional data is automated, final nutritional information will depend on ingredients used and any changes made.
Sign Up for recipes straight to your inbox!
[mc4wp_form id="753″]
And make sure you are following me on TikTok, Instagram, Pinterest, and Facebook for all the latest recipes!
Peace & Love
Lauren, The Schmidty Wife
Please note that my links above may be affiliate links, and I will earn a commission if you purchase through these links. I recommend them because they are helpful, and are companies that I trust, not because of the commissions that I may earn from you using these products.