This Crockpot Wassail Recipe is easy to simmer together in the crockpot and will keep you and yours warm during the Christmas season. Featuring cozy apple cider, tea, orange & lemon juice, honey, whole cloves, and cinnamon sticks it will leave your whole house smelling like Christmas!
This post may contain Affiliate Links.
Originally posted December 6, 2016. Post updated November 30, 2022 with updated recipe and photos.
Crockpot Wassail
Normally when I go back to my old posts to update them I change the entire commentary from 6 years ago. It was different back then, when blogging was still just blogging. There was a lot more stories about the people behind the recipe and less about the recipes.
Food blogging has changed, people don't want stories anymore, just the recipes. I mean I don't entirely blame them.
Luckily us food bloggers love food so we exchanged the stories for helpful hints and give out as much info about the recipe as possible so you can be successful in making it.
But this post made me stop. It is one of those recipes that is so engrossed in who I am that I am leaving the family story in. Because that is the beauty of getting your recipes from a food blogger.
We are real people, we have reasons we create that recipe. So enjoy my colorful commentary if you wish, if you don't wish to read just scroll right past. I promise at the bottom there is a kick-ass recipe for some Christmas Wassail.
I think in particular this post hits home because since it was written my grandparents who used to host christmas eve at their house have both passed. So these memories are just memories, no more upcoming Christmas'. So thanks for letting me enjoy the memories.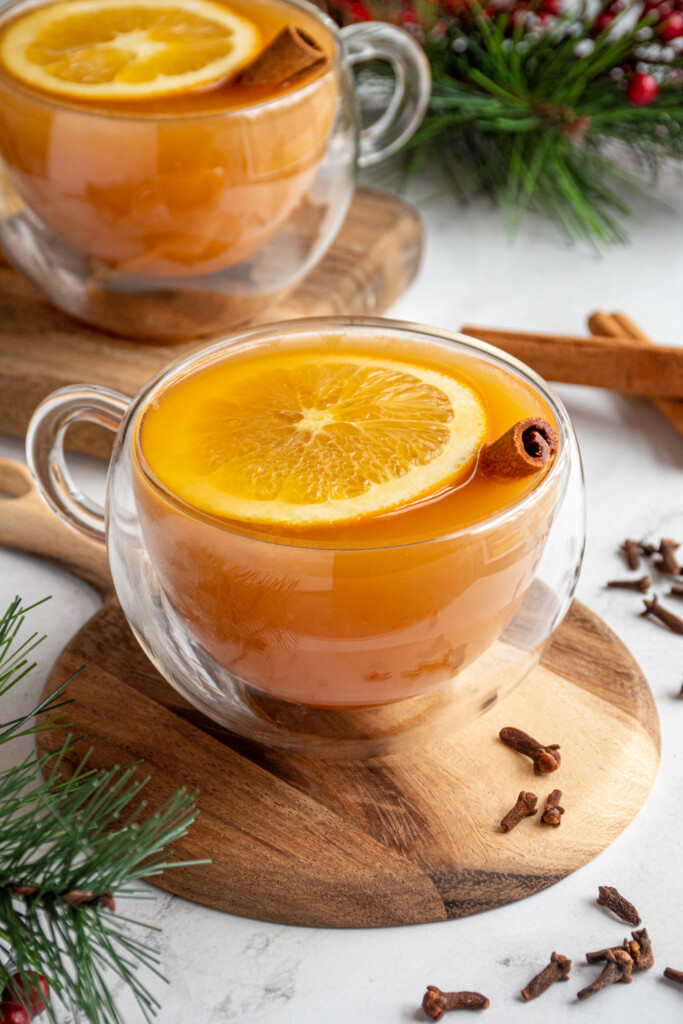 Original Post:
As I sat down with my cup of coffee to write this post it began to snow for the first time this year. So perfectly picturesque, the snow, Christmas music playing, and I get to share with you one of my favorite Christmastime recipes!
I love sharing foods and drinks that mean a lot to me and bring joyful memories, it warms my heart! Today I am sharing with you Crockpot Christmas Wassail. I have adapted this favorite family recipe to a crockpot version, and as I made it the whole house began to smell like Christmas.
Every year growing up (except the handful of years we skipped the snow and headed to Florida for Christmas break, thanks G&G Post for wintering in FL) we always went to my Grandma and Grandpa Wohlers house for Christmas Eve dinner.
The Wohlers are my mom's side of the family and let me tell you there is a lot of family. My Grandparents had 8 kids, so in turn I have 18 first cousins, add on their spouses, and then eventually a whole heap of great grand kids. Even when only half of the family could make it, it was still a full house.
It was always loud, very loud. I can't even get started on how hot it got in that house, we eventually learned that we had to layer our clothes otherwise you feared passing out.
Over the years things changed but some things always stayed the same. A crowded kitchen, everyone's homemade stockings hung on the fireplace, a lot of laughter, and the little kids drinking so much Wassail. It was almost a sure thing at least a few kids would be wetting the bed that night.
The Wohler's Wassail is a Christmas staple every year. I can picture it now, it was always sitting on the corner of the yellow linoleum counter in the little kitchen in a big old coffee percolator. The giant stainless steel ones like the kind from a church basement (big family remember). There were always these fancy little glass cups to put the wassail in, and a child always there filling up their cup. Who would have thought that a simple warm beverage could bring back such wonderful memories.
So the recipe for Crockpot Christmas Wassail I am sharing with you today has gone through 3 slight modifications from the one written in the family cookbook but it is still everything I remember it to be.
The first modification I made. I switched the simmering on the stove or a church coffee percolator to a crockpot.
The second is I halved the recipe. Big family means a lot of wassail, I figured a majority of people are not looking to serve 25 people. If you are, double the recipe!
The last is probably the biggest change, I took out the granulated sugar completely and replaced it with a much less amount of honey. The amount of sugar in the recipe was pretty outstanding, and completely unnecessary with the amounts of apple cider and orange juice in the beverage but I felt like it still needed a little added sweetness so I went from what would be a 1 1/2 cups of sugar to 1/4 cup of honey, if you prefer extra sweet wassail, feel free to forgo the honey for the sugar.
The Crockpot Christmas Wassail itself could not be easier to put together. Add apple cider, tea, orange juice, lemon juice, honey, cloves, and cinnamon sticks. Let simmer in the crockpot and serve.
At our Christmas celebration we left the Wassail non-alcoholic feel free to add rum or your preferable liquor of choice to your glass as you enjoy. I hope that your family has a very warm and safe Christmas full of wonderful family memories.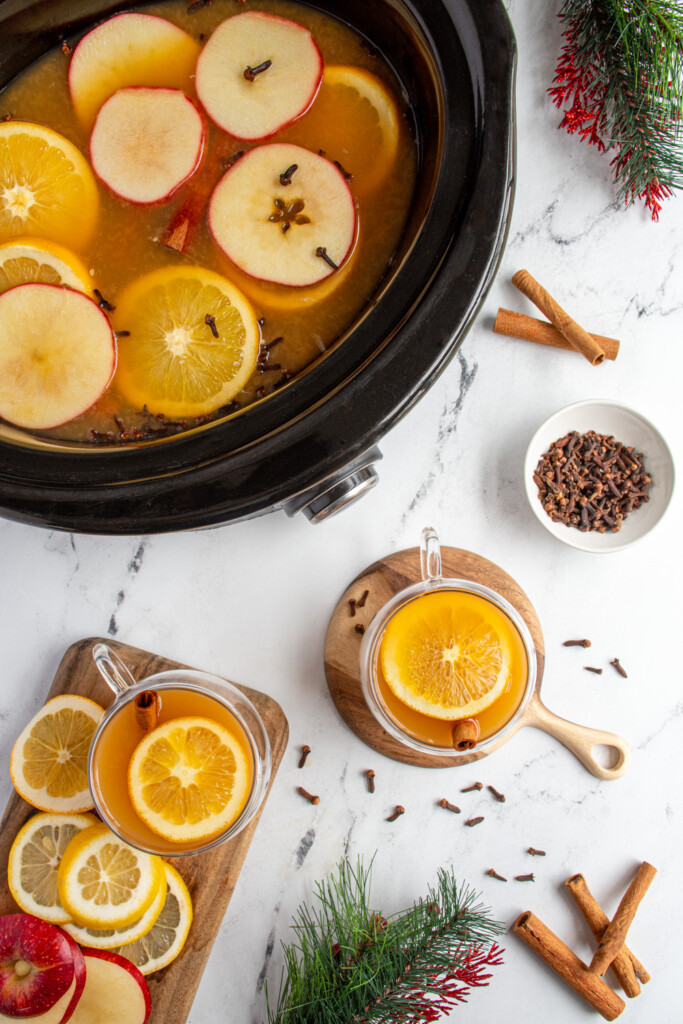 2022 Update
Here in 2022 I wanted to make one little modification to the recipe.
Originally my family always used black tea to make this recipe. I have now realized that maybe some of that black tea (plus the sugar) resulted in some hyper activity. I have changed the recipe to call for 2 cups of prepared rooibos tea or black tea, your preference.
If you have kids or caffeine intolerant people I highly recommend using rooibos. It is a natural decaffeinated herbal tea. I would consider it the closest herbal tea to the taste of black tea.
Rooibos originates out of Africa and has a taste remnant of black tea but with a nutty or smoky flavor.
So you decide but let's look at the ingredients.
ingredients
apple cider – The bulk of wassail, you will want real apple cider not apple juice if possible.
prepared rooibos or black tea – Like stated above I prefer to use rooibos tea opposed to black tea so i can give it to my kids without a caffeine kick. You of course could also use decaf black tea if you wish.
orange juice – For this recipe I would chose a juice without the pulp, a little pulp from the lemon juice will still be in the recipe but by using pulp free orange juice it keeps it from becoming too much.
lemon juice – Use fresh lemons! The amount of lemons you will need really depends on the size, so buy 3. I had really big lemons this time and it took 1 ½ to produce the juice i needed but in the past when i have used smaller lemons it could take up to 3.
Honey – Just a little honey to help sweeten everything. Because the honey is in there make sure you do stir it in well and that it isn't sitting on the bottom of the crockpot.
whole cloves & cinnamon sticks – For spicing the wassail.
For a complete detailed list of the ingredients continue towards the bottom of the page.
pro tip
If you want to prep this a day or two in advance you can. Add everything to a large container and store it in the fridge. When you are ready to heat just pour into the crockpot, just be sure that the honey doesn't stick to the bottom of whatever you put it in. (If available I like to use an empty gallon jug)
instructions
Add the apple cider, tea, orange juice, lemon juice, honey, cloves, and cinnamon sticks to crockpot. Stir together.
Cook on high for 2-3 hours or low for 5-6 hours. Turn to warm to serve.
If you would like a beautiful garnish for the wassail, add orange slices and apple slices.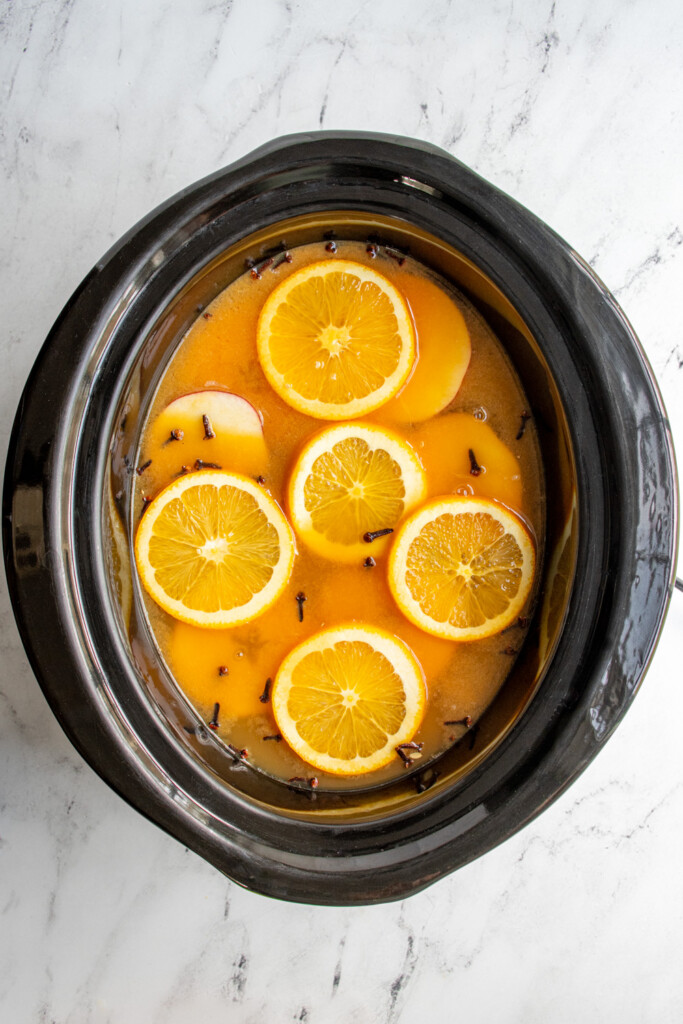 tips, tricks and questions
What is the difference between mulled cider and wassail??
Technically nothing, both are a spiced juice drink. But traditionally mulled cider is just apple while wassail includes other flavors.
Can I substitute apple juice for apple cider in wassail?
In a pinch absolutely. I will note that apple juice might have more added sugar so you might not need to add the honey. Mix everything together without the honey then give it a try and judge if you think it is sweet enough.
What nationality is wassail?
Wassail is from Britain. It can be traced back to pre-christian pagan New Year's rituals where they drank a similar drink. And you know how history works. Somehow it ended up becoming a popular Christmas drink.
If you like this Crockpot Christmas Wassail Recipe you might also like:
Raspberry Thumbprint Cookies
Yield: 12 servings
Crockpot Christmas Wassail
Crockpot Christmas Wassail is easily simmered together in the crockpot and will keep you and yours warm during the Christmas season.
Total Time
2 hours
5 minutes
Ingredients
8 cups (1/2 gallon) apple cider
2 cups prepared rooibos or black tea
2 cups orange juice
1/2 cup fresh lemon juice
1/4 cup honey
1 heaping teaspoon whole cloves
2 cinnamon sticks
Instructions
Add apple cider, tea, orange juice, lemon juice, honey, cloves, and cinnamon sticks to the crockpot. Stir together to make sure honey isn't sitting on the bottom.
Simmer on high for 2-3 hours or low for 5-6 hours.
Before serving for an extra garnish you can add orange and apple slices. Serve with the crockpot on low or warm.

Notes
You will need about 2-3 fresh lemons.
Feel free to transfer any leftovers to the fridge to reheat at a later time.
Nutrition Information:
Yield:
12
Serving Size:
~1 cup
Amount Per Serving:
Calories:

120
Total Fat:

0g
Saturated Fat:

0g
Trans Fat:

0g
Unsaturated Fat:

0g
Cholesterol:

0mg
Sodium:

9mg
Carbohydrates:

30g
Fiber:

1g
Sugar:

25g
Protein:

1g
Nutritional data is automated, final nutritional information will depend on ingredients used and any changes made.
And make sure you are following me on TikTok, Instagram, Pinterest, and Facebook for all the latest recipes!
If you need some more Christmas inspiration check these recipes out: