Not much can beat a bowl of classic chili, except a bowl of easy to make Classic Crockpot Chili. To me this chili is the epitome of what chili should be full of beef, onions, peppers, beans, and tomatoes. Not that I don't love other varieties of chili for example my Crockpot Creamy Pumpkin Chili is completely drool worthy. But I have lived a few different places throughout the country now and some peoples idea of chili to me is a little off, I don't want to call out Ohio but Cincinnati Chili… umm not my favorite. If you are not familiar with how Cincinnati does their chili they leave out the beans, add cinnamon, and put it on top of spaghetti usually then topped with cheese and onions. Then there is Texas chili, which I am pretty sure includes chocolate…. So yeah different places can mean you get quite the different chili experience. So while I love the variety chili brings to me nothing beats my idea of classic chili. So today I share with you my Classic Crockpot Chili.
This chili simmers in the crockpot all day long so it is ready after a long day and it is very easy to put together in the morning (especially if you do some prep the night before). You start by browning the ground beef, then chopping up the onion and peppers, add all of that to the crockpot along with beans and tomatoes. Adding the spices and then the tomato juice. Viola dinner is ready! At my house we like to top our chili with cheddar cheese, sour cream, and saltines, sometime we also crush up Nacho Cheese Doritos for the top (when I am feeling nice enough to buy junk food at the grocery store). So I hope you give my version of Classic Crockpot Chili a try, Enjoy!
Yield: 6 servings
Classic Crockpot Chili Recipe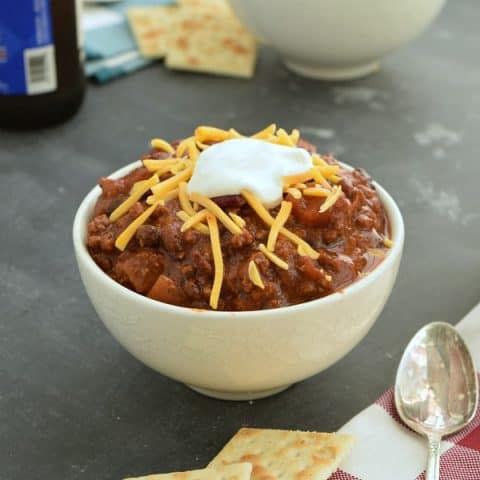 a cozy classic ground beef chili full of beans and peppers simmered together in the slow cooker
Total Time
7 hours
15 minutes
Ingredients
Classic Chili Seasoning
2 tablespoons chili powder
2 teaspoons cumin
1 teaspoon onion powder
1 teaspoon salt
1/2 teaspoon cayenne pepper
1/2 teaspoon garlic powder
1/2 teaspoon ground pepper
1 teaspoon red pepper flakes (optional)
Classic Crockpot Chili
2 pounds ground beef
2 green bell peppers, diced
1 large onion, diced
2 jalapeños, diced (optional)
1 15oz can dark red kidney beans
1 15oz can chili ready beans
1 15oz can chili ready tomatoes
1 46oz can 100% tomato juice
Instructions
For the Classic Chili Seasoning: Measure out each ingredient into a small bowl. Mix ingredients. If not using right away store in airtight container.
For Classic Crockpot Chili: Over medium heat cook ground beef until brown, 8-10 minutes. Drain and add cooked beef to crockpot.
Add diced peppers and onion to the crockpot. Without draining the cans add the dark red kidney beans, chili ready beans, and chili ready tomatoes to the crockpot. Sprinkle chili seasoning into the crockpot. Stir to mix everything together
Slowly add the tomato juice to crockpot, fill the tomato juice into crock.
Cook for 6 to 8 hours on low. Garnish with your favorite toppings!
Notes
Nutritional data is automated, final nutritional information will depend on ingredients used and any changes made.
Nutrition Information:
Yield:
6
Amount Per Serving:
Calories:

484
Total Fat:

17g
Saturated Fat:

6g
Trans Fat:

0g
Sodium:

1586mg
Carbohydrates:

15g
Fiber:

12g
Sugar:

13g
Protein:

42g
Peace & Love
Lauren, The Schmidty Wife
P.S. Sign up for tasty recipes straight to your inbox!
[mc4wp_form id="753″]