Learn step by step the best way to make Baked Potatoes at home in the oven! Tender on the inside and crispy on the outside, plus super easy to prep these baked potatoes are perfect on their own or topped with your favorite toppings!
This post may contain Affiliate Links.
I never considered myself much of a meat and potatoes type girl until I started writing this post. I just realized I absolutely love potatoes and nothing pairs better with potatoes then a good piece of meat, whether it be a perfectly grilled chicken breast, a t-bone steak, or juicy burger. So in honor of my new found identity I present to you How to make Perfect Baked Potatoes.
You'll start with your potatoes, however many you plan on serving it doesn't matter (remember leftover potatoes are a wonderful thing).
For the best baked potato you will want a large russet baking potato, most grocery stores have potatoes in bulk for specifically making baked potatoes, get those if you can, if not any russet will work. It is also important to note that the potatoes will bake best when they are all around the same size so keep that in mind when picking your potatoes.
So once you have you potatoes the first step is to wash them clean, really make sure any of the dirt that might have been on them comes off.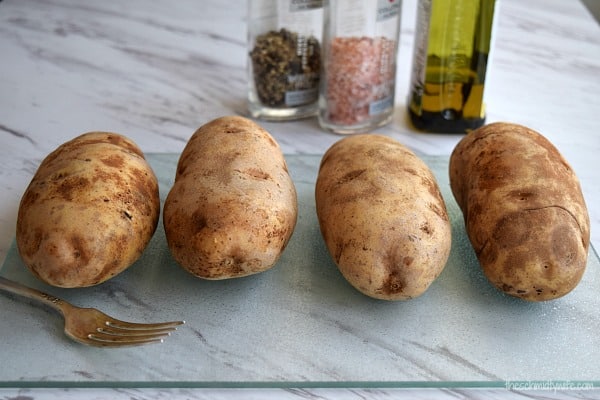 Once your potatoes are all clean you will want to poke them with a fork, 5-6 times all over the potato.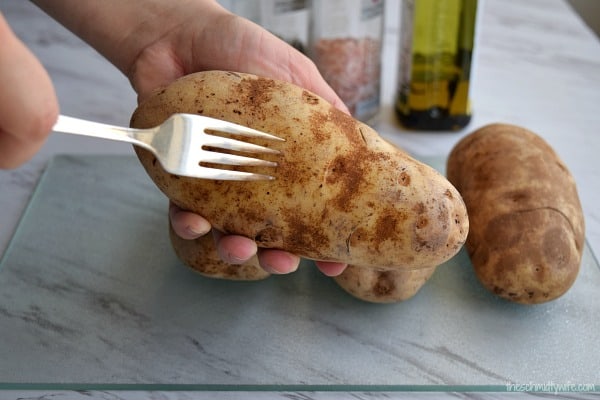 Next you will massage them with olive oil, yes massage 😉 Give them each a little drizzle and a good rub. You want them covered in oil but not dripping. Also this step is a good place to point out it is best to have a cutting board or plate under the potatoes to catch all the drippings!
Next you are ready to salt. For this step go big or go home. Start with high quality salt, it makes all the difference. Try course sea salt or fresh ground pink himalayan salt (my favorite). Really go to town on the salt, this is the step I think makes the biggest and best impressions and flavors. Salt all sides of the potatoes so there is almost a coating of salt. Finish off with some freshly ground pepper to your liking.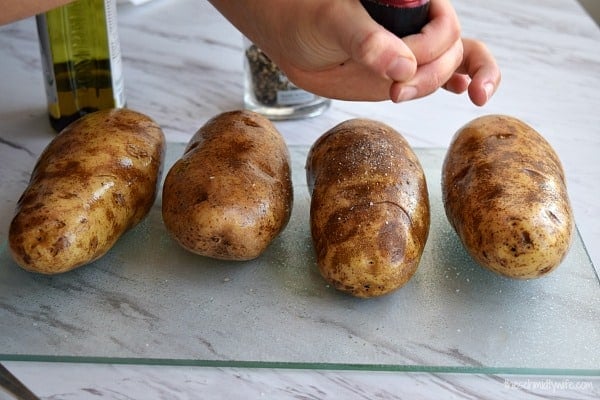 And just like that you are ready for the oven. You will want to place the potatoes spread out on the middle rack and bake at 400º F for 1 hour. (I like to place a piece of tin foil on the bottom rack to catch any drippings).
Once the potatoes are done baking you will want to let them cool for a few minutes before indulging. Top with your favorite toppings! Enjoy your Perfect Baked Potatoes 🙂
Lastly if you are looking for some delicious Baked Potatoes for dinner check out my Reuben Stuffed Baked Potatoes, Broccoli Cheese Baked Potatoes, or my Spinach Mushroom Stuffed Baked Potatoes with Cheddar.
Yield: 4 servings
How to make Perfect Baked Potatoes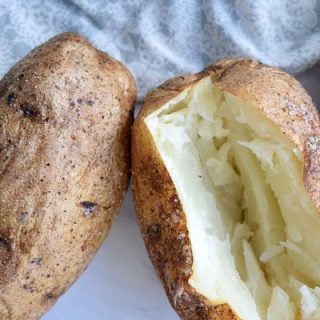 all you need to know how to make the perfect baked potatoes in the oven
Total Time
1 hour
5 minutes
Ingredients
4 large russet potatoes
olive oil
high quality salt (sea salt or pink himalayan)
fresh ground pepper
Instructions
Preheat oven to 400º F with oven racks in middle and bottom positions. Place a piece of tin foil large enough to catch any dripings on the bottom rack.
Clean and dry potatoes so no dirt remains.
Once your potatoes are all clean you will want to poke them with a fork, 5-6 times all over the potato.
Over a plate or cutting board drizzle olive oil over each potato. One by one massage oil evenly onto each potato, you do not want olive oil dripping off the potato at this point.
Generously sprinkle potatoes with salt, so that the salt is almost breading each potato. Sprinkle potato with pepper to your liking.
Place potatoes directly onto middle oven rack, ensuring that the potatoes are not touching each other. Bake for 1 hour.
Let cool for at least 5 minutes before serving, enjoy!
Nutrition Information:
Yield:
4
Serving Size:
1
Amount Per Serving:
Calories:

321
Total Fat:

4g
Saturated Fat:

1g
Trans Fat:

0g
Unsaturated Fat:

3g
Cholesterol:

0mg
Sodium:

333mg
Carbohydrates:

64g
Fiber:

7g
Sugar:

3g
Protein:

8g
Nutritional data is automated, final nutritional information will depend on ingredients used and any changes made.
If you enjoyed this recipe or any of my others let me know by using #theschmidtywife on social media!
And make sure you are following me on Instagram, Pinterest, and Facebook for all the latest recipes!
Peace & Love
Lauren, The Schmidty Wife