A fun twist on a Reuben, this is a Baked Potato Stuffed with a Reuben. With delicious corned beef, melty swiss cheese, and thousand island dressing all stuffed inside a delicious baked potato. (Pro-tip: It is the best way to use up corned beef leftovers!)
This post may contain Affiliate Links.
Reuben Loaded Baked Potatoes
I absolutely love baked potatoes. We usually have them about once a week at our house, and the best part about it is there are so many different variations! Between types of potatoes and toppings you basically have infinite baked potato variations. And these Reuben Stuffed Baked Potatoes that I am sharing with you today are probably my new favorite.
These baked potatoes came from a happy accident. I was clearing out the fridge of leftovers for lunch one day (right after St. Patrick's Day) and it was one of those days where there was just a little bit of everything left. I think Archie probably ended up with some leftover soup and I just stared at the fridge… I had everything for another Reuben Sandwich except for bread, darn but then I found the one lonely leftover baked potato that was left in the fridge. Lightbulb moment!
I quickly whipped together a Reuben Stuffed Baked Potatoes for myself. I was so in love with it that I told myself I had to make one for my husband at some point to see what he thought.
So a week or so later I went to recreate it. So originally I had left over corned beef from the crockpot but I didn't want to make a whole corned beef roast for a baked potato so I opted for corned beef from the deli counter. (Side Note: If you are reading this after making a corned beef meal and you are looking to use up those leftovers, by all means use that instead of deli meat).
So once the potatoes were fully baked I opened them up and stuffed them full of the corned beef. I added some caraway seed for some extra reuben flavor and covered them with a generous amount of swiss cheese. They are then placed back in the oven until the cheese is nice and melty. SO EASY!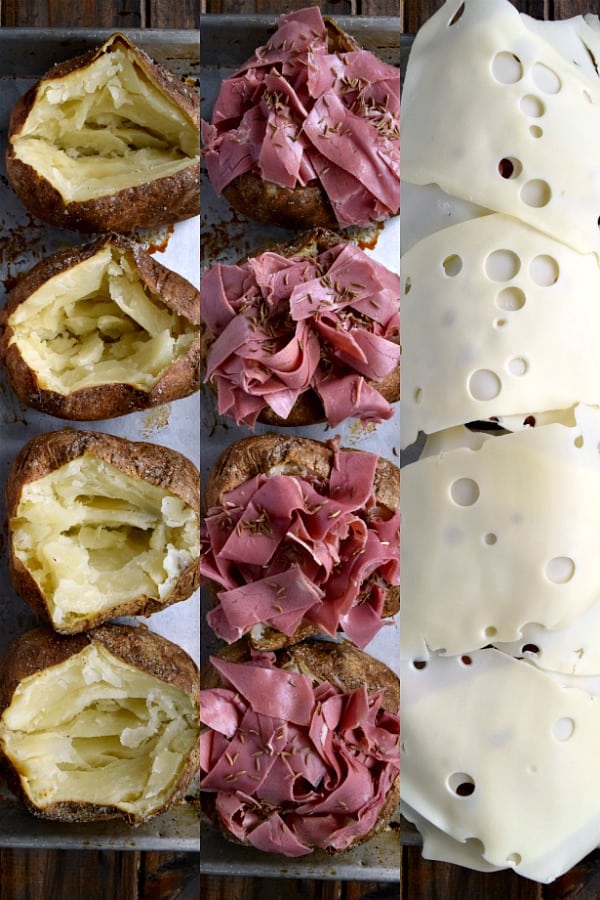 Once all warmed and cheesy, sprinkle on some sauerkraut and drizzle with 1,000 Island Dressing and you have one delicious meal.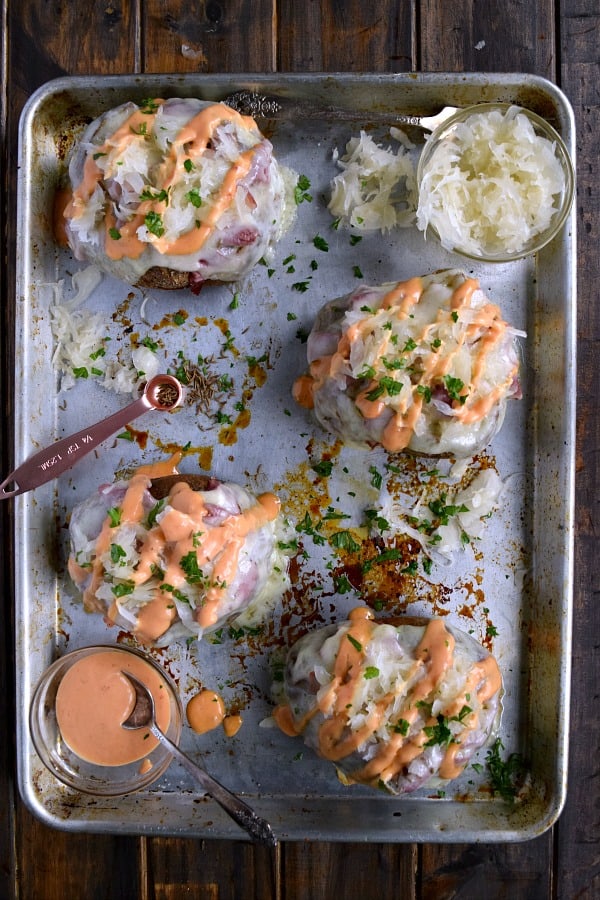 The beauty of this meal is how easy it is on top of how delicious these baked potatoes are. The recipe calls for baking your potatoes in the oven but you can as easy either microwave them or cook them in the crockpot depending on what is easiest for you!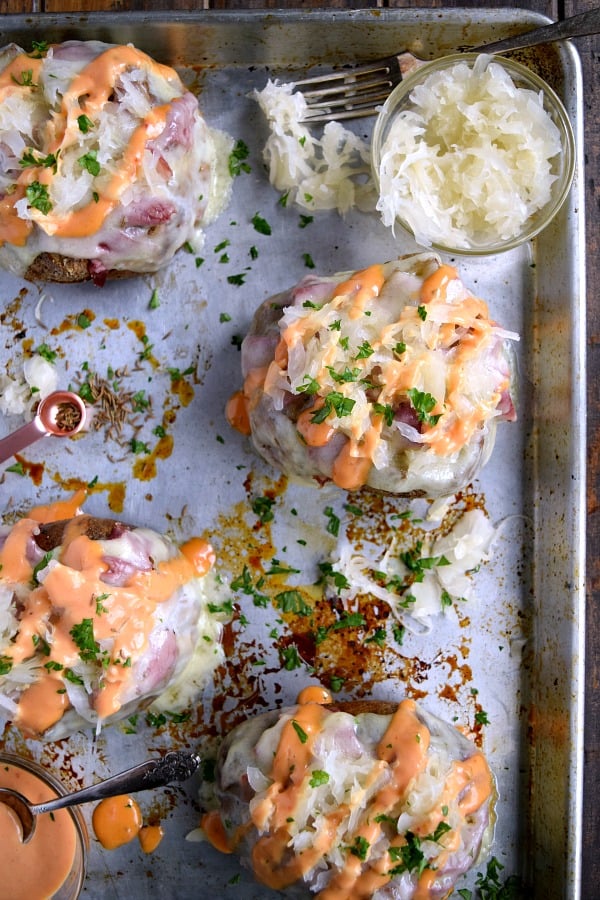 tips, tricks and questions
The recipe calls for baking your potatoes in the oven but if it is easier to cook them in the microwave or crockpot do it that way!
If you do have leftover corned beef from a roast feel free to use that as a replacement to the deli counter corned beef.
Need a Corned Beef recipe? Here is my Crockpot Corned Beef and Cabbage Recipe.
If you like this Reuben Baked Potato Recipe you might also like:
Yield: 4 baked potatoes
Reuben Stuffed Baked Potatoes Recipe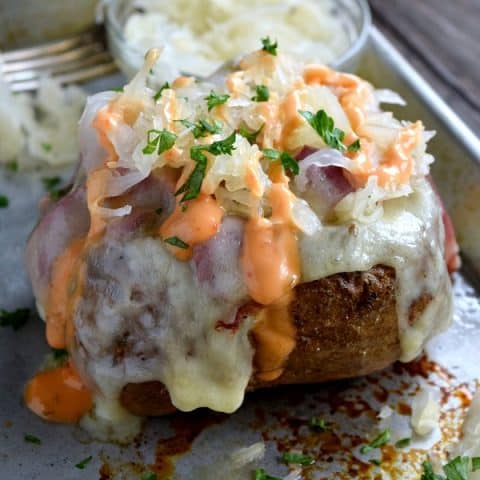 a twist on the classic sandwich, reuben stuffed baked potatoes filled with corned beef, Swiss cheese, sauerkraut, and 1,000 island dressing
Cook Time
1 hour
5 minutes
Total Time
1 hour
15 minutes
Ingredients
4 russet potatoes
1/2 pound corned beef (from the deli counter)*
1/2 teaspoon caraway seeds
8 slices swiss cheese (about 1/3 pound)
1/2 cup sauerkraut
1/4 cup 1,000 island dressing
Instructions
Preheat oven to 400º F.
Poke the potatoes all over with a fork. Rub each potato with olive oil to lightly grease each one. Salt and pepper to taste. Place on a sheet pan and bake for 60-70 minutes.
Remove potatoes from oven to cool slightly. Slice the corned beef into strips.
Open up the potatoes, slice the top lengthwise and gently squeeze the potato to open up the middle of the potato revealing more of the fluffy white center.
Evenly distribute the corned beef strips into the the centers of the potatoes. Sprinkle 1/8 teaspoon of caraway seeds onto each of the potatoes on top of the corned beef. Lay 2 pieces of cheese on top of each of the potatoes.
Place in oven and bake 5-6 minutes until cheese is nice and melty.
Remove from oven and sprinkle with sauerkraut and drizzle with 1,000 island dressing to taste. Serve immediately.
Notes
*Or leftovers from a Corned Beef Roast
Nutrition Information:
Yield:
4
Serving Size:
1 baked potato
Amount Per Serving:
Calories:

453.66
Total Fat:

19.22g
Saturated Fat:

9.47g
Sodium:

846.11mg
Carbohydrates:

47.27g
Fiber:

3.8g
Sugar:

2.34g
Protein:

23.96g
And make sure you are following me on TikTok, Instagram, Pinterest, and Facebook for all the latest recipes!