Raise your hand if you love pancakes!! If you were in my house right now you'd see my 2 year old with 2 hands high in the air. He is constantly asking for pancakes for breakfast and as much as I also love pancakes I didn't think it was a great idea to be giving him my classic Pancakes From Scratch every morning. So I set out for super easy and healthy pancakes that he could still love. I ended up creating these delicious Mini Whole Wheat Banana Pancakes (sprinkles "optional").
These pancakes are super simple with only 4 ingredients, okay 5 if you include the sprinkles (my sons addition to the recipe). All you need is a banana, eggs, whole wheat flour, and milk, so simple right.
In my quest to make healthier pancakes I had a few things in mind. The first was including whole wheat flour, so many of the 'healthy' pancakes out there included either oats or gluten free flours. I wanted to include whole grains but keep a beautiful pancake texture and whole wheat flour covers both of those things!
Once I figured out my base the rest was easy. Bananas, probably the world's best baking fruit. Eggs for lift and milk because the batter would be too thick otherwise.
All blended together for a super smooth batter.
And then my son Archie piped in that we should add sprinkles. Okay kid twist my arm, in went the sprinkles. 🙂
I opted to make these whole wheat banana pancakes mini (or silver dollar as some call it). You can make them any size you want really but I chose mini because they fit so nicely in my toddlers cute little hands.
Lastly these can be kept in the fridge or freezer for a later date. After all this recipe makes about 22 mini pancakes, so half of them go into our mouths and the rest go into the fridge for the next morning (or snack later that day).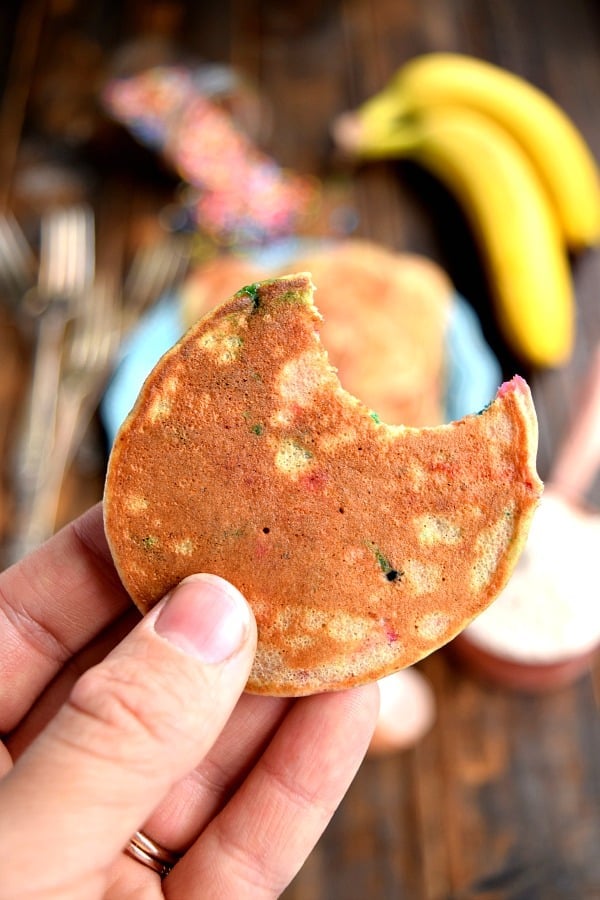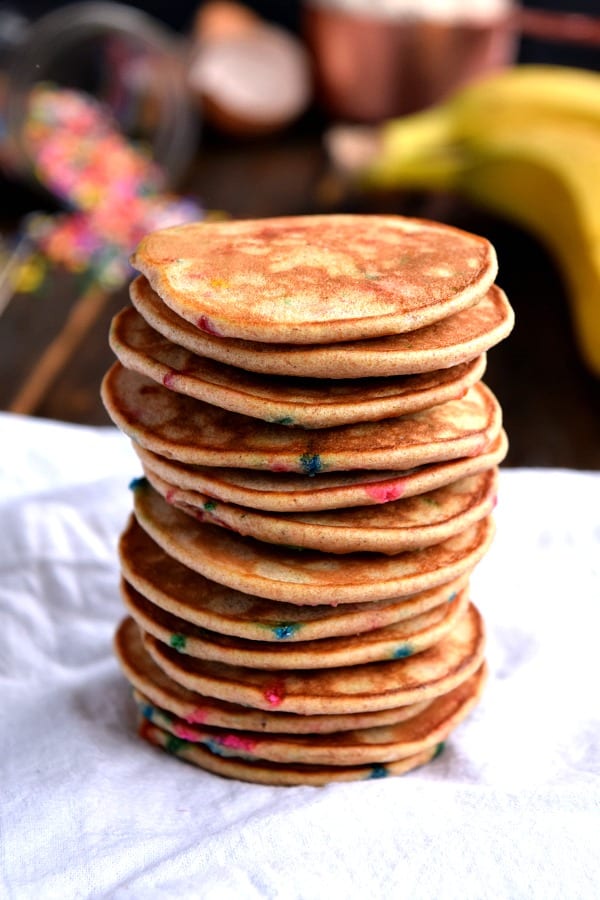 TIPS & TRICKS
• The more ripe the banana the sweeter these pancakes will be
• I use cow's milk in my pancakes, I haven't tested it with other kinds but any other milk should work
Yield: 22 mini pancakes
Mini Whole Wheat Banana Pancakes Recipes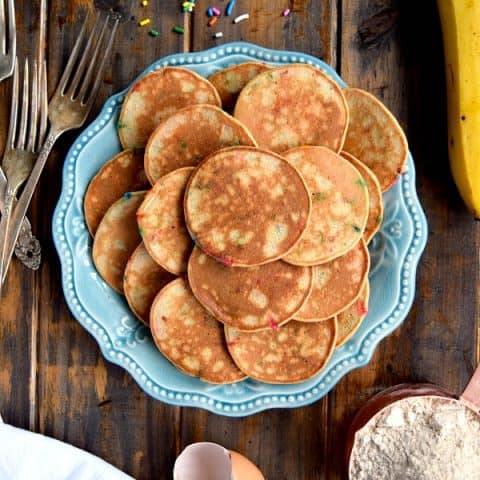 clean eating mini pancakes perfect for toddlers, kids, and adults
Ingredients
1 Banana
2 Eggs
1 Cup Whole Wheat Flour
1/2 Cup Milk
OPTIONAL: 2 Tablespoons Sprinkles
Instructions
Add banana, eggs, flour, and milk to blender. Blend on high for 30 seconds until smooth.
Transfer batter to a small bowl and mix in sprinkles if using.
Lightly grease a large skillet and heat over medium-low heat.
Use a tablespoon to scoop batter onto skillet. Depending on size of skillet you can fit 6-7 pancakes per batch.
Cook 2-3 minutes until bubbles start to appear, flip and cook an additional 2-3 minutes.
Continue to cook pancakes in batches until batter in gone. Serve immediately, refrigerate, or freeze.
Notes
Nutritional data is automated, final nutritional information will depend on ingredients used and any changes made.
Nutrition Information:
Yield:
4
Serving Size:
5.5 pancakes
Amount Per Serving:
Calories:

177.09
Total Fat:

3.88g
Saturated Fat:

1.4g
Sodium:

44.53mg
Carbohydrates:

29.82g
Fiber:

3.96g
Sugar:

5.28g
Protein:

7.94g
Peace & Love
Lauren, The Schmidty Wife
P.S. Looking for more breakfast recipes? Check out my California Hashbrown Breakfast Pizza or my Banana Oatmeal Breakfast Smoothie.
Please note that my links above may be affiliate links, and I will earn a commission if you purchase through these links. I recommend them because they are helpful, and are companies that I trust, not because of the commissions that I may earn from you using these products.