It wouldn't be Fall on The Schmidty Wife without a chili recipe. To me chili is the ultimate Fall comfort food, everything about it is so perfect. So this year I conjured up Secret Ingredient Turkey Chili. So you want to know what the secret ingredient is?
Peanut Butter! Yaaaasss peanut butter!
Peanut butter in chili is a thing. I didn't know it was a thing until I met my husband who claimed it was in his famous 'Dorm Room Chili' that he used to cook up in his dorm room and sell by the bowl to people. Such a spirited entrepreneur my Matt is haha* (*I would like to note though after 4 years of marriage I still have yet to taste his famous chili).
Anyways we were watching an episode of Triple D on the Food Network and I honestly don't remember what they were making but they added peanut butter, it was a food that was weird to add peanut butter to. So Matt and I were discussing it and I decided that peanut butter would be the perfect addition to a bowl of turkey chili.
Ground Turkey can sometimes be a little on the bland side if you don't give it some great flavors. So I set out to make a flavorful turkey chili but I also didn't want it spicy and relying on heat to give it all its flavor. I do have little kids after all and I didn't want to make a large batch of chili and for them not to touch it.
So lets take a look at what I put in this super flavorful Secret Ingredient Turkey Chili.
The Ingredients
Ground turkey. I love me some ground turkey, all the convenience of ground beef but not red meat! Yay! I have slowly been cutting my family down on red meat. Born in the midwest both Matt and I grew up with a lot of beef, turns out red meat is only okay in moderation, so I have been trying to serve red meat to my family no more than once a week. So a great replacement for us has been ground turkey, hence why I set out to make an awesome Turkey Chili.
The vegetables. For this chili I chose to go with 3 fresh vegetables, 1 onion, 1 red bell pepper, and 1 green bell pepper. I feel like an onion is a must for chili, and as Kevin Malone from The Office would claim "The trick is to undercook the onions". For fresh peppers I choose a variety of bell peppers, not known for their heat I thought they would bring a nice addition to the chili. For canned vegetables I went with a large can of diced tomatoes and a small can of green chilies. For the diced tomatoes I like to chose the no salt added variety because that way I get to control the salt levels in the chili. And for a slight flavor kick, a small can of minced green chilies.
The legumes, or beans if you will. I decided to not fuss to much about the beans and just chose a single variety and went with the classic kidney bean. Not only are kidney beans great because they generally are really good at taking on the flavors of whatever spices you use but they are also very healthy for you, they are high in protein, folic acid, and fiber just to name a few of the health benefits.
The spices. Ditch those seasoning packets, it is so darn easy to make a good chili seasoning at home. The seasoning for this chili includes classics like chili powder, cumin, salt, garlic, and onion but I also decided to go with. little cocoa powder for added smoothness and flavor not the mention chocolate goes perfect with…
Peanut Butter. I always make my own peanut butter, which sounds a little pretentious but you guys know how easy it is right?! You can check out my post How to Make 100% Peanut Butter if you are interested. Otherwise I recommend using 100% peanut butter to keep the sugar levels low but feel free to use what peanut butter you have on hand. It brings a creaminess and nuttiness you otherwise wouldn't get in a chili. I would like to note, if you are planning on bringing this chili anywhere make sure people know it contains nuts, nut allergies can be serious and people most likely don't expect peanut butter to be in their chili.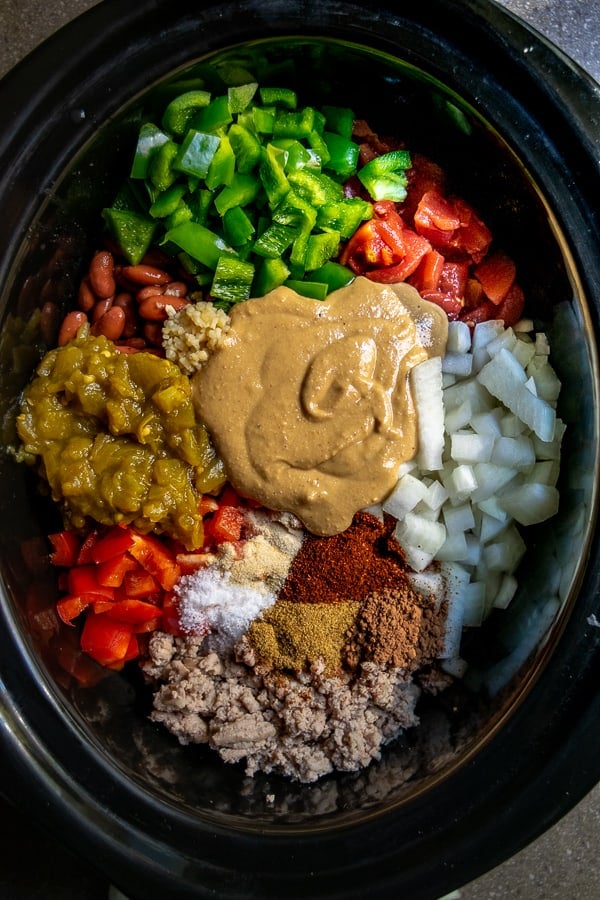 The Method
Brown ground turkey in a skillet.
Dump everything into your slow cooker.
Cook on low 6-8 hours.
DON'T YOU JUST LOVE CROCKPOT MEALS!!! But for real, I love my crockpot, just dump it all in there and give it a stir. I honestly think that slow cookers are the perfect device for chili.
So now that you know the secret ingredient to this Secret Ingredient Turkey Chili are you excited to try it? Tell me what you think about peanut butter in your chili in the comments!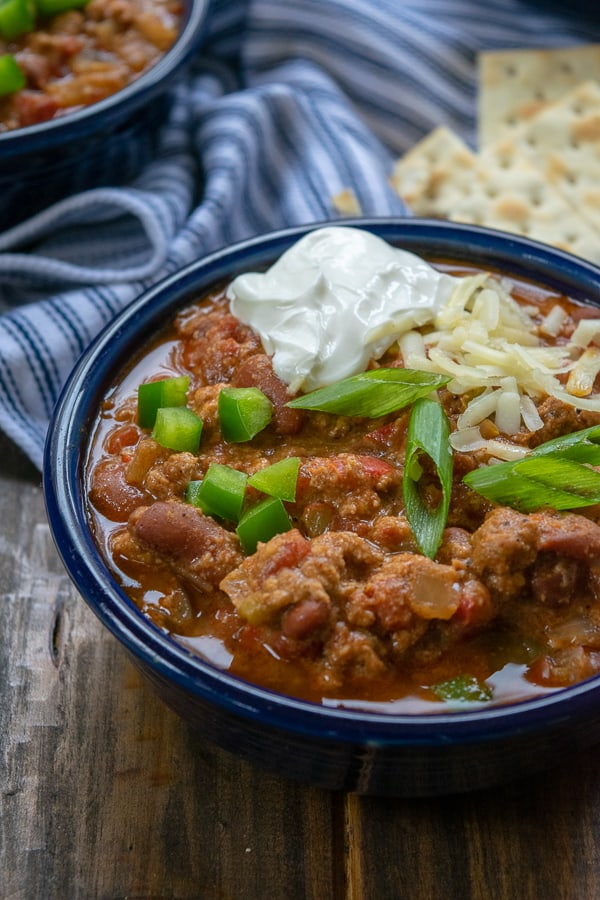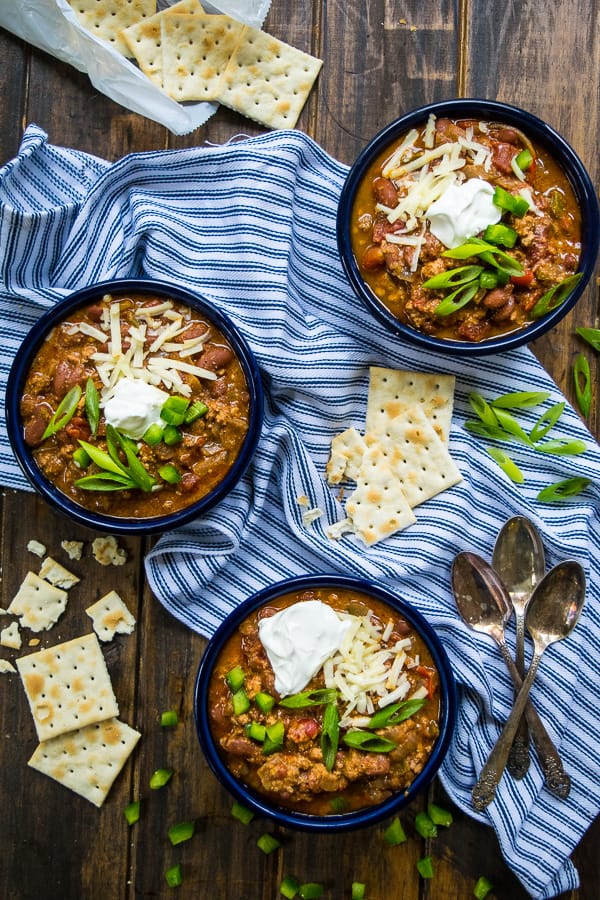 TIPS & TRICKS:
• Like with most chili it gets more flavorful if you make it a day ahead, I found that the peanut butter is a little more prevalent when the chili is fresh and gets more mellow after I let it sit overnight and then reheated it back up
• I use one green and one red bell pepper, you could probably use whatever colors you really wanted to
• Looking for other chili recipes, check out my Classic Crockpot Chili or my Crockpot Creamy Pumpkin Chili
Yield: 6 servings
Secret Ingredient Turkey Chili Recipe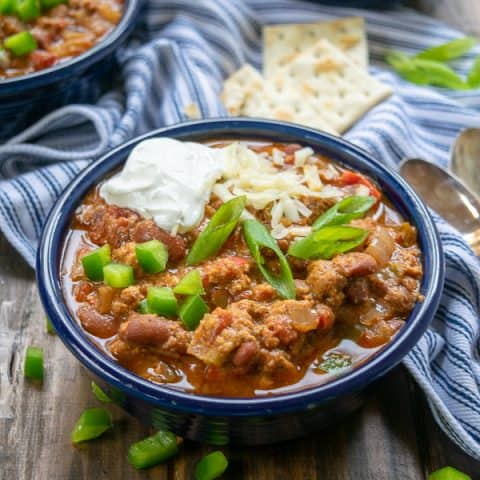 peanut butter gives this turkey chili a unique nutty and creamy flavor made easy in the slow cooker
Total Time
8 hours
15 minutes
Ingredients
20 ounces ground turkey
1 medium onion, diced
1 green bell pepper, diced
1 red bell pepper, diced
28 ounce can diced tomatoes
4.5 ounce can green chilies
28 ounce can red kidney beans*
1/2 cup 100% peanut butter
2 tablespoons chili powder
1 teaspoon cumin
1 teaspoon salt
1 teaspoon cocoa
1/2 teaspoon garlic powder
1/2 teaspoon onion powder
1 teaspoon minced garlic
Instructions
In a large skillet over medium-high heat brown the ground turkey, about 7-10 minutes. Drain and add to slow cooker.
Add onion, green bell pepper, red bell pepper, diced tomatoes, green chilies, red kidney beans, peanut butter, chili powder, salt, cocoa, garlic powder, onion powder, and garlic to the crockpot. Stir to combine. Cover and cook on low for 6-8 hours.
Serve with garnishes such as sour cream, green onions, cheese, and saltines.
Notes
*two 15 ounces cans of kidney beans will also work (same with diced tomatoes), don't drain the cans it adds extra flavor to add the liquids
Nutritional data is automated, final nutritional information will depend on ingredients used and any changes made.
Recommended Products
As an Amazon Associate and member of other affiliate programs, I earn from qualifying purchases.
Nutrition Information:
Yield:
6
Amount Per Serving:
Calories:

444
Total Fat:

18g
Cholesterol:

65mg
Sodium:

621mg
Carbohydrates:

38g
Fiber:

14g
Sugar:

7g
Protein:

36g
Peace & Love
Lauren, The Schmidty Wife
P.S. Love your slow cooker like me? Check out my Crockpot Cheater Beef Pho or my Slow Cooker Chipotle Pineapple Carnitas.
Please note that my links above may be affiliate links, and I will earn a commission if you purchase through these links. I recommend them because they are helpful, and are companies that I trust, not because of the commissions that I may earn from you using these products.