I ABSOLUTELY LOVE MY SLOW COOKER. I don't know if I've ever came out and said it before on the blog but Crockpot cooking is one of my favorite ways to feed my family. Since we received our slow cooker as a bridal shower gift from my aunts it has come out AT LEAST once a week, usually more to make our dinner.
It has been approximately 5 months since I shared a new slow cooker recipe with you. My Crockpot Bolognese in January to be exact (One of my last Recipes before Fred was born, so in all fairness some of that time I was taking a break). So it is time to share a new one.
Slow Cooker Chipotle Pineapple Carnitas.
Carnitas is one of those classic crockpot meals, the pork is slow cooked for hours to get nice and tender, ready to be eaten after a busy day. Well recently I had been playing with some leftovers in my fridge that I wanted to use up and I found some unused Chipotle Peppers in Adobe sauce. What a perfect start to some flavorful carnitas!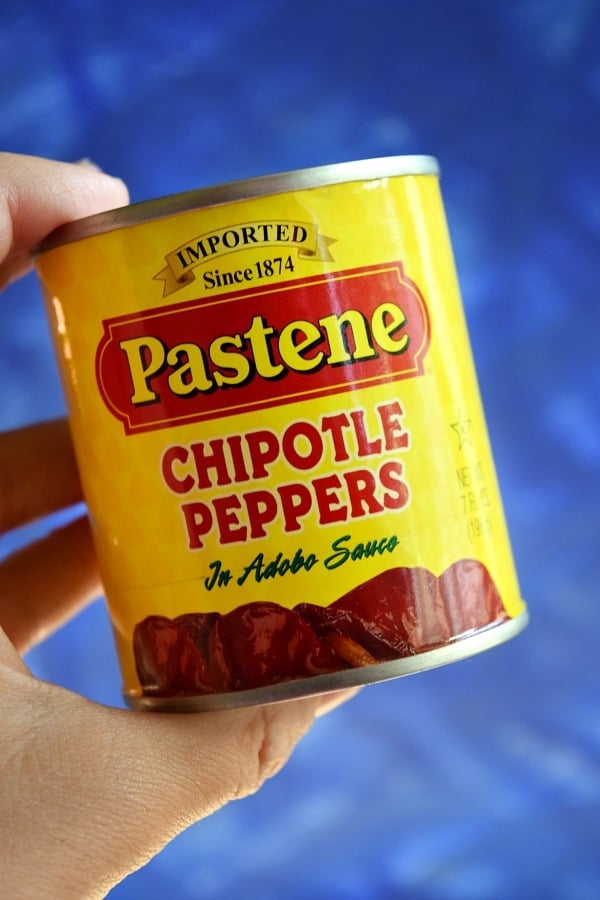 Usually I like to use oranges as my sweet ingredient in Carnitas but with the chipotle peppers I felt like I needed to switch it up. Well I found a can of crushed pineapples that was collecting dust in my pantry and I knew that would be a perfect match!
So with a few chipotle peppers and pineapple I added in a variety of classic carnita spices like oregano, cumin, chili powder, salt, and cinnamon. And gave it a mix!
I decided to add a little liquid smoke that I already had to give it a little smokey flavor (although this dish would still be great without it), and I knew before I even put it in the crockpot that this was going to be a great meal.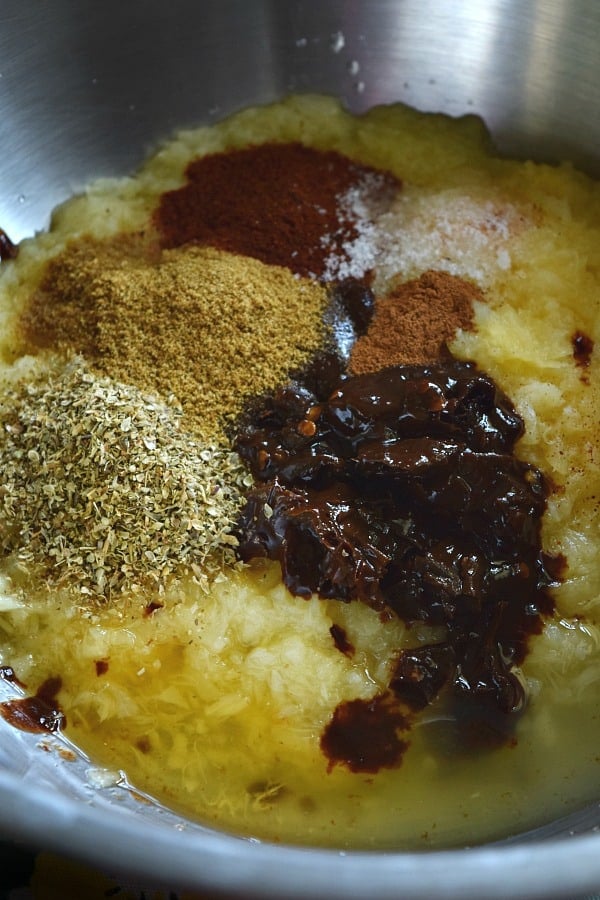 The pork roast goes into the crock and the pineapple spice mixture is poured over and that's it! Set it to cook on low for 6-8 hours and get ready for your house to smell like carnitas!
So when it came to serving this carnitas it took a little trial and error. I first tried to serve them like you would a classic beef taco and it just wasn't right so I tried them again street taco style and OMG, perfection.
The simpler the better, corn tortillas stuffed with the slow cooker chipotle pineapple carnitas, topped with crumbled queso fresco, diced red onion, and a bunch of chopped cilantro. It is seriously drool worthy!
I have also used the leftover carnitas to make nachos, and would highly recommend if you have leftovers to make some nachos.
Any way you make it these Slow Cooker Chipotle Pineapple Carnitas are full of flavor and extremely easy to make. Exactly what you should be making for your next meal!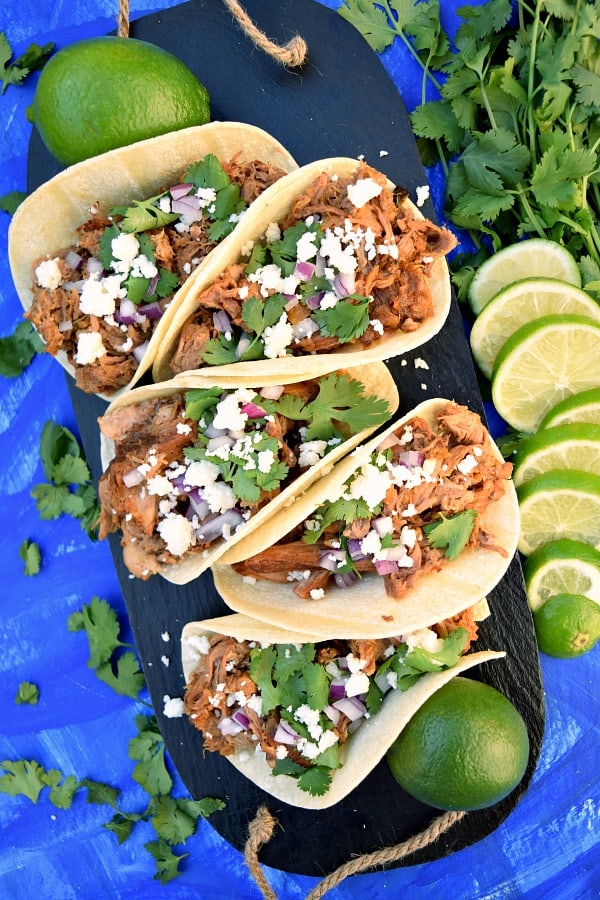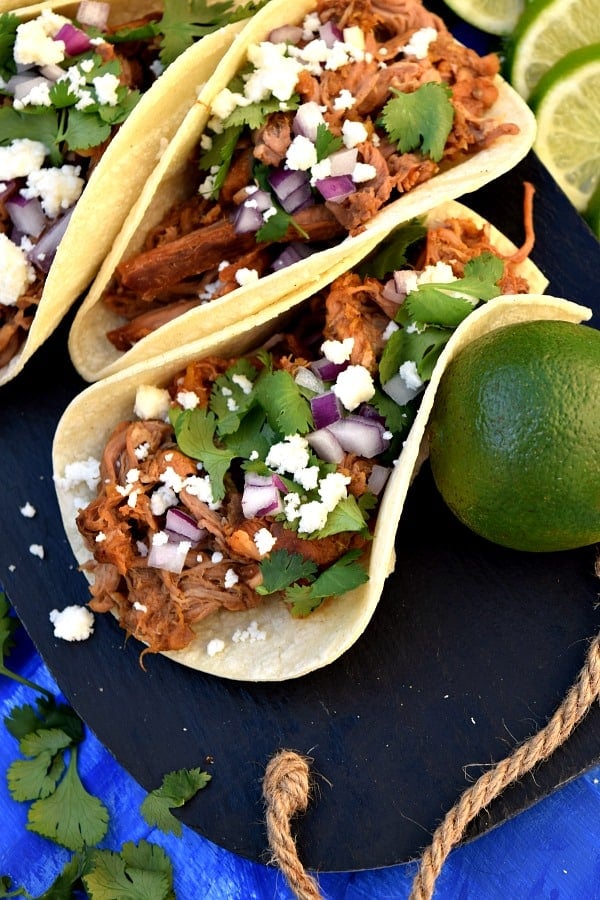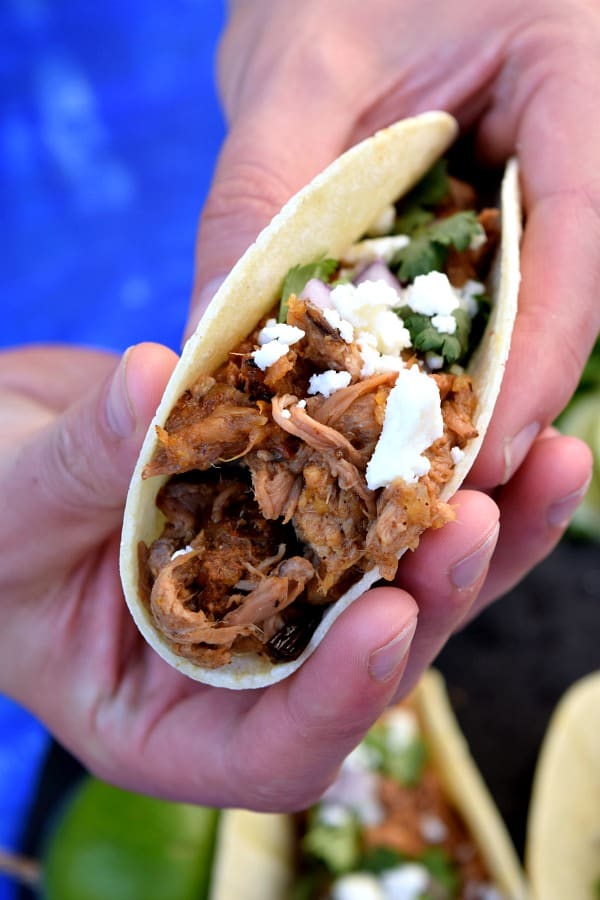 TIPS & TRICKS:
• for the pork roast I have used both a bone-in picnic roast and a large pork butt, both worked terrific, I would recommend cutting off any fatty sections before placing it in the crockpot
• this is a pretty spicy meal, my two year old thinks it is too spicy, I always put in 3 peppers, if you want to use a little less spice you could only go with 2
• because of the pineapple these pork carnitas are super juicy so make sure to drain the pork a little more before serving than you would otherwise so you don't get soggy tacos
• I recommend warming your corn tortillas on a skillet before serving
• a little splash of lime juice is always welcome on these tacos, also a margarita would go with these wonderfully
• my Mexican Rice recipe pairs perfectly with these carnitas
Yield: 6 servings
Slow Cooker Chipotle Pineapple Carnitas Recipe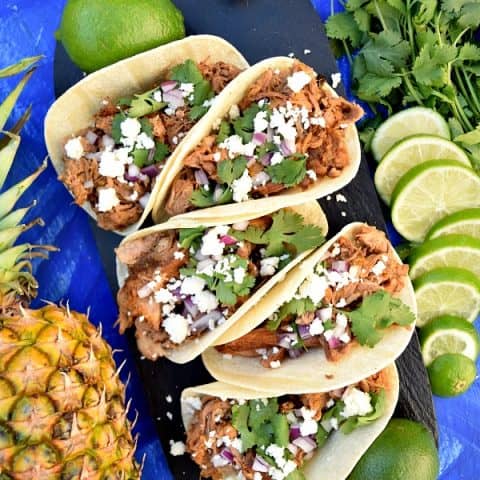 chipotle peppers and pineapple makes these slow roasted pork carnitas extra juicy and flavorful
Total Time
7 hours
5 minutes
Ingredients
3 lbs pork roast (bone-in picnic roast or a pork shoulder work best)
1 20 oz can crushed pineapple
2-3 adobe peppers in chipotle sauce, diced
2 teaspoons oregano
2 teaspoons cumin
1 teaspoon chili powder
1 teaspoon salt
1/4 teaspoon cinnamon
OPTIONAL: 1/2-1 teaspoon liquid smoke
to serve:
~18 corn tortillas
queso fresco (usually comes in a 10oz round)
a red onion, diced
a bunch of cilantro, chopped
Instructions
Mix together pineapple, peppers, oregano, cumin, chili powder, salt, and cinnamon (plus liquid smoke if using) in a large bowl until combined.
Add pork roast into the crockpot. Dump pineapple and spice mixture over top the roast. Cover.
Set and cook on low 6-7 hours.
A few minutes before serving shred the pork roast and let rest in the juices for a few minutes. Best served street taco style on corn tortillas topped with queso fresco, red onions, and cilantro.
Notes
the carnitas tend to come out watery from the juice so use a tongs or slotted spoon to let the juice run off to serve
Nutrition includes only the pork carnitas, it does not take into consideration the tortillas or toppings. Nutritional data is automated, final nutritional information will depend on ingredients used and any changes made.
Nutrition Information:
Yield:
6
Serving Size:
3-4 tacos
Amount Per Serving:
Calories:

355
Total Fat:

12g
Saturated Fat:

7g
Trans Fat:

0g
Unsaturated Fat:

6g
Cholesterol:

150mg
Sodium:

534mg
Carbohydrates:

13g
Fiber:

2g
Sugar:

10g
Protein:

47g
Peace & Love
Lauren, The Schmidty Wife
P.S. Looking for more crockpot recipes like my Slow Cooker Chipotle Pineapple Carnitas? Check out my Crockpot Rotisserie Chicken or my Crockpot 'Cheater" Beef Pho.
Please note that my links above may be affiliate links, and I will earn a commission if you purchase through these links. I recommend them because they are helpful, and are companies that I trust, not because of the commissions that I may earn from you using these products.