Happy November! How was everyone's Halloween? I hope it was full of tricks and treats! This year was Archie's first year to trick or treat and it was so much fun. Archie dressed up like Dwight Schrute from The Office and Matt & I dressed up as Jim & Pam, the costumes were about 10 years past their prime but I didn't even care (although everyone thought that Archie was Harry Potter?!??). So after a fun weekend of Halloween festivities November is here but I am not sad. I am not sad about November because November holds the best of both worlds, fall and holiday flavors. Pumpkin and apples are still relevant but it is acceptable to start with peppermint and gingerbread, see the best of both worlds. Much like today's recipe I am sharing with you Chai Spiced White Hot Chocolate. I feel like Chai is so prevalent during late fall, those warm spices make anything taste better. And Hot Chocolate is an obvious choice this time of year, as it is getting colder and a warm cup of chocolate sounds like perfection. So I married the two, Chai Spiced White Hot Chocolate, you're welcome.
Let me tell you this beverage is super rich but oh so yummy. This Hot Chocolate actually has me excited for snow because I know it will be the perfect ending to a day outside in a winter wonderland. The white chocolate is so decadent, the chai spices are so warm, and it is so easy to make. First you simmer the spices together, then it is as simple as adding the sugar, milk, and chocolate. This recipe makes two large drinks or 4 small drinks, like I said it is rich so I recommend 4 little ones 🙂 And if you are looking for more chai spiced beverages check out my Pumpkin Spice Chai Latte. I hope as the days of November are getting colder you and your families are staying warm and cozy, enjoy your Hot Chocolate!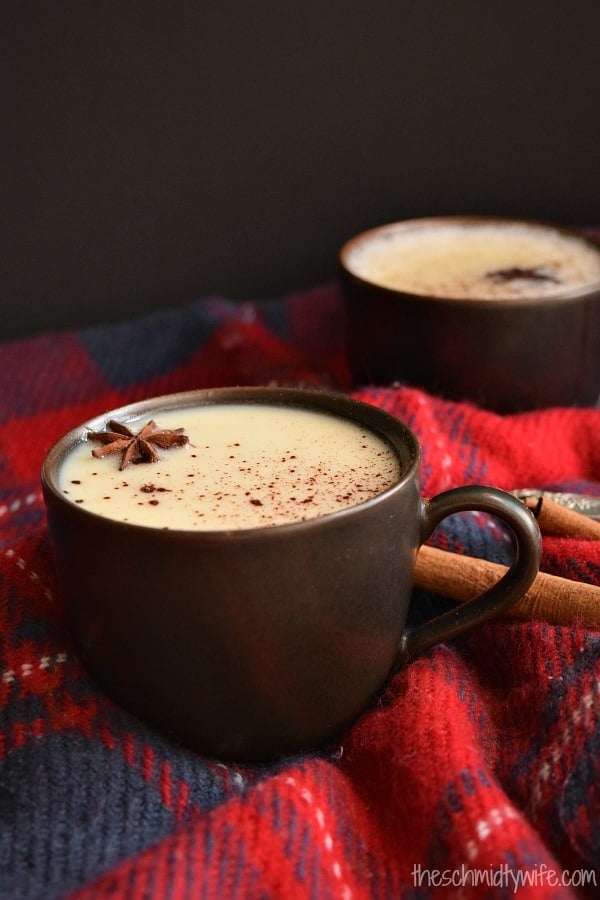 Chai Spiced White Hot Chocolate 
Author: Lauren Schmidt

Yield: about 18 ounces
Ingredients
2 thin slices of fresh ginger
4 green cardamom pods, crushed
1 2 inch cinnamon stick
2 whole star anise
1 cup water
1 1/2 cups milk
2 tablespoons packed brown sugar
3/4 cup white chocolate chips or 6oz white chocolate bars
ground cinnamon for sprinkling
Instructions
In a small saucepan add ginger, cardamon, cinnamon, star anise, and water. Bring water to boil and then reduce to simmer. Simmer uncovered for 10 minutes.
Add brown sugar and whisk until fully dissolved.
Reduce the heat to low. Add milk to saucepan. Let milk heat up for 2-3 minutes.
Add white chocolate and whisk until melted. Heat beverage to preferred temperature (but DO NOT let boil). Remove all spices (I like to keep the cinnamon and star anise for garnish).
Serve immediately, sprinkle with cinnamon.
https://theschmidtywife.com/chai-spiced-white-hot-chocolate/

Peace & Love
The Schmidty Wife
P.S. Sign up for tasty recipes straight to your inbox!