Today I am sharing a perfect meal for summer time, whether on the grill or over the campfire, a customizable easy meal, Foil Pack Butter Chicken!
The other evening Archie, Matt, and I were sitting out enjoying our patio, and you could smell grills being started in near by patios. I don't know if it's just me but there is something about the smell of grills being fired up in spring time that just makes your soul happy.
So we were sitting there and Matt brought up a craving from his childhood, Matt in general doesn't have a lot of food cravings so I was interested, he continued on that when he was younger he used to have some sort of meal in which chicken was grilled with butter and mushrooms. He couldn't tell me how it was grilled or a lot of other details but he said that he loved it as a kid. So I thought I would give it a try.
The first time I made it I literally put a chicken breast, mushrooms, and butter into foil packs and grilled them, they were nothing what he remembered, but they had a lot of potential, if we managed to add a little flavor. The simplicity of these packets are what I loved, I knew I didn't need to add a lot to make these a summer favorite, perfect for the grill or a campfire.
So as the recipe developed I add an onion, and tried different seasonings, and guess what? I loved all the different flavors, so why limit it? Make Foil Pack Butter Chicken the flavor you want! Easy to make, easy to clean up, and grilled, Foil Pack Butter Chicken is the epitome of what summer should be.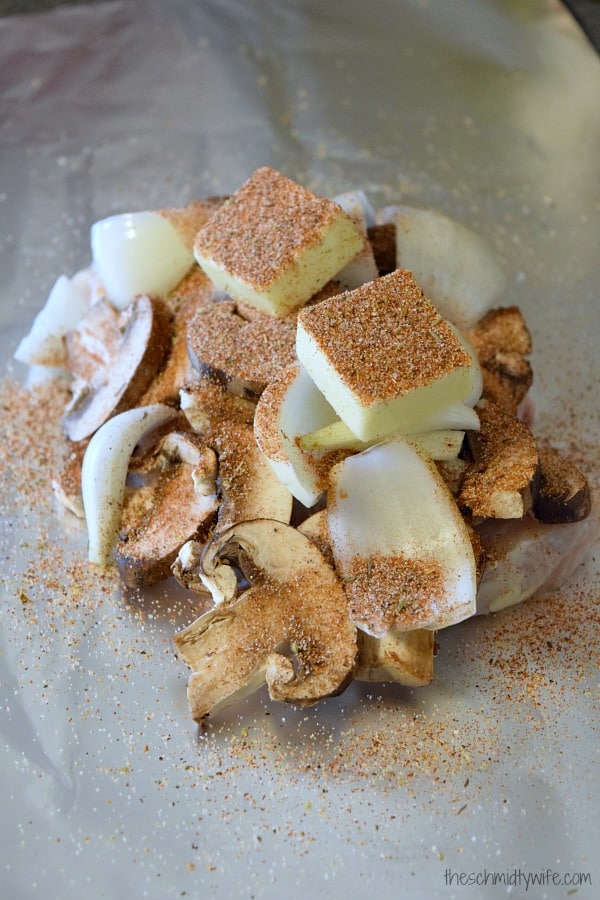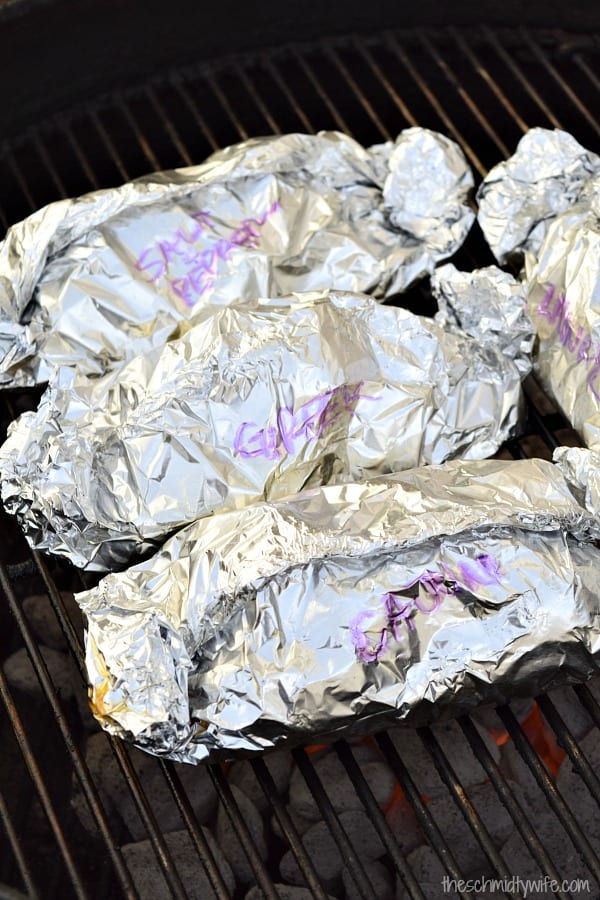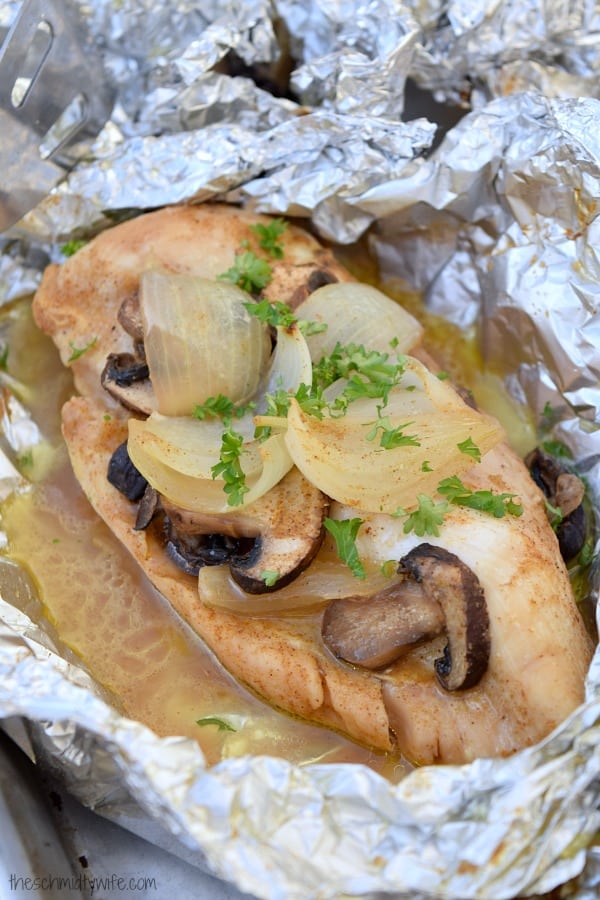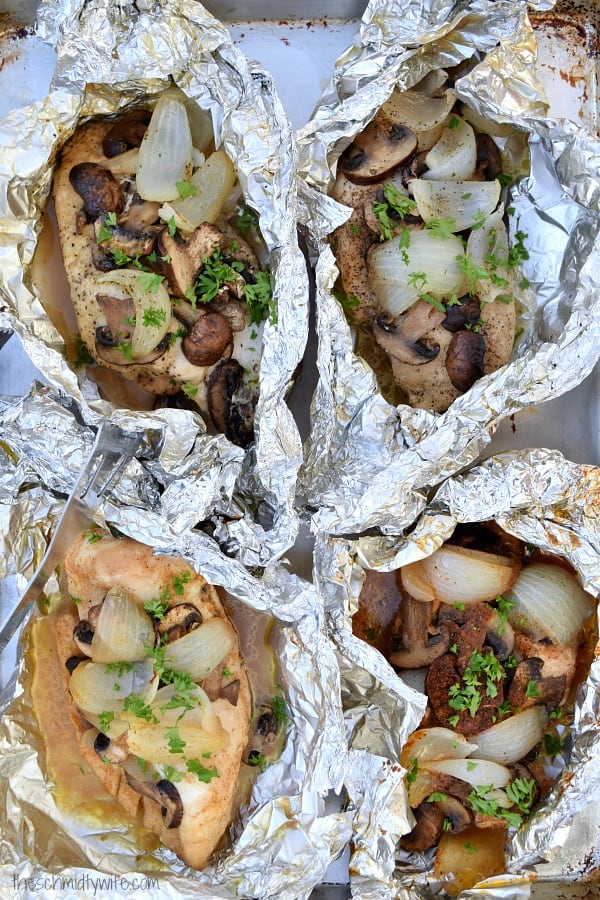 TIPS & TRICKS:
Ensure that the chicken breasts that you are using are between 6-8 ounces otherwise they will take way longer to cook, I say this because most chicken breasts that you buy in the family packs in the stores these days are almost 1 pound each, that is 16 ounces, (and no one needs to eat a pound of chicken in one meal) if you have these large chicken breasts, cut them in half horizontally and use as two separate packs.
Use whatever seasoning you wish for these, and let everyone in your fmaily choose the seasoning they want. I have tried cajun (my personal fav), greek, seasoned salt, and just plain salt & pepper, but the opportunities are endless, try fajita, taco, ranch, or anything that sound good to you.
For foil packs I find it does pay off to get the good aluminum foil instead of the discount stuff which usually ends up tearing and then you are using twice as much because you will have to double wrap
If you are camping you can totally do these over the fire, either do them on a grate over the fire/ashes or in the hot white ashes once the flame has gone down
Yield: 4 servings
Foil Pack Chicken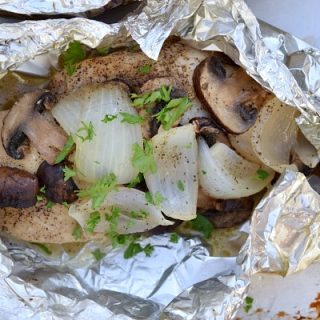 an easy grilled dinner for a summer night, chicken and vegetables in a foil pack
Ingredients
4 6-8oz chicken breasts
2 cups sliced mushrooms
1 large sweet onion, sliced
8 tablespoons butter, divided
your favorite seasoning (cajun, greek, seasoned salt, fajita, and salt & pepper are some great flavors for this)
Instructions
Preheat your grill to medium heat.
Cut 4 12-16 inch pieces of tin foil.
In the center of one of the pieces of foil place one of the chicken breasts, top with 1/4 cup of mushrooms and one fourth of the onion slices. Place 2 tablespoons of the butter on top of the onions and mushrooms. Season to taste with your favorite seasoning (I always do about 1 teaspoon).
Seal the packet up, take the long sides into the middle and fold them together to create the top seal, then at each side roll the foil in towards the food. If a tear happens don't worry, just wrap an additional piece of foil around the existing foil to create a new foil pack. If making custom packets, use a permanent marker to mark whose/what flavor the packet is.
Repeat for remaining packets.
When all of the packets are done, grill over medium heat for 20 minutes. About halfway through rotate the packets to ensure an even cooking.
When done carefully remove packets, let sit for a few minutes to cool slightly to make it easier to open. Use caution when opening, the foil will be hot and steam will escape as you are opening the packets. Serve immediately.
Nutrition Information:
Yield:
4
Serving Size:
1 foil pack
Amount Per Serving:
Calories:

450
Total Fat:

28g
Saturated Fat:

16g
Trans Fat:

1g
Unsaturated Fat:

9g
Cholesterol:

163mg
Sodium:

280mg
Carbohydrates:

10g
Fiber:

2g
Sugar:

6g
Protein:

40g
Nutritional data is automated, final nutritional information will depend on ingredients used and any changes made.
If you enjoyed this Recipe or any of my others let me know by using #theschmidtywife on social media!
And make sure you are following me on Instagram, Pinterest, and Facebook for all the latest recipes!
Peace & Love
Lauren, The Schmidty Wife
P.S. Looking for more grilling Recipe? Check out my Grilled Chicken Shawarma or my BBQ Chicken.
Please note that my links above may be affiliate links, and I will earn a commission if you purchase through these links. I recommend them because they are helpful, and are companies that I trust, not because of the commissions that I may earn from you using these products.