It's that time of the year, the holidays are coming to an end and we are all ready to start a happier and healthier New Year. I am not one for making New Years resolutions myself but year after year I do find myself jumping on the healthy lifestyle bandwagon in January (not that I find myself being unhealthy the rest of the year) but there is something about the sense of community that makes it fun to be healthy in January.
This January I will be 9 months pregnant and patiently waiting for our newest family member to arrive the beginning of February. So with that being said, my husband and son are lucking out in the fact that I have no set diet for us to start the New Year off. We will continue to eat healthy and sensible which is why I complied this list of Healthy To-Go Breakfasts.
This list is one I am truly excited about because I love love love make ahead grab and go breakfast. In no way, shape, or form am I a morning person and I heavily depend on breakfasts like the ones on this list. I plan on personally rotating through this list the next couple weeks, so yes basically I made this roundup for my own personal benefit 😉
I tried to keep this list to follow a few guidelines.
• Healthy, some follow specific diets like gluten free, paleo, Whole 30, and some are just generally healthy. With that being said I tried to keep all of the recipes from having added refined sugars, because in my opinion breakfast should not be full of sugar.
• Make ahead, when first looking at recipes I didn't realize this was a guideline until I found myself only drawn to make ahead/meal prep meals. Why? Because for Breakfast to really be easy, healthy, and 'to-go' a majority of the work is going to have to be done ahead of time.
• Grab and Go, whose mornings aren't crazy? In general mornings are busy, getting up, getting dressed, out the door, then add in pets and children that have to be taken care of, grab and go options are truly the best.
So here are 11 healthy to-go breakfasts I am really excited about! Which one are you going to try first?
Just like the overpriced bistro boxes you can pick up at a coffee shop, but made easy at home. With hard boiled eggs, gluten free blender muffins, and your choice of fruit. Prepping these at the beginning of the week are sure to make you mornings easier.
This Whole 30 complaint breakfast is easy to make at the beginning of the week and super satisfying. Filled with eggs, potatoes, and vegetables this grab and go breakfast with definitely keep you full until lunch.
Fully customizable and easily made ahead of time, these easy egg muffins are perfect for busy mornings when you need a healthy to go breakfast!
So these actually look better than a traditional pb&j sandwich, and with no refined sugars and gluten free basically we should all be making these to eat every morning.
Overnight oats are always a great option for a healthy grab and go breakfast and this recipe is no exception. Delicious chocolate with warming ginger will make you question if you are are truly eating a healthy quick breakfast.
All I can say is genius, absolutely genius. These awesome paleo friendly pancakes are ready to go in meal prep form. It makes me question why I haven't been meal prepping pancakes before.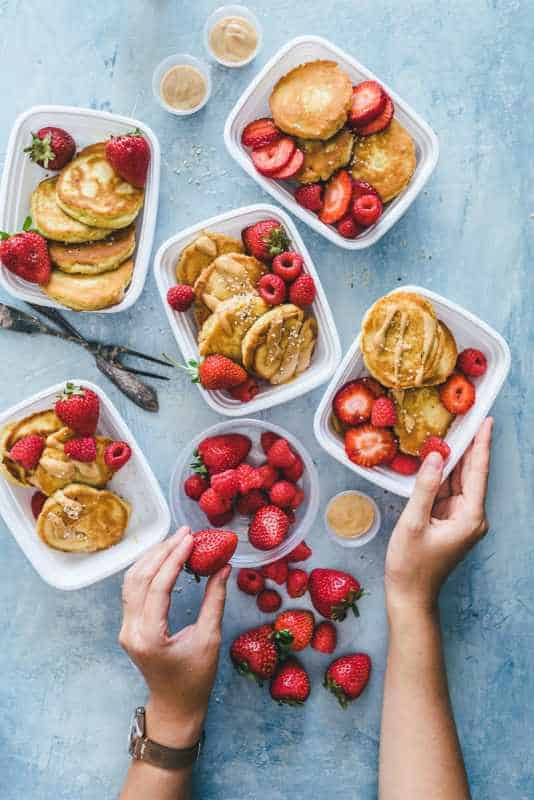 I am obsessing over this twist on the classic breakfast burritos. These make ahead and freezable burritos are filled with vegetables and my favorite chicken-apple sausages. Fill your freezer up with these and you will always have a breakfast (or snack) ready to grab!
Frittatas are always a win in my book, filled with protein from eggs and vitamin filled veggies, what can be better for breakfast? Well probably these MINI breakfast frittatas filled with healthy quinoa. Easy to make ahead in a muffin pan, these frittatas will be ready to grab and go each morning!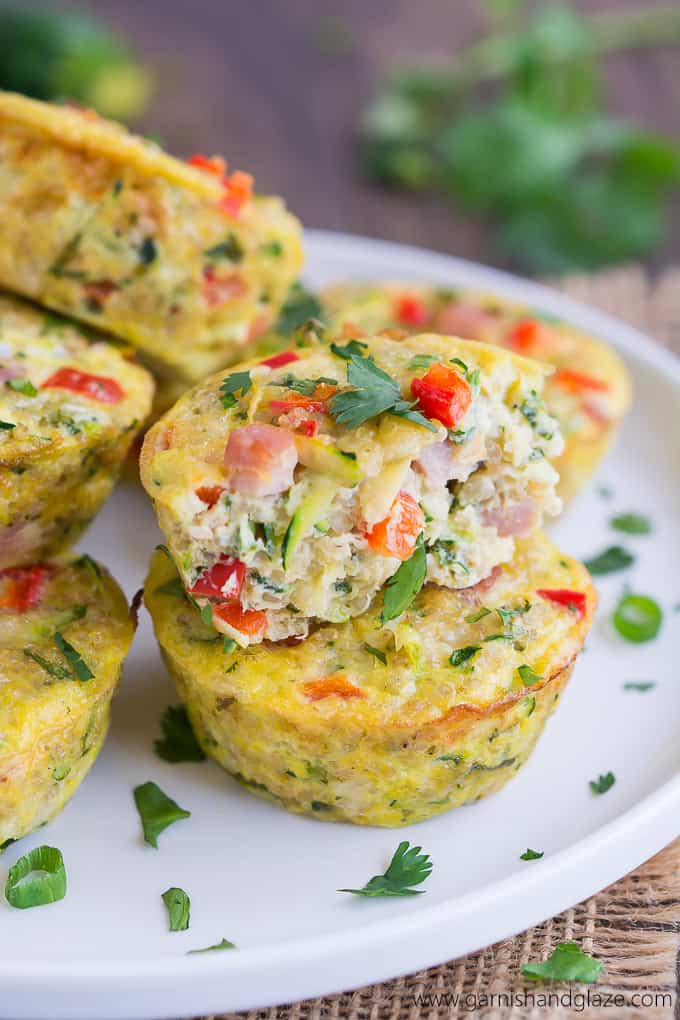 Cookies for breakfast should be enough to get anyone on board right!?! With no refined sugar these are cookies that will keep you full and focused all day long.
Here is a breakfast bar I could get used to eating everyday, full of peanut buttery goodness but filled with healthy add ins, make one pan at the beginning of the week and you are ready to grab and go each morning!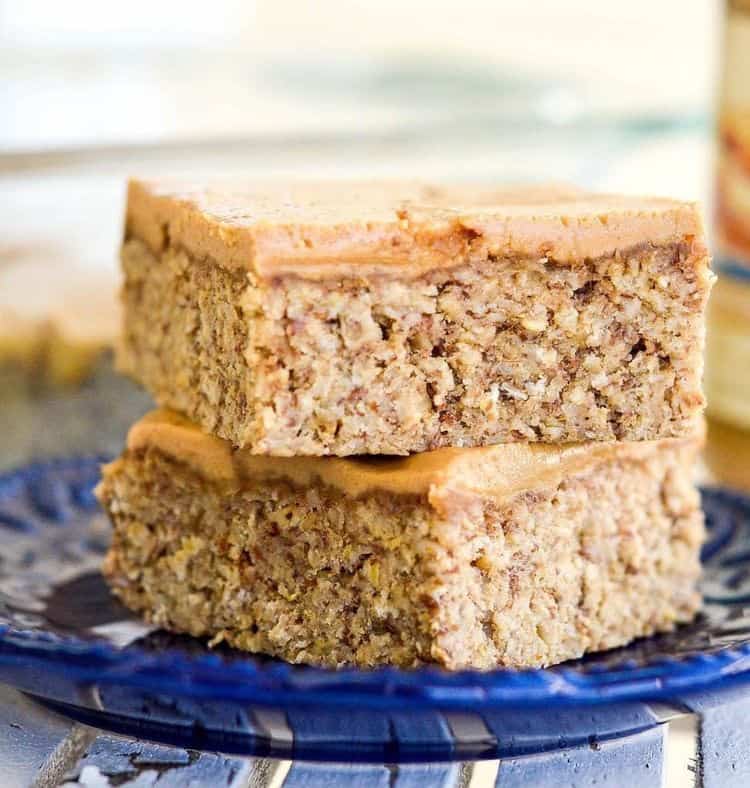 These great oatmeal based energy balls are customizable into 4 different flavors! If you are someone who loves a variety of different flavors (but in one easy recipe) you better check this recipe out!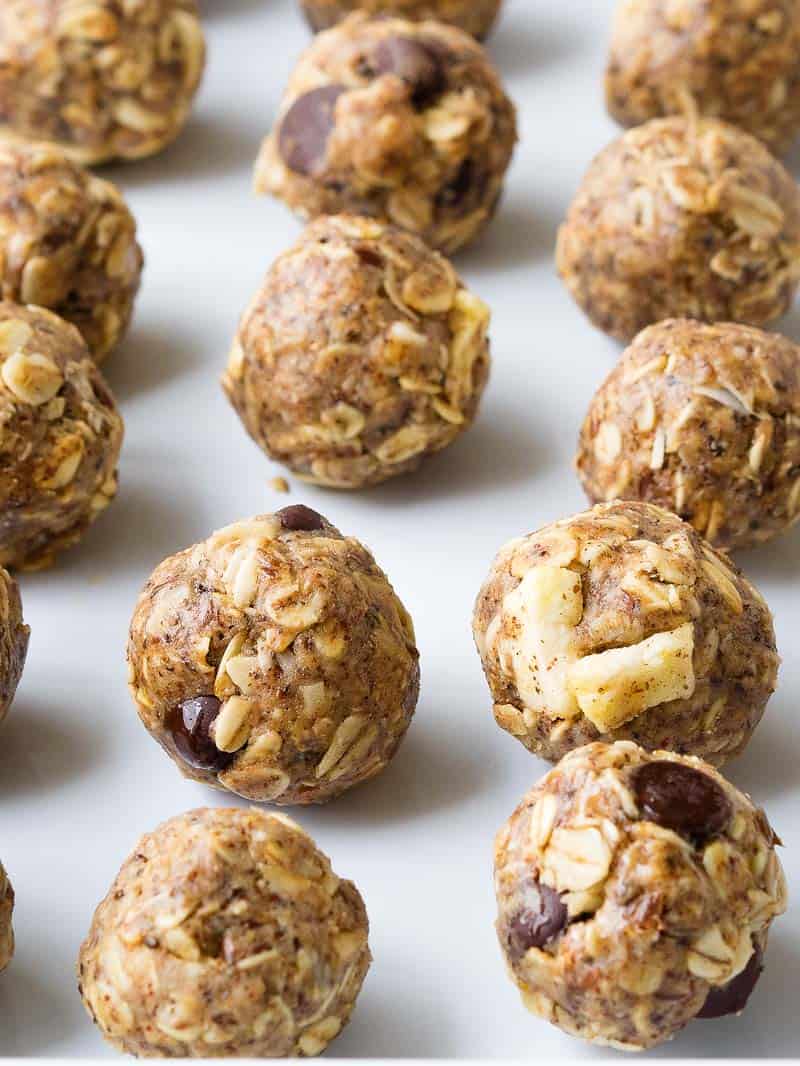 Well there you have it, a great list of wonderful make ahead ready to grab and go healthy breakfasts to help you to a healthier and happier you!
Peace & Love
Lauren, The Schmidty Wife
Please note that my links above may be affiliate links, and I will earn a commission if you purchase through these links. I recommend them because they are helpful, and are companies that I trust, not because of the commissions that I may earn from you using these products.