Today I am sharing my Honey Mustard Chicken and Sweet Potato Salad. This salad was developed as sort of an accident because of a craving but since then I have made it numerous times and I love it more every time.
My husband was out of town overnight for business so it was just Archie and I at home and whenever that happens I like to make sure that I make food that Matt doesn't love. One of those foods that Matt doesn't love is Sweet Potatoes, which in my mind is absolutely crazy because I could probably eat a different form of sweet potatoes every day for the rest of my life, as could Archie. While I do fix them when Matt is around anyways I make a lot more of them when he is gone.
So as he was gone on this business trip I had an extreme craving for a honey mustard salad, and unlike a craving for chocolate cake I was more then happy to give in to what I wanted. So Archie and I took a trip to the store and I started throwing the usual items I would put into a salad into the cart, and then I paused at the sweet potatoes, eureka! I was going to do it, I was going to roast some sweet potatoes and make Honey Mustard Chicken and Sweet Potato Salad.
I did a quick tally of everything I already had at home, dijon mustard, whole grain mustard, honey, olive oil, and eggs. So I quickly grabbed everything else that I needed, some romaine, chicken, red onions, and avocado. This was going to be quite the deliciously loaded salad, I was pumped.
Once I was home I peeled and chopped a large sweet potato into bite size pieces, threw it on a sheet pan along with chicken tenderloins and a little olive oil. I baked the sweet potato and chicken in the oven for about 25 minutes. I threw a couple of eggs in a pot and hard boiled them real quick. I mixed together my mustards, honey, and olive oil into a dressing. The rest was as simple as cutting up lettuce, avocado, and red onions.
I threw all of my ingredients together and oh my goodness, I have found myself a new favorite salad for my family. I think my favorite part about Honey Mustard Chicken and Sweet Potato Salad is that it is hearty and healthy, with tons of protein and fiber it is one of those salads that leaves you feeling full but with out weighing you down.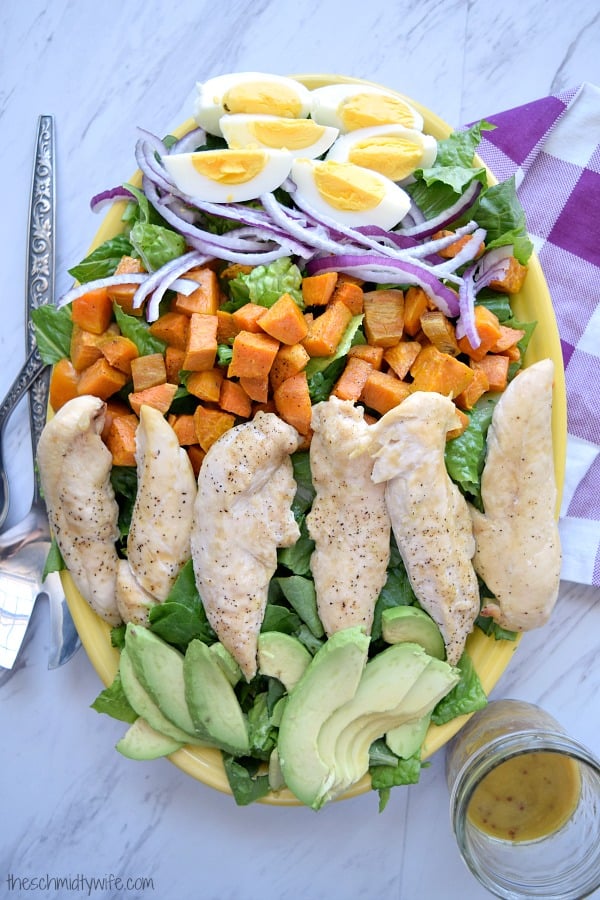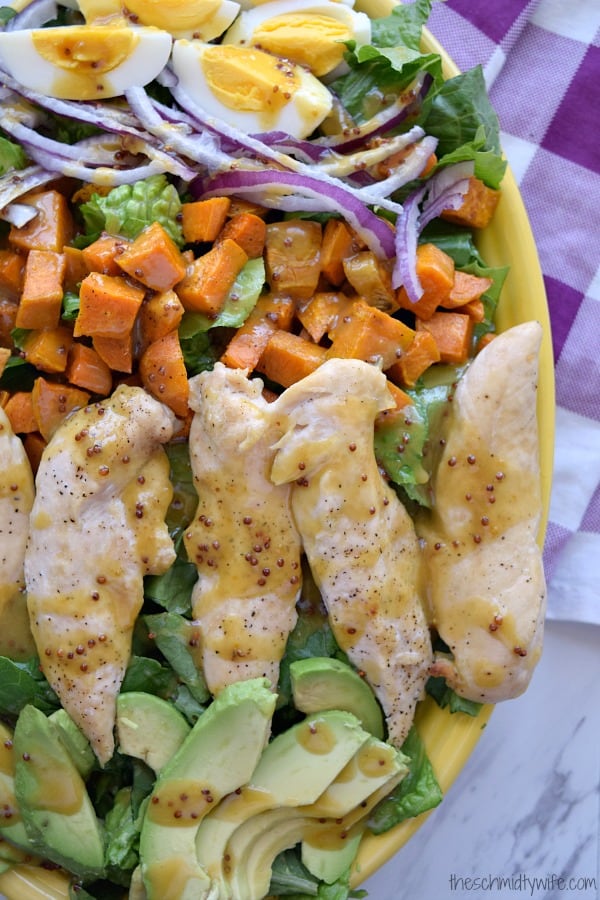 TIPS & TRICKS:
This salad comes together super easy but to make it even easier, hard boil the eggs ahead of time.
If it is a beautiful summer day you could grill the chicken and sweet potatoes.
Yield: 4 servings
Honey Mustard Chicken and Sweet Potato Salad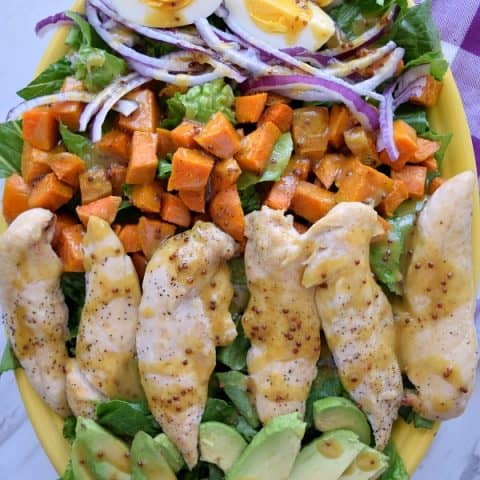 a salad with homemade honey mustard dressing served with chicken, sweet potatoes, eggs, avocado, and red onion
Ingredients
1 large sweet potato
1 pound chicken tenderloins
2 teaspoons olive oil
salt & pepper to taste
4 large eggs
1 head of romaine
1 avocado
5-6 thin slices of red onion
for the dressing:
2 tablespoons dijon mustard
2 tablespoons honey
1 teaspoon whole grain mustard
2 teaspoons olive oil
Instructions
Preheat oven to 400º F.
Peel and dice sweet potato into bite size pieces. Place sweet potato pieces on one half of a sheet pan.
On the other half of the sheet pan lay the chicken tenderloins down in a single layer. Drizzle olive oil over the sweet potatoes and chicken, toss lightly to cover, add salt and pepper to taste.
Bake the sheet pan in the oven for 25-27 minutes until chicken is fully cooked.
Meanwhile, Add the eggs to a small saucepan, add cold water to the pan until the eggs are covered by about an inch of water. Cover, heat on high until boiling. Once you see the water is boiling turn off heat, leave the saucepan there, and do not remove the lid. Let sit for 10 minutes.
Prepare ice bath for eggs, transfer eggs to the ice bath to cool.
Prep the rest of the salad, mix together the dressing*, chop the romaine, slice the avocado, and slice the red onion.
Once everything is ready, combine everything in a large bowl to mix together. Serve immediately.
to make the dressing*:
In a small bowl or jar mix together the dijon mustard, honey, whole grain mustard, and olive oil until combined.
Nutrition Information:
Yield:
4
Serving Size:
1
Amount Per Serving:
Calories:

460
Total Fat:

19g
Saturated Fat:

4g
Trans Fat:

0g
Unsaturated Fat:

13g
Cholesterol:

282mg
Sodium:

472mg
Carbohydrates:

27g
Fiber:

7g
Sugar:

14g
Protein:

45g
Nutritional data is automated, final nutritional information will depend on ingredients used and any changes made.
If you enjoyed this Recipe or any of my others let me know by using #theschmidtywife on social media!
And make sure you are following me on Instagram, Pinterest, and Facebook for all the latest recipes!
Peace & Love
Lauren, The Schmidty Wife
P.S. Looking for other salads? Try my Balsamic Brussel Sprout Salad or my Roasted Pear & Pecan Salad.
Please note that my links above may be affiliate links, and I will earn a commission if you purchase through these links. I recommend them because they are helpful, and are companies that I trust, not because of the commissions that I may earn from you using these products.