Let's take a step back from recipes for a minute and talk about groceries. I am a super rare human in the fact that I actually enjoy grocery shopping, I mean I love food so why wouldn't I love shopping for food?! With that being said it doesn't mean I have always been the most efficient shopper. But with my shopping list hack I have learned how to grocery shop quickly and efficiently so I thought I would share what I have learned with you, How To Write a Better Grocery List.
So whether you are a strict meal planner or just create a general list of ingredients/items you need my grocery list hack will do wonders. So before we even talk lists lets talk about how a general grocery store is laid out.
Whether it's a Krogers, Market Basket, Cub Foods, Publix, or even the grocery section of Walmart all groceries generally have the same set up. All of the coolers/freezers are on the outside of the floor plan and all of the non-perishable items will be found in the middle aisles of the store.
So we can assume from the general set up grocery stores can be divided into roughly 4 main sections:
• Produce: Always on the outside of the floor plan, produce is usually the first or last thing you see based on how the store is laid out. Most grocery stores take advantage of the walls to store the big refrigerated cases that hold a majority of your future produce.
• Deli/Meat: If you stick to the outside floor plan generally speaking the deli/meat counters are on the back wall. The deli counter and/or meat counter are usually if not combined very close to one another with cases full of different meats nearby.
• Dairy and Freezer Sections: This one is usually the most different as far as placement in different stores but if not on the outside of the floor plan very close to a wall is usually where these section(s) are found. (In some stores these aren't near each other at all and in some they are, adjust accordingly).
• Non-Perishables (aka the middle aisles): Everything else that doesn't have to be kept cold. Pantry items, boxed items, home goods, bakery goods (although a lot of groceries have specific bakeries usually on a wall side).
So let's use these 4 sections of the grocery store to our advantage to learn how to write a better grocery list.
I am not trying to sell you on some free printable grocery list or make one of those gorgeous 'bullet list' type shopping lists. I am all about practicality. So just start by grabbing a piece of paper. Any kind of paper, I use a little lined notepad paper that I got at the Dollar Tree for my lists. You can use copy paper, notebook paper, construction paper, whatever you have at your house. Really the only constraint is it shouldn't be too small, after all you have to write your grocery list on it.
Once you have your piece of paper fold it in half.
Fold it in half again. Make sure the lines are nice and creased.
Unfold the paper. You now have 4 different sections on that piece of paper. You might be able to now put 2 and 2 together.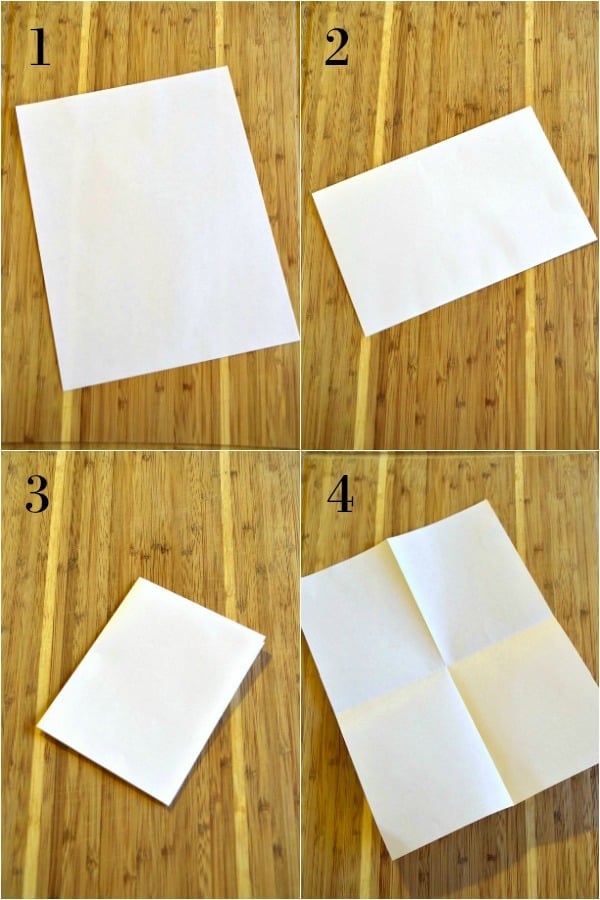 Each section is for the different items/ingredients in the 4 main sections of the grocery store.
Think logically about your grocery store and order your 4 sections in the order you would walk around the store. For example at my local Market Basket the Dairy is the first section when you walk in so all of my dairy items go into my first section on my paper.
Deli/Meat Department is next, so all of those items I need go into that section.
Produce is next, so into the third section goes the produce.
And at this point all of the center aisle items go in the last section. (Brownie points if you can put them in order, but if you have crazy kids like me you probably don't have time.)
In the picture below is an example of a few days worth of groceries and how I would write out what I need in each section. You'll notice some things I have learned where they are specifically in my store, for example bacon is across from the yogurt at my Market Basket so I include the bacon in the 'dairy' section instead of the 'meat' section. But for the most part I stick to my generic sections.
Doesn't that seem so simple! No more bouncing back and forth between sides and sections of the store. Follow your list section by section throughout the store. I feel great when I finish a section and can fold that part of the list away.
Taking a few extra seconds to make my list like this pays off huge at the store. I personally have a 2 1/2 year old 'helping' push the cart and an infant in my front carrier, so the faster I can get through my list the better.
Try this method just a few times and I promise you will be hooked. I watch other people wander throughout the store back and forth as I gracefully go from section to section (while telling Archie to stop touching things 😉 ) and end up in the checkout line way faster without even trying. So that is How To Write a Better Grocery List, so let's get shopping!
Peace & Love
Lauren, The Schmidty Wife
P.S. Looking for easy dinner recipes? Check out my Crockpot Bolognese or my Korean Ground Turkey & Rice Bowls.
Please note that my links above may be affiliate links, and I will earn a commission if you purchase through these links. I recommend them because they are helpful, and are companies that I trust, not because of the commissions that I may earn from you using these products.