Oven Roasted Broccoli is one of the tastiest and healthiest side dishes you can make for your family. This recipe for roasted broccoli in the oven beats the taste of boiled or steamed broccoli any day! With minimal ingredients you can have this healthy side ready for your family in 20 minutes!
This post may contain Affiliate Links.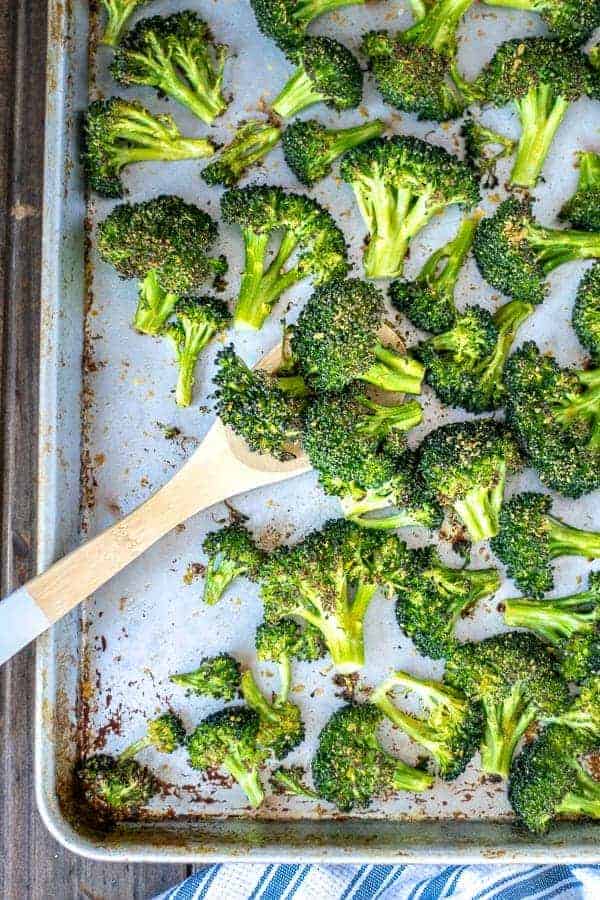 Oven Roasted Broccoli
I feel weird typing this but I think Oven Roasted Broccoli is so hip right now! Isn't that a funny thing to say!? I don't think that this trend isn't limited to just broccoli but I think there has been a turn in how most people have been preparing their veggie side dishes, people have figured out roasting in the oven brings out the best flavors and is so easy!
So in this post I will walk through how to make healthy roast broccoli with an extra nutrient boost, nutritional yeast!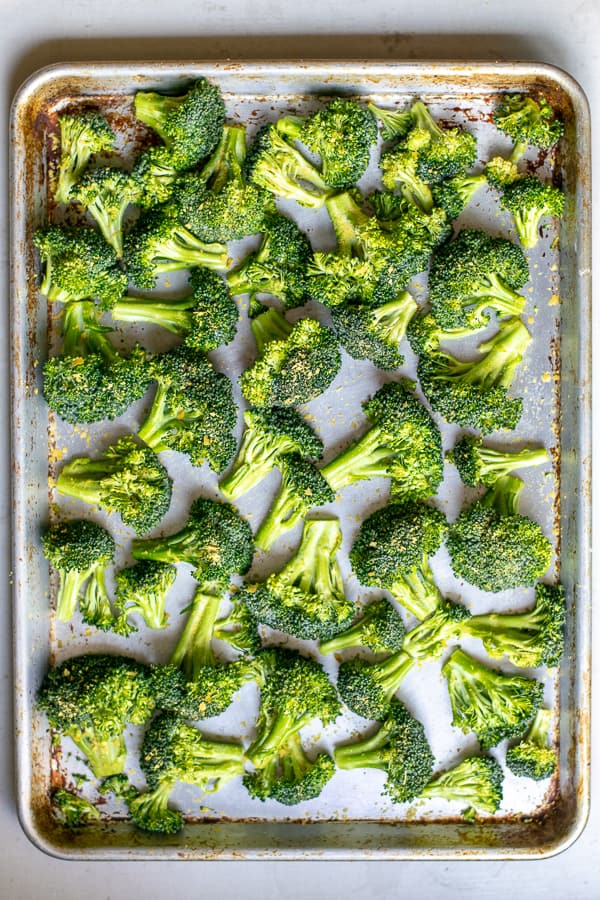 So is Roasted Broccoli Healthy?
Broccoli which is technically part of the cabbage family is very low in calories. In one cup of broccoli there are roughly 34 calories, so if you pay attention to calories, broccoli is a good food to eat! Beyond calories a serving of broccoli will give you more than a full days amount of vitamin C, it also has a decent amount of vitamin A, vitamin K and folate. Lastly it is high in fiber which will help keep you full. Plus we are adding nutritional yeast to this broccoli which will add even more vitamins and nutrients!
So what about this Nutritional Yeast?
As a blogger I try to make healthy meals for families without a bunch of weird ingredients but I really wanted to share Nutritional Yeast with you if you have not yet heard of it or used it. Nutritional yeast is a yeast, it is actually the same yeast strain that is used to make bread and beers but the manufacturing process is a little different yielding in a different end result.
While yeast you would buy for bread or beer making is a living strain nutritional yeast is killed off in the manufacturing process so the final product is not living. This yeast is produced specifically to be used as a food product and added to dishes.
Nutritional yeast mostly comes in flakes (it almost looks like goldfish food) but you can also find in powders. With the rise of plant based eating I have not had trouble finding it at the store, at both superstores like Walmart or grocery stores I have found it located next to the baking supplies/spices. It most commonly is found in a plastic tube with a shaker (like shelf stable parmesan cheese).
So we covered what it is but what does Nutritional Yeast taste like. Most people would describe it as a cheesy/nutty taste. A lot of times it is used as a cheese substitute in vegan cooking. Over all it brings a nice savory flavor to a dish. Beyond roasted broccoli I usually will add some to soups, pastas, or casseroles.
Lastly nutritional yeast does add an extra health boost. It is high in vitamins B, contains complete proteins, and contains many trace minerals such as zinc and manganese.
Together healthy broccoli and nutritional yeast will be tossed with olive oil to make this powerhouse of a side dish.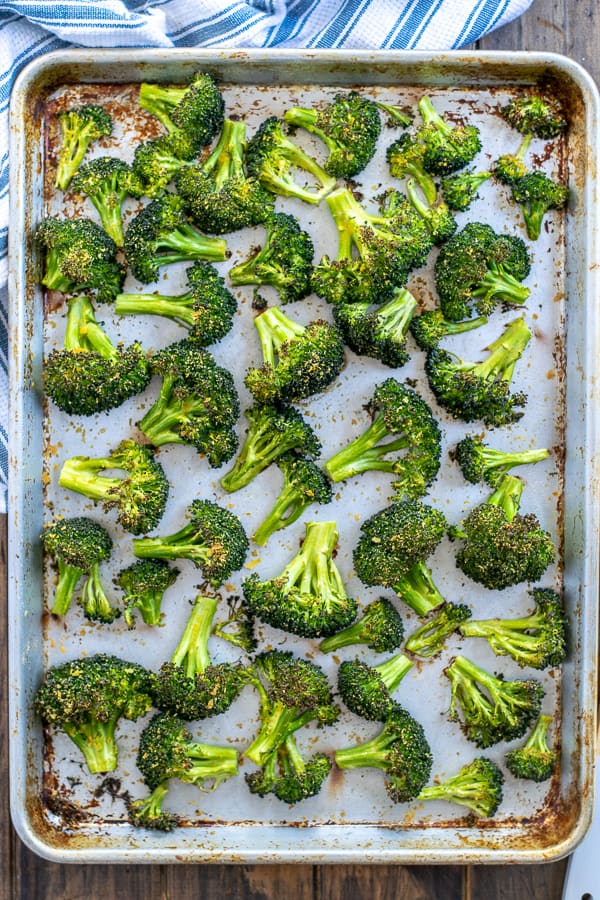 So how do you cook healthy roasted broccoli in the oven?
Start by preheating the oven to 400ºF. (Side note, I will make roasted broccoli with other foods cooking in the oven at the some time, it does fine on the lower rack as long as you keep an eye on it, just realize this might slow down the cooking slightly.)
While the oven is heating cut your broccoli crowns into florets. Or you can buy pre-cut florets at the store and save a few minutes! I usually will cut the larger florets in half to make them easier to eat, I find this especially helpful when you have kiddos with small mouths!
Add the broccoli florets to a sheet pan, drizzle the olive oil over the top and toss to coat.
Sprinkle the nutritional yeast over the oiled broccoli and toss to coat again. Spread the florets in an even layer over the tray. Then I suggest adding a little salt & pepper to taste if desired!
Transfer your sheet tray of broccoli to the oven and bake 17-20 minutes until browned to desired level. Serve immediately.
I think that this dish goes great with a nice protein like shrimp, roast chicken, or even my family's favorite chicken nuggets!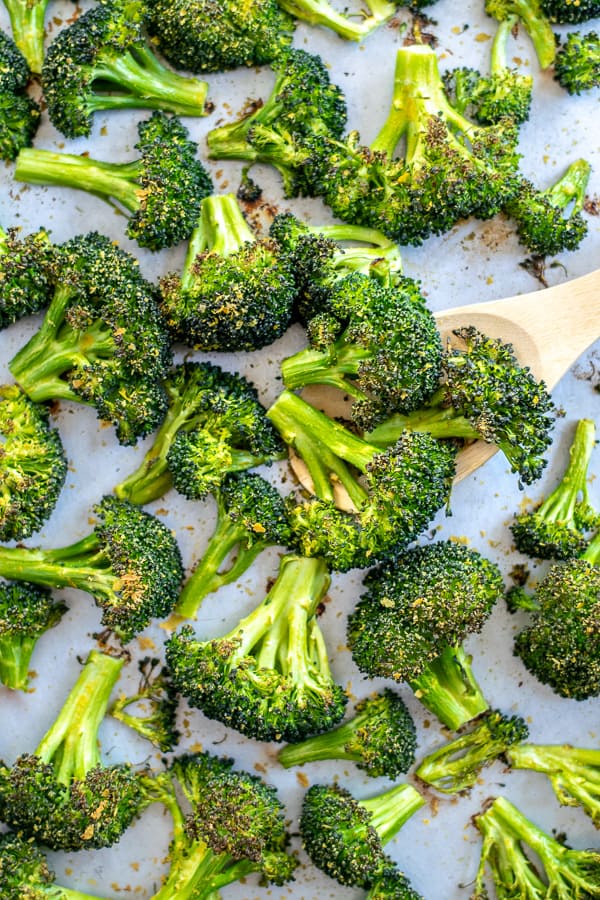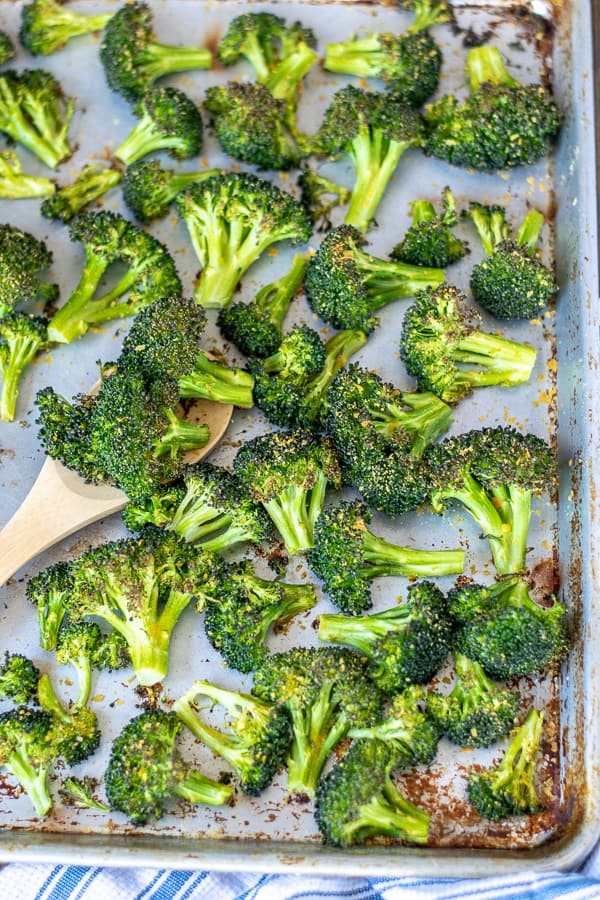 TIPS & TRICKS:
• to make this side dish even quicker buy pre-cut broccoli
• in my experience I've noticed that young children like it less 'browned' so you might want to take it out a little early if you are dealing with a child who doesn't like crispy
• you can add other flavors to this broccoli as well like garlic, lemon juice, or parmesan cheese
Yield: 4 servings
Oven Roasted Broccoli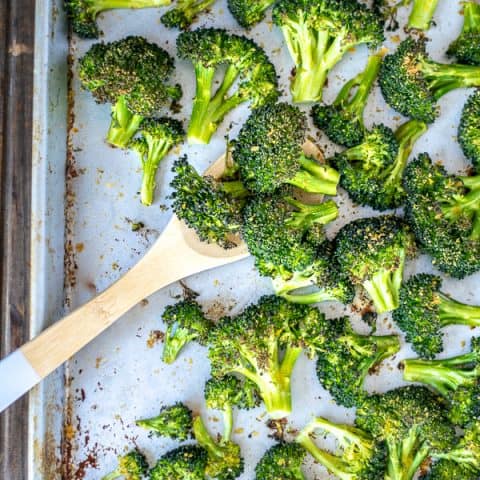 a perfect side dish, healthy broccoli roasted with nutritional yeast ready to eat in 20 minutes
Ingredients
2 crowns broccoli, cut into florets*
1 tablespoon olive oil
1 tablespoon nutritional yeast
Salt & Pepper
Instructions
Preheat oven to 400ºF.
Add broccoli florets to sheet pan, drizzle with olive oil. Toss to coat. Sprinkle on nutritional yeast and toss to coat again. Spread florets in an even layer over the tray. Sprinkle with salt & pepper to taste if desired.
Transfer sheet pan to oven and bake 18-20 minutes until browned to desired level. Serve immediately.
Notes
*or use pre-cut broccoli florets!
Recommended Products
As an Amazon Associate and member of other affiliate programs, I earn from qualifying purchases.
Nutrition Information:
Yield:
4
Serving Size:
1
Amount Per Serving:
Calories:

43
Total Fat:

4g
Saturated Fat:

1g
Trans Fat:

0g
Unsaturated Fat:

3g
Cholesterol:

0mg
Sodium:

9mg
Carbohydrates:

2g
Fiber:

1g
Sugar:

0g
Protein:

1g
Nutritional data is automated, final nutritional information will depend on ingredients used and any changes made.
And make sure you are following me on Instagram, Pinterest, and Facebook for all the latest recipes!
Peace & Love
Lauren, The Schmidty Wife
P.S. Looking for more side dish recipe? Check out my Garlic Mashed Cauliflower or my Healthy Crockpot Refried Beans.