If you are looking for the best weeknight Chicken Shawarma look no further. This restaurant quality chicken shawarma is so easy to throw into the crockpot in the morning and have dinner ready to eat when you get home! With minimal ingredients and a finishing method to make the chicken really pop this Chicken Shawarma in the Slow Cooker will become a regular on your dinner rotation!
Links may be affiliate links.
Easy Crockpot Shawarma
I am so excited to be sharing this crockpot recipe with you today! I feel like it has literally been years in the making. I would say shawarma is on probably my top 5 favorite foods list and I have been making different versions for years now!
Last summer I shared with you my Grilled Chicken Shawarma and in that post I promised I would eventually share some of my other methods. So finally here is my Slow Cooker Chicken Shawarma!
Now there are a few difference between the recipes, and as my husband asked, why do you have different methods? Well because different situations call for different solutions! This slow cooker version is what I would call the 'weeknight version', extremely easy to put together in the morning, ready to eat when you get home, and 'slightly' healthier. As for my grilled version, it is perfect for a relaxed summer evening when you have a little time to sit on your deck and grill and when you are really looking for that charred taste!
As far as serving, I essentially serve my Chicken Shawarma the same way. In a pita or naan bread with lettuce, tomato, red onions, cucumbers, feta cheese, kalamata olives, and my famous Homemade Tzatziki Sauce. But you aren't limited to serving it that way, it is good on a salad, platter style, or in a wrap as well. Also below in the recipe notes I included a quick Yogurt Dill Sauce you can whip up super fast that is super delicious on it if you don't have the time to make a tzatziki sauce. Lastly as far as serving I also would recommend a side of my Easy Hummus!
What is chicken shawarma made of?
So traditionally chicken shawarma is seasoned chicken stacked on a vertical rotisserie spit, but since that is very hard to replicate at home I have a few tips I have learned along the way to get your slow cooker chicken shawarma to taste as close to that as we can get.
First off looking at the ingredients. You want chicken thighs for this meal, some people might be tempted to use chicken breast, but it won't taste the same. The fat content/dark meat of the thigh is exactly what you need to get the best tasting shawarma at home. Overall the chicken thigh will give you the right taste and texture you want for this meal.
Second you will want to follow my finishing method, it takes only an extra 5 minutes but it makes a huge difference. Because traditional chicken shawarma is on a spit it gets that crunchy-browned pieces on the chicken. So to transfer that to this meal you will want to put the chicken and onions on a sheet pan, shred the chicken and place it under a broiler for not even 5 minutes to get little crispy brown pieces on the chicken, just like at a restaurant! Now this step isn't absolutely necessary but it is highly encouraged and can make all the difference in the final product!
So how do you make the best chicken shawarma in the slow cooker?
It really is simple, you will start out by making the spice blend, then mixing the spices with yogurt, garlic, and lemon juice to make a sauce.
You will then add the chicken, a sliced onion, and the sauce to a crockpot, mix it all together. Cook on low for 7-8 hours or on high 3-4 hours.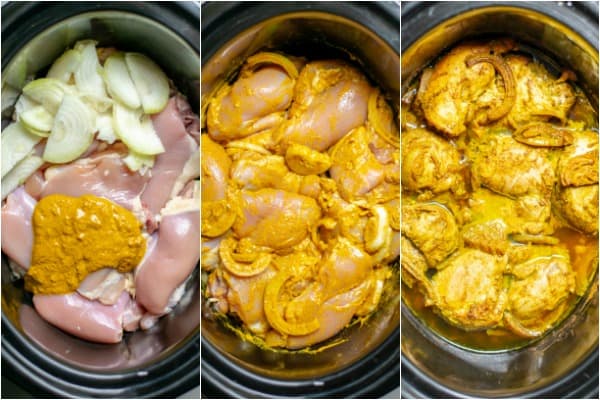 Turn your oven to broil. Transfer the chicken and onions to a sheet pan, and shred the chicken. Spread shredded chicken out over the sheet tray and transfer to the oven. Broil 3-5 minutes until the ends of the chicken start to brown and crisp.
Remove from oven and serve immediately!
How do you serve Chicken Shawarma?
Ultimately this is personal preference. I love to keep it fresh with lettuce, tomato, red onions, cucumbers, feta cheese, kalamata olives, and Tzatziki sauce all on a pita. I also like to often include hummus, and some places will also serve it with tahini, pickles, and even french fries (in the sandwich). This chicken is delicious though so you could also put it in a wrap, on a salad, use it on top of a flatbread, with fragrant rice (or quinoa), or serve it platter/family style with all of the above foods.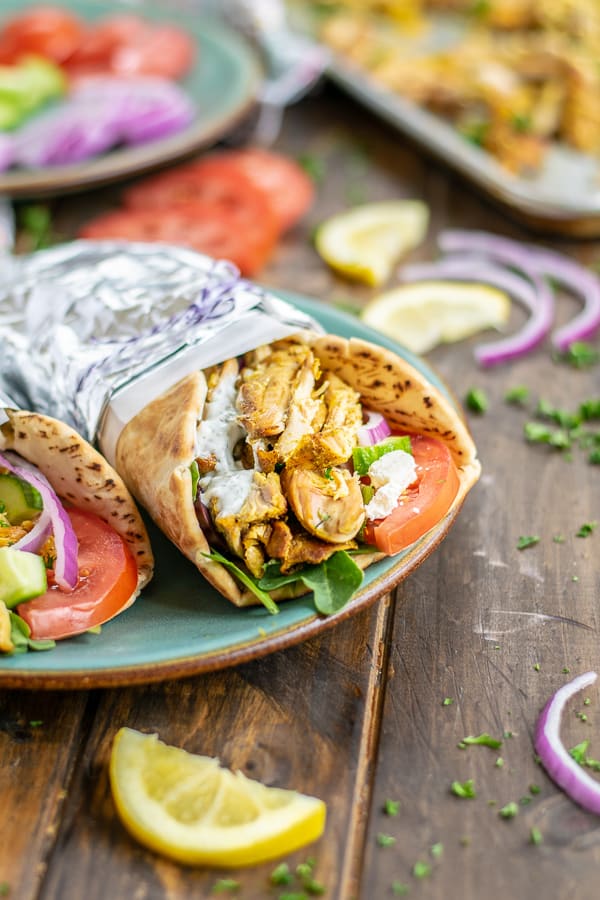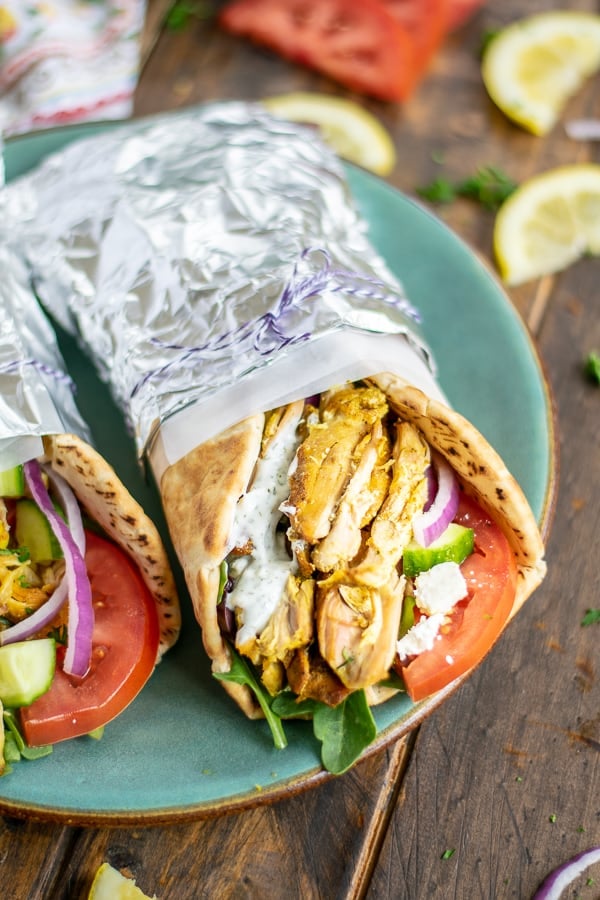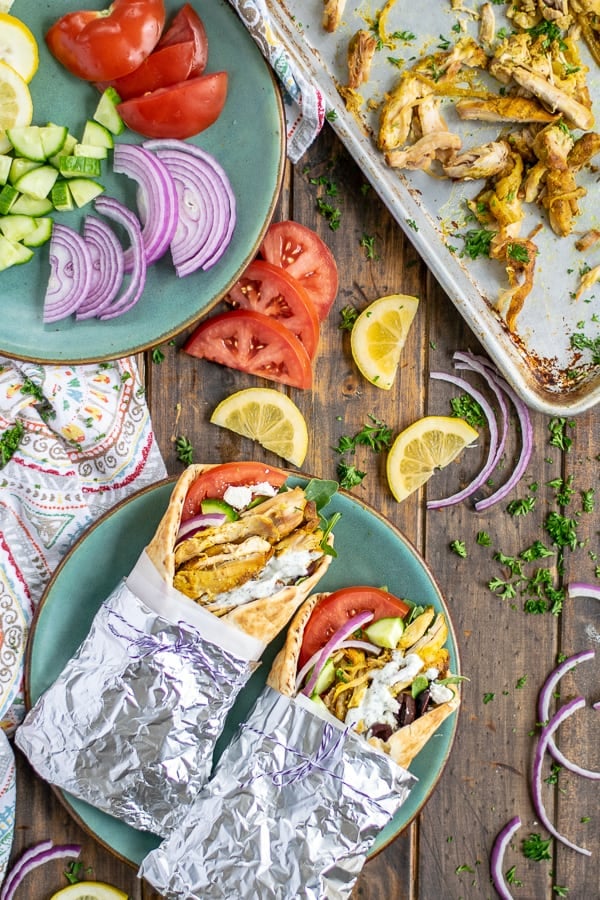 TIPS & TRICKS
• if you are strapped for time in the morning you could prep the chicken, onions, and sauce all together the night before and then dump it in the morning
• you can slice the chicken instead of shredding if you prefer it that way
Yield: 6 servings
Slow Cooker Chicken Shawarma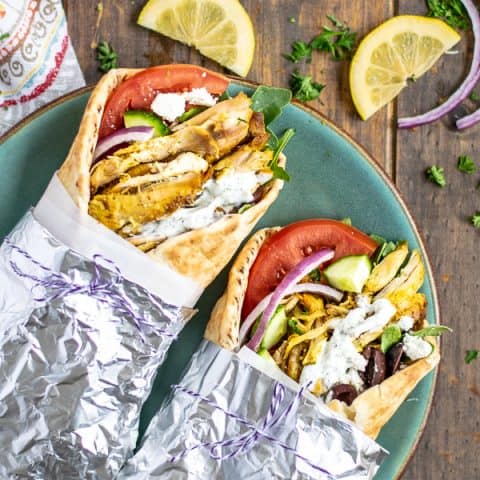 simple to throw together this chicken shawarma made in the slow cooker is full of flavor and a perfect weeknight meal
Total Time
7 hours
5 minutes
Ingredients
3 pounds boneless skinless chicken thighs
1 yellow onion, sliced
1 teaspoon cumin
1 teaspoon turmeric
1/2 teaspoon ginger
1/2 teaspoon ground cinnamon
1/2 teaspoon salt
1/4 teaspoon pepper
dash cayenne pepper
1 teaspoon minced garlic
1 tablespoon lemon juice
2 tablespoons plain yogurt
Instructions
In a small bowl combine cumin, turmeric, ginger, cinnamon, salt, pepper, cayenne, garlic, lemon juice, and yogurt to form a sauce.
Add chicken thighs and onion to the slow cooker. Add sauce to slow cooker and stir to coat the chicken and onions.
Slow cook for 7-8 hours on low OR 3-4 hours on high until chicken is tender.
When chicken is done turn your oven to broil. Transfer chicken and onions to a sheet pan, leaving the juice in the slow cooker. Shred the chicken and spread out to an even layer on the sheet tray. Transfer to the middle rack of the oven and broil 3-5 minutes until the edges of the chicken start to crisp up and brown slightly. Remove from oven and serve immediately.
Notes
Best served with pita, arugula/romaine lettuce, sliced red onion, diced tomatoes, diced cucumber, feta cheese, kalamata olives, and a tzatziki sauce or a quick Dill Yogurt Sauce*.
*To make a quick Dill Yogurt Sauce for serving combine 1/2 cup plain yogurt, 1 teaspoon dried dill, and 1 teaspoon mined garlic.
Broiling the chicken at the end is optional but I think it is so worth the 5 extra minutes, it gives it more of a restaurant quality texture!
Nutrition Information:
Yield:
6
Serving Size:
1
Amount Per Serving:
Calories:

387
Total Fat:

18g
Saturated Fat:

6g
Trans Fat:

0g
Unsaturated Fat:

12g
Cholesterol:

277mg
Sodium:

583mg
Carbohydrates:

3g
Fiber:

1g
Sugar:

1g
Protein:

56g
Nutritional data is automated, final nutritional information will depend on ingredients used and any changes made.
If you enjoyed this Recipe or any of my others let me know by using #theschmidtywife on social media!
And make sure you are following me on Instagram, Pinterest, and Facebook for all the latest recipes!
Peace & Love
Lauren, The Schmidty Wife
P.S. Looking for more Mediterranean inspired recipes? Check out my Two Bean Mediterranean Salad or my Greek Chicken Kabobs.