I have found my new obsession for this summer, anything and everything that can be stuffed into a pita. I plan on marinading and grilling every type of meat and stuffing it into pitas. They are the perfect tool to get delicious meats and veggies into your mouth plus they are delicious, and a whole lot less carb-y then lets say a burger bun. So with this enthusiasm I present Grilled Greek Chicken Kabobs with Tzatziki.
In the summer basically the only way I cook is the grill, unless if it is unnaturally cold or raining, dinner is on the grill. These Grilled Greek Chicken Kabobs are a prime example of the meals I like to make for my family in the summer. A good piece of protein, marinated, but also simple, quick, and healthy. These Grilled Greek Chicken Kabobs finish off nicely with a quick tzatziki sauce and then piled high into a pita along with some lettuce, tomatoes, red onion, and kalamata olives. My whole family scarfs their dinner down and it's healthy so I don't feel guilty making it about once a week all summer long.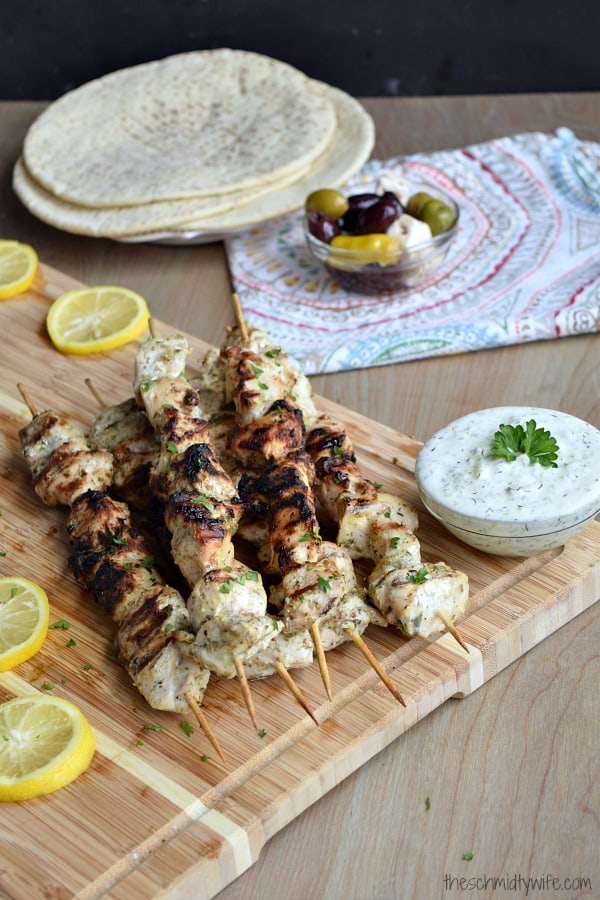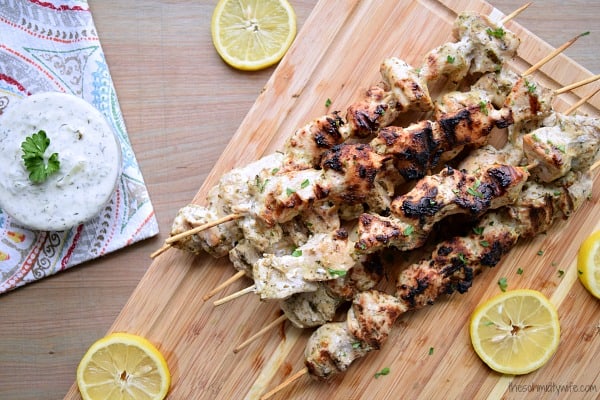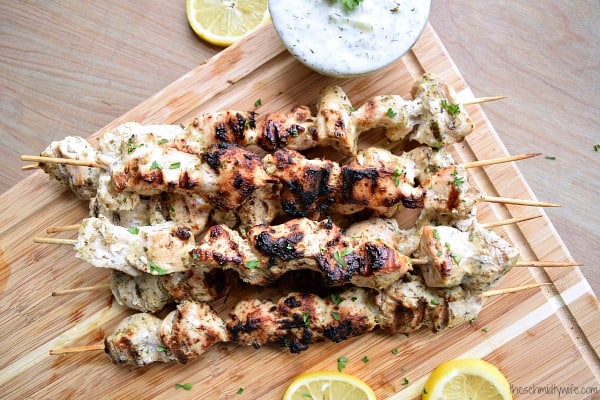 TIPS & TRICKS:
Marinading the chicken and making the tzatziki sauce the night before or in the morning, makes for a fast and easy dinner, making it perfect for a beautiful summer weeknight to eat out on your deck or patio
If using Bamboo Skewers make sure you give them plenty of time to soak in water so that they don't burn on the grill
Like I mentioned before, my family enjoys eating this meal in a pita but it would be just as good on top of a salad, or just plain
This recipe could also be easily converted into meal prep, make this Sunday night and you can have lunches ready for the week
Grilled Greek Chicken Kabobs with Tzatziki
marinated greek chicken, grilled on skewers and served with tzatziki sauce
Ingredients
for the marinade & chicken:
2 pounds chicken breasts, cut into 1 inch cubes
3 tablespoons olive oil
2 tablespoons plain yogurt
2 tablespoons red wine vinegar
4 garlic cloves, minced or grated
2 teaspoons dried oregano
1 teaspoon mint (optional)
salt & pepper
for the tzatziki:
1/2 cucumber
1/2 cup plain yogurt
1 tablespoon lemon juice
1 tablespoon olive oil
1 teaspoon dill
dash of garlic powder, pepper, & salt
Instructions
In a large bowl add olive oil, yogurt, vinegar, garlic, oregano, mint, and salt & pepper to taste. Mix together to combine.
Add chicken to marinade, toss to coat. Cover and place in the refrigerator for at least 2 hours or overnight.
Make the tzatziki sauce. Peel the cucumber and use a spoon to scoop out all of the seeds. Finely dice the cucumber and add to a bowl. Add yogurt, lemon juice, olive oil, dill, and add a dash of garlic powder, salt, & pepper. Mix until fully combined. Cover and refrigerate at least 20 minutes or overnight.
Once the chicken is done marinading you will prepare the kabobs. Heat your grill to medium. You will need 6-7 skewers, metal or wooden*. Slide the pieces of chicken onto the skewers leaving at least an inch on each end.
Once grill is to medium heat place the skewers down over direct heat. Grill 8-10 minutes. Flip the kabobs and grill an additional 8-10 minutes, until chicken is starting to golden and cooked all the way through.
Serve the kabobs with the tzatziki sauce. My family loves to eat this meal in pitas along with lettuce, cherry tomatoes, red onions, and kalamata olives.
Notes
It is easiest to make the marinade and tzatziki sauce at the same time, whether it is overnight or 2 hours before eating. Although you can make the tzatziki closer to when you are ready to eat it tastes better when it has some time to rest in the refrigerator.
*If using wooden let soak in water for at least 15-20 minutes before using
Nutrition Information:
Yield:

6
Serving Size:

1
Amount Per Serving:
Calories:

356
Total Fat:

15g
Saturated Fat:

3g
Trans Fat:

0g
Unsaturated Fat:

11g
Cholesterol:

130mg
Sodium:

277mg
Carbohydrates:

5g
Fiber:

0g
Sugar:

3g
Protein:

48g
Nutritional data is automated, final nutritional information will depend on ingredients used and any changes made.
If you enjoyed this Recipe or any of my others let me know by using #theschmidtywife on social media!
And make sure you are following me on Instagram, Pinterest, and Facebook for all the latest recipes!
Peace & Love
Lauren, The Schmidty Wife
P.S. Looking for more grill recipe? Check out my Barbecue Chicken or my Marinated & Grilled Flank Steak.
Please note that my links above may be affiliate links, and I will earn a commission if you purchase through these links. I recommend them because they are helpful, and are companies that I trust, not because of the commissions that I may earn from you using these products.