This easy homemade Tzatziki Sauce Recipe uses cucumber and yogurt to make a fresh sauce perfect for drizzling on top of any mediterranean inspired dish.
Links may be affiliate links.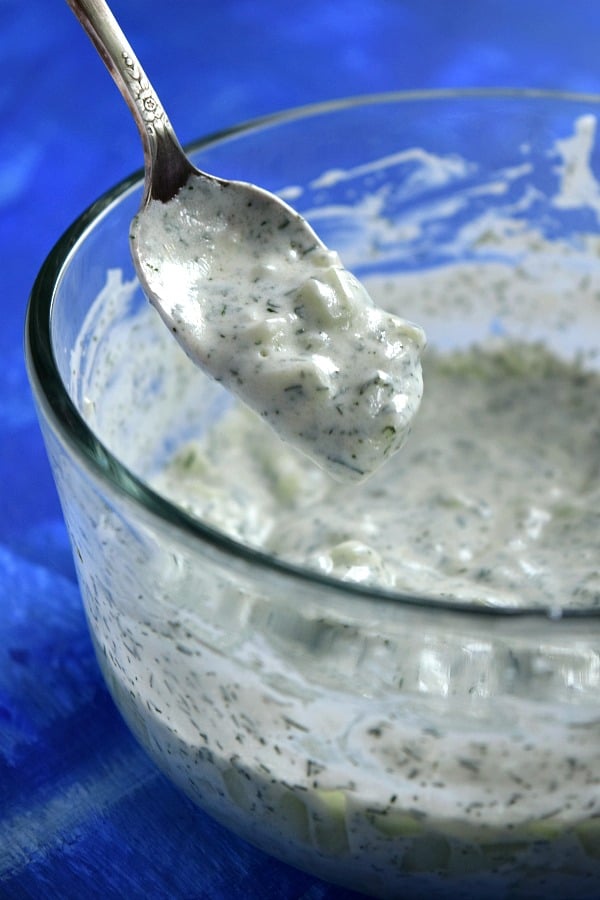 Homemade Tzatziki Sauce
This Easy Homemade Tzatziki Sauce Recipe is one of those recipes that I have always 'just made'. Do you have some of those recipes where it just kind of puts itself together you know it so well or make it so often?
I was telling Matt the other day that I had yet to put my chicken shawarma recipes or my easy homemade tzatziki sauce recipe on the blog yet. And he couldn't believe it because WE EAT THIS MEAL ALL THE TIME. For real, for years one of our favorite go to meals is chicken shawarma with tzatziki sauce. So why hasn't it made it to the blog yet? Probably because it's so delicious I don't want to stop to take pictures and I just want to stuff it in my face.
I actually have done some versions of this meal like my Grilled Greek Chicken Kabobs with Tzatziki but never our go to meal. So I thought I'd start sharing by today sharing this super simple and easy homemade tzatziki sauce recipe.
I have tried many different variations of this sauce but I have found the simplest is the easiest! (Can I get an oh yeah?!) This tzatziki sauce I am also notorious for changing it up a little every time, why? Because when I normally make it I completely eyeball the measurements and just go off of taste, which I think most sauce recipes should be. So in my Tips & Tricks section above the recipe I'll let you know some of my little tricks.
The base of this sauce is super simple cucumber & yogurt. So let's break these down.
First cucumbers, honestly any kind of cucumber will be good here. I use just the plain kind from the grocery. Many recipes call for an English Cucumber and those can work great too. Either way you'll want to peel off the skin and remove the seeds. The peel is super bitter and the seed part of the vegetable will make your sauce to watery. Another point I'll reiterate below is that if you are going to be using the sauce within a few hours or immediately you don't have to do anything special to the cucumber but if you are making this a full day ahead and planning on it sitting overnight you might want to squeeze some of the liquid out of the diced cucumber using a clean towel, this will avoid your sauce from getting to watery.
Second the yogurt. I use plain (whole milk) yogurt, any fatness will be great here so if you want fat free go for it. You can use Greek yogurt if you absolutely need to but it will make your sauce a lot thicker and a lot tangier.
After the cucumber and the yogurt comes the lemon juice and olive oil. These are musts for the sauce.
Next is when the ingredients start getting a little 'choose your own adventure'. Foremost Dill, dill is super traditional in this sauce but dried or fresh is really up to you. I actually prefer the taste of dried dill in my tzatziki so that's what I have in my recipe. You can totally use fresh dill though, if you do you'll want to probably use a full tablespoon because the flavor will be more mild.
Okay… 'dashes of garlic powder, pepper, & salt'. Sometimes instead of garlic powder I'll put in some minced garlic, not a ton because this isn't garlic sauce but just a little for taste. And then a little bit of pepper and salt to taste. I try not to add to much salt though because this is a really fresh sauce and I don't want it getting overly salty.
*side note I have experimented on putting some fresh diced onion in here, it can be good but sometimes overpowering, if you're a big fan of onion you can give it a try…
So see how easy and 'customizable' this Tzatziki Sauce is!? Pretty soon you'll be whipping it together like a pro without thinking about it!
I will soon have my first Chicken Shawarma recipe up, that's right I'll have multiple ones and when I publish them I will add them back to this page! So soon you will have something to drizzle this delightful Easy Homemade Tzatziki Sauce Recipe all over! 🙂
TIPS & TRICKS:
• You can use regular or english cucumbers in this recipe, just make sure you peel the skin and remove the seeds
• If you are making this the day before, use a clean towel to squeeze as much liquid as you can out of the diced cucumbers so that your sauce doesn't get to watery overnight
• Plain yogurt works best, greek yogurt may be used but it will make your sauce thicker and more tangy
• If you want to use fresh dill instead of dried you'll want to use about 1 tablespoon
• A substitution of minced garlic can work if you don't want to use garlic powder but avoid adding to much
• this sauce is best slathered on top of my Grilled Chicken Shawarma or my Slow Cooker Chicken Shawarma recipe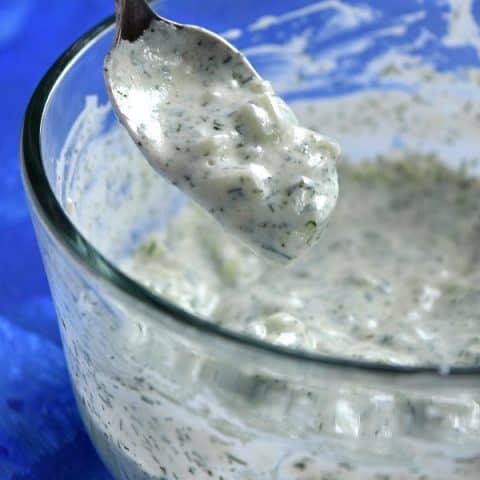 Easy Homemade Tzatziki Sauce
a simple tzatziki sauce, perfect for on top of Mediterranean inspired dishes
Ingredients
1/2 cucumber
1/2 cup plain yogurt
1 tablespoon lemon juice
1 tablespoon olive oil
1 teaspoon dried dill
dash of garlic powder, pepper, and salt
Instructions
Peel cucumber, cut in half the long way, and use a spoon to scoop out the seeds. Finely dice cucumber*.
In a small bowl add diced cucumber, yogurt, lemon juice, olive oil, dill, and spices. Mix together until combined.
Refrigerate until ready to serve.
Notes
*If you are making this the day before, use a clean towel to squeeze as much liquid as you can out of the diced cucumbers so that your sauce doesn't get to watery overnight
Nutritional data is automated, final nutritional information will depend on ingredients used and any changes made.
Nutrition Information:
Yield:

4
Serving Size:

about 1/4 cup
Amount Per Serving:
Calories:

56
Total Fat:

4g
Saturated Fat:

1g
Unsaturated Fat:

3g
Cholesterol:

4mg
Sodium:

54mg
Carbohydrates:

3g
Fiber:

0g
Sugar:

2g
Protein:

1g
Peace & Love
Lauren, The Schmidty Wife
P.S. Looking for more recipes to use my Easy Homemade Tzatziki Sauce Recipe? Check out my Grilled Greek Chicken Kabobs or my Greek Turkey Meatball Lettuce Wraps.