A savory grilled burger topped with prosciutto, pesto, double cheese, tomato, and basil.
This post may contain Affiliate Links.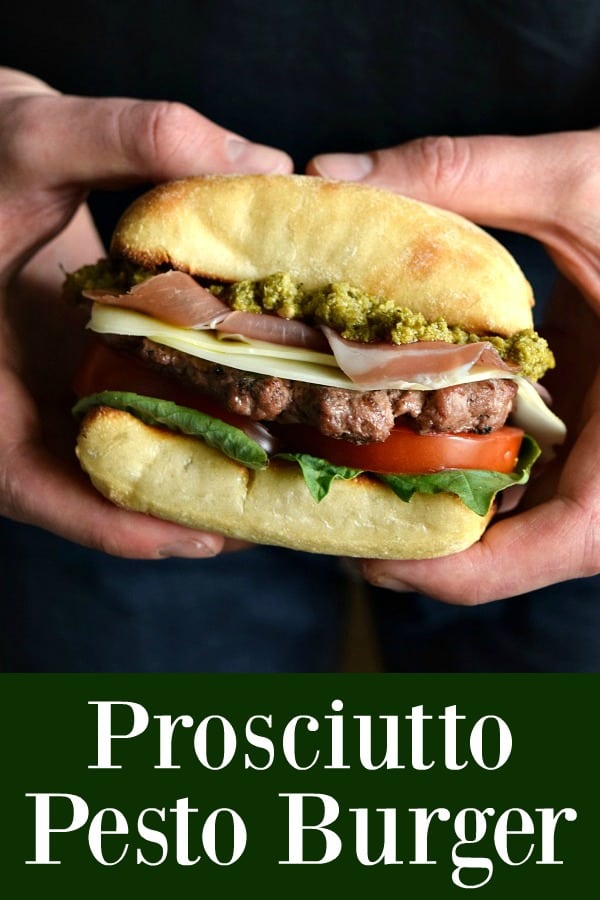 This post is part of a burger grill giveaway hosted by GirlCarnivore but the Prosciutto Pesto Burger awesomeness is all my own.
Burger with Pesto and Prosciutto
So I have yet to publish a burger recipe on the blog! This sort of amazes me because we love burgers. Matt and I's first date was at a burger place, and the once a year we get to have a date night we pick burgers! So when I had a chance to be a part of Burger Month 2018 I jumped at the opportunity.
I had already had this idea for a burger in my head that I wanted to share with you before I even knew this month was burger month, so this really couldn't have worked out better.
So let's talk burgers.
This burger I originally called 'Picnic Sandwich burger', which lets face it, that makes zero sense. I made a little indoor picnic for my family one Saturday during the end of winter, trying to break the cabin fever we all had, I made pressed picnic sandwiches, sliced up water melon, made hummus, and bought some stuffed grape leaves. We topped the indoor picnic off with some popsicles and it definitely brightened our mood.
Well the next day for lunch I whipped up some burger patties and we had a free for all burger creation for lunch to use up as many leftovers as we could (feel free to steal that idea). Anyway there was a ton of stuff left over from the picnic sandwiches, so I whipped up myself a picnic sandwich style burger.
My burger included leftover tomato, basil, mozzarella, prosciutto, and of course a lot of pesto. It was sooooo delicious.
So in normal The Schmidty Wife fashion, happy accidents turn into some of my favorite recipes. Two weeks later I set out to make these burgers for real and I didn't change much.
I started with 100% beef patties. I am a strong believer in burgers are meat, and once you start adding ingredients to that meat it becomes meatloaf on a bun. This is my opinion, feel free to disagree with me but this is my blog so my rules 😉
All right getting off my high horse. I decided to make these burgers on ciabatta rolls. With the ingredients I was using I wanted to elevate my burger beyond squishy white burger buns, and the ciabatta rolls definitely do the trick. And to really elevate these rolls, toast them! They are best when lightly oiled and slightly toasted. I will toast mine on the outer edges of the grill while my burger patties cook.
Alright now the toppings. I stuck strong to my picnic sandwich but the real stars of this burger started to really shine through, the prosciutto and the pesto. Hence the Prosciutto Pesto Burger. Besides that I chose not 1 but 2 types of cheese I like on my picnic sandwiches Provolone and Mozzarella. I also included tomato slices and fresh mozzarella leaves. And just like that the Prosciutto Pesto Burger was born.
This burger is fresh, yet salty, yet sweet, yet savory. It's a party in your mouth 😉
Speaking of parties let's talk GIVEAWAY! I've teamed up with Girl Carnivore for a totally awesome giveaway for Burger Month! Me and a ton of other bloggers are sharing burgers every day this month! How cool is that?! Not only are we sharing burgers but we are giving away amazing prizes! Check it out: (This Giveaway is now closed)
Like seriously this might be one of the best giveaways I have ever seen. I can personally attest for how great some of these products are.
I have been a huge fan of Anolon and their pans! Seriously I would sign up for this giveaway if it was just for their grill pan.
Cabot Cheese! We are a huge fan of cheese in this household. Especially Cabot, living just a few hours away from Cabot in Vermont their cheese is all over the place where we live and we use it all the time!
AND one lucky person at the end of the month will win a Weber grill. Best prize ever? Probably.
So enter now before the giveaway closes! The giveaway is now closed, thanks for stopping by, continue down for the burger recipe!
Back to Burgers
I just want to touch on how to make the best at home burgers for a quick minute. One of my biggest beefs (hahaha) with home made burgers is that everyone makes these super thick ball like burgers that are always too small for the bun and really thick. You are better than that, let's make better homemade burgers.
First, let's keep it 100% beef, I stated my personal opinion above on this but I just want to reiterate. You don't need an egg to 'keep the meat together'.
Second, Smash that burger thin. Divide your ground beef into balls without overworking the meat. And smash those balls on a plate with your hand. Get them thin. Feel free to adjust the edges to make it more circular but get those patties thin.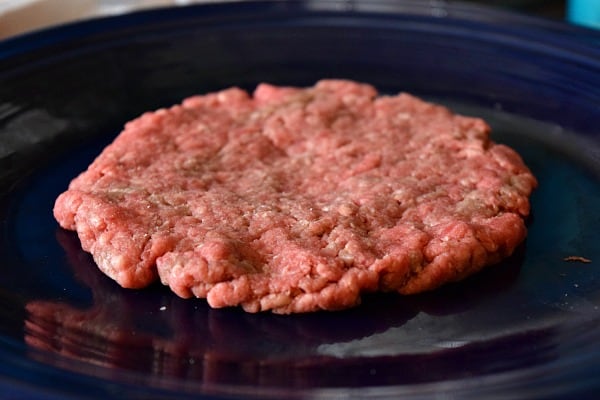 Third, Don't over cook those thin patties. Get your patties over high heat and cook just a few minute only cooking once.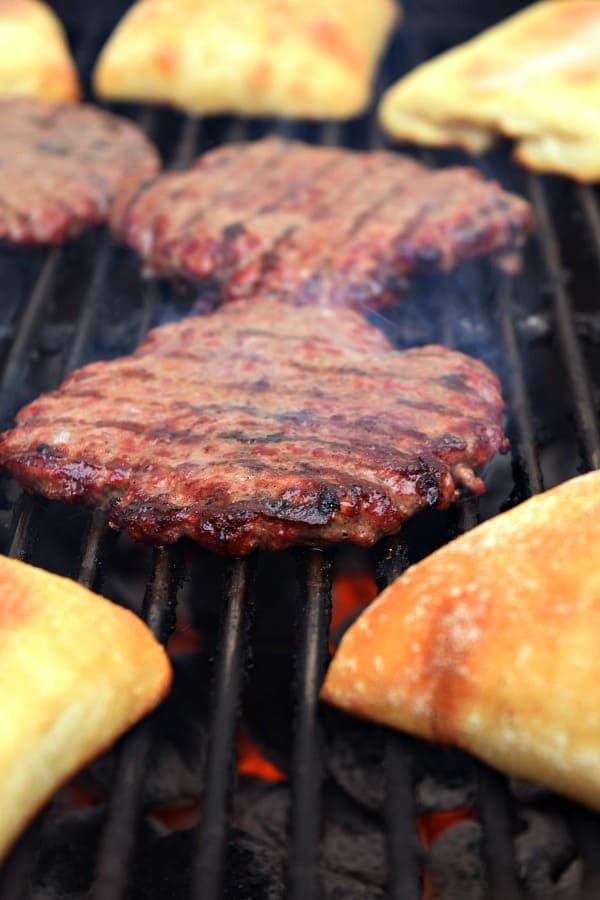 Got it? Cool. Now sign up for the giveaway and get making these Prosciutto Pesto Burgers.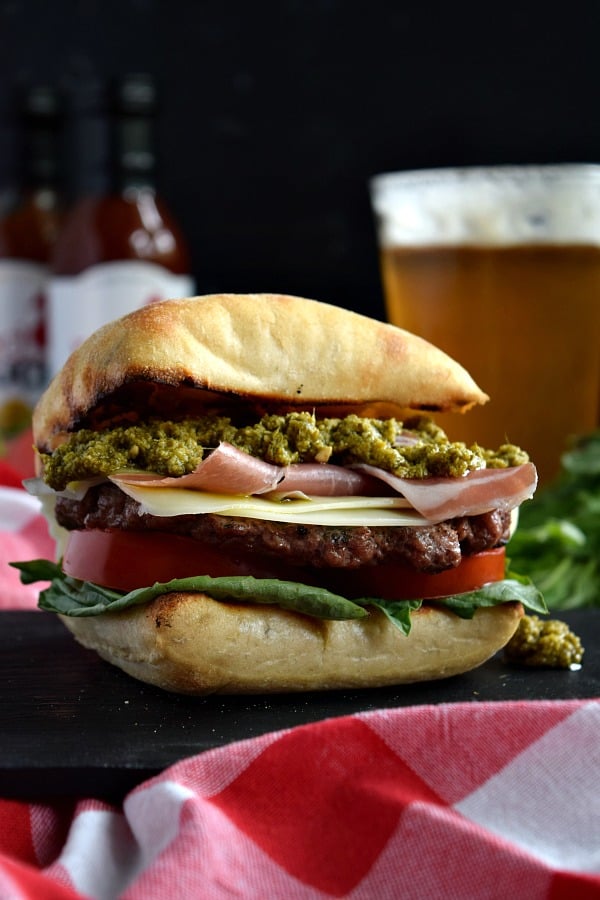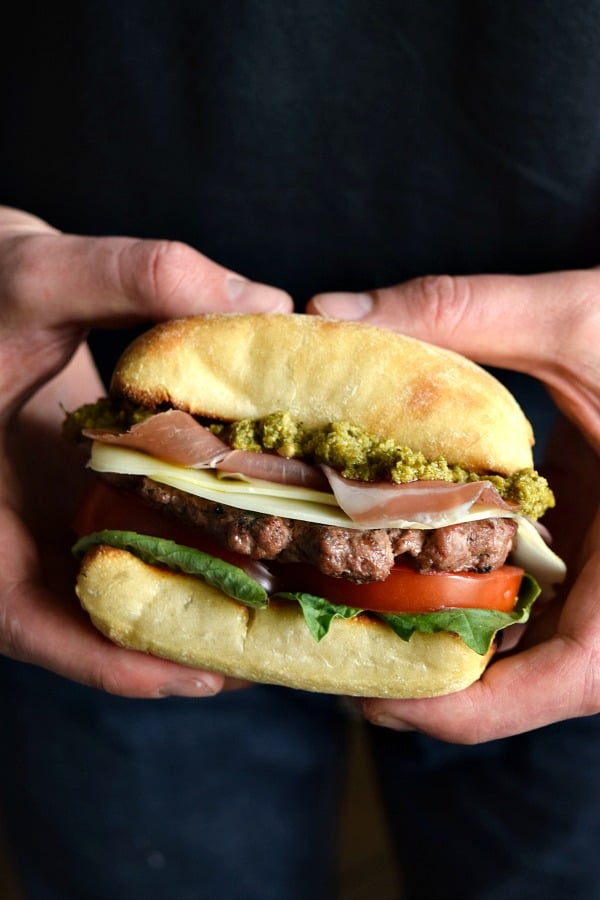 TIPS & TRICKS:
• If you can't find ciabatta rolls, you could cut up a ciabatta loaf to use
• I like to use higher fat content in my burgers, it makes them juicy and holds them together, I personally use 80/20 in this recipe
• Definitely don't skip out on using two types of cheese, the double cheese makes this burger double good
• If you don't have access to a true grill you can make this on a grill pan!
• If you want to make your own pesto I have an awesome Sunflower Seed Basil Pesto recipe
Yield: 4 burgers
Prosciutto Pesto Burger Recipe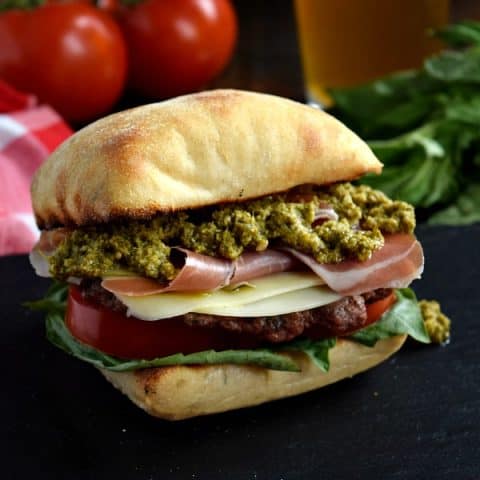 A savory grilled burger topped with prosciutto, pesto, double cheese, tomato, and basil.
Ingredients
1 pound ground beef
4 ciabatta rolls
4 tablespoons pesto
4 ounces prosciutto (8 slices)
4 slices mozzarella cheese
4 slices provolone cheese
1 large tomato sliced thin
a handful of fresh basil leaves (16-20 leaves)
Instructions
Preheat grill (or grill pan) to high heat.
Prepare burgers for the grill. Divide ground beef into 4 parts and gently roll into balls. One by one smash the ground beef balls on a clean surface creating a thin burger patty. Shape into a circle if necessary. And prepare ciabatta rolls for toasting by lightly greasing with olive oil.
Add burger patties over direct high heat, place ciabatta rolls over indirect heat (I place on the outside edges). Grill the burgers 3-4 minutes on both sides flipping one time (actual time will depend on thickness of patties). Check on the rolls every couple minutes and rotate if necessary.
Remove burgers (and rolls) from the grill, place 1 slice of provolone and 1 slice of mozzarella on each burger. Cover with a piece of aluminum foil and let rest 2-3 minutes.
On the bottom roll place fresh basil, followed by tomato slices, then add the cheese covered patty. Drape 2 slices of prosciutto on top of the cheese. Spread pesto on the top bun and cover your burger. Serve immediately.
Notes
Nutritional data is automated, final nutritional information will depend on ingredients used and any changes made.
Nutrition Information:
Yield:
4
Serving Size:
1
Amount Per Serving:
Calories:

1029.87
Total Fat:

56.67g
Saturated Fat:

21.55g
Sodium:

2192.92mg
Carbohydrates:

59.72g
Fiber:

5.7g
Sugar:

5.9g
Protein:

53.64g
Peace & Love
Lauren, The Schmidty Wife
A huge thanks to the #BurgerMonth sponsors, American Lamb Board, Anolon, Cabot Cheese, Crow Canyon Home, Melissa's Produce, New York Beef Council, Red Duck, Veal Made Easy, and Weber Grills.
P.S. Looking for more grill recipes like my Prosciutto Pesto Burger? Check out my Pesto Grilled Carrots, Pineapple Chicken Kabobs or my Marinated & Grilled Flank Steak.