Every summer I talk about how much I grill dinner. When it's January and the grill is under 2 feet of snow can you blame me for taking advantage of it when I can? Well I noticed I share a lot of main dishes to grill but rarely side dishes. So today I am sharing a Pesto Grilled Carrots Recipe to change that. This is a side dish I have made many times this summer because it is insanely easy to whip together with whatever else you are making.
This recipe came to be when when a run to the farmer's market resulted in no vegetables to buy. (To be fair to the farmers it was the middle of May in New England). I was counting on the farmer's market providing some vegetables to grill up as a side dish for that night, but all that was to be seen was potted plants, maple syrup, and some delicious beef & cheese empandas. Luckily I always have carrots in my fridge, always.
Why do I always have carrots in my fridge? Because fresh whole carrots when stored properly CAN LAST 4 WEEKS! It's amazing that something that costs so cheap can last so long, its wonderful! Besides this Pesto Grilled Carrots Recipe carrots can be used in so many things like my 20 Minute Chicken Stir Fry, Shrimp Stir Fry, Crockpot Bolognese, Crockpot Minestrone, Homestyle Chicken Noodle Soup, Roasted Butternut Squash & Carrot Soup, and Orange Spiced Carrot Cake. Is that enough examples? Because I could totally come up with more.
Carrots are such a great thing to always have on hand. Just make sure to store them properly. Keep the carrots in the plastic bag but ensure they are in a vegetable (crisper) drawer, if the bag starts to get to moist add a paper towel to suck up moisture. If your carrots get slimy that is when they have gone bad, throw them away. If your carrots get white or soft they are still okay to cook with but soft carrots are probably a sign that you aren't storing them correctly.
So now that you've learned about my secret love for carrots lets get back to this Pesto Grilled Carrots Recipe.
So I had carrots in my fridge after an unsuccessful farmers market trip and if you have caught on to my love of pesto this summer I had a bunch of pesto in the fridge. So I sliced the carrots up, threw them in the grill basket and then tossed them in pesto. Yes it is that easy!
The Carrots
The great thing about a recipe like this is you can make as much or as little as you need/want. So start with a bunch of carrots, peel them. Slice them up. Depending on what kind of grill basket you have you'll need to consider how big the openings are and consider how little your slices of carrots are. If you have big openings in your grill basket slice the carrots at an angle to make the slices bigger. Splash the carrots with a cooking oil (I use Olive Oil).
To Grill
The biggest downside to this recipe is that carrots can kind of take a while to grill. I usually cook mine about 20 minutes over a medium heat or indirect high heat, tossing every 5 minutes or so. Depending on your taste, or how crunchy you still like your cooked carrot you can cook for less time or more time. I use a grill basket and I feel like these are pretty common place but if you don't have one you can definitely just use a foil packet to cook the slices on the grill.
The Pesto
As far as pestos go I have only tested this recipe with traditional basil pesto but I have a feeling any kind would taste great. I have used store bought or my Sunflower Seed Basil Pesto.
As soon as the carrots are done cooking transfer them to a bowl. Add your pesto and toss. With the carrots being hot the pesto will start to melt into the carrots bringing a wonderful aroma into the air. Serve immediately.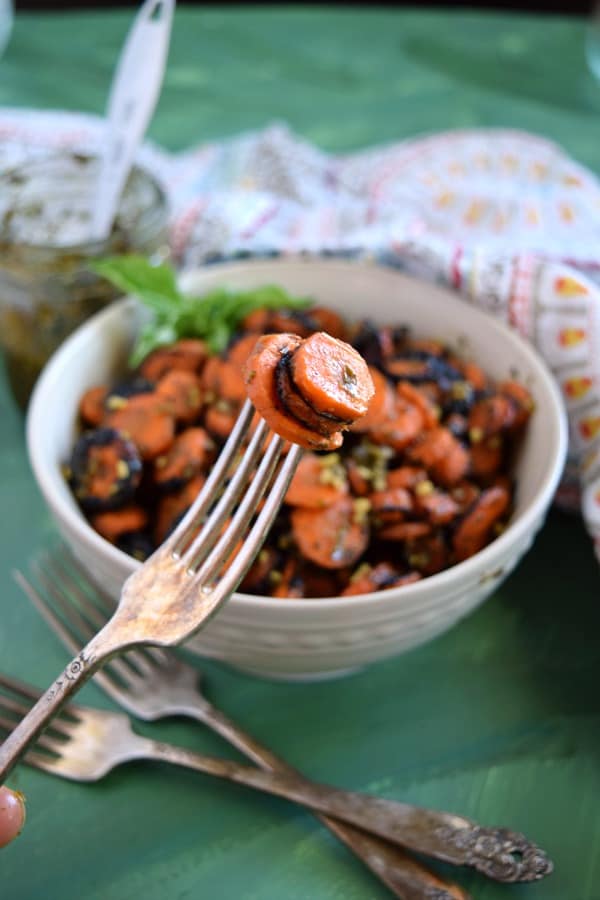 So yeah a 2 ingredient side dish that takes moments to put together is my kind of grilling side dish. This dish can be made right next to whatever else you are grilling, so easy right?! So what are you waiting for get grilling!
Tips & Tricks:
• I would even suggest you could just grill up baby carrots instead of slicing up whole carrots if that is what you have available, but beware they might take longer to cook.
• Looking for a great Pesto recipe?! Try my Sunflower Seed Basil Pesto!
Yield: 4 servings
Pesto Grilled Carrots Recipe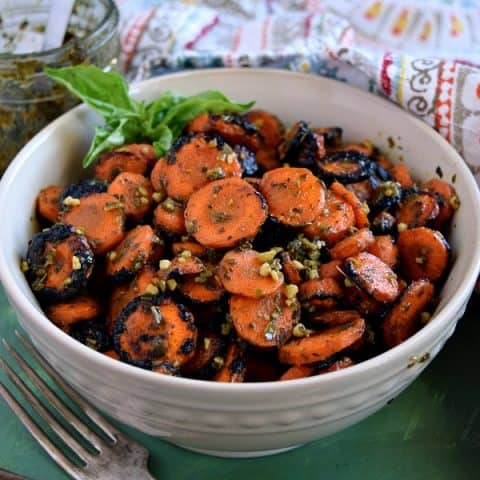 grilled carrots tossed with pesto make a super flavorful and easy side dish
Ingredients
3 cups sliced carrots (6 large whole carrots)
Instructions
Heat grill to medium heat (or grill over high heat indirectly).
Lightly grease sliced carrots, add to grill basket.
Grill over medium heat about 20 minutes tossing about every 5 minutes.
Transfer cooked carrots to a large bowl. Add pesto and toss to coat. Serve immediately.
Notes
Nutritional data is automated, final nutritional information will depend on ingredients used and any changes made.
Nutrition Information:
Yield:
4
Amount Per Serving:
Calories:

75
Total Fat:

3g
Cholesterol:

1mg
Sodium:

164mg
Carbohydrates:

11g
Fiber:

3g
Sugar:

5g
Protein:

1g
Peace & Love
Lauren, The Schmidty Wife
P.S. Looking for more pesto recipes like my Pesto Grilled Carrots Recipe? Check out my Pesto Grilled Cheese, Pesto Pizza with Prosciutto, Tomatoes, and Mozzarella or my Prosciutto Pesto Burger.
Please note that my links above may be affiliate links, and I will earn a commission if you purchase through these links. I recommend them because they are helpful, and are companies that I trust, not because of the commissions that I may earn from you using these products.