Simple and easy Healthy Yogurt Ranch Dip is a great alternative to fatty ranch dressing, perfect for dipping vegetables and adding to your favorite foods!
This post may contain Affiliate Links.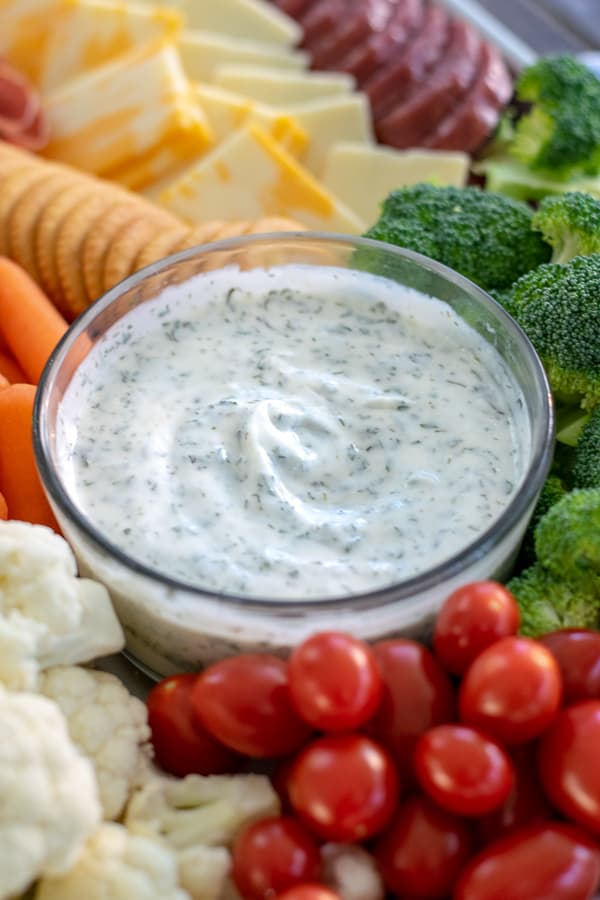 We all know eating vegetables is like the best thing for us, pretty sure every single diet can agree on that, but sometimes doesn't it seem so dang hard! I know for my kids and I am sure most other kids (not to mention also most adults) love to dunk their veggies into delicious dips and sauces. Well turns out a lot of those dips and sauces aren't so great for you! So in the quest for healthier snacking I have made this delicious Healthy Yogurt Ranch Dip.
If we take a look at the ever so loved brand of Ranch Dressing you'll see inside one serving, which is 2 tablespoons is 145 calories but the worst part is in those 2 tablespoons is 23% of your recommended fat intake (and most of it not being the good kind), plus it is loaded with sodium, and has basically no vitamins or real nutrients.
This Healthy Yogurt Ranch Dip on the other hand is under half the calories! For a serving of 2 tablespoons this comes in at 62 calories! There is also a lot less fat, a lot less sodium, and all of the health benefits of yogurt like protein and nutrients like calcium, potassium, magnesium, and probiotics!
So which would you chose for you and your families snack eating habits?!?
As I am sure you all said 'HEALTHY YOGURT RANCH DIP PLEASE' lets take a look at what makes this dip so fabulous!
The Ingredients
Yogurt! In this recipe I use good old plain low-fat yogurt. A absolute staple in my fridge. Now you could use greek yogurt if you really wanted to but here is why I don't, FLAVOR (and a little bit texture)! If you haven't taken the time to really realize the difference between greek and plain yogurts let me fill you in. As far as texture goes plain yogurt is much much creamier, while greek yogurt is a lot more dense, almost like sour cream. And as far as flavor greek yogurt is a lot more tangy while plain yogurt has a more smooth and subtle taste. So even though greek yogurt might contain a bit more protein I choose flavor and texture over that because after all they are both healthy options and I want this to taste the best it can!
Talking taste, Mayonnaise. There is a bit of mayonnaise in this dip, purely for flavor, if you really want that delicious ranch dip you are going to need a little mayo. I tried to balance between flavor while using as little as I could and I ended up at 3 tablespoons. I like to use olive oil mayo or avocado oil mayo, and to lighten it up even more you could use light mayo!
Dried Parsley. Parsley is the main herb that gives ranch its flavor, so we will use a whole tablespoon of dried parsley.
And then the supporting cast of dried herbs and spices. Dried dill, garlic powder, onion powder, and salt.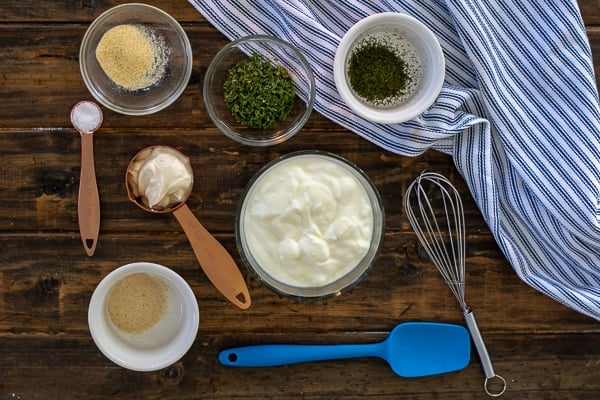 The Method
Throw it all in a bowl and mix together! So easy a kid could do it. Literally, Archie can make this and he is 3!
Actually in all seriousness this is a great recipe to get your little kids into the kitchen with you. It's simple, so gather all of your ingredients and have them help you measure and put it into the bowl. Let them stir and then be ready with veggies for them to dip because they will be excited to try something they made themselves!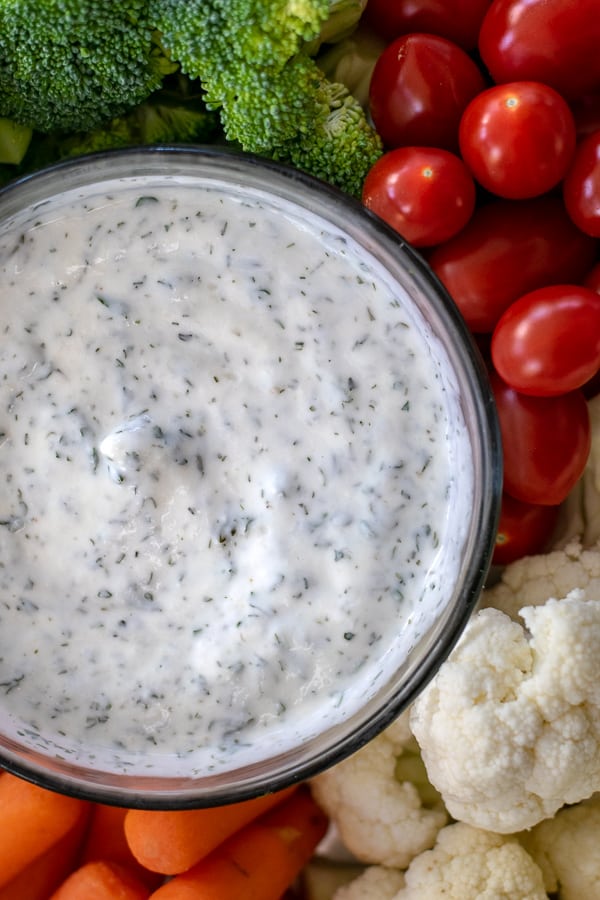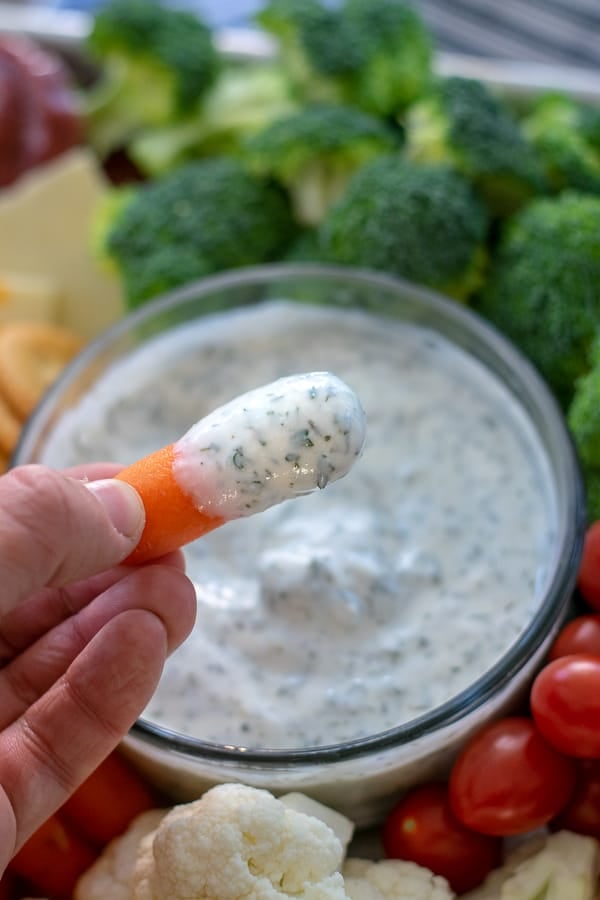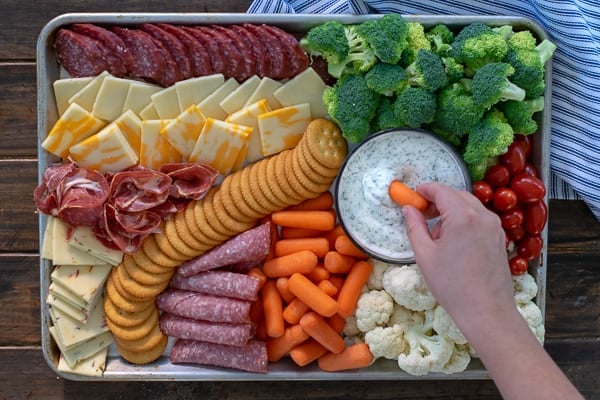 TIPS & TRICKS
• This dip doesn't have to be just for veggies, you can use it how you would ranch dressing, I especially like it on hot wings!
• Love ranch? Check out my Healthier Bacon Ranch Potato Salad
Yield: ~1 1/4 cup
Healthy Yogurt Ranch Dip Recipe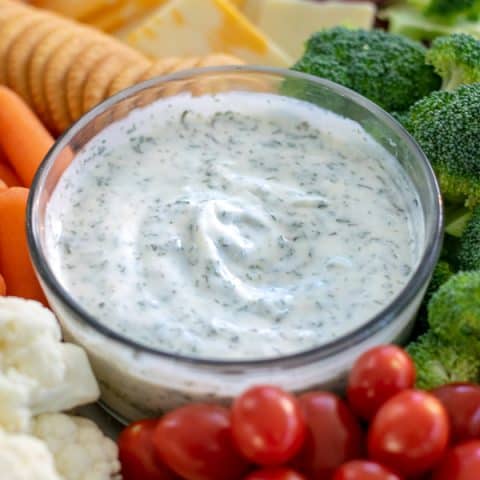 a healthy and easy homemade ranch dip that is a great alternative to ranch dressing
Ingredients
1 cup plain low-fat yogurt
3 tablespoons Mayonaise
1 tablespoon dried parsley
1 teaspoon dried dill
1 teaspoon garlic powder
1 teaspoon onion powder
1/2 teaspoon salt
Instructions
Add all of the ingredients to a small bowl. Mix to combine. Serve immediately or keep refrigerated in an airtight container for up to 5 days.
Notes
Nutritional data is automated, final nutritional information will depend on ingredients used and any changes made.
Nutrition Information:
Yield:
8
Serving Size:
2 tablespoons
Amount Per Serving:
Calories:

62
Total Fat:

5g
Saturated Fat:

0g
Trans Fat:

0g
Unsaturated Fat:

0g
Cholesterol:

2mg
Sodium:

160mg
Carbohydrates:

2g
Fiber:

0g
Sugar:

1g
Protein:

3g
Peace & Love
Lauren, The Schmidty Wife
Skip to Recipe