So I call this Healthier Bacon Ranch Potato Salad, note the 'healthier'. So When I say healthier I don't mean this potato salad is healthy, it still contains delicious bacon and cheddar cheese but I did leave out the mayonnaise and sour cream and swap it out with healthier yogurt.
Why is this 'healthier'?
Ditching the mayonnaise it the first step, one cup of mayonnaise tops out at 1,440 calories. For those of you keeping track at home that is 72% of one persons recommended daily calories. Not that you would sit and eat of full cup of mayonnaise but that still packs quite the punch.
Ditching the sour cream, while sour cream is still better then mayonnaise, with less then half of the calories then mayonnaise, sour cream tops off at 480 calories a cup.
So we conclude with plain yogurt, a cup of plain yogurt is only 160 calories! What!? And that is for a cup of whole milk plain yogurt (which I prefer), if you wanted to use low fat greek yogurt, that would average out at 130 calories.
So yes by staying away from mayonnaise or even sour cream I pronounce this, Healthier Bacon Ranch Potato Salad.
Now looking past what makes this 'healthier' lets look at what else/how easy this Bacon Ranch Potato Salad. Baby red potatoes are cooked, a few strips of bacon are fried, yogurt is mixed with ranch seasoning, it is all combined with green onions and cheddar cheese, boom done. The Bacon Ranch Potato Salad will need to chill in the refrigerator and then it is ready to serve. 🙂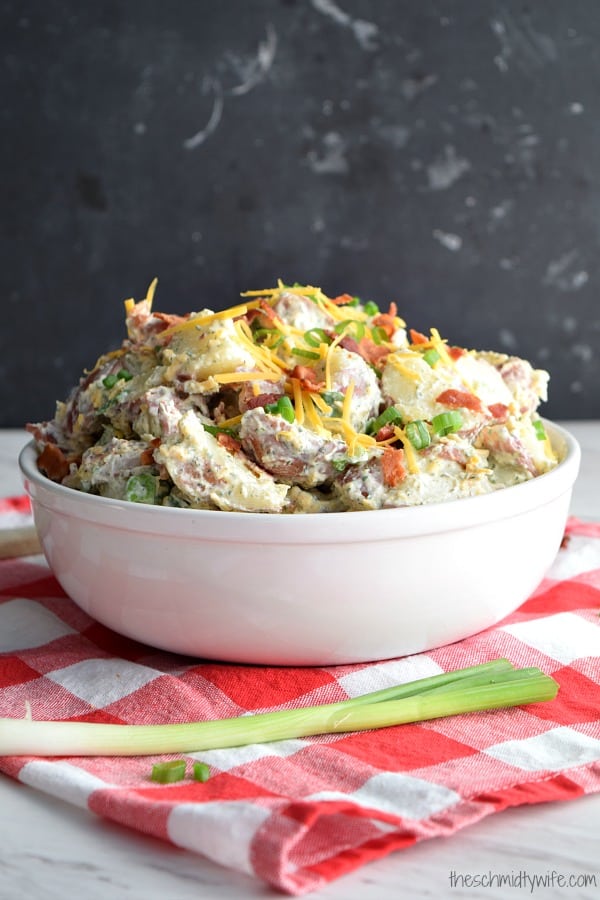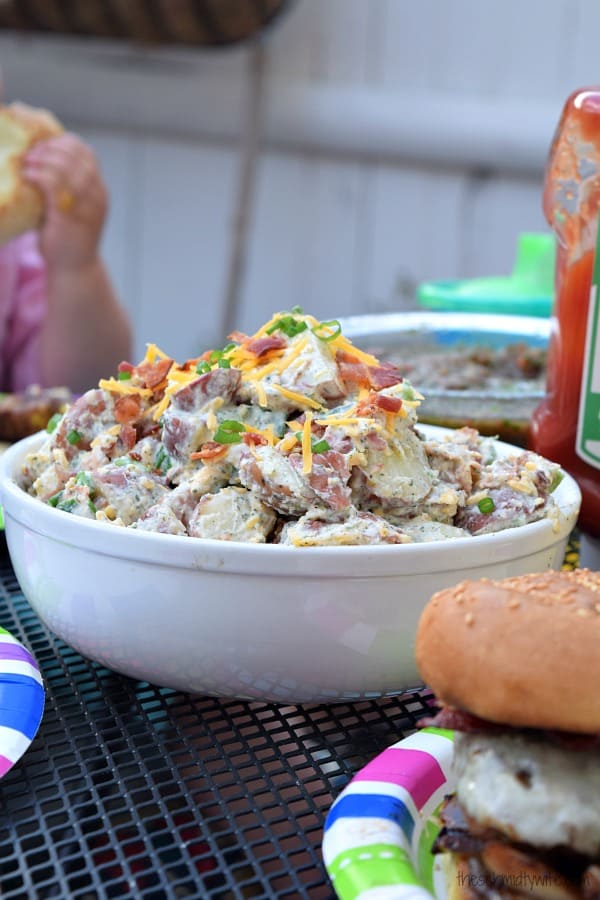 TIPS & TRICKS: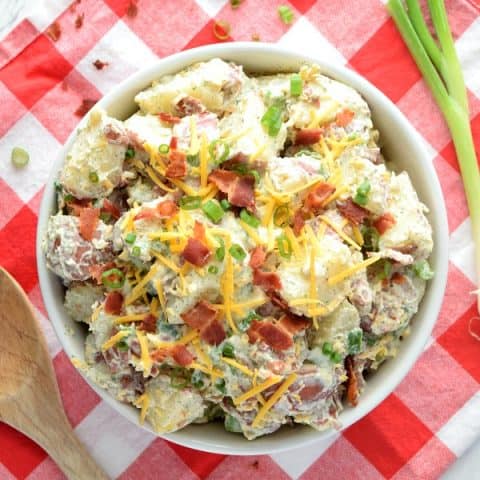 Healthier Bacon Ranch Potato Salad
bacon ranch potato salad lightened up by using yogurt and ranch seasoning
Ingredients
2 pounds red baby potatoes
5 strips bacon
4-5 green onions, sliced
1/2 cup shredded cheddar
1 cup plain yogurt
1 tablespoons ranch seasoning
Instructions
In a large pot add potatoes and cover with cold water. Bring to a boil over medium-high heat. Boil for 15-20 minutes until potatoes are fully cooked and easily cut.
Remove potatoes from the water and set aside to cool, if you are in a hurry, rinse under cold water.
While potatoes are cooling fry bacon over medium heat 5-8 minutes until crispy. Set bacon aside on a paper towel lined plate to cool.
In a large bowl add yogurt and ranch seasoning, stir to combine.
Once potatoes are cool enough to handle, carefully cut each potato into fourths. Add to potatoes to the large bowl.
Crumble cooled bacon into the bowl. Add cheddar cheese and green onion.
Toss to coat. Cover and refrigerate at least 2 hours before serving.
Nutrition Information:
Yield:

6
Serving Size:

1
Amount Per Serving:
Calories:

256
Total Fat:

7g
Saturated Fat:

3g
Trans Fat:

0g
Unsaturated Fat:

3g
Cholesterol:

21mg
Sodium:

406mg
Carbohydrates:

37g
Fiber:

4g
Sugar:

5g
Protein:

12g
Nutritional data is automated, final nutritional information will depend on ingredients used and any changes made.
If you enjoyed this Recipe or any of my others let me know by using #theschmidtywife on social media!
And make sure you are following me on Instagram, Pinterest, and Facebook for all the latest recipes!
Peace & Love
Lauren, The Schmidty Wife
P.S. Looking for more summer salads? Check out my Two Bean Mediterranean Salad or my Shaved Brussel Sprout Salad with Strawberries, Apple, & Bacon.
Please note that my links above may be affiliate links, and I will earn a commission if you purchase through these links. I recommend them because they are helpful, and are companies that I trust, not because of the commissions that I may earn from you using these products.