Let's get the Cuban party started with Crockpot Mojo Pork! This easy to make slow cooker meal is bursting with flavors from oranges, limes, cumin, and garlic plus it is easy to make! Great for a weeknight meal that the whole family will enjoy!
This post may contain Affiliate Links.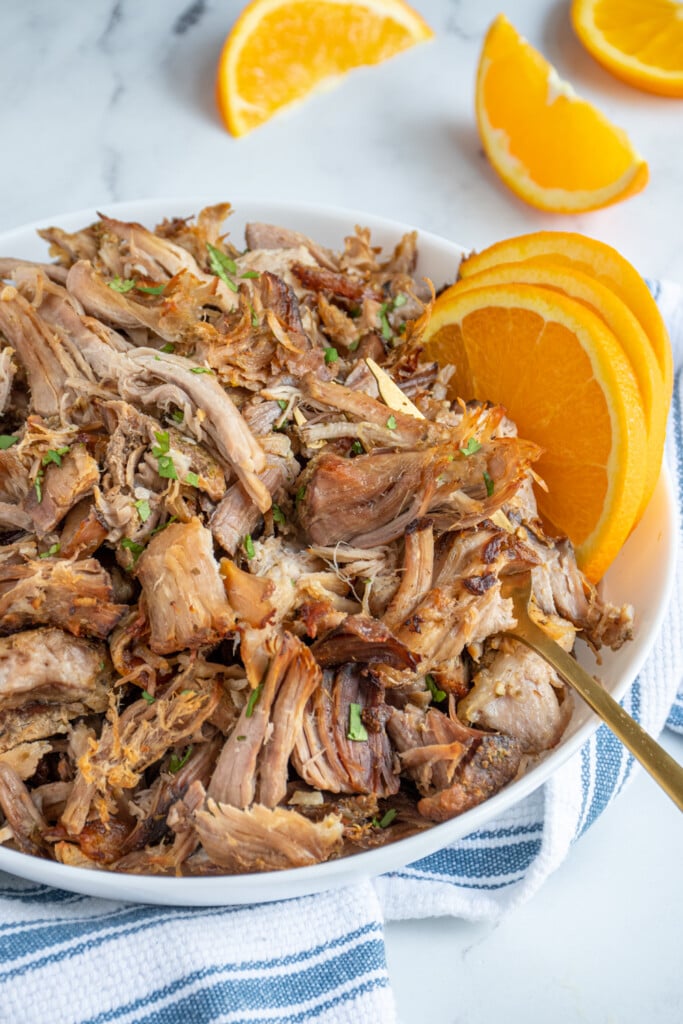 Crockpot Mojo Pork
This recipe is inspired by a recent trip to Tampa, more specifically the Ybor City historic district. Ybor City historically is know as being a town almost entirely compromised of immigrants, one of the large populations of Cuban immigrants came to this area in the 1880's. Without getting into too much more of the history you can guess, there was some pretty amazing food, specifically Cuban cuisine.
After stuffing my face with a few Cuban Sandwiches I knew I was going to need to recreate them at home. So my first job was settling in on a Mojo Pork recipe, and here we are.
Mojo Pork is a cuban style roast with a basic marinade consisting or orange, lime, garlic, oregano, and cumin.
Making it the perfect contender for the slow cooker.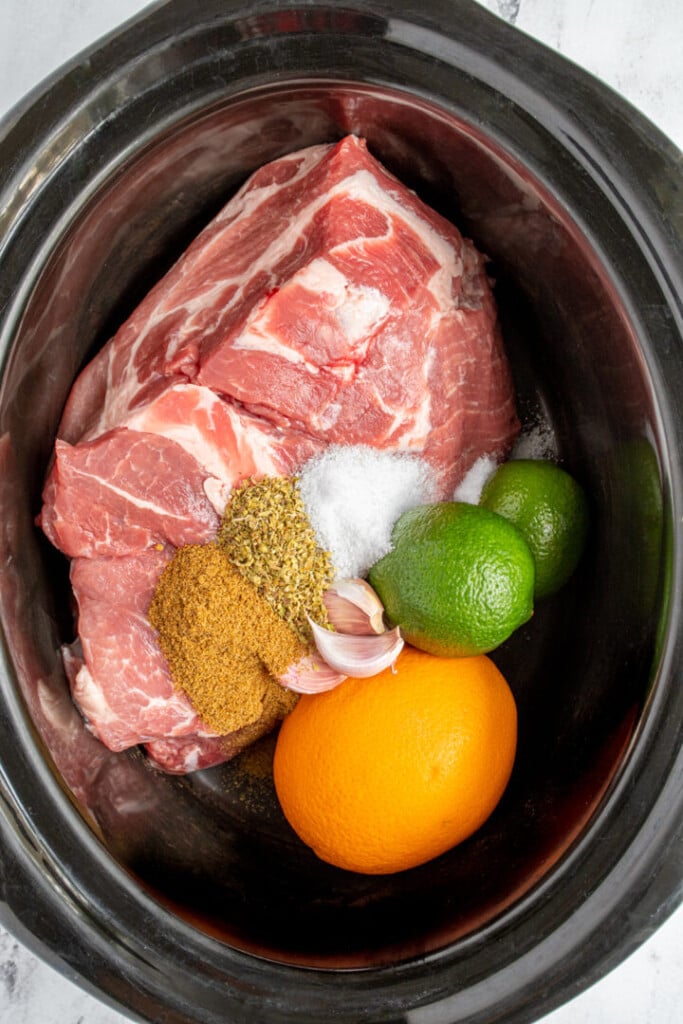 You can make Mojo Pork with the pork shoulder/pork butt, also called in some cases a Boston Butt. It is actually the cut of pork that comes from the upper part of the front shoulder. It is the cut of pork typically used for making pulled pork.
The pork cooks slowly with the marinade in the crockpot and comes out tender and ready to eat.
Now my one problem with some recipes like this is that the meat sometimes can come out a little soggy, so to alleviate that I am using that same trick I use for my Crockpot Carnitas. After pulling the pork apart I place it on a sheet tray and place it under the broiler in the oven for a few minutes. This crisps the pork right up, solving the texture problem. Of course this part is optional but I think it makes the pork more enjoyable to eat.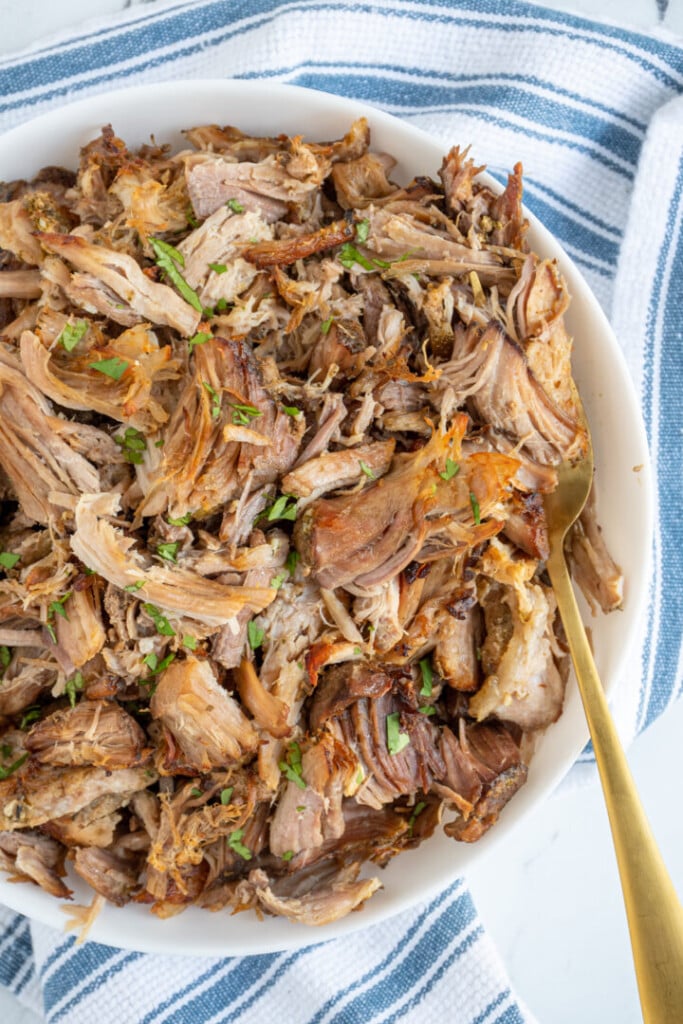 Equipment
For this recipe you don't need anything fancy. A standard 6 quart slow cooker will do the trick!
Ingredients
Pork Butt – Around 4 pounds & preferably boneless, also called a Boston Butt. It is actually the cut of pork that comes from the upper part of the front shoulder. It is the cut of pork typically used for making pulled pork. If you only have one with a bone available it should work just fine.
Fresh Orange Juice/1 large orange – Part of the key to this recipe is using fresh squeezed citrus juices, so buy the actually fruits instead of the juices. You should only need 1 large orange.
Fresh Lime Juice/2-3 limes – Same goes for the lime, if possible try to grab fresh limes, you will need to use between 2 late limes or 3 small limes. If by chance you try to use bottled lime juice just note that some of the true lime flavor might get lost and your dish will most likely be relying on citric acid for flavor (which is totally fine but you might loose any lime flavors).
Kosher Salt – If you don't have kosher salt substitute for sea salt. if you need to use table salt use half of the amount. I always recommend using kosher slat for cooking, the structure helps is dissolve better into the food.
Cumin – One of the two spices typically found in Mojo Pork
Oregano – The second spice typically found in Mojo Pork
Garlic – And garlic, you will use quite a bit of garlic in this recipe, since it is a fairly garlic heavy recipe I recommend trying to use the fresh stuff instead of the pre minced garlic if possible.
For a complete detailed list of the ingredients continue towards the bottom of the page.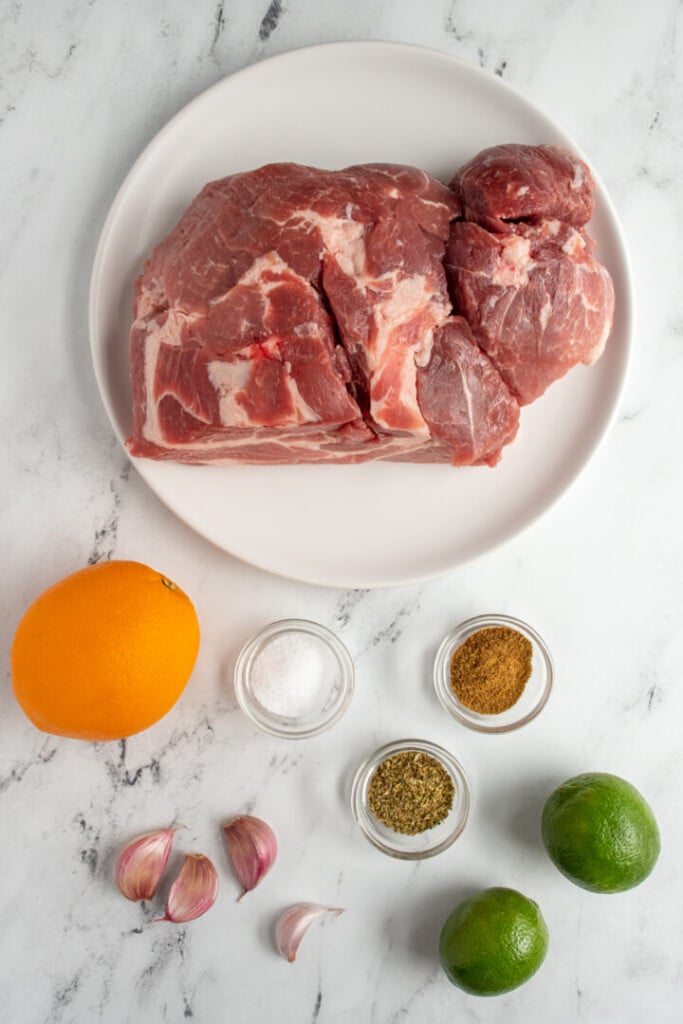 Instructions
Begin by carefully cutting the pork butt into 4 equal sized pieces. Add them to the crockpot.
In a mixing bowl add the orange juice, lime juice, salt, cumin, oregano, and garlic. Mix together to make a sauce.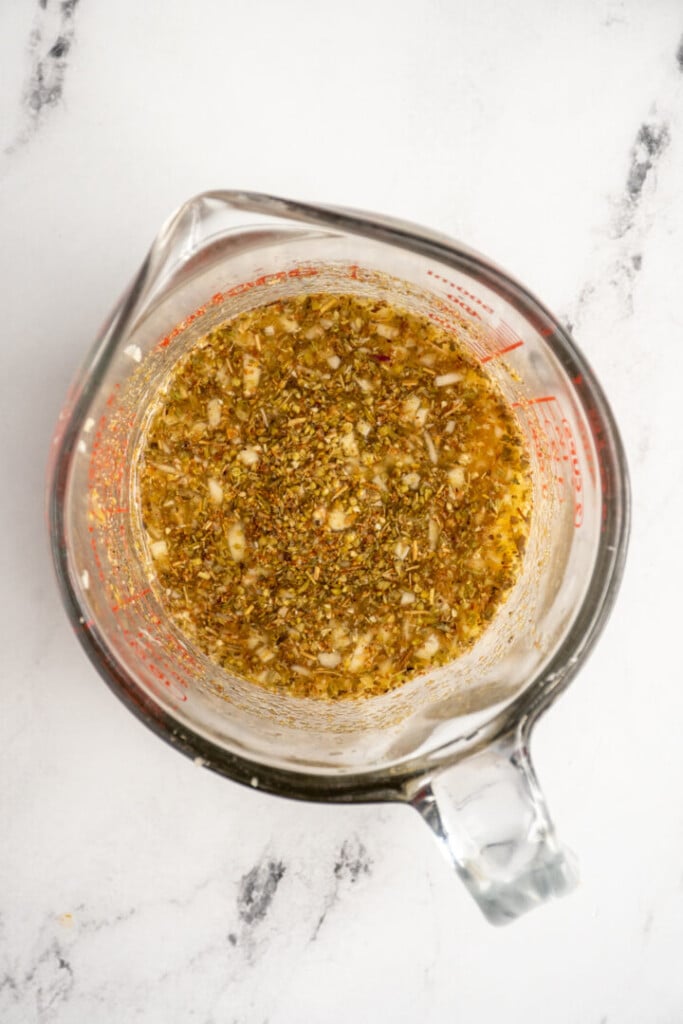 Cover the pork pieces with the sauce. Cover and cook on LOW 6 to 8 hours until tender. Or on high for about 3 to 4 hours.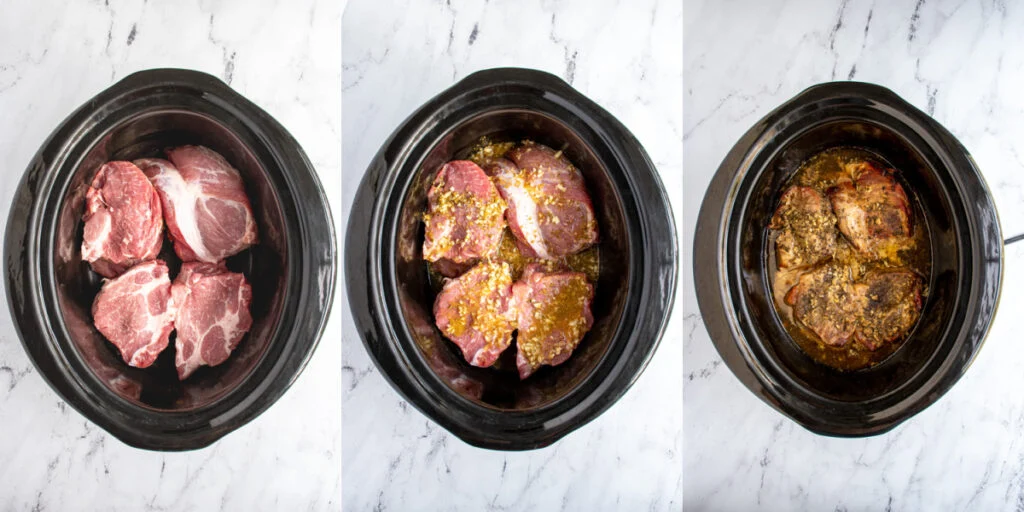 For optional crisping up of the pork, transfer the cooked pork to a sheet pan. Turn your oven to broil (high).
Shred the pork with two forks and spread it out across the sheet pan. Take 1/4 cup of the sauce from the crockpot and sprinkle it over the pork. Transfer to the oven and broil about 5 minutes or until the tops of the pork start to turn brown and cirspy. Serve immediately on it's own or in your favorite Cuban recipes.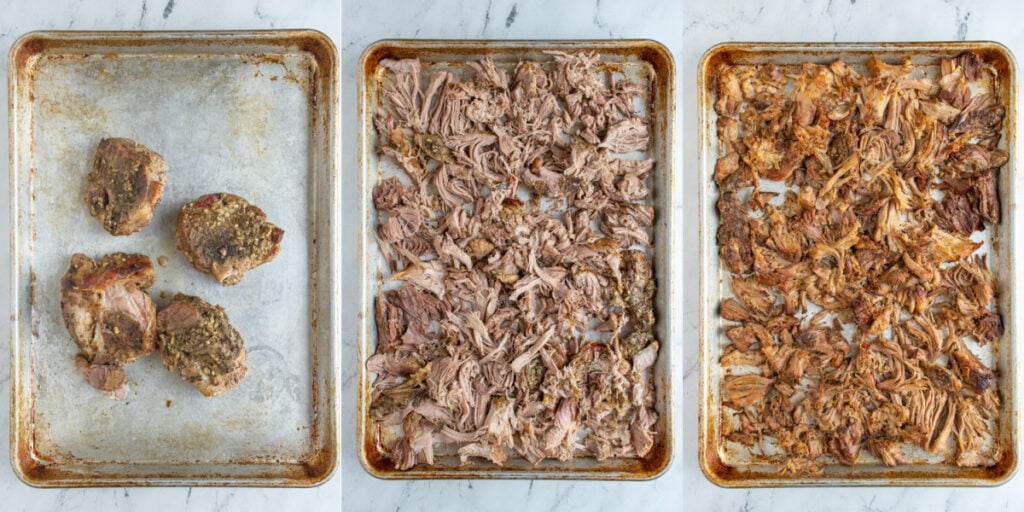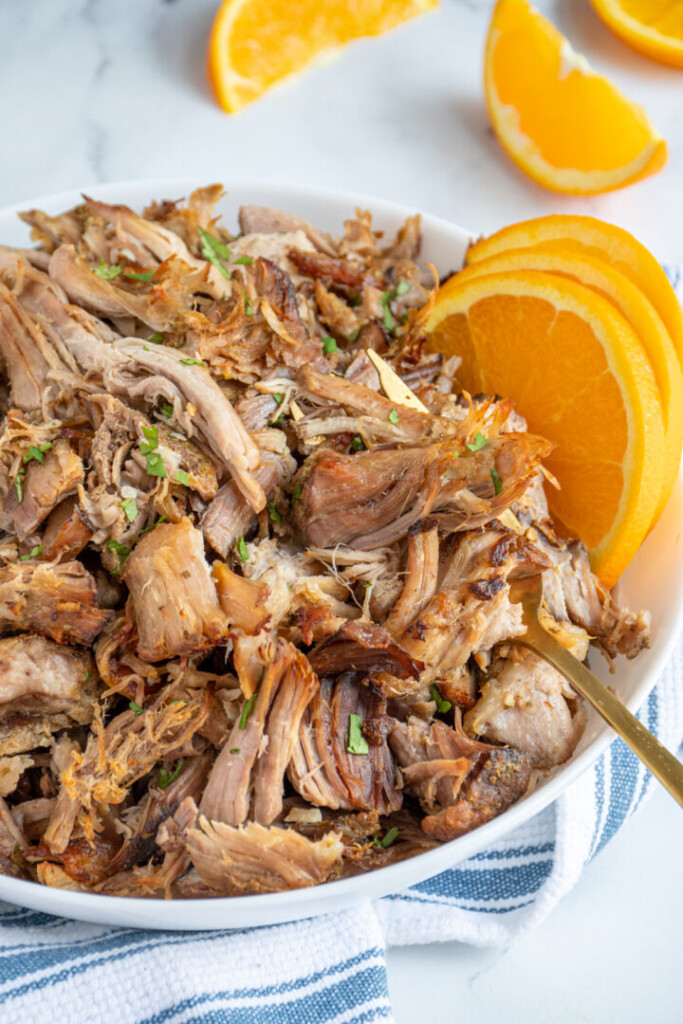 And make sure you are following me on TikTok, Instagram, Pinterest, and Facebook for all the latest recipes!