This post may contain Affiliate Links.
Baked Zucchini Donuts made with whole wheat flour, no-refined sugar, and chocolate. A perfect breakfast for a summery weekend morning!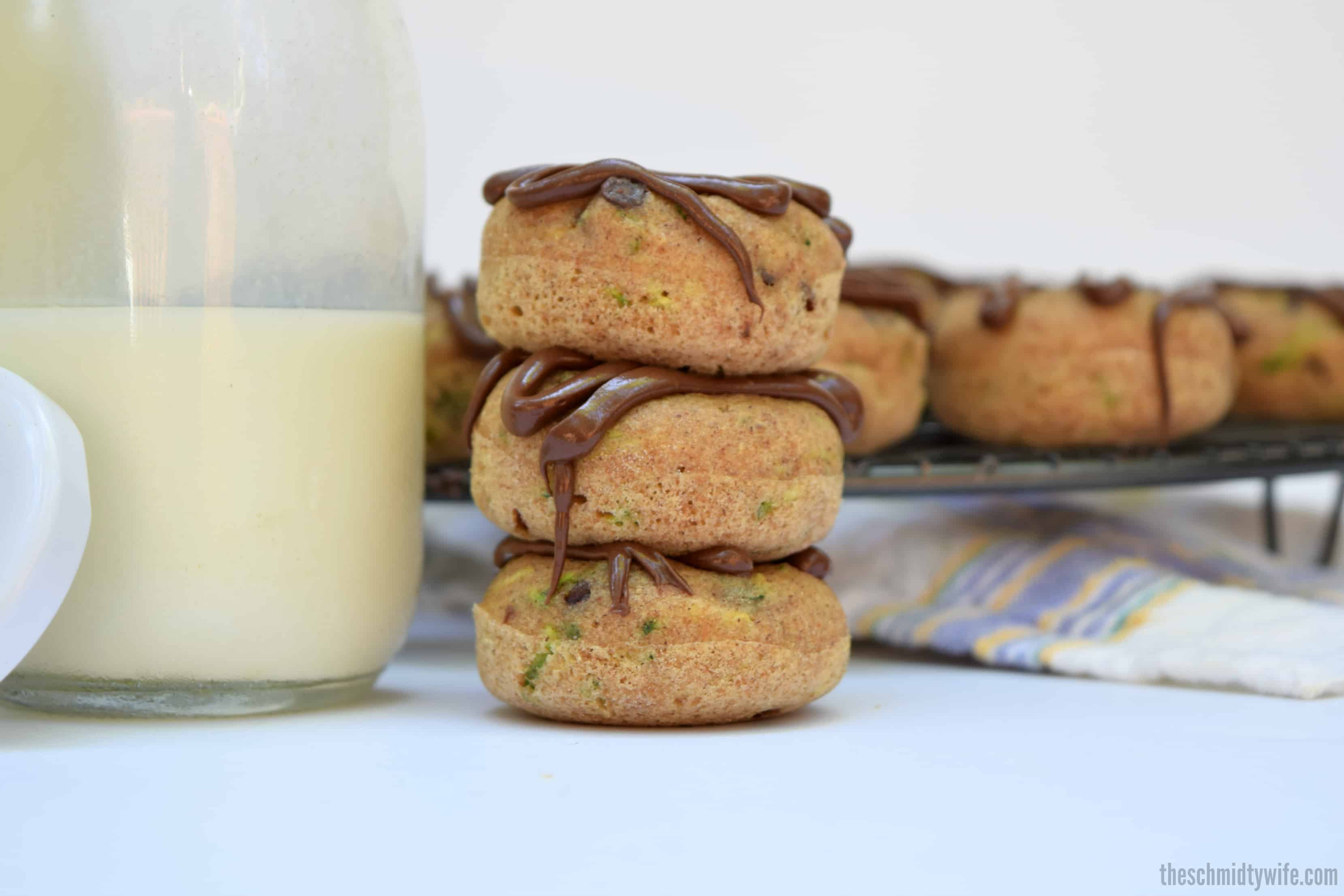 'Tis the season….for ZUCCHINI! This time of year fresh zucchini is everywhere, your home garden, the farmers market, your csa, the grocery store, zucchini is here in abundance. So with this abundance of zucchini we round up our favorite bread, baked, and grilling recipes. Well this summer I have one more recipe for you to make with your zucchini stash, Zucchini Chocolate Chip Baked Donuts!
Pairing together the classic zucchini and chocolate goodness, using greek yogurt to bake it together into a super moist tasty donut. You will need a donut or mini donut pan for this recipe (or make them in a muffin tin) if you don't have a donut pan yet you should get one, baked donuts are so simple to make and homemade donuts impress everyone, its a win win! So lets gather up all of the zucchini and get baking!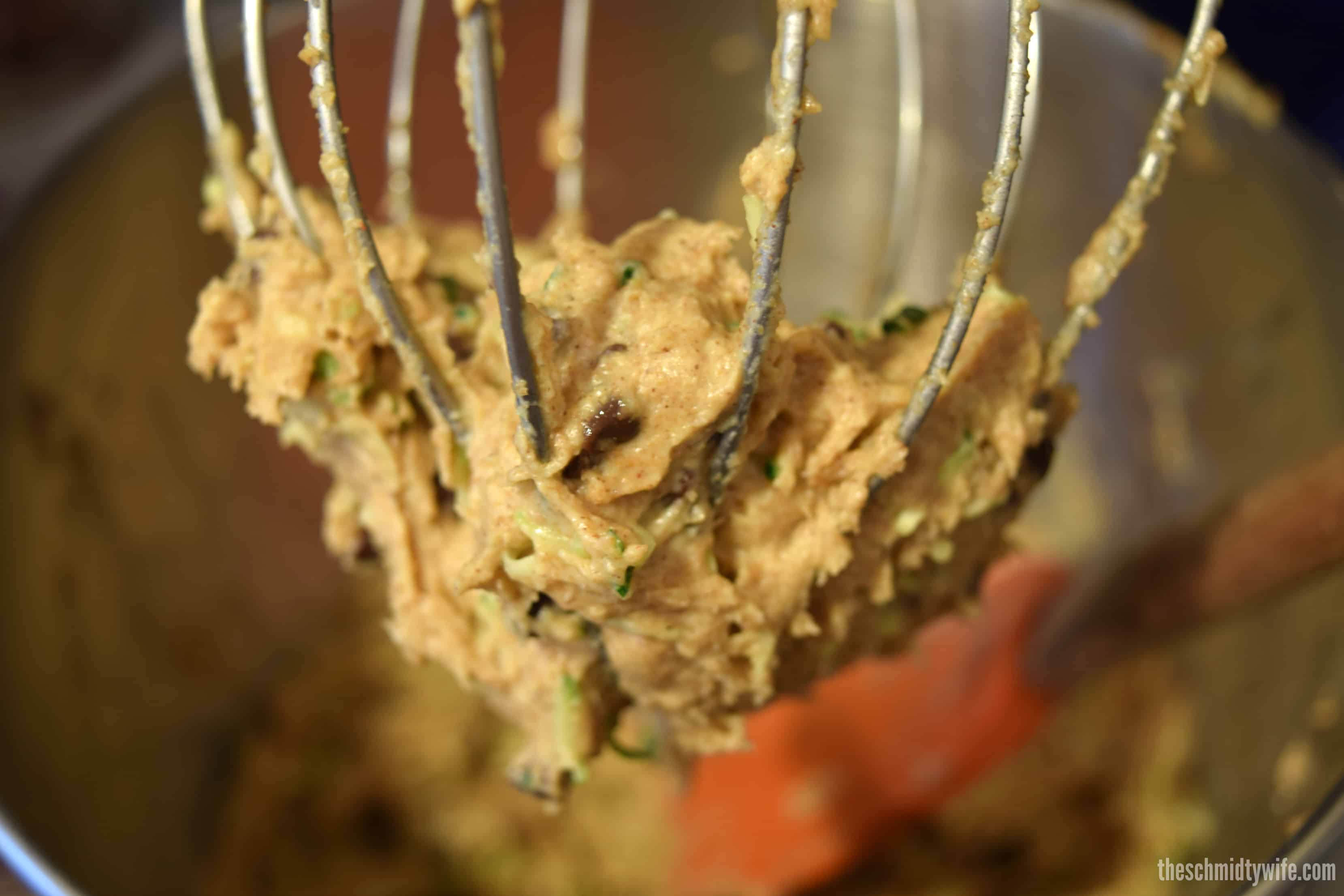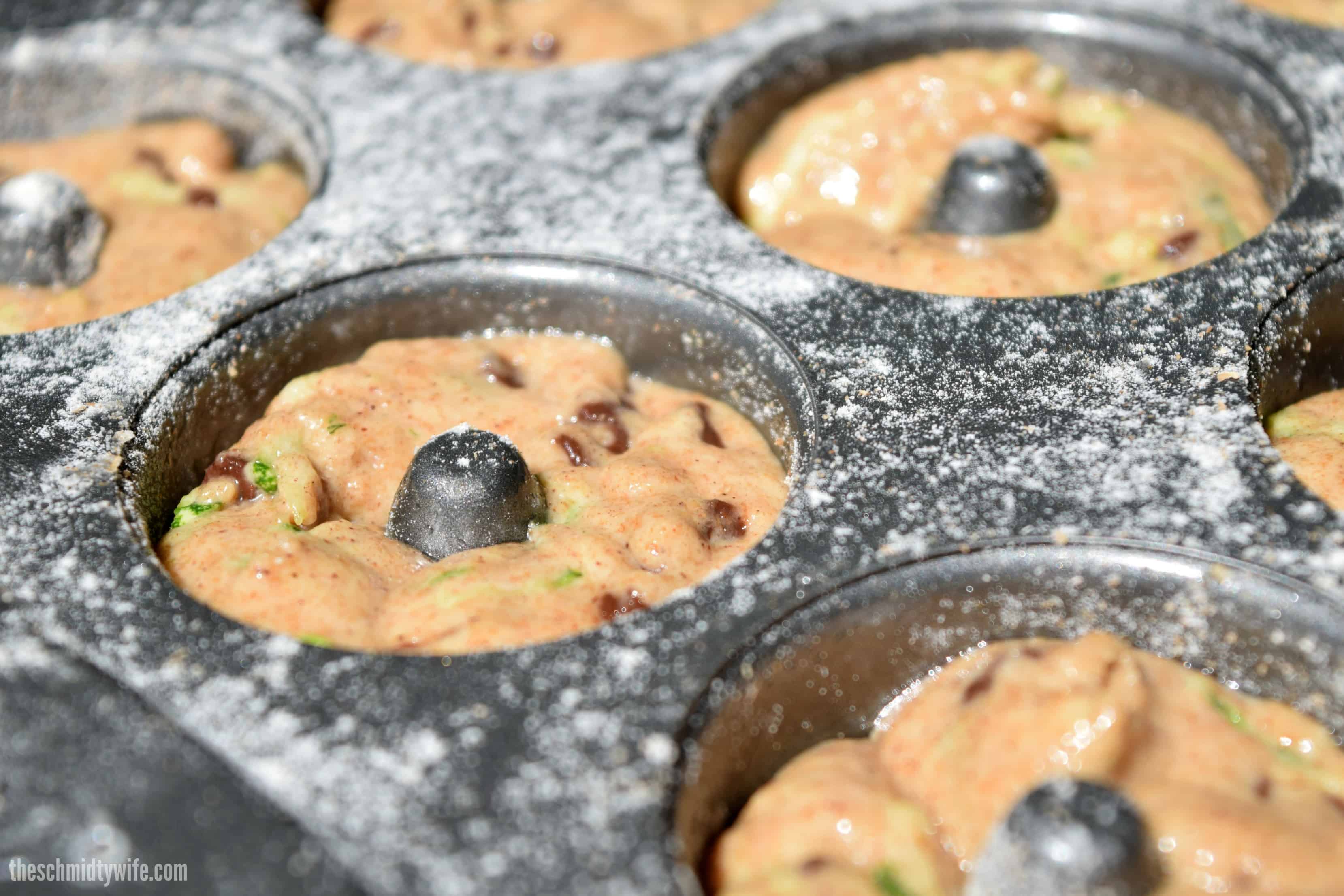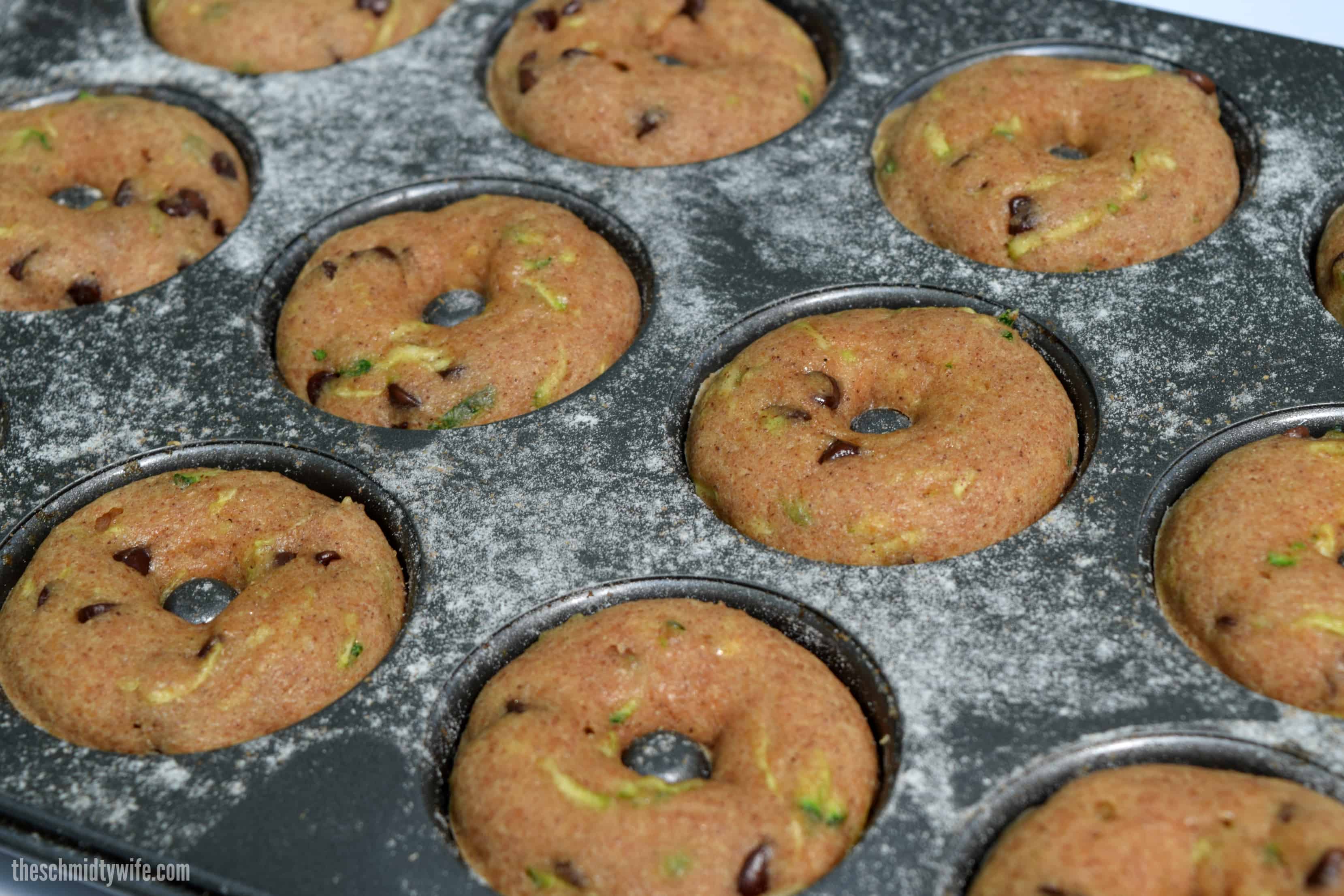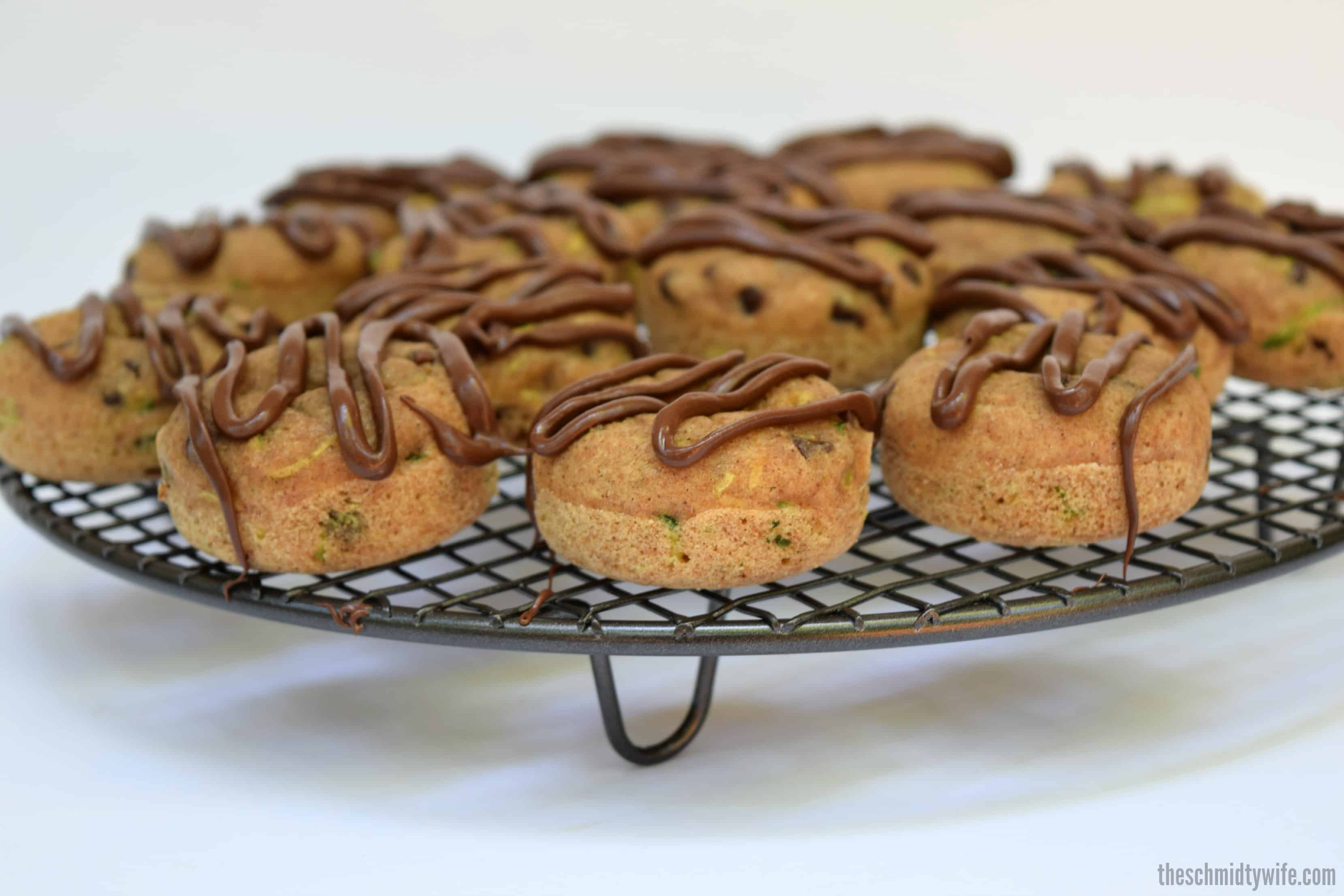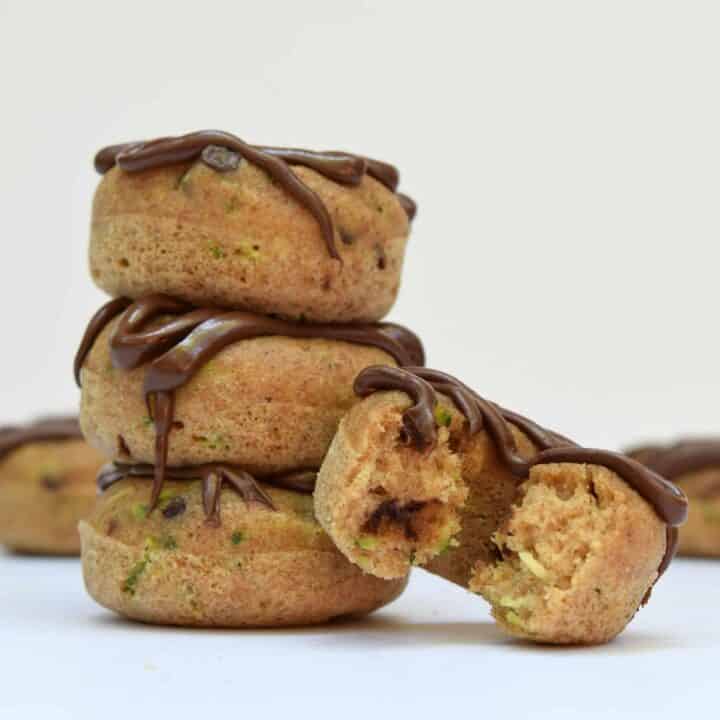 Zucchini Chocolate Chip Baked Donuts
Yield:
18 mini donuts or 8 donuts
warm and moist homemade baked zucchini donuts with chocolate chips
Ingredients
2 large eggs
1/4 cup coconut oil melted & cooled
1/4 cup maple syrup
1/4 cup plain greek yogurt
1 cup whole wheat flour
1 teaspoon baking powder
1/4 teaspoon salt
1 teaspoon cinnamon
1/2 cup packed shredded zucchini (about half a medium zucchini)
1/4 cup mini chocolate chips
For chocolate drizzle topping:
1/4 cup + 1 tablespoon mini chocolate chips
Instructions
Preheat oven to 350º F.
Grease a donut pan with cooking oil and dust the pan with flour.
Shred zucchini onto clean paper towels and spread out to a thin layer. Let zucchini sit for 10 minutes. After 10 minutes move zucchini onto a clean cheesecloth or a double layer of paper towels, wrap up the zucchini and over a bowl or sink wring out as much water as possible from the zucchini. Set aside.
In the bowl of a stand mixer or a large bowl add the eggs, coconut oil, maple syrup. Whisk together on medium for about 1 minute until mixed through.
Add the greek yogurt, whisk for 1 minute until smooth.
Add flour, baking powder, salt, and cinnamon to the bowl. Mix on medium until everything is just combined be careful to not over mix.
Stir in zucchini and mini chocolate chips.
Pour* donut batter into the donut pan filling 3/4 of the way to the top.
Bake for 6-8 minutes until a toothpick comes out clean.
Turn the donuts out onto a wire rack to let cool.
Once the donuts are cool add the 1/4 cup of mini chocolate chips to a microwave safe bowl. Microwave for 60 seconds.
Add the last tablespoon of mini chocolate chips to the melted chocolate, stir together until it is fully melted and no lumps appear.
Drizzle melted chocolate over the donuts. Enjoy!
Notes
I use full fat greek yogurt, this adds to the flavor and moistness of the donut but any kind should work.
*Move the donut batter into a heavy gallon ziplock bag and cut the tip off of one of the bottom corners to pipe the batter into the pan for clean and painless uniform looking donuts.
Nutrition Information:
Yield:

8
Serving Size:

1
Amount Per Serving:
Calories:

196
Total Fat:

10g
Saturated Fat:

7g
Trans Fat:

0g
Unsaturated Fat:

2g
Cholesterol:

47mg
Sodium:

150mg
Carbohydrates:

23g
Fiber:

2g
Sugar:

10g
Protein:

5g
Nutritional data is automated, final nutritional information will depend on ingredients used and any changes made.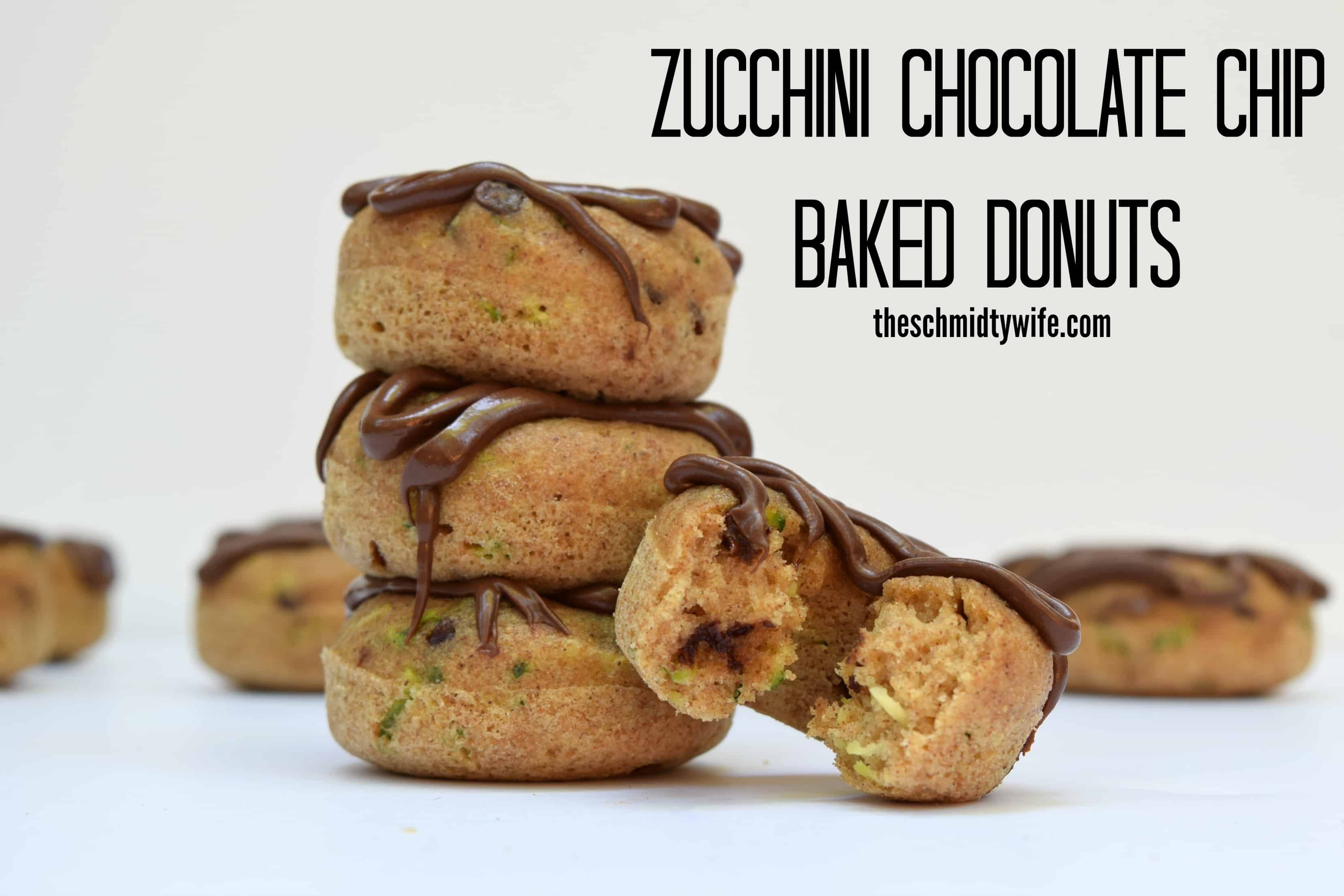 And make sure you are following me on TikTok, Instagram, Pinterest, and Facebook for all the latest recipes!
Peace & Love
Lauren, The Schmidty Wife