Homemade California Sushi Rolls are a fun filled meal to make at home. With step by step instructions this homemade sushi recipe with imitation crab, avocado, and cucumbers is a great easy beginner sushi roll to make!
This post may contain Affiliate Links.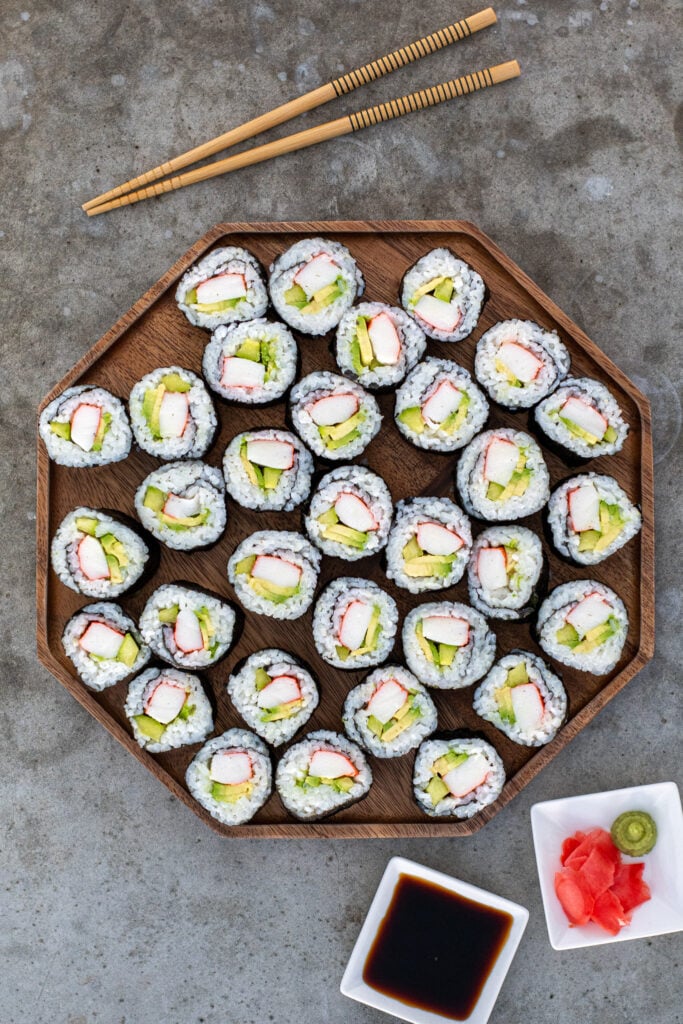 How to make California Sushi Rolls
"I love sushi" – Almost Everyone.
Sushi as become a mainstay across America as a favorite meal. This traditional Japanese meal has certainly been Westernized and has a little special place in most people's hearts.
In our family we love sushi, so much so that sushi and hibachi is most often a birthday dinner!
So once I learned how easy it is to roll at home with just a little practice the cat was out of the bag, we often make it about every other week!
One of the more easy rolls to learn and eat from a beginners standpoint is a California Roll, so that is the recipe I am sharing today.
Once you understand the basic recipe and practice rolling them a few times I encourage you to branch out and make all sorts of sushi rolls!
Something that I do like about making sushi at home is that it actually is a good recipe to individualize. So if you have one member who loves Philadelphia Rolls you can always 'jazz up' this recipe as well by adding cream cheese (traditionally it has smoked salmon but you get the idea) or sub out the crab for some shredded carrots for some veggie rolls if people don't like the crab!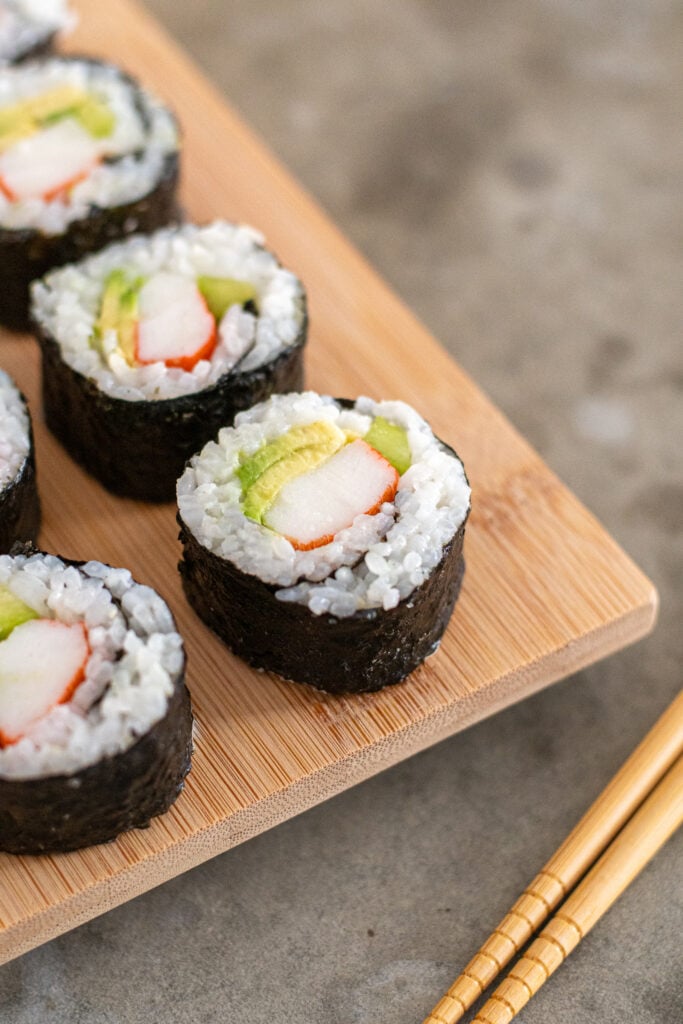 Supplies
Yes you need a few special supplies for rolling sushi but these are not supplies that will break the bank.
Sushi Mat – A sushi mat does not have to be fancy, you can even get a sushi mat with a few accessories from Amazon. You can even find a sushi mat at the end cap of a grocery store sometimes for just a few dollars.
Rice Paddle – definitely not necessary you can just use a spoon but once I had one I found it useful
Pot with Lid – for cooking the rice, a lot of people do not have rice cookers and wanted to make this recipe easy even if you don't have one, all you really need is a pot with a lid. If you want to use a rice cooker or pressure cooker that is okay too
Sheet Pan – for cooling the rice
Measuring Cups & Spoons – for measuring 😉
Bowls, Plates, Platters – making sushi depends on a few different parts so you will find yourself using different bowls and plated for different things, like vegetables and water and such
Whisk – for the rice vinegar
Serrated Knife – I found that a serrated knife works best for slicing the sushi
Chopsticks & Small Bowls – for servings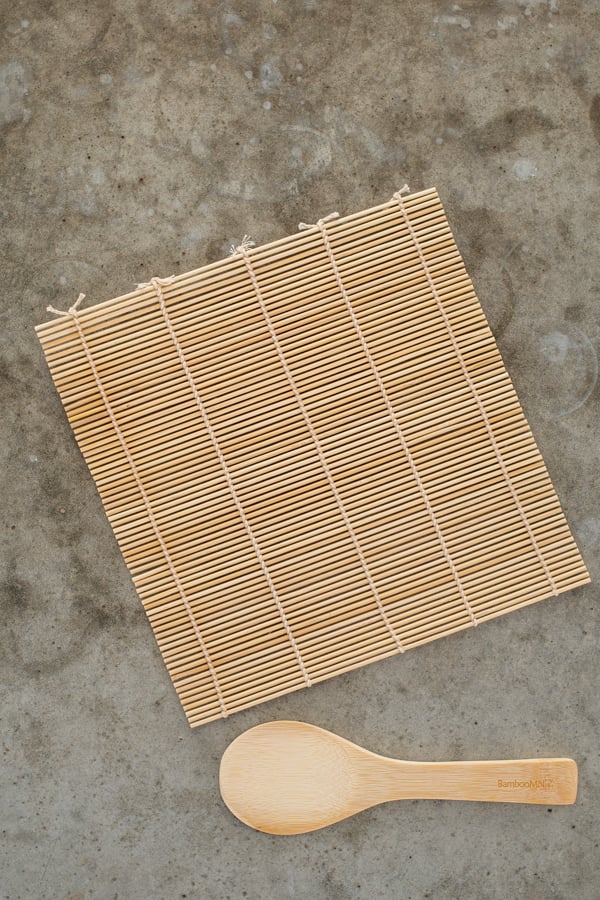 Ingredients for California Rolls
Sushi doesn't involve a lot of ingredients but some might be hard for some people to track down depending on where you live. Most items can be found in the Asian Foods Aisle of your grocery store or better yet at an Asian Foods Market. You can also find some of the items on Amazon as well.
Sushi Rice – Yes you have to use specific rice for sushi, but this shouldn't be hard to find in your grocery's rice section. I will note that different brands did vary quite a bit when it came to cooking times, so that is something to watch out for. When looking for rice the rice should say Sushi Rice on it, the brands I have most often found at the store are Botan Calrose Rice and Rice Select Sushi Rice (I prefer the Botan Calrose Rice) but this selection might be different where you live.
Seasoned Rice Vinegar – There are different flavors of rice vinegar including unseasoned so make you you grab Seasoned Rice Vinegar
Sugar – just a little for the rice
Salt – same as the sugar
Avocado – you will want the ripe with a little firmness still, too soft and it might be hard to work with
English Cucumber – I prefer the English Cucumber because it has a lot less seeds and watery inside leaving you with more crunchy part of the cucumber. You can use a traditional cucumber as a sub.
Imitation Crab – Looking for it in 'log shape' or 'leg style', it should be in a log form usually as long as the package, this makes making the sushi a lot easier that if it is in the 'chunk style'
Seaweed Nori – Lastly the Seaweed Nori, it should be found in the Asian Section. I will note though I end up buying this from Amazon because the packs from the store usually only have about 10 sheets (and remember we make this a lot) so I buy a pack of 50. I buy this Organic Roasted Seaweed.
Soy Sauce, Pickled Ginger, & Wasabi – for serving! You and your family might not like wasabi or the sushi ginger so you don't have to get it. But if you like it the sushi ginger usually comes in a little glass jar and lasts a while in the fridge. The wasabi usually comes in a little tube in a box, this also keeps well in the fridge.
For a complete detailed list of the ingredients continue towards the bottom of the page.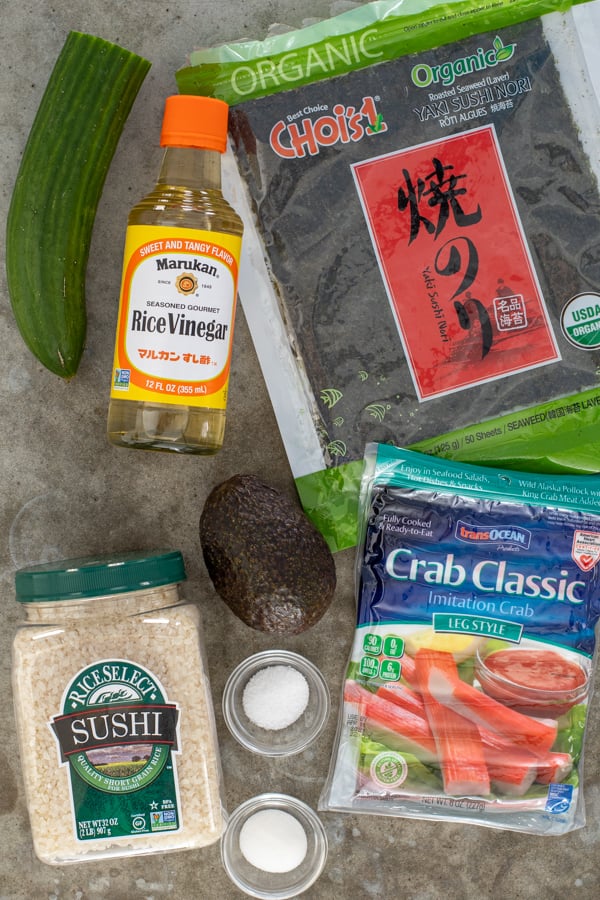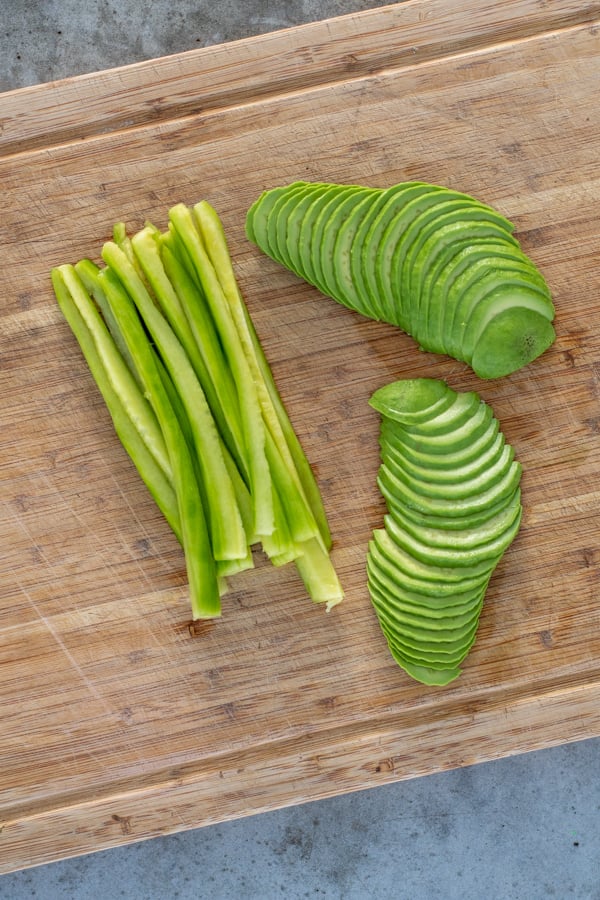 Tips, Tricks, & Questions
Rinse off your rice really well before cooking! Brand to brand it will be a little different but the water will run white as you rinse it off, you want to rinse it enough that the water runs clear. This will help make a better and easier to work with sushi rice!
This is one of those recipes where the more you do it the easier it gets! So don't get discouraged if the first rolls turns out a little silly, it gets easier every time!
Keep your fingers and the serrated knife wet to keep it from sticking to the sushi and rice. Make sure you keep that little bowl of water close!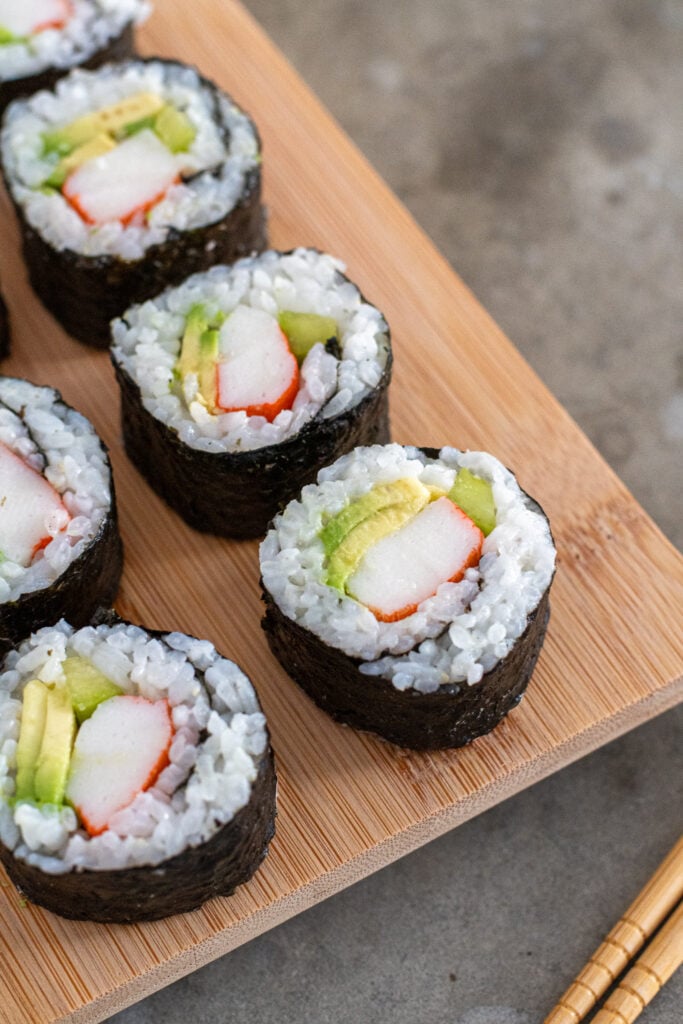 What to Serve with Sushi?
Great question, I always find sushi to be unsuspectingly filling so sometimes it is just sushi at our house but if you are looking for something to go with it you could make fried rice, edamame, miso soup, ramen soup, teriyaki noodles, or egg drop soup.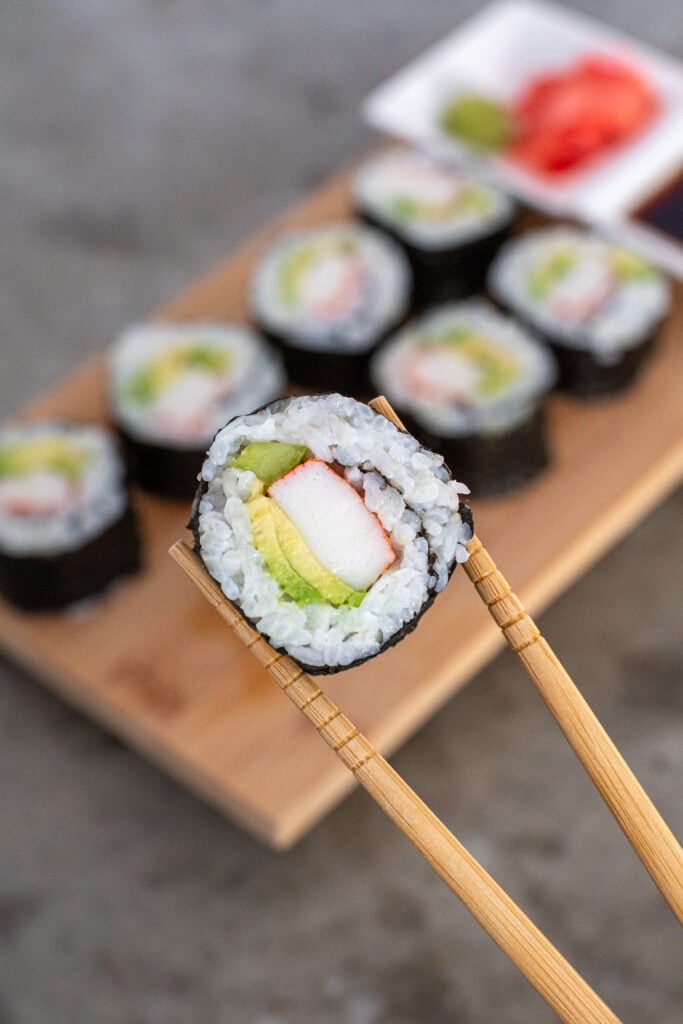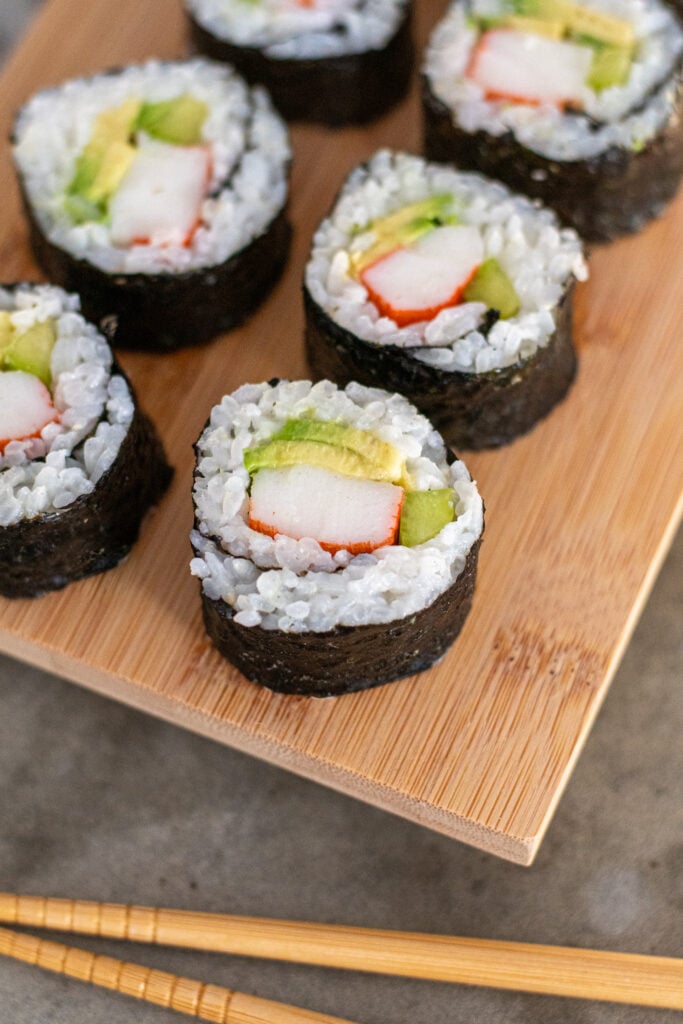 If you like these Homemade California rolls you might like these other Asian Inspired Recipes:
Yield: 4 servings
Homemade California Roll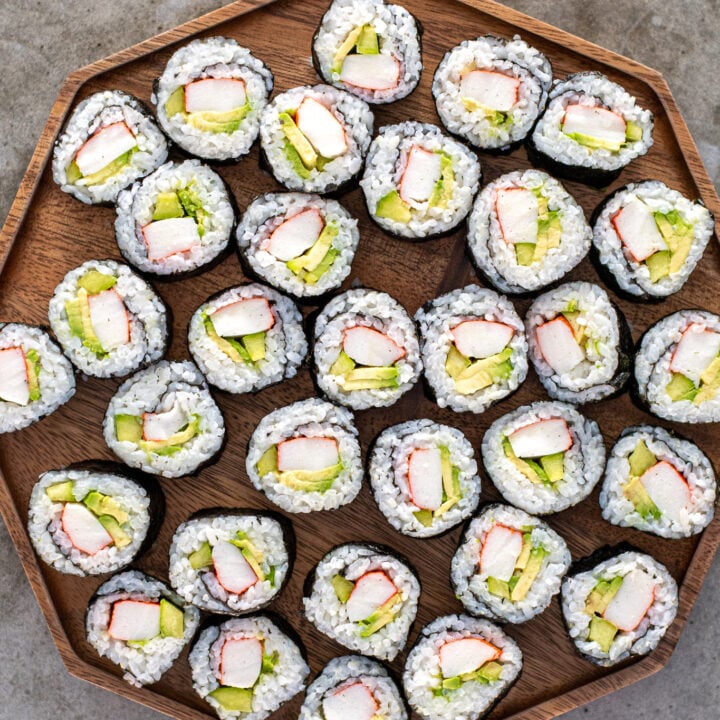 Roll our own California Sushi Rolls at home. Step by step instructions including how to make sushi rice!
Ingredients
1 ½ cups sushi rice
2 ¼ cups water
2 tablespoons seasoned rice vinegar
1 teaspoon salt
1 teaspoon sugar
1 avocado
½ English cucumber
8 ounces imitation crab, log/leg style works better than chunks
4 sheets toasted nori seaweed
Instructions
Rinse off the rice in a colander. In a pot with a lid add the rice and the water. Turn heat to high and bring to a boil. Once boiling keep the lid on and reduce to low for 15 minutes until all the water has been absorbed. While the rice is cooking in a small bowl add the rice vinegar, sugar, and salt. Whisk together until the sugar and salt are dissolved into the vinegar.
Once the rice is ready carefully transfer the rice to a sheet pan. Sprinkle the rice vinegar mixture over the rice and toss the rice in the vinegar to coat as much of it as possible. Now spread the rice out over the whole sheet pan making an even thin layer of rice to cool it down. Wait 10 minutes before rolling the sushi.
While the rice is cooking and cooling prepare the vegetables for filling. Thinly slice the avocado. Peel and cut the cucumber in half and use a spoon to remove the seeds, then continue to cut the cucumber into long thin strips.
While you finish waiting for the rice to cool set up your work station for rolling. You will need a sushi mat, a scoop and 1 cup measuring cup for the rice, a small bowl of room temperature water for your fingers, and a serated knife. Note to keep the water close, keeping your hands wet will keep the rice from sticking to you during the process.
Once rice is ready measure it out into a 1 cup measuring cup, you will use 1 cup of rice for each roll. Now take a sheet of seaweed and lay the shinier side down on the sushi mat, keep in the center with the bottom flush against the edge of the mat. Dip your fingers in the bowl of water letting excess water drip off. Transfer the cup of rice onto the center of the seaweed. Now with your wet fingers (you can dip them in more water if needed) spread out the rice to the flush bottom, sides, and up to the top of the seaweed until about the last inch, leave a narrow strip of seaweed uncovered at the top, about 1 inch.
Once rice is spread out in the center add a line of the avocado, crab, and cucumber.
Now carefully take the flush edge of the mat and fold it up over the fillings. Then pulling the mat tightly over the fillings creating the center of the roll. Pull down the mat off the seaweed and roll the rest of the roll up to create a lof shape. Bring the mat back overtop of the log and up the log into the mat. Pick it up and gently give the whole thing a squeeze to keep it in a circular shape. Now unwrap the mat and you should have a california roll!
Dip the serated knife into the water bowl (like with your fingers to keep it from sticking). And carefully cut the sushi into 8 pieces.
Repeat the process 3 more times to create 4 rolls, making 32 pieces in the process. Eat immediately or keep in the refrigerator. Serve with soy sauce and pickled ginger and wasabi if preferred.
Recommended Products
As an Amazon Associate and member of other affiliate programs, I earn from qualifying purchases.
Nutrition Information:
Yield:
4
Serving Size:
1 roll (8 pieces)
Amount Per Serving:
Calories:

234
Total Fat:

8g
Saturated Fat:

1g
Trans Fat:

0g
Unsaturated Fat:

7g
Cholesterol:

11mg
Sodium:

948mg
Carbohydrates:

33g
Fiber:

4g
Sugar:

8g
Protein:

7g
Nutritional data is automated, final nutritional information will depend on ingredients used and any changes made.
And make sure you are following me on TikTok, Instagram, Pinterest, and Facebook for all the latest recipes!
Lauren, The Schmidty Wife