The Classic Margarita, a mainstay cocktail. Surprisingly easy to make with three ingredients lime juice, cointreau, and tequila.
This post may contain Affiliate Links.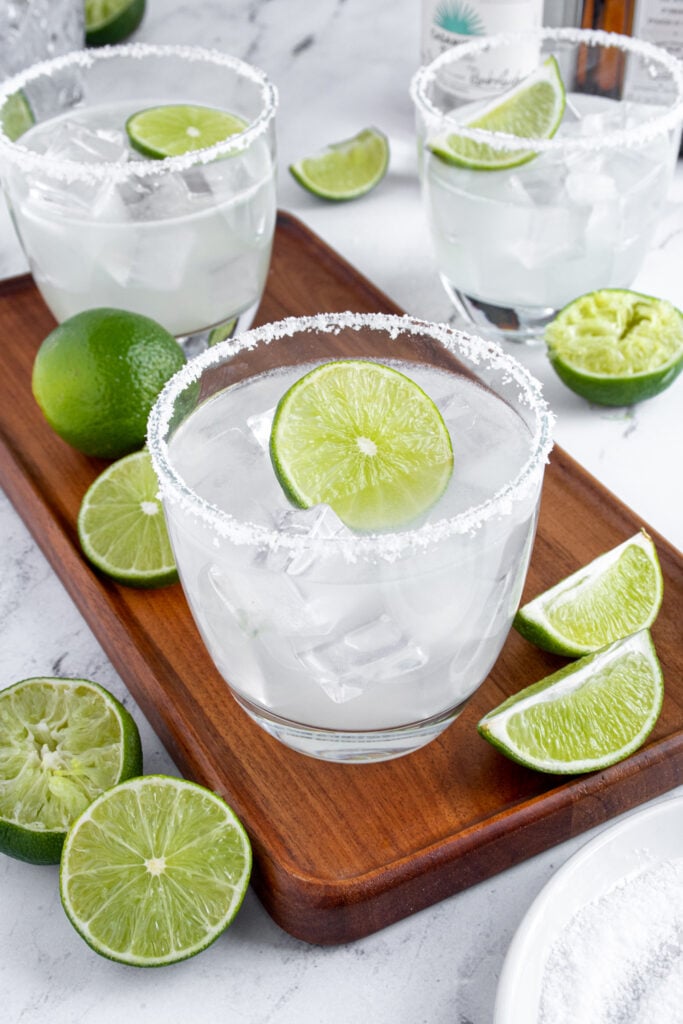 How to make a Classic Margarita
My favorite drink!
Is it yours too? So many people I know will say a Margarita is their favorite and luckily it is so darn easy to make!
With only 3 ingredients, you will never need a mix again! Plus feel free to add a sweeter if you wish, or a salted rim.
Margaritas, usually synonymous with Mexican food have an unclear origin story. Legally tequila must be of Mexican origin, but it is unclear if the drink originated in Mexico or in the United States sometime in the 1940's. Irregardless of the multiple claims of origin the Margarita caught on and is commonly one of the most popular cocktails in North America.
So let's make one…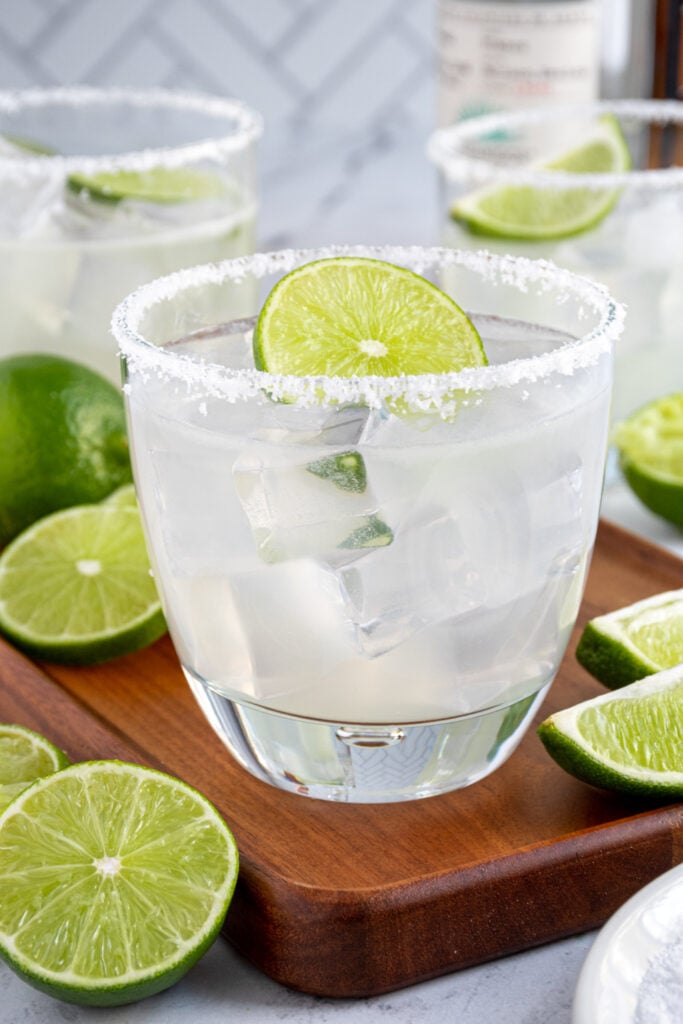 Barware for the Best Margarita
Margaritas use pretty common place barware and kitchen items.
Cocktail Shaker – Now if you don't have a cocktail shaker no worries, do you know what works really well!? A Jar with a tight fitting lid, or even dare I say it (college flashbacks) a water bottle.
Jigger – A jigger is a specific measuring device for alcohol, it measures ounces. If you don't have one, you can easily use a Tablespoon. 2 Tablespoons = 1 Ounce in liquid measurements.
Citrus Juicer – No citrus juicer? Okay so this is a kitchen tool that even if you don't make a ton of cocktails is worth investing in, need lemon for a vinaigrette? No problem! Now if you don't have one you can just squeeze it by hand, or use a tongs, slide half a lime in-between the tongs and squeeze!
Margarita Glass OR Other Cocktail Glass – In the modern times I feel like we have ditched the traditional looking margarita glasses. I get it, I have a few and rarely use them, they are kind of heavy, awkward, and easy to spill. I usually will just grab a whiskey glass honestly. So use what you have.
You will also need commonplace items like a knife, cutting board, & ice. Also if you want a salted glass, a small plate for the salt.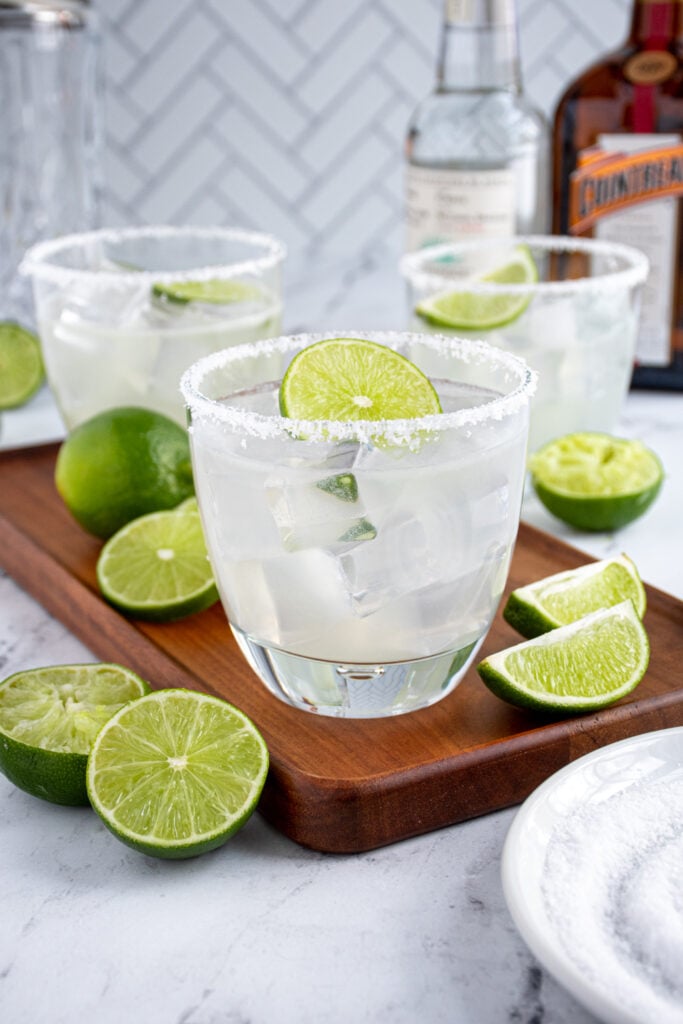 Ingredients for a Traditional Margarita
The margarita, like so many other cocktails will greatly depend on the quality of alcohol used. So I have included my favorite 'everyday' and favorite 'special' tequilas below.
Tequila – In a classic margarita you will want to use a Blanco or Plata (White or Silver) tequila. Tequila is broken out into four categories; Blanco/Plata, Joven Abocado (Gold), Repasado, and Añejo (aged). If you would like to use a tequila from a different category that is perfectly okay. I recommend using your favorite tequila, that will make the drink all that much better. If you don't have a favorite my favorite 'everyday' tequila is Tres Agaves and my favorite 'special' tequila is Casamigos.
Cointreau – Cointreau is a classic bar staple also used in a Cosmo. This orange flavored liqueur can also be swapped out with Triple Sec.
Lime Juice – For the best margarita I urge you to use a fresh lime, it makes a world of difference from the bottled stuff. Typically 1 medium sized lime is the perfect amount of juice you will need for your drink.
And if you want to garnish your drink you will also need a lime slice or wedge. And for a salted rim some salt (sea salt or kosher salt work best).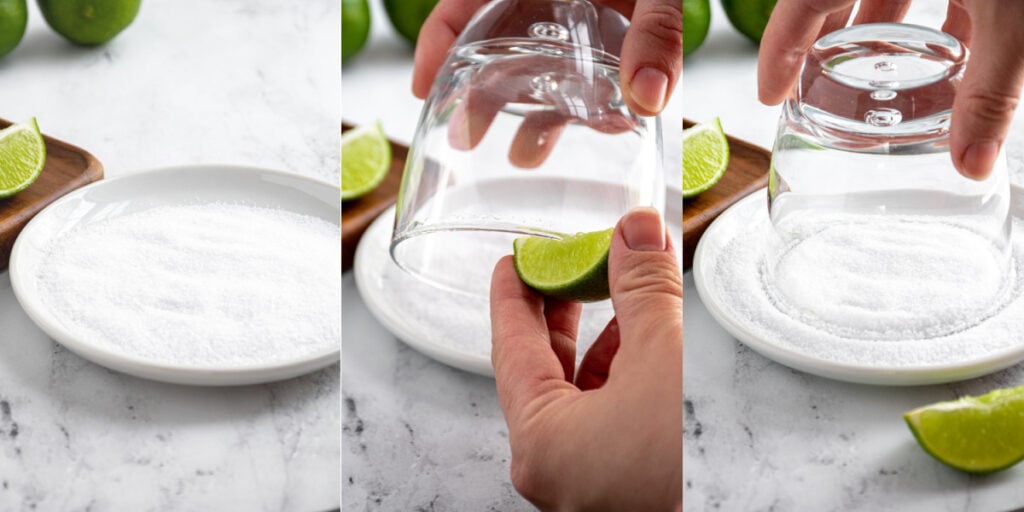 Tips, Tricks, & Questions
Is Triple Sec the same as Cointreau?
Both are orange liquors, each made a little different, with just a very slight difference in tase. The biggest difference you might notice is price and alcohol percentage. Cointreau is going to be a little bit more money but the alcohol percentage will be over double that of triple sec, so if you like a strong drink this is your choice. Triple Sec on the other hand has a very familiar flavor but is less money and with a much lower alcohol percentage, this doesn't have to be a bad thing, I like to use triple sec when I plan on having a couple of drinks.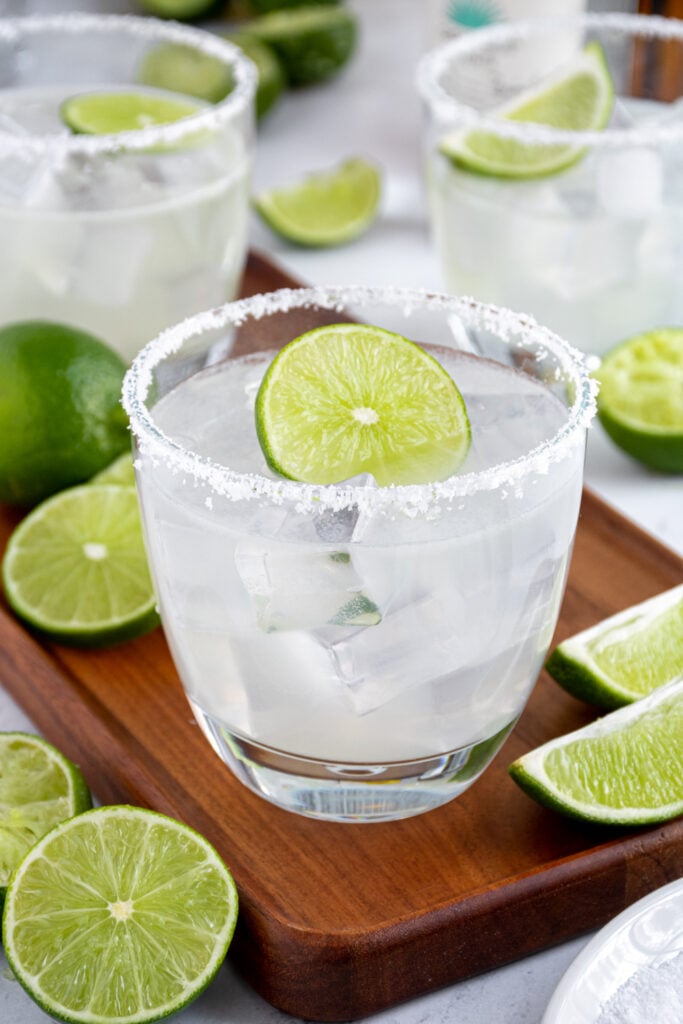 If you like a Classic Margarita you might like some of my other drinks:
Yield: 1 drink
Classic Margarita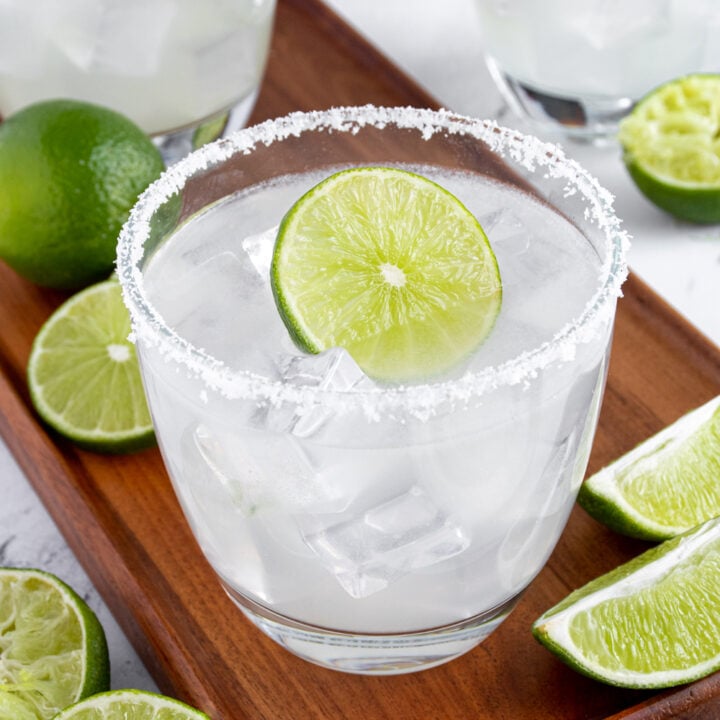 The classic three ingredient Margarita Cocktail. Enjoy this refreshing beverage without a pre-mix, it's so easy you will wonder why you haven't always made it this way! This simple margarita is sure to become your new favorite!
Ingredients
1 oz lime juice (1 medium lime)
1 oz cointreau
2 oz tequila
For Garnishing:
Sea Salt or Kosher Salt
Lime wedges or wheels
Instructions
To salt the rim of the glass take a lime wedge and run it all along the top rim. Add salt to a small plate and dip the juiced rim into the salt. Add ice to the glass.
Add the lime juice, cointreau, and tequila to a cocktail shaker with a handful of ice. Shake until cold about 10 seconds. Strain over top the ice. Garnish with a lime slice.
Notes
One average sized medium lime produces about 1 oz of lime juice given it is freah and ripe.

Triple Sec may be replaced for the cointreau.

For a sweeter beverage add ½ ounce agave or simple syrup.
Recommended Products
As an Amazon Associate and member of other affiliate programs, I earn from qualifying purchases.
Nutrition Information:
Yield:
1
Serving Size:
1 drink
Amount Per Serving:
Calories:

243
Total Fat:

0g
Saturated Fat:

0g
Trans Fat:

0g
Unsaturated Fat:

0g
Cholesterol:

0mg
Sodium:

898mg
Carbohydrates:

17g
Fiber:

2g
Sugar:

9g
Protein:

1g
Nutritional data is automated, final nutritional information will depend on ingredients used and any changes made.
And make sure you are following me on TikTok, Instagram, Pinterest, and Facebook for all the latest recipes!
Lauren, The Schmidty Wife