These Crockpot Caramelized Onions make wonderful toppings, sides, and even a perfect base for French Onion Soup. No more standing over the stove stirring, let the slow cooker do all the hard work.
This post may contain Affiliate Links.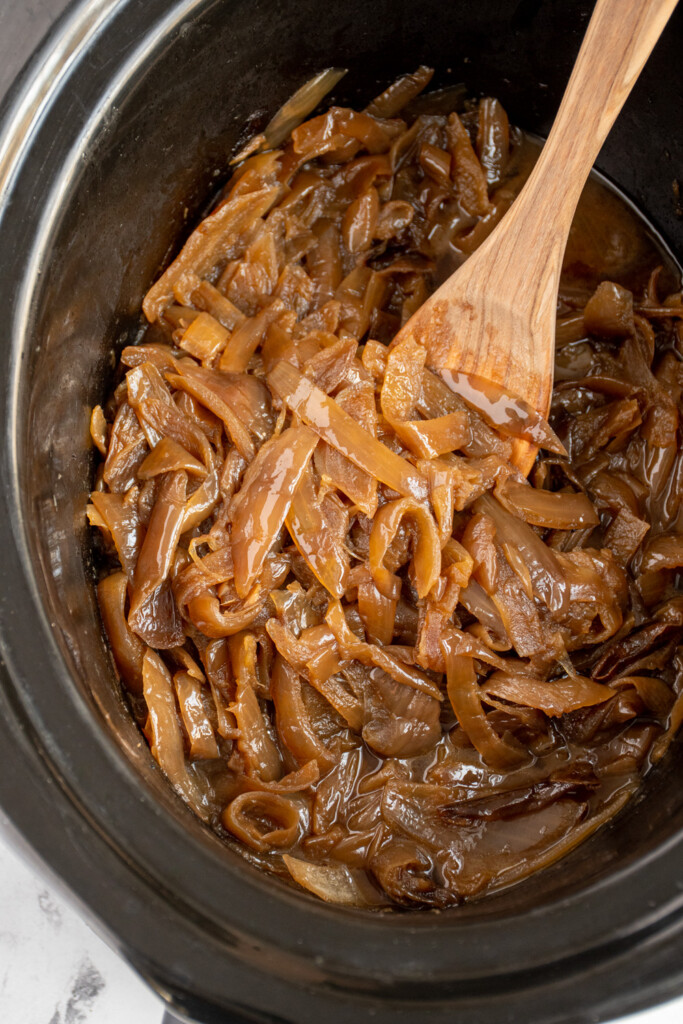 How to Make Slow Cooker Caramelized Onions
Who doesn't love caramelized onions?! They go well with almost everything! The biggest downside is sometimes they can be tricky to make. I mean who wants to stand over a stove for 40 minutes constantly stirring…no one.
That is why I am so excited to share how to make caramelized onions in the crockpot.
The hardest part about these caramelized onions is remembering that you have to start making the dish about 12 to 14 hours before you're ready to use the onions.
The best way to make these is to start them the night before, and you wake up to heaven (in the form of onions).
With these slow cooker caramelized onions there are a few things to help make the best possible results.
One way is to make sure that you are cutting the onions correctly. You want to go with the grain of the onion and not against the grain of the onion. If you are cutting against the grain of the onion they are just gonna turn to mush and fall apart. You want to make sure that you're cut with the grain of onion so that you still get those silky smooth strands of caramelized onion. Simply make sure that you're not cutting into slices that cutting apart the natural lines of the onion. You want to be parallel with the lines, so cut from root to head of the onion and not the other way
When cutting the onion, you also want to make sure that you're not cutting your onion pieces too big (take this as a personal note I have definitely sliced my onions too thick a few times). If you slice too thick you might not get the results you are looking for.
Once you have your onions all sliced this recipe is basically done. You'll add the onions to the crockpot with oil and butter.
Note that using oil and butter will yield the best result for caramelized onions so you will want to use both.
Lastly, add salt. And if you are feeling it, some freshly cracked black pepper.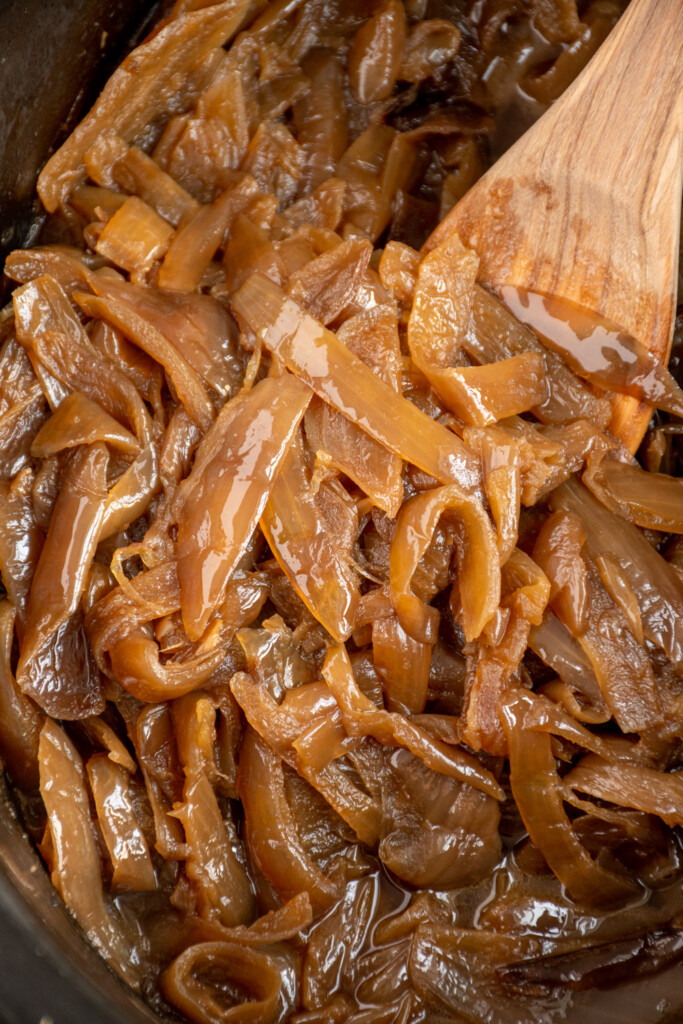 Ingredients
Onions – What type of onions can sometimes matter when making caramelized onions but not necessarily. Let's say you are using onions to make French Onion Soup, in that case you will want to use yellow onions. But if you're making these for more generic use, you could really use whatever kind of onions you would like. You can even use a mixture so you can use yellow onions, red onions, or sweet onions.
Butter – You'll want to use butter for the dish that helps evolve a lot of flavors as the onions are cooking. Use unsalted butter that way you have control over what the salt content is in your dish because we will be adding salt to the onions as well.
Olive Oil – You'll want to make sure that you're using extra-virgin olive oil. Th eolive oil helps give the onions a smooth and silky texture.
Salt – For this dish, you will want sea salt or kosher salt if you are using table salt use half of the amount.
Pepper – Ground black pepper is optional. If you are using black pepper I suggest using freshly ground black pepper.
For a complete detailed list of the ingredients continue towards the bottom of the page.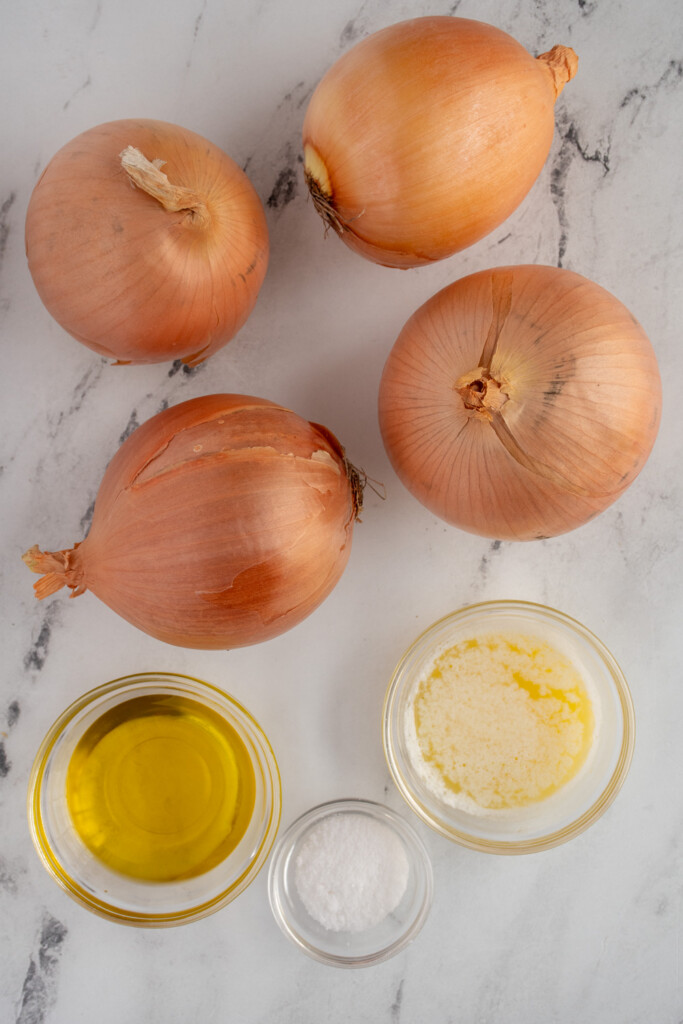 Instructions
Start by prepping the onions. You will need to ensure that they are cut the correct way, you want to slice them from the root to the head of the onion. Look for the natural lines on the skin of the onion and cut with those lines.
Once the onions are all cut, hopefully you aren't crying.
Add everything to the crockpot, mix together. Cover and cook on low for about 14 hours. Stirring 2-3 times if available.
pro tip
I like to usually stir about 2 hours in to the cooking process and about 2-3 hours before they are done.
tips, tricks and questions
A lot of slow cookers will have a built-in auto-off (at least in newer models), most slow cookers will turn off after 12-14 hours automatically.
One trick to avoid your whole house smelling like onions (because not everyone wants their house smelling like that after 12 to 14 hours of cooking) is to place the crockpot in a garage or porch area that won't make the whole house smell like onions, this is totally up to you and your preferences.
Every crockpot is different. I noticed when looking at similar recipes that a lot of these recipes suggest about 12 hours on low. I found it more accurate to be about 14 hours in my crockpot. The first time you make this you will want to pay close attention to how long it takes in your crockpot, different brands and how old your crockpot is will affect the outcome as well as the actual temperature of your crockpot on low. If possible give yourself a little bit of wiggle room those couple hours for when your crockpot caramelized onions will actually be done.
You can using onions right away, for example you can make my Crockpot French Onion Soup Recipe or you can store these away for later. Caramelized onions can even be frozen
If you like this Crockpot Caramelized Onions Recipe you might also like:
Yield: about 2 1/2 cups
Crockpot Caramelized Onions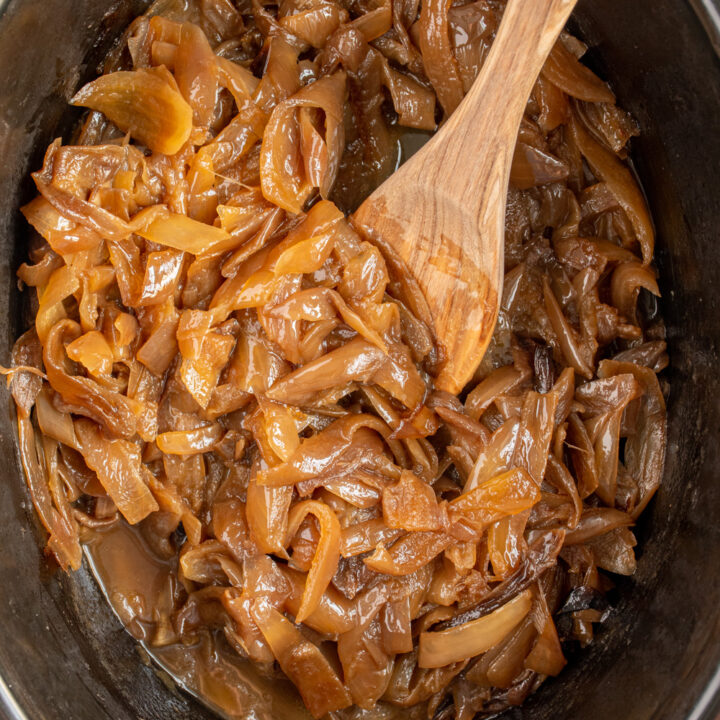 The perfect topping, side, or base to french onions soup. No more standing over top the stove to make caramelized onions with this foolproff method in the slow cooker!
Total Time
14 hours
10 minutes
Ingredients
3 pounds yellow onions, peeled, sliced, and cut into quarter-moons (about 4 large onions)
2 tablespoons unsalted butter, melted
2 tablespoons olive oil
2 teaspoons kosher salt, plus more as needed
Optional: Freshly ground black pepper
Instructions
Add everything to the crockpot, mix together. Cook on low for about 14 hours. Stirring 2-3 times if available.
Nutrition Information:
Yield:
10
Serving Size:
1/2 cup
Amount Per Serving:
Calories:

105
Total Fat:

5g
Saturated Fat:

2g
Trans Fat:

0g
Unsaturated Fat:

3g
Cholesterol:

6mg
Sodium:

256mg
Carbohydrates:

14g
Fiber:

2g
Sugar:

6g
Protein:

2g
Nutritional data is automated and might not be 100% accurate, final nutritional information will depend on ingredients used and any changes made.
And make sure you are following me on TikTok, Instagram, Pinterest, and Facebook for all the latest recipes!