An easy recipe for Grilled Zucchini & Eggplant served with hummus & grilled naan, served family style. A healthy summer meal that is a perfect meatless grilling option!
This post may contain Affiliate Links.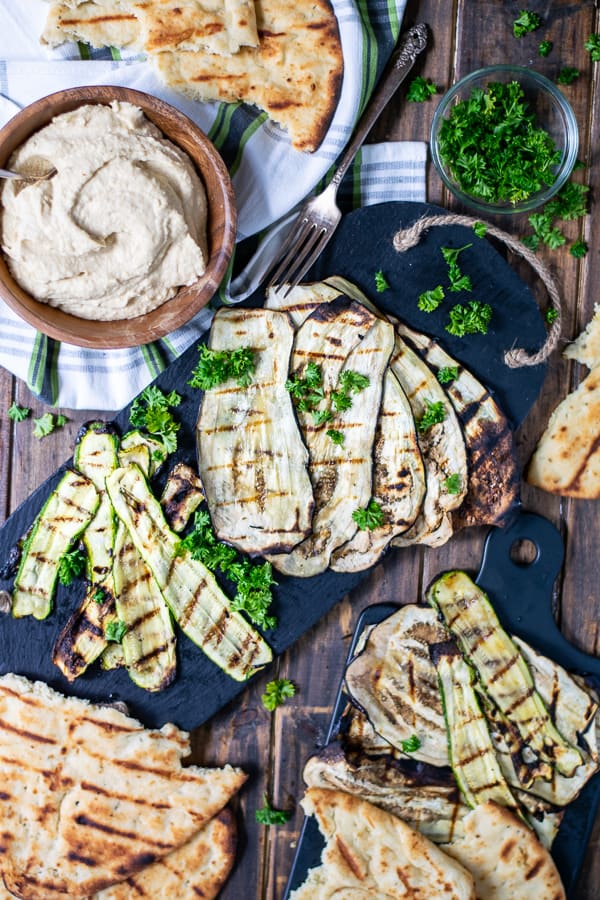 Grilled Zucchini and Eggplant served with Hummus & Naan
I have been making my family this grilled eggplant and zucchini with naan & hummus meal for over a year without sharing it with you… So sorry. It is funny how the simplest meals like this just sort of happen with my family and then they take so long to actually make it on the blog.
This appetizer/light meal is the epitome of a lazy summer meal that you want done on the grill quickly.
Vegetables are sliced quickly, grilled quickly, and lets be honest eaten quickly.
It is perfect as a grilled appetizer for a summer get together or a light lunch or dinner for you and your family. Served family style it makes it easy for your family or guests to take what they like with minimal effort on your part.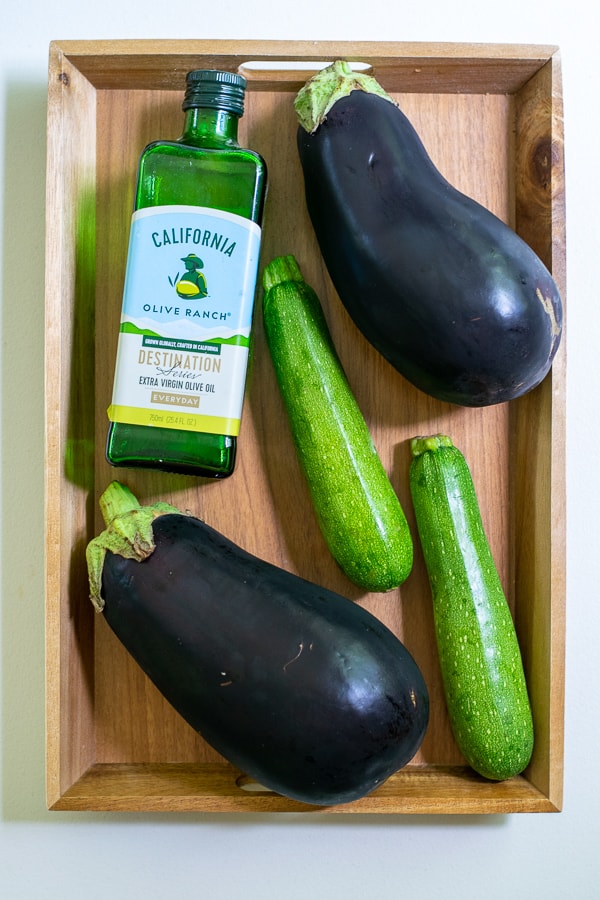 How to Grill Eggplant & Zucchini
It is really quite simple! I promise. When I have asked before whether people cook with eggplant on a regular basis, people who said no said it was the fact that they just aren't sure what to do with it. And hey I get that, its kind of a random big purple orb that honestly has a very mellow flavor but there is beauty in that! Well let me let you in on a little secret about eggplant…
It is absolutely fantastic grilled. It takes on the best grilled flavor and bonus, it cooks quick!
And lets not forget about zucchini, I think we can all recognize zucchini as a workhorse in the kitchen. It is truly great in many ways, as a noodle, roasted, stuffed, even in baked goods. But the best way to make zucchini in my opinion is on the grill.
So once you combine these two delicious grilled veggies with a little bit of hummus and with some toasty grilled naan you basically have a summer meal heaven.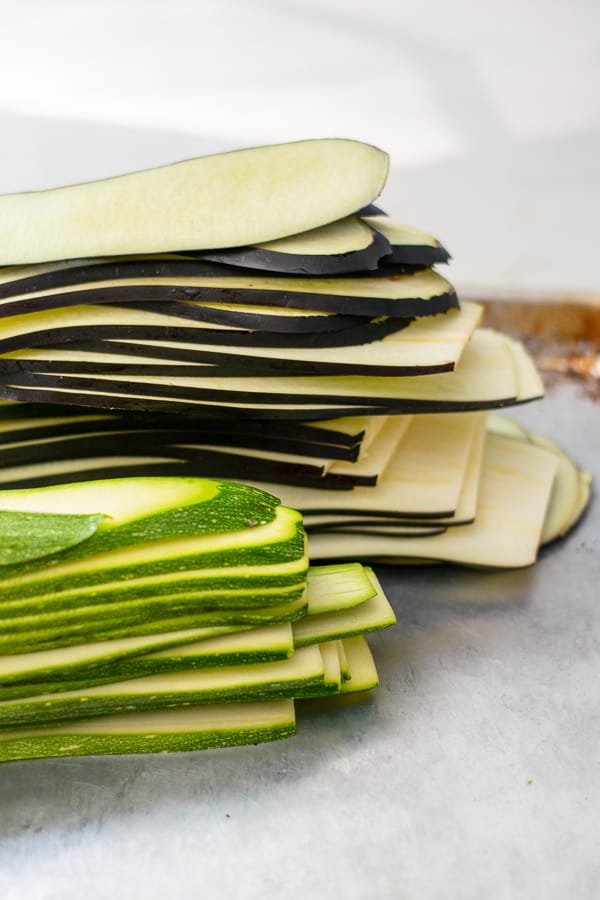 One of my favorite parts about this meal is that it comes together fast. The vegetables are quickly sliced, either by hand or a mandoline. Brushed with oil and then tossed on the grill. The vegetables cook about 3-4 minutes a side and boom done. The only downfall is depending on the size of your grill you will need to do this in 2 or 3 batches.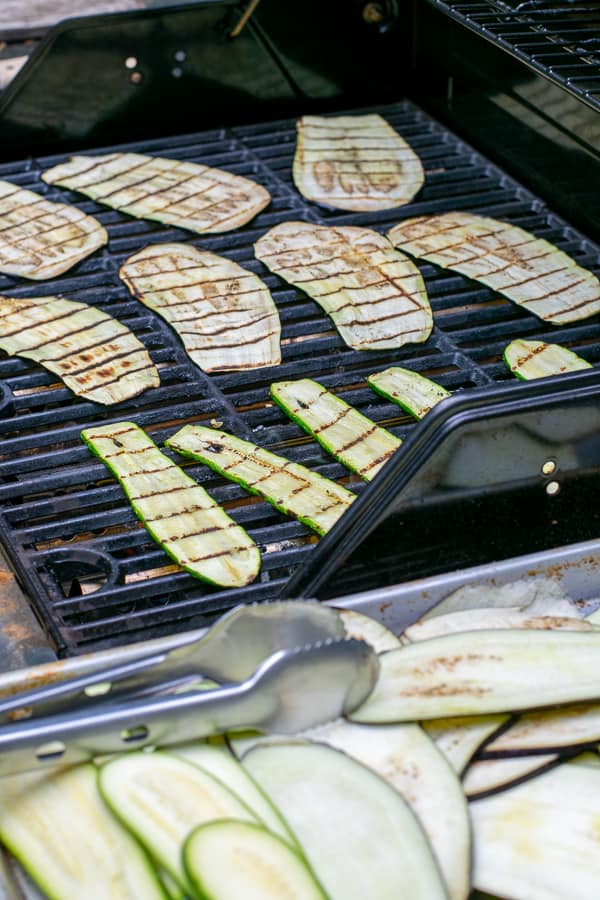 Once the veggies come off the grill you will quickly toast up the naan. I then tend to serve this 'family style' by arranging everything on a large platter (or sheet pan) and letting people help themselves to the eggplant, zucchini, hummus, and naan.
My favorite way to eat this combo is to spread hummus on top of the naan bread and then top the hummus with the ribbons of eggplant and zucchini, flatbread style. My kids also enjoy me making a few 'roll-ups' for them by spreading a little hummus on one of the vegetable ribbons and then rolling it up for them. Thats kind of one of the amazing parts about a dinner like this people can eat it how they like.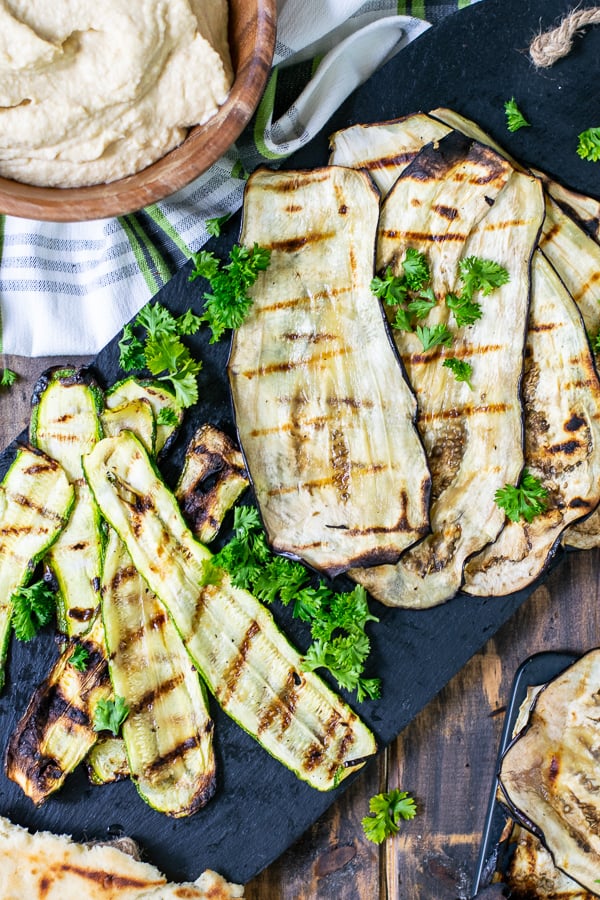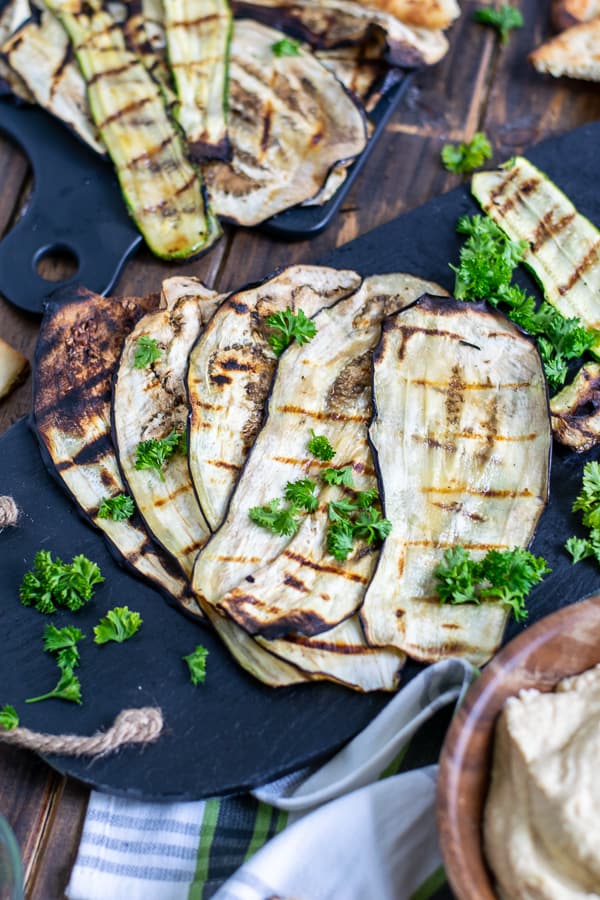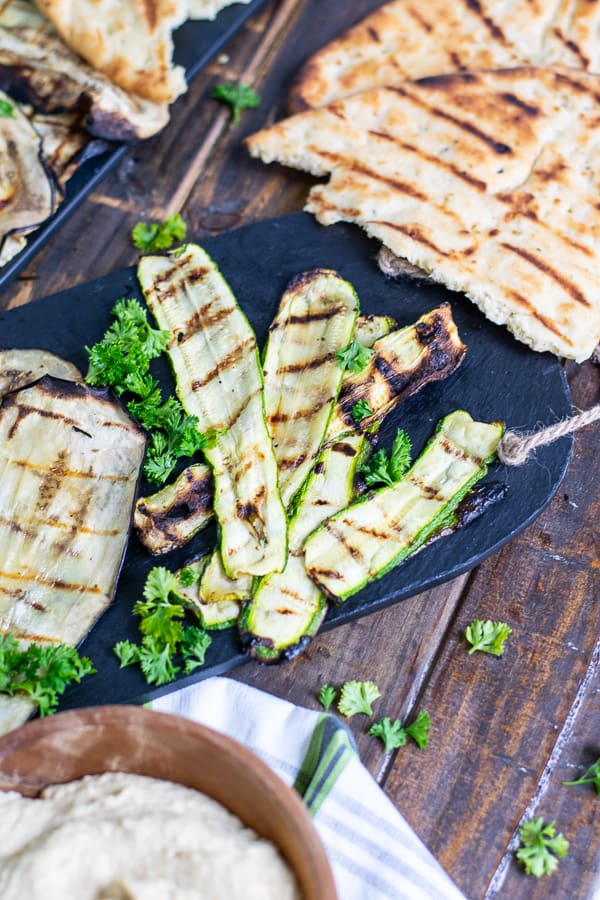 TIPS & TRICKS
• the actual amount of zucchini and eggplants used can be easily changed to your liking, if you want to use less eggplant and more zucchini or vice versa go for it, you can also just make less if you are feeding less people
• You can buy a container of hummus from the store or use one of my simple recipes my Easy Hummus or my Roasted Garlic White Bean Hummus
• I love the Roasted Garlic Naan from Stonefire Authentic Flatbreads for a little extra flavor!
• when picking out your eggplant at the grocery store don't go for the biggest, choose a small to medium size eggplant, the larger eggplants tend to have more seeds which leads to the eggplant having a bitter taste
Yield: 8 servings (for appetizer)
Grilled Zucchini and Eggplant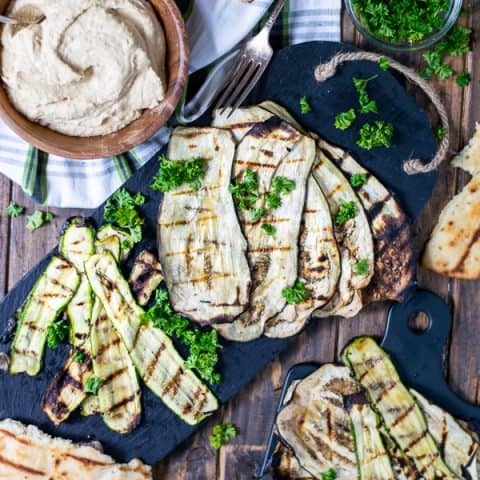 Grilled Zucchini and Eggplant served with hummus and grilled naan bread makes a perfect appetizer or light dinner for a beautiful summer evening.
Ingredients
2 medium eggplants
2 medium zucchini
1/4 cup olive oil
1 container hummus
4 pieces of naan bread
Instructions
Preheat grill to medium-high heat.
Using a mandoline or a sharp knife carefully thinly slice the eggplant and zucchini the long way into a ribbon shape. You will want the thickness between 1/8 inch and 3/16 inch if using a mandoline. Cutting by hand works too just try to establish even slices.
Spread zucchini and eggplant slices over a large platter or sheet pan. Brush vegetables with olive oil, moving vegetables as you are working to spread oil evenly over both sides. Sprinkle vegetables lightly with a little salt and pepper.
In batches* carefully lay the vegetable ribbons perpendicular to the grates on the grill over direct heat (as to make them harder to slip through). Grill each sides 3-4 minutes depending on thickness until you have a nice char mark and the vegetable is cooked to your liking.
Once vegetables are done turn your grill to low** lightly brush naan with water to get slightly damp. Place naan on grill and grill 1 minute per side until warm and has a slight toast.
To serve arrange eggplant and zucchini on a platter along with the hummus and naan, cut naan in half for better serving. Let guests plate themselves, although I recommend smearing hummus on top of the naan and then topping with zucchini and eggplant.
Notes
*to keep vegetables warm while working in batches either places vegetables on indirect heat in the grill or keep covered on a plate
**if using charcoal you will just want to grill uncovered and a bit shorter to ensure the naan doesn't burn
Nutrition Information:
Yield:
8
Serving Size:
1
Amount Per Serving:
Calories:

261
Total Fat:

11g
Saturated Fat:

2g
Trans Fat:

0g
Unsaturated Fat:

8g
Cholesterol:

0mg
Sodium:

241mg
Carbohydrates:

38g
Fiber:

6g
Sugar:

7g
Protein:

7g
Nutritional data is automated, final nutritional information will depend on ingredients used and any changes made.
And make sure you are following me on Instagram, Pinterest, and Facebook for all the latest recipes!
Peace & Love
Lauren, The Schmidty Wife
P.S. Looking for more grilling recipe? Check out my Grilled Flank Steak or my Grilled Greek Chicken Kabobs.