Ever since becoming a stay at home mom/food blogger Archie and I's lunches have become quite interesting to say the least. Most days we are eating leftovers or the ever so easy and classic bacon & eggs, and then there is our favorite, quesadillas. We both love all sort of quesadillas, and I love how easy they always are to make. Our newest obsession in the world of quesadillas must be shared, Hummus Quesadillas with Feta and Vegetables.
Hummus Quesadillas with Feta and Vegetables is full of healthiness & goodness everyone wants in a quick lunch/snack.
Hummus, especially homemade hummus is full of protein and fiber to keep you nice and full, making it an excellent vegetarian option
Feta, mostly for deliciousness
Carrots and Zucchini, two vegetables full of healthy vitamins such as carrots being packed full of Vitamin A and zucchini being full of Vitamin C
You can also feel free to add different/more veggies to your liking, although I wouldn't recommend too many otherwise your quesadilla might get a little watery and seem under cooked if there are too many veggies. If you have the time and energy these quesadillas are super tasty if you take 3-4 minutes to grill up the veggies before putting them into the quesadilla, both ways are great.
For this recipe I always use my Easy Hummus recipe, mostly because Archie loves helping me make it. He gets out his little stool and throws the garlic cloves into the food processor and sprinkles in the cumin, it's adorable. But if you don't have an eager toddler to help you you can always use a fun flavored hummus or store bought hummus.
These Hummus Quesadillas with Feta and Vegetables are so full of healthy food and so easy to make its hard to figure out a reason not to make them!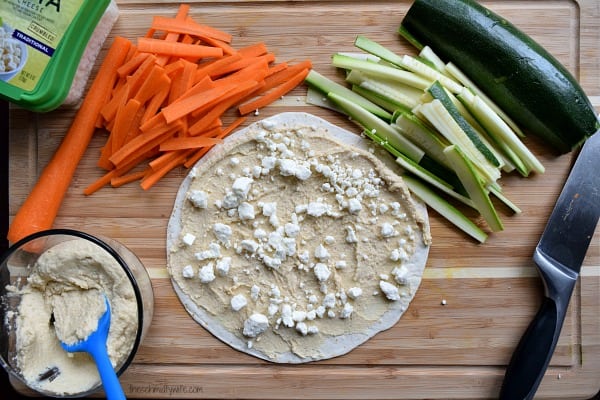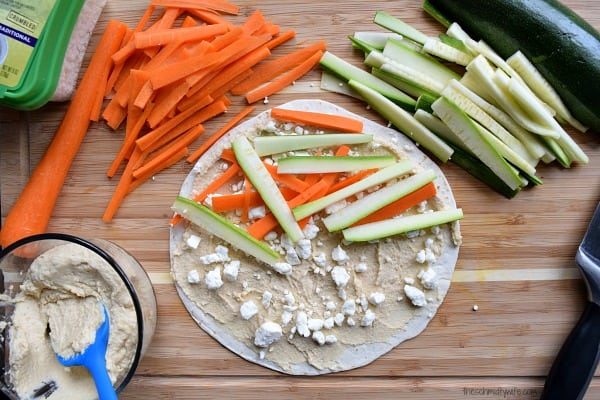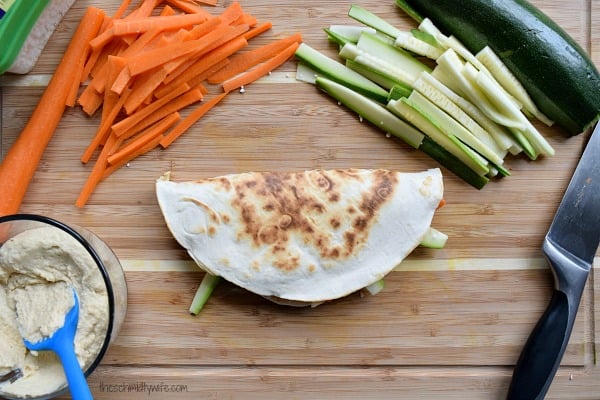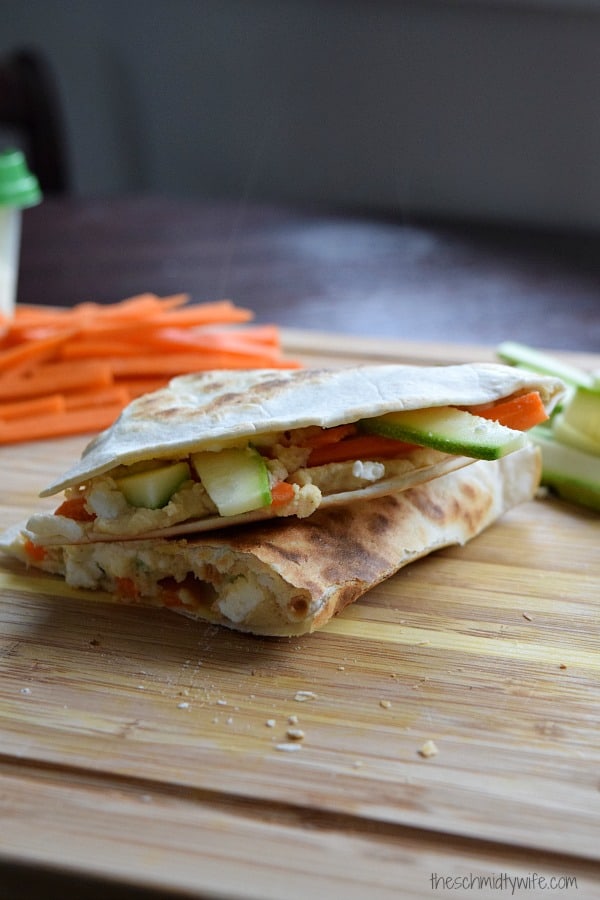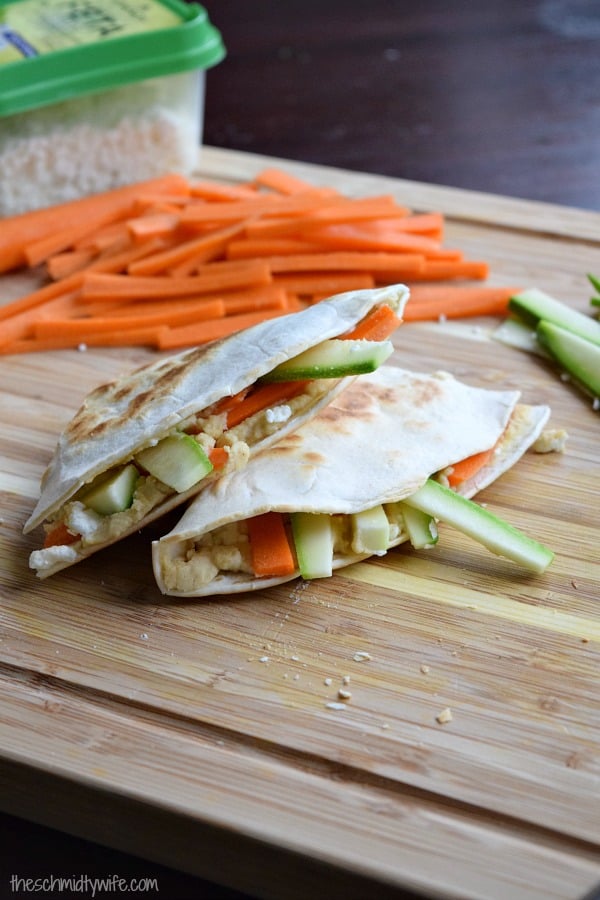 TIPS & TRICKS:
Use these quesadillas as a chance to 'meal prep' your snacks, as you are making these cut up extra carrots and other veggies as well as make a little extra hummus, this means an easy ready to go snack!
Feel free to play with the variations of this, I have a feeling these would be phenomenal with roasted red pepper hummus
Be sure to use a nonstick skillet and DO NOT oil your pan, if you don't have a nonstick skillet yet, trust me they are the best and well worth the buy. I have Rachel Ray's cookware set that I use and I simply love them, you can buy them as a set or pans on their own:
Yield: 4 quesadillas
Hummus Quesadillas with Feta and Vegetables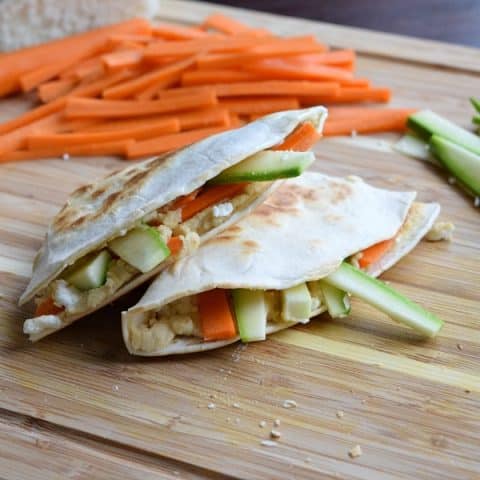 healthy vegetables and hummus in a toasted quesadilla
Ingredients
4 flour tortillas
1 cup Hummus
2 medium carrots, cut into thin matchsticks
1/2 medium zucchini, cut into thin matchsticks
Feta Cheese for sprinkling
Instructions
Heat a nonstick skillet over medium heat.
Spread about 1/4 cup hummus, onto one of the tortillas, as evenly as you can.
Sprinkle feta cheese crumbles on top of the hummus to your taste, I usually do a heaping tablespoons worth.
On one half of your tortilla place a small handful of the carrots and a small handful of the zucchini.
Carefully place the loaded tortilla into the hot skillet, place lid on.
Cook for about 3 minutes until the bottom of the tortilla starts to brown (use a spatula to check).
Once the tortilla is browned to your liking carefully fold the non vegetable side in half on top of the veggies. Use the spatula to gently press the quesadilla together.
Slide the quesadilla onto a plate, let it rest for about 1 minute and then cut and serve.
Repeat with remaining tortillas.
Nutrition Information:
Yield:
4
Serving Size:
1
Amount Per Serving:
Calories:

190
Total Fat:

5g
Saturated Fat:

2g
Trans Fat:

0g
Unsaturated Fat:

3g
Cholesterol:

6mg
Sodium:

313mg
Carbohydrates:

30g
Fiber:

3g
Sugar:

2g
Protein:

6g
Nutritional data is automated, final nutritional information will depend on ingredients used and any changes made.
If you enjoyed this Recipe or any of my others let me know by using #theschmidtywife on social media!
And make sure you are following me on Instagram, Pinterest, and Facebook for all the latest recipes!
Peace & Love
Lauren, The Schmidty Wife
P.S. Looking for more recipes? Check out my White Bean Hummus or my Easy Southwest Chicken.
Please note that my links above may be affiliate links, and I will earn a commission if you purchase through these links. I recommend them because they are helpful, and are companies that I trust, not because of the commissions that I may earn from you using these products.