Say Hello to your new favorite #MeatlessMonday dinner, Sheet Pan Gnocchi. This Baked Gnocchi Recipe is easy to throw together with inexpensive store bought gnocchi and a ton of fresh healthy vegetables! Baked gnocchi is crunchy yet tender and the roasted veggies become a delicious sauce like pairing, topped with parmesan cheese and fresh basil you will find yourself making this dinner on the regular!
Sheet Pan Gnocchi
I never had gnocchi growing up, we weren't Italian nor were my parents big into pasta dishes so I didn't get the chance to experience the magic of these little potato clouds called gnocchi until just a few years ago. And when I discovered them oh man I could stop with the gnocchi recipes!
Naturally my gnocchi moved their way from a pot of boiling water to the oven real fast. I love my sheet pan meals and gnocchi and vegetables are the perfect match.
Now when I was developing this recipe I really went for it with the vegetables, like I really stuff the pan full. So this meal definitely gets your your veggies for the day!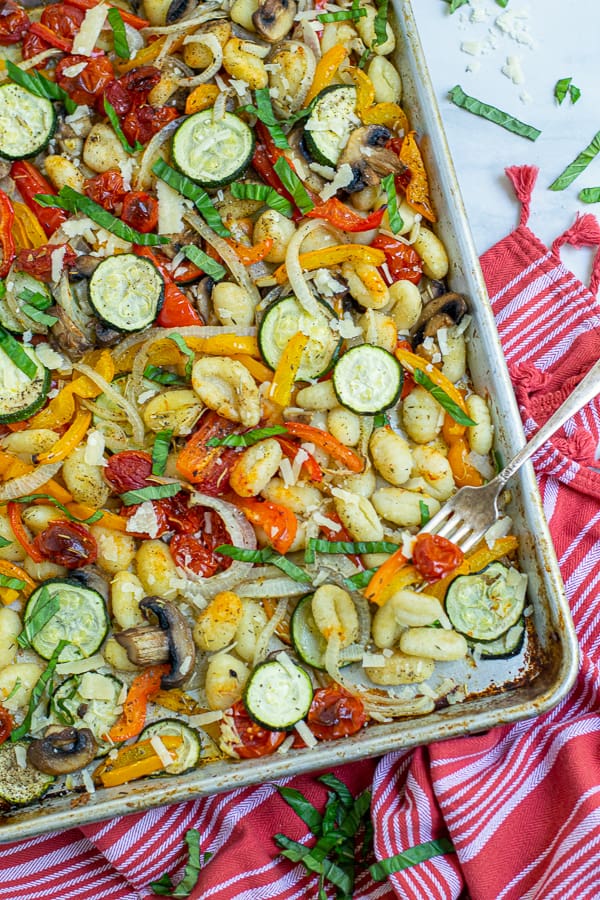 Crispy Sheet Pan Gnocchi and Veggies
You start of this dish with a pound of store bought gnocchi. Usually found in the pasta aisle I recommend not using frozen gnocchi for this recipe, go with the shelf stable variety. Although you really could if you wanted to the frozen gnocchi just might make the whole pan watery as the gnocchi heat up.
Next vegetables, like I said I use A LOT.
2 Bell Peppers
1 Zucchini
1 Onion
1 container Sliced Mushrooms
1 container of Cherry Tomatoes
5 cloves Garlic
Is garlic a vegetable?
(Okay so I just checked the internet and according to the internet it kind of is a vegetable. Garlic truly is in a class of its own, a cousin to the onion. So it doesn't truly fit the description of vegetable, herb, or spice so many just lump it in with the vegetable family)
Back to the rest of the ingredients, on top of the vegetables and gnocchi we have olive oil, salt, pepper, dried rosemary, dried thyme, fresh basil, and parmesan cheese.
The oil and spices are used to coat the gnocchi and vegetables for baking and the fresh basil and parmesan are for garnishing.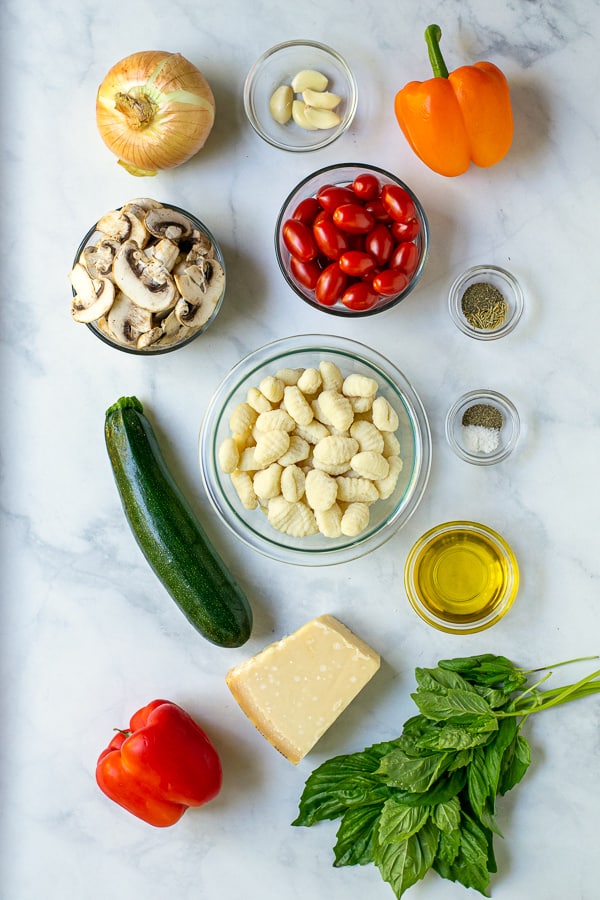 Sheet Pan Baked Gnocchi Recipe
Preheat the oven to 450º F. The high heat gets the vegetables cooked fast and keeps the gnocchi crispy!
Getting this meal ready is as easy as adding the gnocchi, prepared vegetables, and olive oil to sheet pan. Toss together to mix and coat.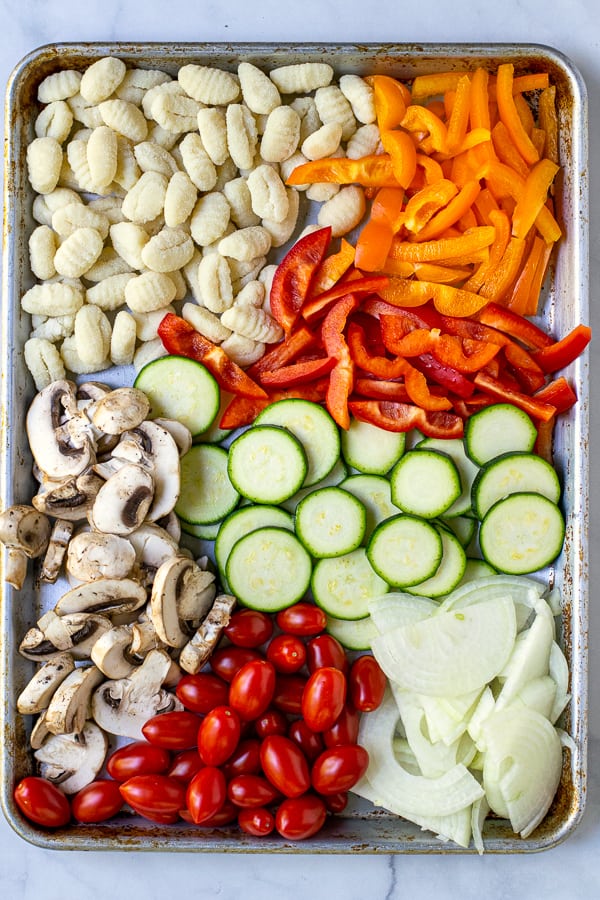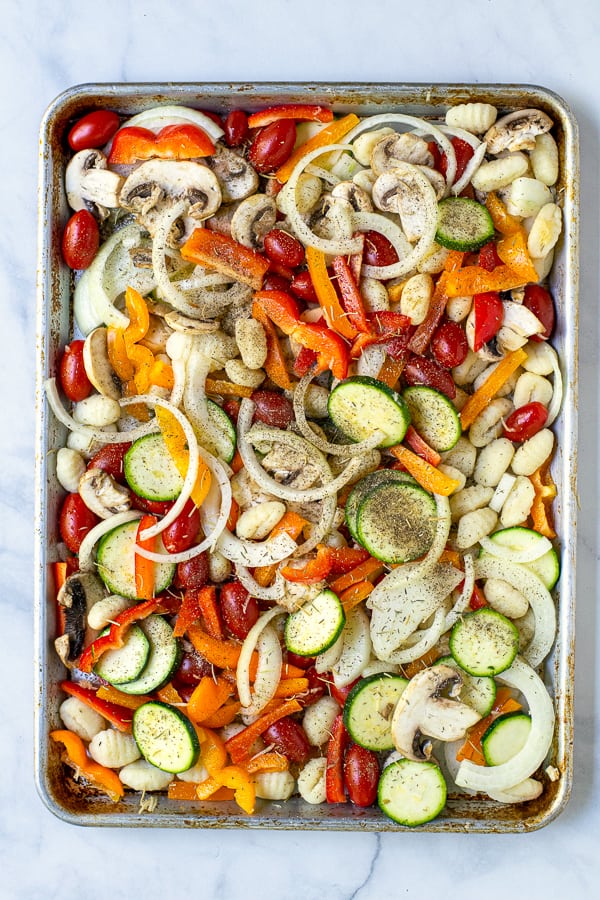 Sprinkle the salt, pepper, thyme, and rosemary over top the gnocchi and vegetables. Transfer the pan to the oven.
Bake for 15 minutes, then toss contents of the sheet pan.
Resume baking another 15-20 minutes until vegetables are tender and gnocchi is crispy.
To serve top the gnocchi with parmesan cheese and fresh basil leaves. Serve immediately.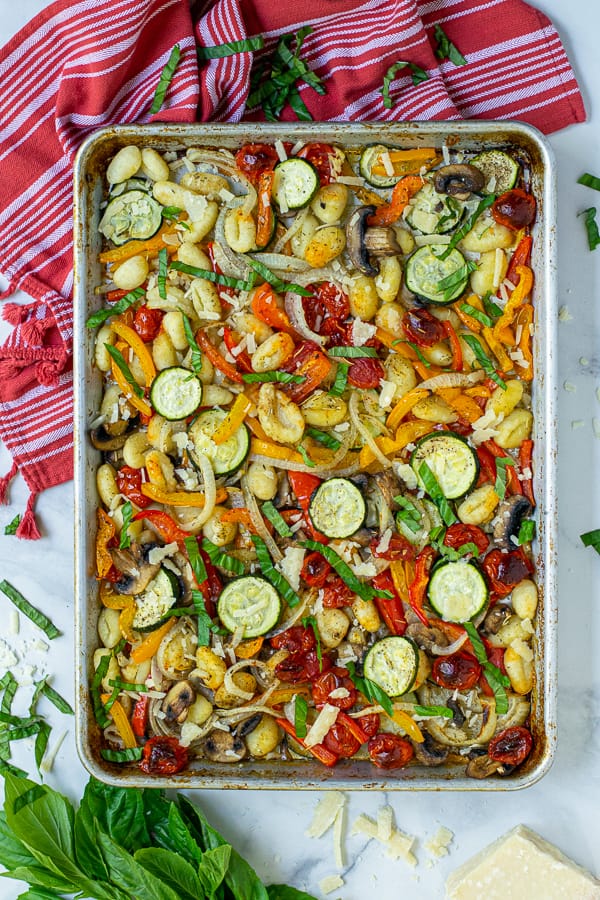 Can I switch up the vegetables?
Absolutely!
If mushrooms aren't your jam, thats okay leave them out. If you aren't the biggest pepper fan use only one. Or try using a red onion instead of a sweet onion.
This meal is definitely open to interpretation! My only bit of advise would be to make sure you don't over crowd the recipe any more than what the recipe calls for I tried adding even more, it didn't work. I had to cut it back to the amount and that is the recipe I am sharing with you today, otherwise it just didn't bake right.
Love sheet pan meals? You might like some of my other recipes: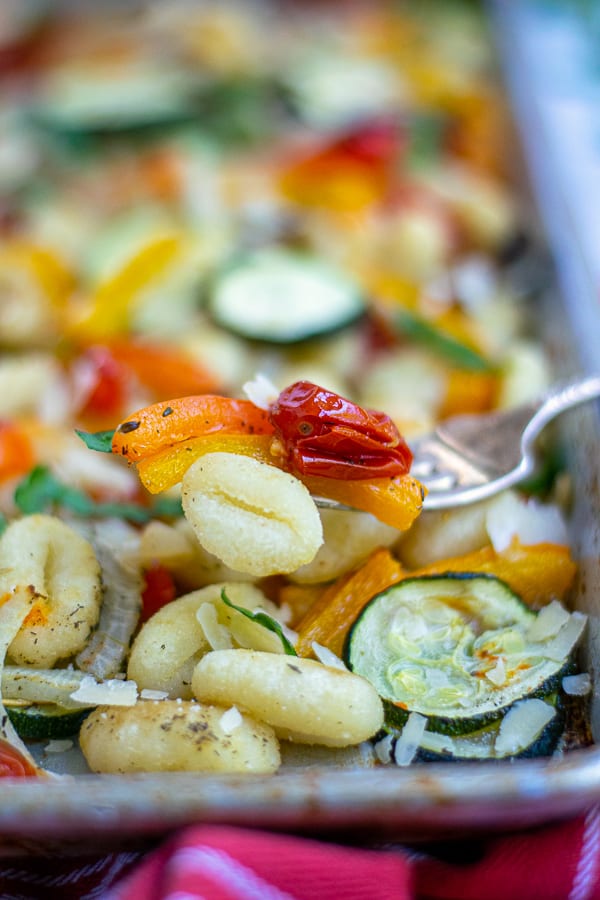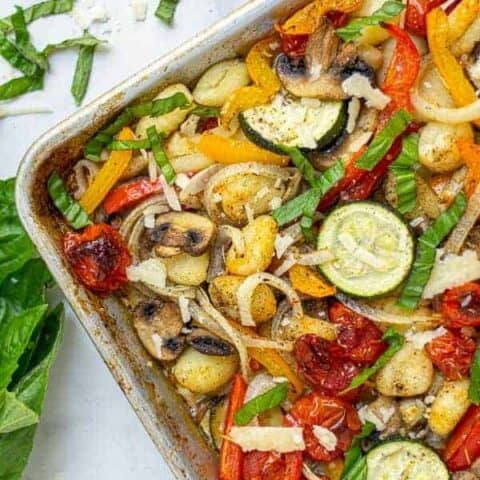 Sheet Pan Gnocchi
one pan crispy baked gnocchi with roasted vegetables creates a delicious and easy to make meal topped with fresh basil and parmesan cheese
Ingredients
1 pound potato gnocchi
2 colorful bell peppers, sliced
1 zucchini, sliced
1 onion, sliced
5 cloves garlic, minced
1 (8oz) container sliced mushrooms
1 (10oz) container cherry tomatoes (2 cups)
3 tablespoons olive oil
1/2 teaspoon dried thyme
1/2 teaspoon dried rosemary
1/2 teaspoon each salt & pepper
1 cup fresh basil, chopped
1/4 cup parmesan cheese, shredded
Instructions
Preheat oven to 450º F.
Add gnocchi, prepared vegetables, and olive oil to sheet pan. Toss to mix and coat.
Sprinkle salt, pepper, thyme, and rosemary on top of the gnocchi and vegetables. Transfer to oven.
Bake 15 minutes, then toss contents of the sheet pan.
Resume baking another 15-20 minutes until vegetables are tender and gnocchi is crispy. Top the gnocchi with parmesan cheese and fresh basil, serve immediately.
Recommended Products
As an Amazon Associate and member of other affiliate programs, I earn from qualifying purchases.
Nutrition Information:
Yield:

4
Serving Size:

1
Amount Per Serving:
Calories:

388
Total Fat:

14g
Saturated Fat:

3g
Trans Fat:

0g
Unsaturated Fat:

10g
Cholesterol:

39mg
Sodium:

134mg
Carbohydrates:

57g
Fiber:

4g
Sugar:

5g
Protein:

11g
Nutritional data is automated, final nutritional information will depend on ingredients used and any changes made.
If you enjoyed this recipe or any of my others let me know by using #theschmidtywife on social media!
And make sure you are following me on Instagram, Pinterest, and Facebook for all the latest recipes!
Peace & Love
Lauren, The Schmidty Wife
P.S. Looking for more vegetarian recipes? Check out my Shakshuka with Spinach and White Beans recipe or my Simple Vegetable Rice Soup recipe.
Please note that my links above may be affiliate links, and I will earn a commission if you purchase through these links. I recommend them because they are helpful, and are companies that I trust, not because of the commissions that I may earn from you using these products.