Sweet and tart Cranberry Orange Relish is a must have on the Thanksgiving table. This Cranberry Relish Recipe comes together fast with only 4 ingredients and 5 minutes of time, plus it is so easy to make-ahead.
This post was updated November 10, 2019 to add better instructions, helpful tips, and new photos.
Cranberry Relish Recipe
I have grown up with Cranberry Orange Relish always on the holiday table. It was always there and one of my favorite things on my Thanksgiving plate. I always loved how it offsets all of the other flavors on the plate, giving me bites that are bursts of flavor.
Just close your eyes and think of juicy warm turkey with a little bit of gravy, a small scoop of mellow mashed potatoes, and then a hit of tangy sweet acid from the cranberry relish, PURE PERFECTION MY FRIENDS.
I am literally drooling on my computer while typing this.
So this recipe is from my Grandma Wohlers and graces our Wohlers Family Cookbook that the family put together many many moons ago. And my grandma would always make this, as well as my mother, and now I do.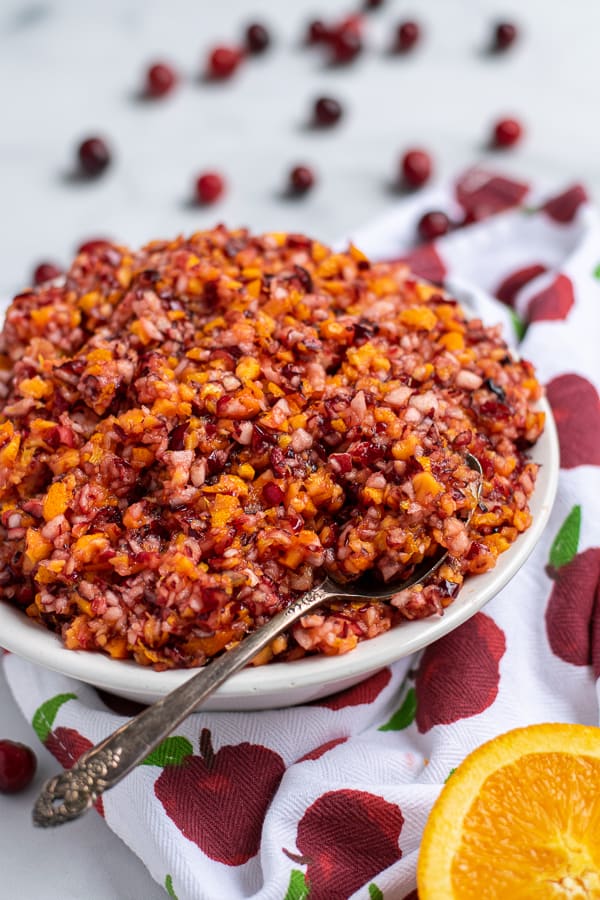 I did half the recipe from the cookbook recipe because everything in that cookbook is made to feed like 50 people but besides that I love how simple this recipe is and how it has stood the test of time.
Part of the reason I am pretty sure this has stood the test of time is because it is so stinkin easy to make.
You take fresh cranberries, oranges, apples, and sugar then grind them. That's it.
So what can I do with Cranberry Relish?
It is perfect as a side on the Thanksgiving table but also can be used in many other ways. You can add it to the top of cream cheese or brie for an appetizer, you can add it to yogurt for a snack, you can use it as a topping on things like pancakes or waffles. Plus I love how this really can spice up leftovers from thanksgiving, just think how good this could be on a leftover turkey sandwich!
Cranberry Orange Relish with Apples
So what makes this relish recipe so great compared to others?
Apples
Many Cranberry Orange Relish recipes you find skip the apple and I am telling you it makes the biggest difference!
Since the cranberries and skin of the orange can be so tangy having a crunchy apple helps give this relish the rounded out flavor you are looking for!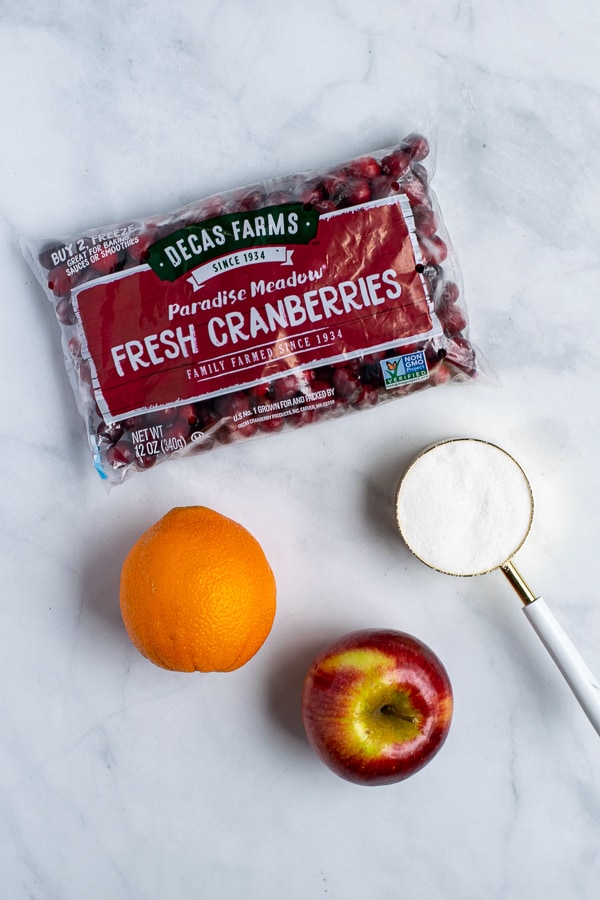 Fresh Cranberry Relish Recipe
Like I stated above this recipe is very simple. It only takes a few ingredients:
Raw Cranberries
Orange
Apple
Sugar
Everything is chopped just enough to fit in the food processor. Which means yes keep the orange fully peeled as well as the apple. All you really need to do is take the core out of the apple. If the thought of leaving all of the skin and pith of the orange in tact scares you by all means take it off but make sure to zest the orange first before discrating the peel BUT I have always thought that the relish tastes just great leaving the skin and pith on the orange.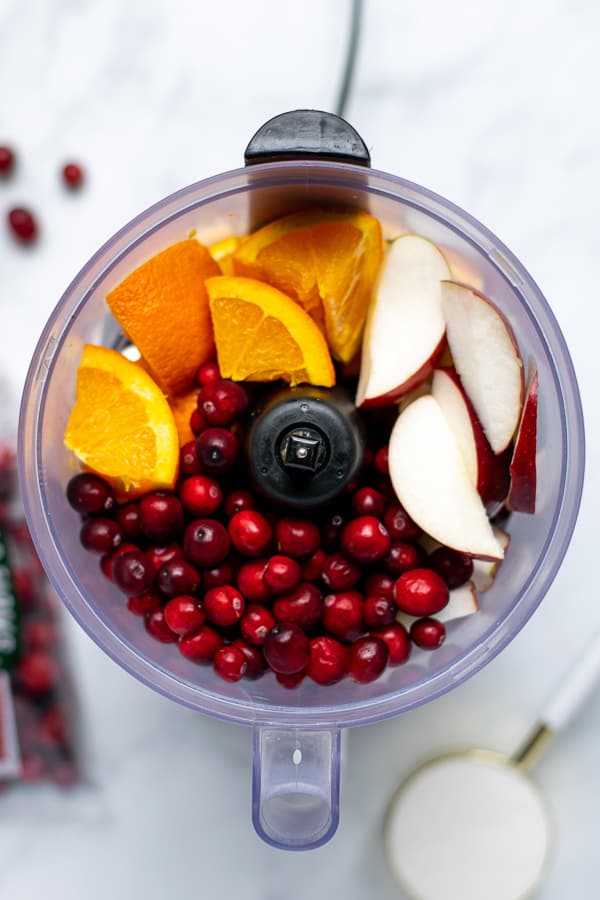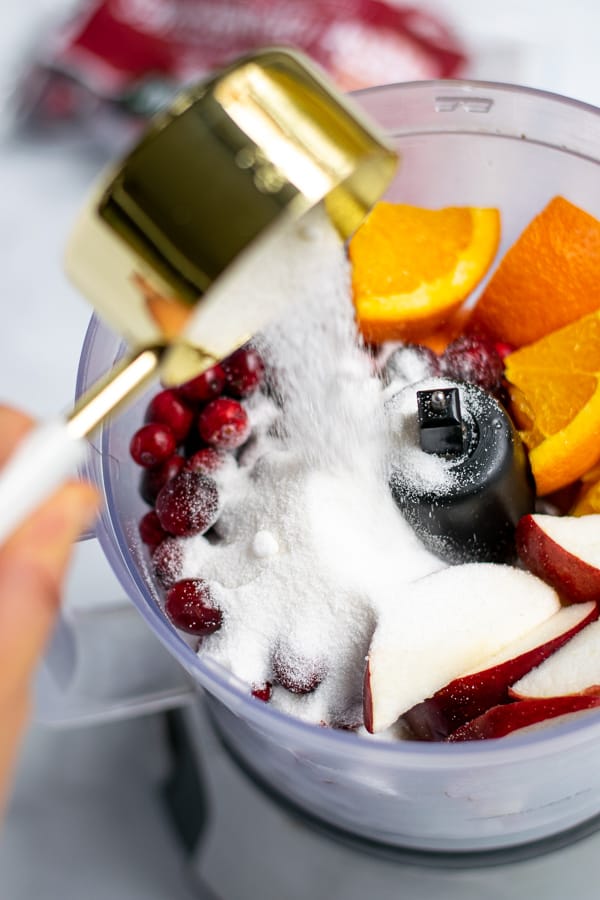 Now once the fruits are all in place add the sugar to the food processor.
Pulse until everything is finely ground together.
Either serve immediately or keep in an airtight container overnight, this Cranberry Orange Relish lasts up to 3 days.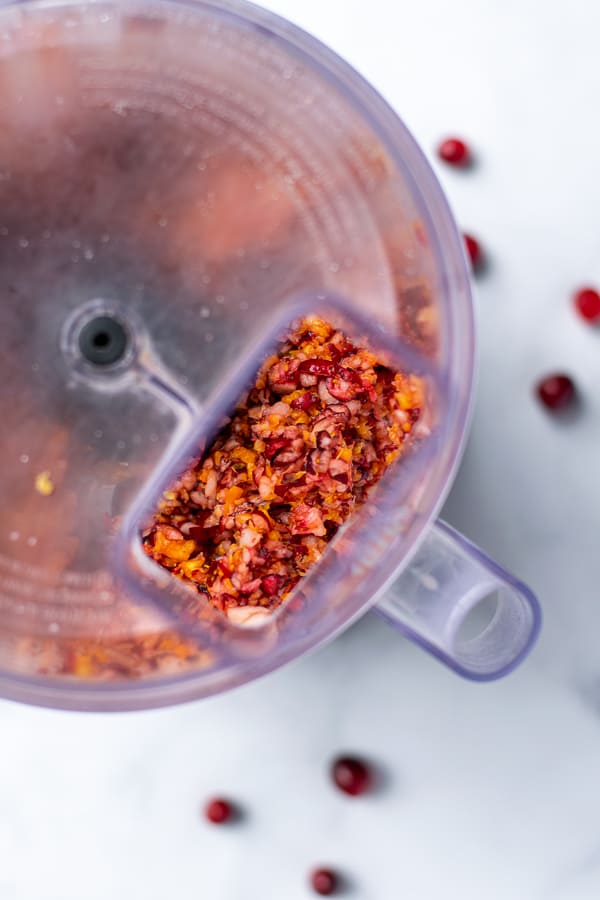 Variations
Want to jazz it up a little more? Try the following:
Add ¼ teaspoon cinnamon
Add a dash of ginger
Add a flavored liquor
Add in chopped walnuts or pecans for an extra crunch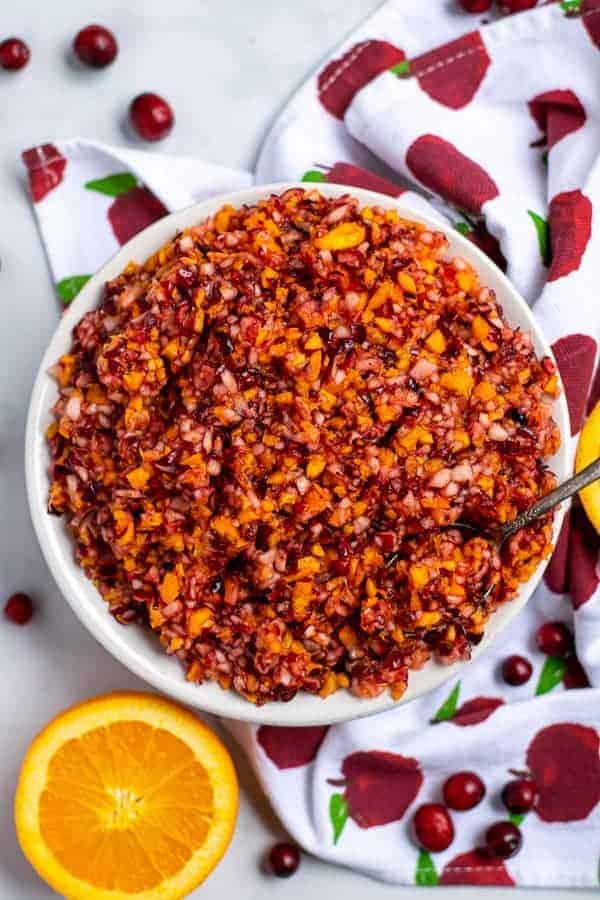 Need more Thanksgiving and holiday side dishes?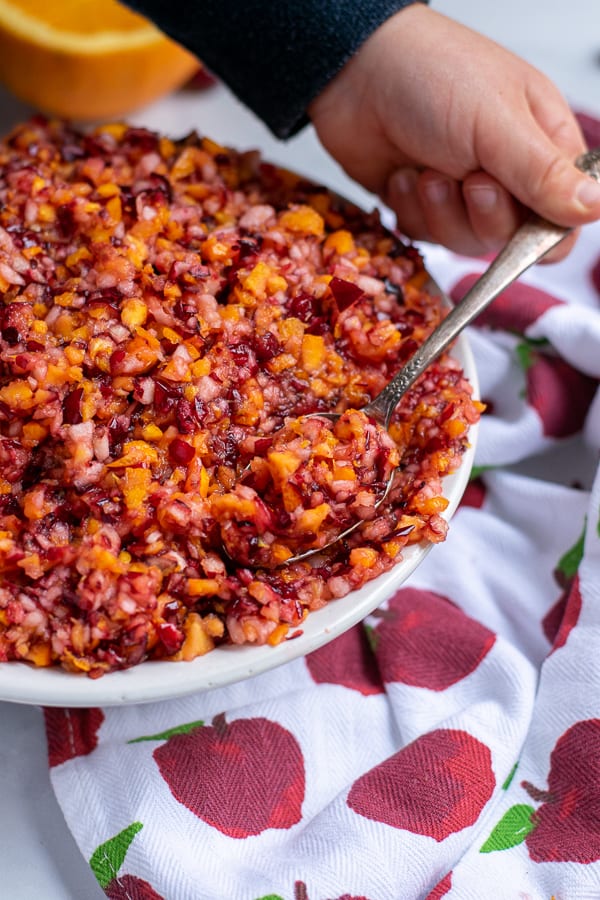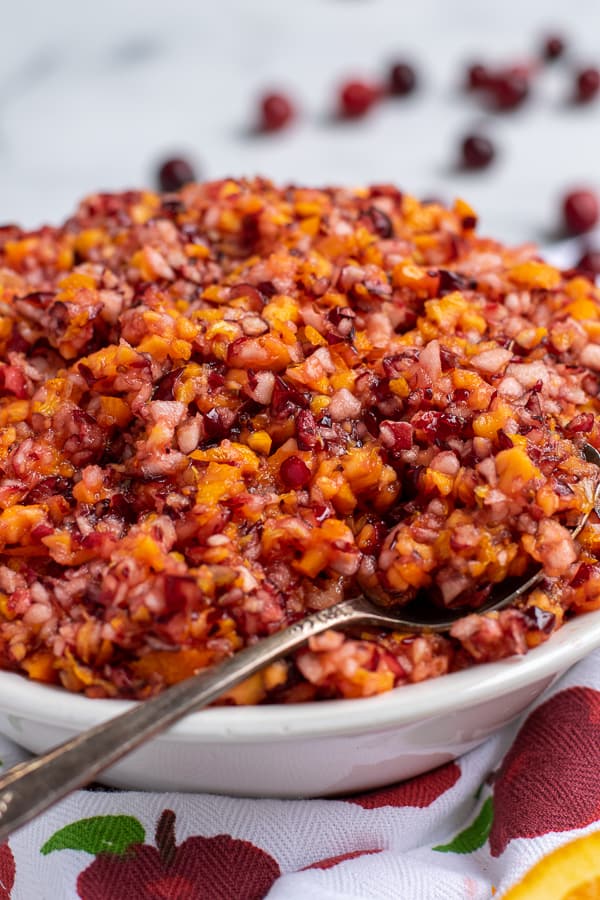 Yield: about 3 cups
5 Minute Cranberry Orange Relish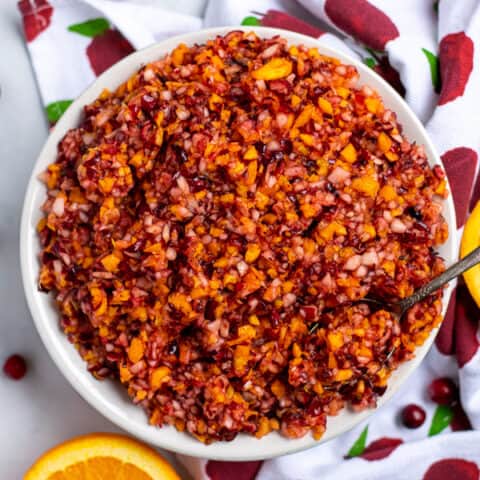 A quick and simple cranberry relish made with raw cranberries, orange, apple, and sugar. Perfect side dish for Thanksgiving dinner.
Ingredients
2 cups raw cranberries
1 medium orange
1 medium firm apple*
1/2 cup sugar
Instructions
Ensure all fruit is washed and clean. Slice apple into chunks and remove core. Slice orange into large chunks (leaving peel on).
Add cranberries, apple, and orange to food processor. Add sugar to the processor. Pulse the fruits until a relish forms and all the fruit is mixed together.
Transfer relish to a bowl. Eat immediately or rest overnight covered in refrigerator. Keeps up to 3 days.
Notes
* A more firm apple like a cortland or honey crisp work best
Note: A typical bag of cranberries is approximately 2.5 cups. So it is OK to add a whole bag to the relish if the cranberries aren't going to be used for anything else.
Recommended Products
As an Amazon Associate and member of other affiliate programs, I earn from qualifying purchases.
Nutrition Information:
Yield:
6
Amount Per Serving:
Calories:

105
Total Fat:

0g
Cholesterol:

0mg
Sodium:

1mg
Carbohydrates:

27g
Fiber:

3g
Sugar:

23g
Protein:

0g
And make sure you are following me on TikTok, Instagram, Pinterest, and Facebook for all the latest recipes!
Lauren, The Schmidty Wife
Please note that my links above may be affiliate links, and I will earn a commission if you purchase through these links. I recommend them because they are helpful, and are companies that I trust, not because of the commissions that I may earn from you using these products.
The following is from the Original Post…
For the past 7 years of my life I have hated Thanksgiving, sad right? How could I hate a holiday centered around a magnificent feast of turkey, potatoes, gravy, cranberries, warm dinner rolls… a holiday I normally would love had been ruined by my job. Before I became a stay at home mom I worked retail. For 5 years I worked in loud and smelly young adult clothing store as assistant and store managers. My life literally revolved around Black Friday for those years. Especially in the last few years when stores chose to open Thanksgiving evening I had to be at my store ready to open at 4pm on Thanksgiving and I would be up all night managing the chaos that ensued. I worked my butt off at my stores and I managed to recieve a promotion to be a coordinator for store operations at my companies corporate headquarters. This was a big break for me in many ways and one of my favorite benefits of this was more normalized hours. But of course I was a member of store operations still heavily involved with day to day operations in the stores and my job was to be on the frontline of store communication so naturally we had to take shifts on Black Friday in case something majorly went wrong in stores we had to be there to solve and communicate the issues. Fast forward to my son being born a year ago, it magically worked out that my maternity leave was scheduled to end the Monday after Thanksgiving, this Thanksgiving was the most 'normal' thanksgiving I had been a part of my whole adult life. Besides the nerves starting about having to hand over my son to a daycare worker Monday morning it was a pretty great day! So now a year later I am so looking forward to Thanksgiving for the first time in a looong time! But you didn't come here to listen to me rattle on about retail on Black Friday lets talk about super easy and stupidly simple 5 Minute Cranberry Orange Relish.
This 5 Minute Cranberry Orange Relish has been and always will be a staple at my families Thanksgiving table. Growing up I always enjoyed having this on my Thanksgiving plate because it is the perfect offset to all the other thanksgiving flavors. Now let me warn you this relish isn't for the faint of heart a.k.a. some kids and picky eaters might not be huge fans because lets face it this dish is mostly made up of raw cranberries, but for me I love the addition of a fresh and colorful side dish!
Whether you are hosting Thanksgiving at your house or asked to bring a side, this option really couldn't be easier. 5 minutes is all you need plus this is a great make a head option, in my option it is best made the night before to let to rest in the fridge overnight. It is as simple as cleaning and slicing the fruits, pulsing in the food processor, and adding some sugar. Bam you are done, easiest thing you will make all day!
P.S. Sign up for tasty recipes straight to your inbox!
[mc4wp_form id="753″]