This chickpea salad recipe kicks it up another level, it's GRILLED! Blow away those typical Chickpea Salads with Feta and upgrade to your new favorite bean salad. This salad is full of delicious chickpeas, tomatoes, artichoke hearts, and more. Tossed and grilled in a basket to make an amazing vegetarian meal addition to your summer table!
This post may contain Affiliate Links.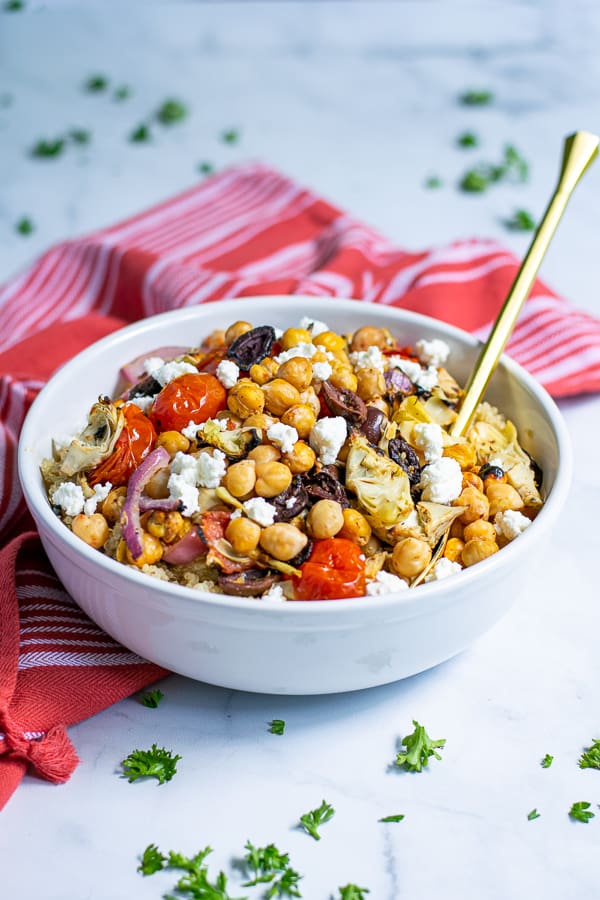 Easy Chickpea Salad
I might be getting a little crazy with this recipe, I mean who has ever heard of a grilled chickpea salad with feta before?
Yeah not a lot. This recipe is actually inspired by my mom. I was back visiting with my parents and siblings lately and we had a grilled veggie night for dinner and my mom whipped up something similar to what I am sharing with you today, and my mind was blown!
So when I got back home I quickly worked on making my own version, and after a couple of attempts and tricks it came together like a charm.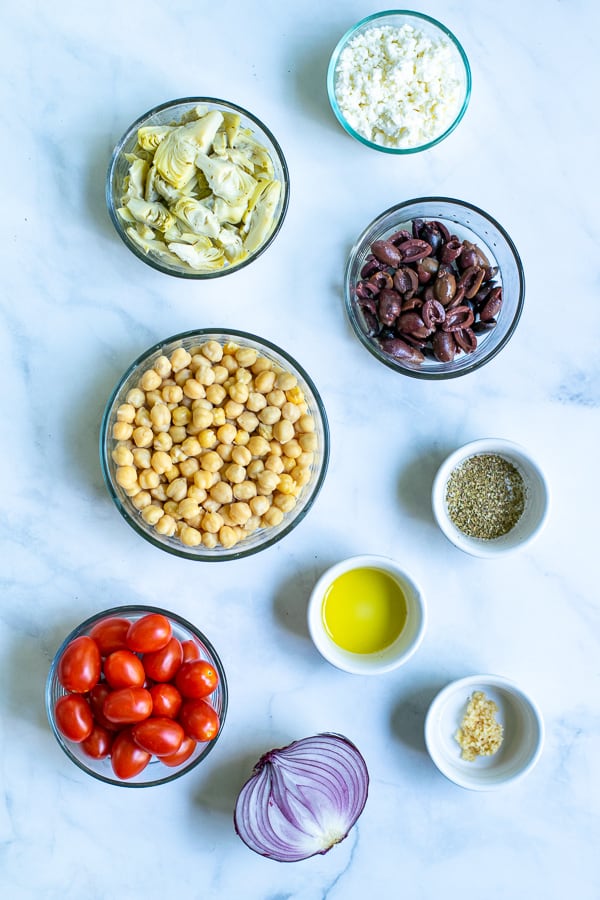 What is in this Healthy Chickpea Salad?
This salad boosts delicious grilled chickpeas, warm with that beautiful slight crunch. I use a large can, drained and rinsed well. If you don't have a large can, two normal sizes work perfectly.
A pack of cherry/baby tomatoes. As the tomatoes get hot and cook they will pop slightly releasing juices which in turn almost turn into sauce for the salad. Especially when you get one in a bite while eating you get that sweet sauce like feeling mixed with all of the other fantastic flavors.
Marinated Artichoke Hearts, seriously one of my favorite foods fits in perfectly with this salad. I like to buy the marinated ones to bring extra favor to the entire dish. And though this salad is absolutely amazing with this artichokes they were the one ingredient causing me the most trouble. The artichoke hearts were so moist they would cause the salad to just sit and steam on the grill instead of char up slightly. So to alleviate this problem I squeeze out remaining liquid even after draining. In either a clean kitchen towel or paper towel, add the artichoke hearts and cover and squeeze the artichokes tight enough to get out any extra liquid but not so tight that you are squishing and ruining the artichoke hearts. Doing this seemed to solve all the problem that I was first finding! And I did find I ended up doing this for the next ingredient too…
Kalamata olives, these salty but super flavorful olives are the perfect addition to this salad. I buy them pre sliced because I have young children but you can use the delicious whole ones too. And just like the artichoke hearts you are going to want to give them a gentle squeeze in a towel to get out any extra liquids.
And probably the ingredient that takes the most work… half a red onion sliced. Isn't it great that that is the hardest part of this meal slicing half an onion. The trick for adding the onion to the salad is to get it cooked so that it starts getting soft but still had a ton of flavor!
And for the additions and flavors, I know that we took out some liquid but we need to add just a tad back in in the form of oil to make sure things don't stick. So you will use just a little olive oil. And then for flavor a tad bit of minced garlic and lastly a good dose of dried oregano. Get everything tossed together and on the grill.
Before serving you will add the crumbled feta and if you are looking to make this salad a full meal I suggest having prepared quinoa to serve it on.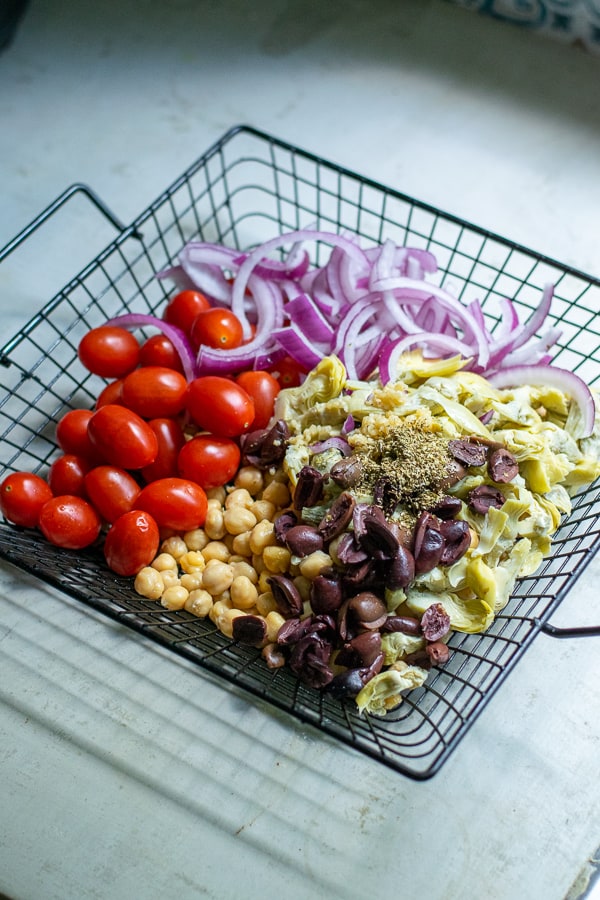 Tools needed for Grilled Chickpea Salad
Besides a grill, there is one special tool you will need to make this salad and that is a grill basket. Grill baskets come in many shapes and sizes so you do have to take a little precaution with this salad the first time you make it. You need to ensure that the ingredients, especially the chickpeas don't fall through any holes that may be in it!
If you don't have a grill basket yet I highly recommend getting one, they are generally inexpensive and you can use them for basically any vegetable you can think of that you want to grill.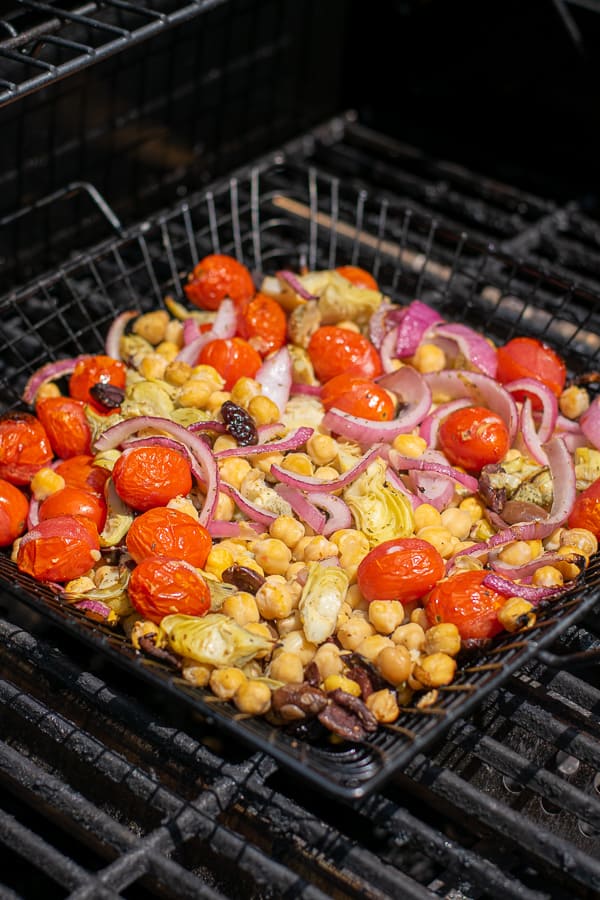 How to Make Chickpea Salad with Feta
So this is one of those super easy recipes that we all love. The most annoying part about this recipe is that it is grilled over medium heat as to not burn the chickpeas so it takes about 20 or so minutes to grill.
But essentially you add everything to a grilling basket and grill, with the two notable exceptions that we talked about above. Taking the extra minute to squeeze out the extra liquids from the artichoke hearts and olives.
And I highly recommend serving this over quinoa if you are eating it as a main dish so make sure you either make that ahead or get the quinoa cooking before you start grilling so it is ready. I have a side burner on my grill that I have been making the quinoa on as the chickpea salad is grilled and has been working out super great for me!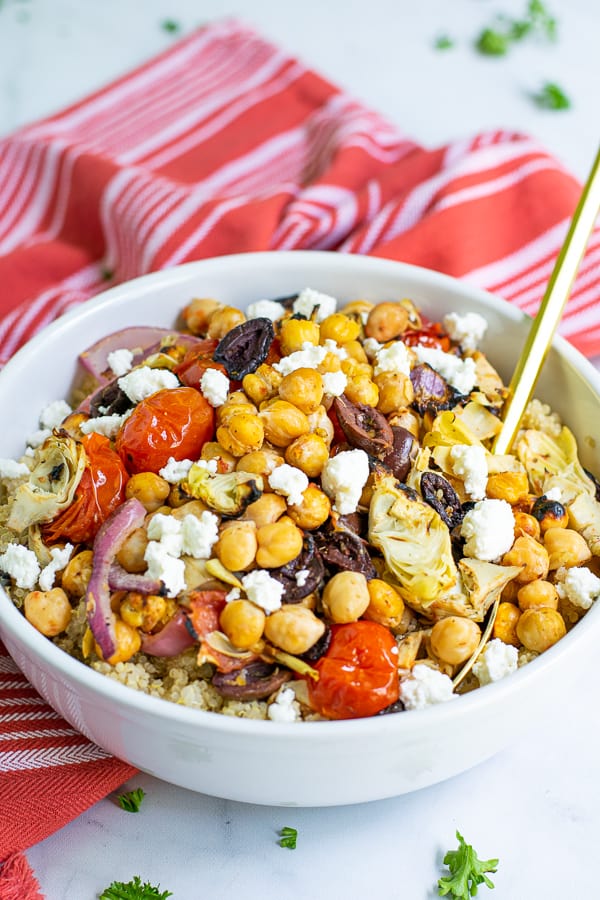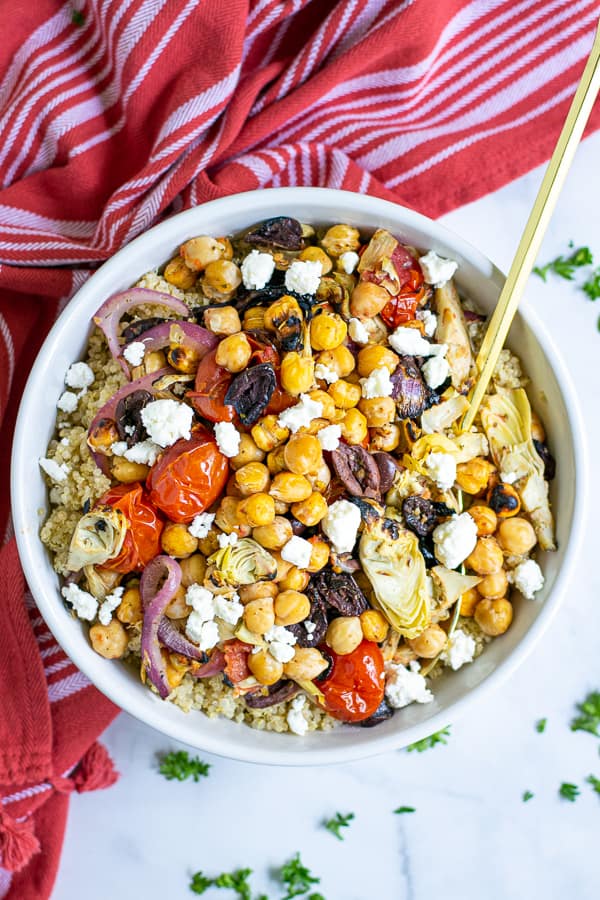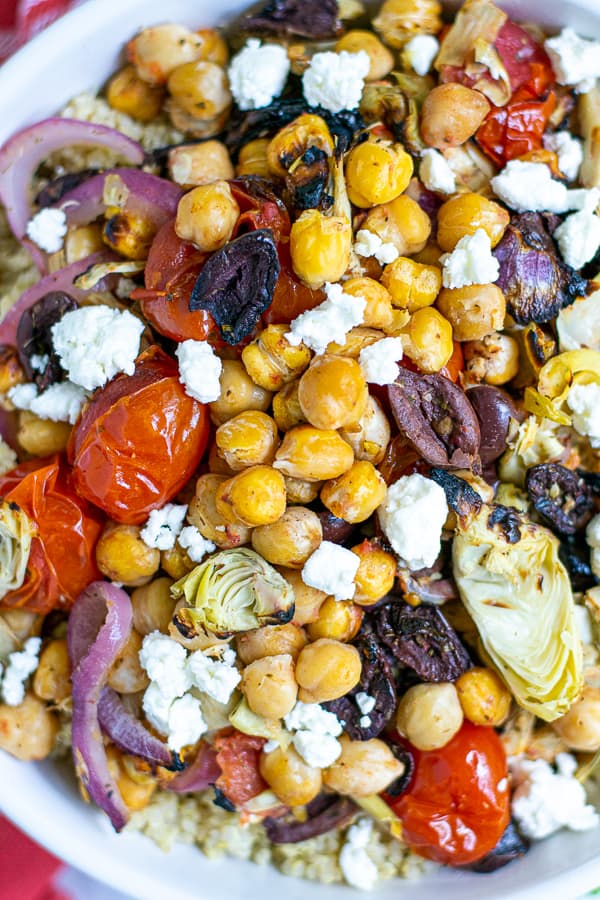 You might also like:
Yield: 4 servings
Grilled Chickpea Salad with Feta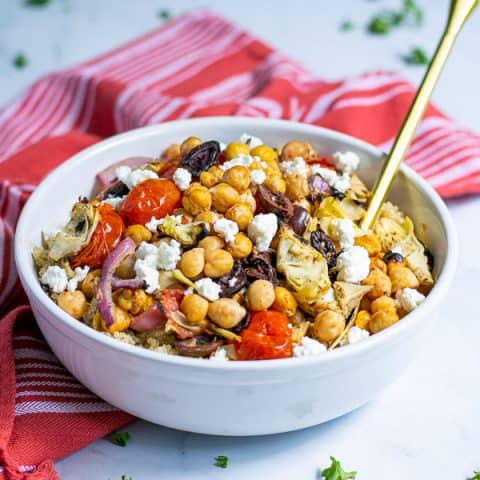 This salad is full of delicious chickpeas, tomatoes, artichoke hearts, & more. Tossed & grilled in a basket to make an amazing vegetarian meal addition to your summer table!
Ingredients
1 (29oz) can chickpeas, drained & rinsed
1 (10.5oz) container cherry tomatoes (or a pint, whatever your store has)
1/2 cup kalamata olives
1 (13oz) jar marinated artichoke hearts (roughly 2 cups)
1/2 large red onion, sliced thin
1 teaspoon olive oil
1 teaspoon dried oregano
1 teaspoon minced garlic
1/2 crumbled feta
*optional cooked quinoa
Instructions
Preheat grill to medium heat.
Prep the artichokes and olives by draining any extra liquid. Place in a clean dish towl or paper towl and gentely squeezing any access liquid out.
Add chickpeas, tomatoes, olives, artichoke hearts, red onion. To a grilling basket**.
Drizzle olive oil, oregano, and garlic overtop the vegetables, toss to coat.
Place over direct heat. Toss the contents of the basket about every 5 minutes, until onions are soft and chickpeas are slightly toasted, about 20 minutes depending on personal preference.
Best served over a bed of cooked quinoa for a main dish. Sprinkle with feta cheese before serving.
Notes
*My family throughly enjoys this as a main course by serving over a bowl of cooked quinoa. If you're serving as a side quinoa isn't necessary.
**Before making this recipe I highly recommend to check your grill basket to ensure that if there are holes in the basket that the chickpeas won't fall through!
Nutrition Information:
Yield:
4
Serving Size:
1
Amount Per Serving:
Calories:

211
Total Fat:

8g
Saturated Fat:

1g
Trans Fat:

0g
Unsaturated Fat:

6g
Cholesterol:

3mg
Sodium:

460mg
Carbohydrates:

28g
Fiber:

7g
Sugar:

5g
Protein:

8g
Nutritional data is automated, final nutritional information will depend on ingredients used and any changes made.
If you enjoyed this recipe or any of my others let me know by using #theschmidtywife on social media!
And make sure you are following me on Instagram, Pinterest, and Facebook for all the latest recipes!
Peace & Love
Lauren, The Schmidty Wife
P.S. Looking for more summer recipes? Check out my Greek Chicken Kabobs or my Grilled Chicken Shawarma to complete the meal!