Greek Yogurt Caesar Dressing is a delicious no-mayo & no-egg version of the beloved classic. Classic flavors like anchovies, parmesan cheese, and worcestershire are mixed together in a creamy greek yogurt base!
This post may contain Affiliate Links.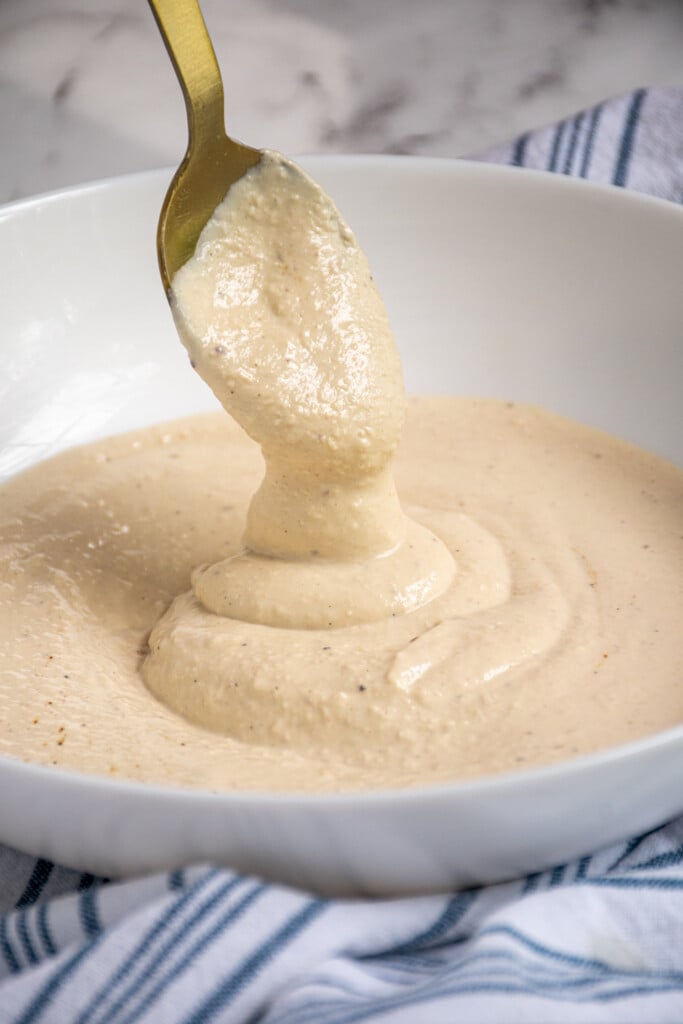 Caesar Salad Dressing with Greek Yogurt
Who doesn't love a good Caesar Salad?? I know my whole family is a huge fan, especially with a little grilled chicken and some crunchy croutons!
What I am not a fan of is that Caesar salad dressing isn't exactly getting any awards in the nutrition department. Traditionally Caesar salad dressing is made with egg yolks and oil then emulsified to make the creaminess that everyone knows and loves. An alternative method is using mayo to get that creaminess.
So I set forth to make a delicious greek yogurt based version instead!
Using greek yogurt gives it that creamy base while using typical caesar flavors rounds the dressing out.
I also tried to make this as easy as possible so I avoided the food processor (I hate cleaning that thing as much as I love it). By using anchovy paste and finely grated parmesan I figured it didn't even need to be processed together and a simple whisk does the trick!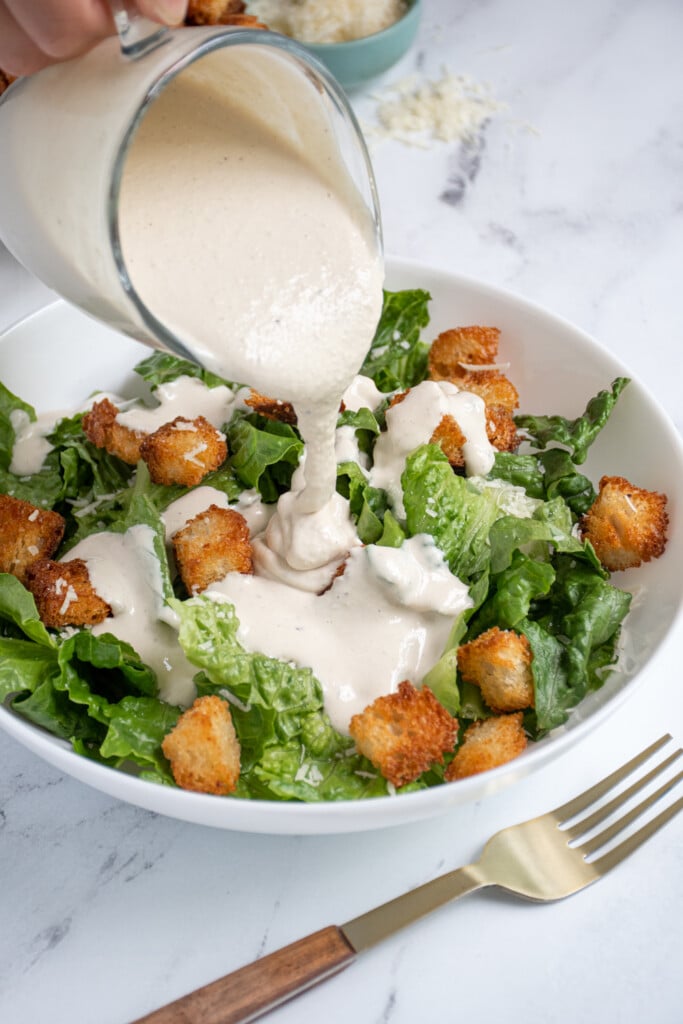 Ingredients
Greek Yogurt – At the base is greek yogurt, more tangy and thick than regular yogurt but also more protein packed. If you aren't a fan of the tanginess of greek yogurt you can certainly substitute out for a plain yogurt! You can also use whatever fat percentage you wish. I personally like using the full-fat variety because it has the most flavor. The downside to using greek yogurt (especially because each brand has a little bit of a different consistency) is that the dressing might come out thick. You can thin it out by just whisking in a little extra milk or even water to thin it out.
Parmesan Cheese – Finely grated is key here! You may use the finely grated store bought variety or what I like to do is use my microplane to grate of my own block, the key is to use whatever is going to give you the best finely grated shredded parm. If these options aren't available to you, let's say you already bought a thicker shredded parmesan cheese you can always get out the food processor and process the dressing together to break up that parmesan cheese!
Anchovy Paste – The KEY to caesar, if you are thinking about skipping it DON'T! Anchovy is what gives caesar the classic flavor. I love using the paste tube because you can always keep it in the fridge for the next time you want to make it. It is also so convent that it is paste and that you can just stir it in. If you are in a pinch and only have full anchovies available to you, just throw all of the ingredients in the food processor and process together until done.
Dijon Mustard – Another classic Caesar flavor additive
Worcestershire Sauce – The hardest work to say and spell, or is that just me? Worcestershire sauce is an incredibly complex sauce that includes ingredients such as vinegar, molasses, anchovies, garlic, tamarind extract, chili pepper, sugar, salt, and other undisclosed natural ingredients, which is basically there way of keeping it a secret. So you can image it is hard to substitute. If you need a substitutions there are a few available to help give that umami flavor. The best would be soy sauce, just a splash is needed like probably only half the amount and taste it from there!
Olive Oil – I felt like the dressing did taste better with just a little Extra Virgin Olive Oil here, you want an olive oil with a nice flavor.
Kosher Salt – Just a little salt here because the Parmesan and Worcestershire does already bring quite a bit of saltiness. If you don't have kosher salt, I recommend making the sauce without the salt first, tasting, and then seeing if you need just the smallest pinch of table salt.
Fresh Ground Black Pepper – It is a personal option that more is better here, and make it freshly ground if possible!
For a complete detailed list of the ingredients continue towards the bottom of the page.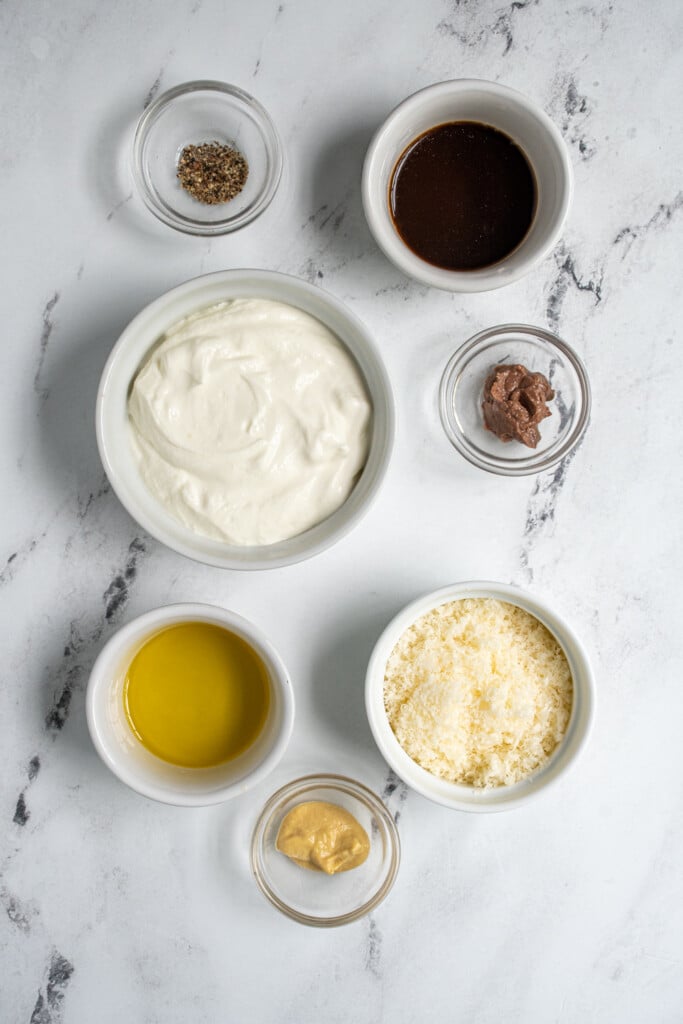 Instructions
Yes this one really is that simple.
Add all the ingredients to a bowl. Whisk together well until smooth.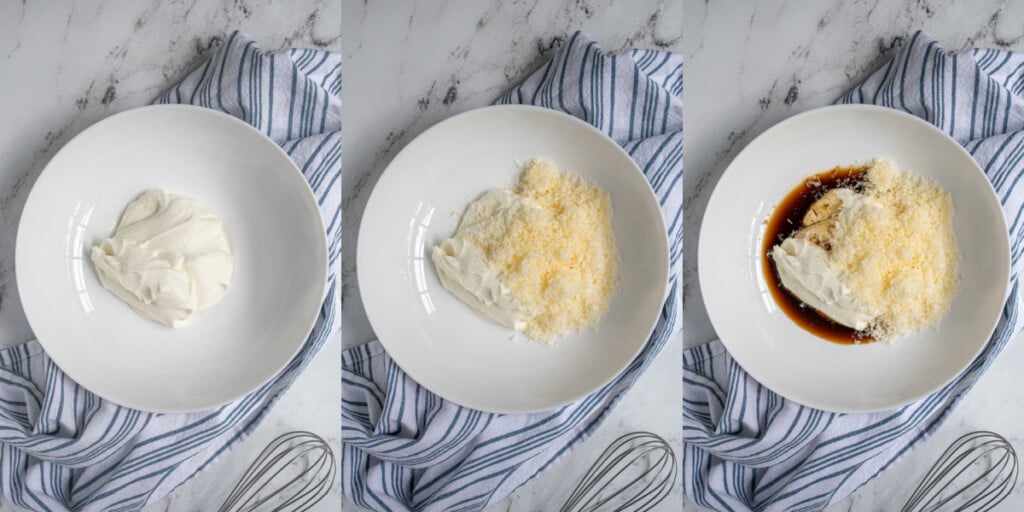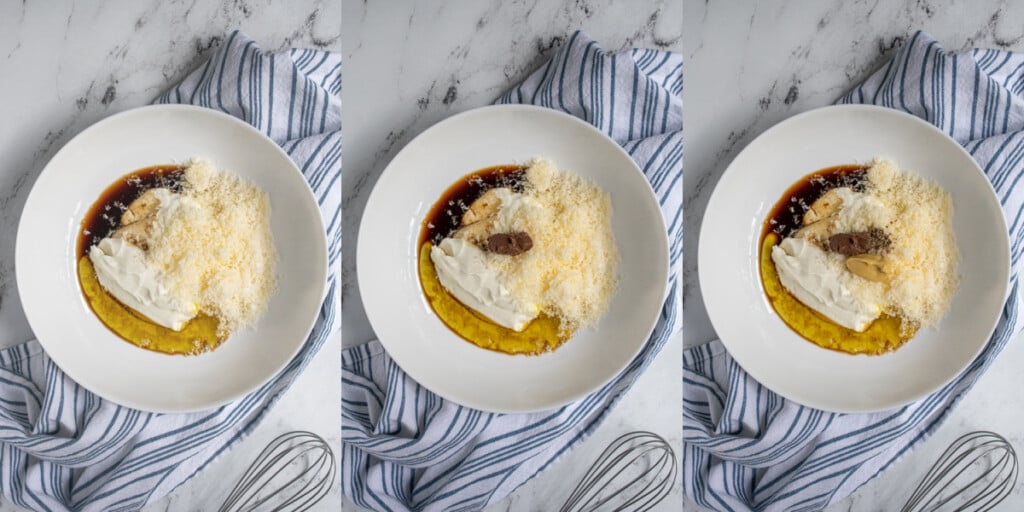 Keep refrigerated in an air tight container. I like to use a mason jar. This will keep 3 to 5 days if sealed properly in the fridge.
Now because all greek yogurts will differ slightly in thickness you may find that you will want to thin our your dressing! In order to do this you can use milk which is recommend or water (which will slightly water down the flavors as well).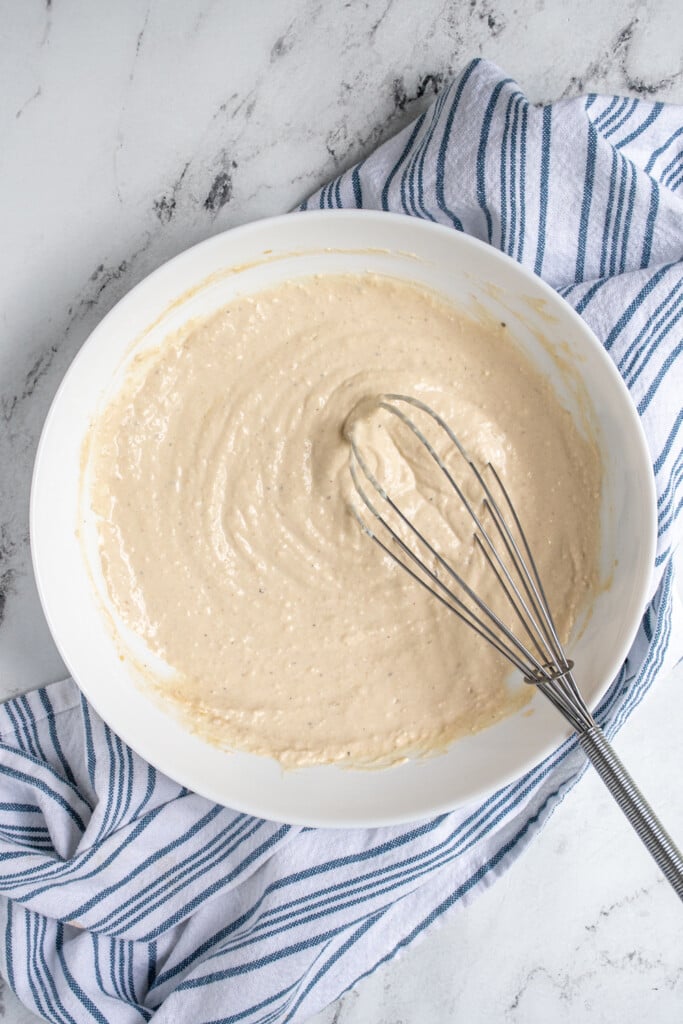 tips, tricks and questions
In order for the parmesan cheese to incorporate it should be finely grated (I like to use my microplane).
What can I use instead of anchovies in Caesar dressing?
If you really don't want to use anchovies or you don't have them I recommend increasing the amount of dijon mustard and worcestershire sauce until you find a flavor you like.
Don't forget you can also use this in a wrap as well of a dip for veggies too!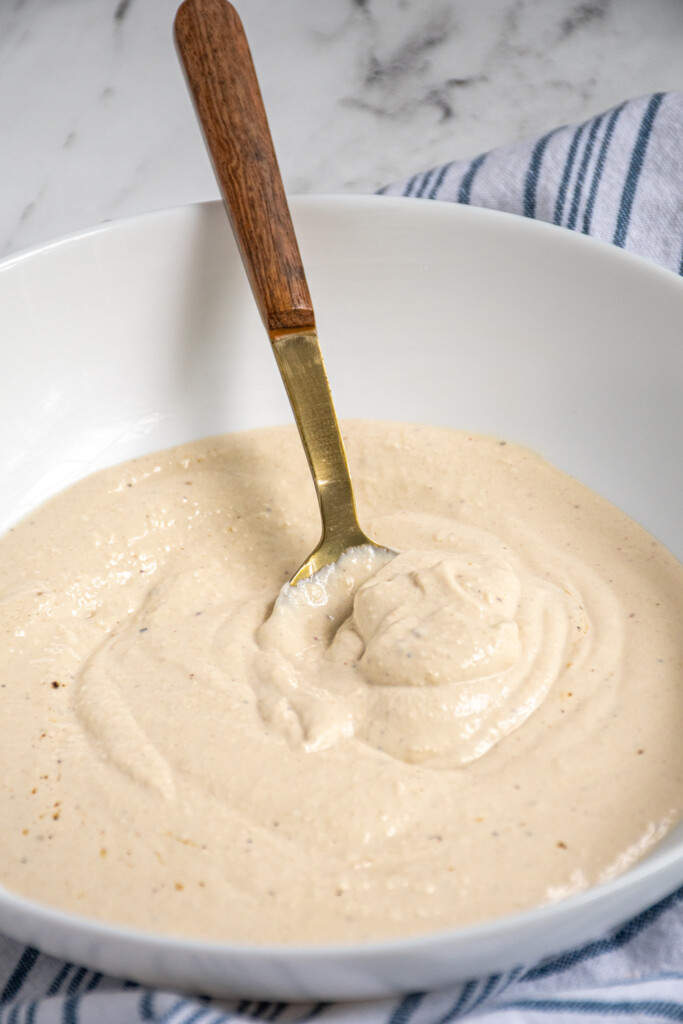 pro tip
Use this Greek Yogurt Caesar Dressing as a marinade! One of my favorite ways to use this dressing (you know besides being actual dressing) is as a marinade. I will marinade chicken breasts in some of it during the day, and then grill it for on top of the Caesar salad I make with the dressing! And let's just say it makes the chicken amazingly delicious and juicy!
If you like this Greek Yogurt Caesar Dressing Recipe you might also like: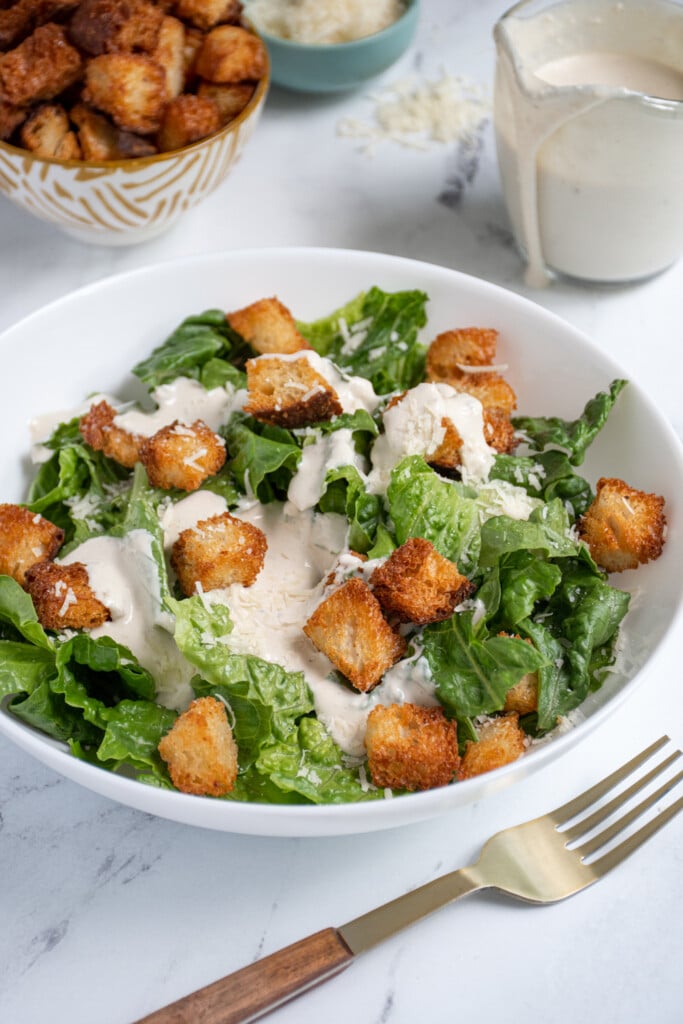 Yield: ~1.5 cups
Greek Yogurt Caesar Dressing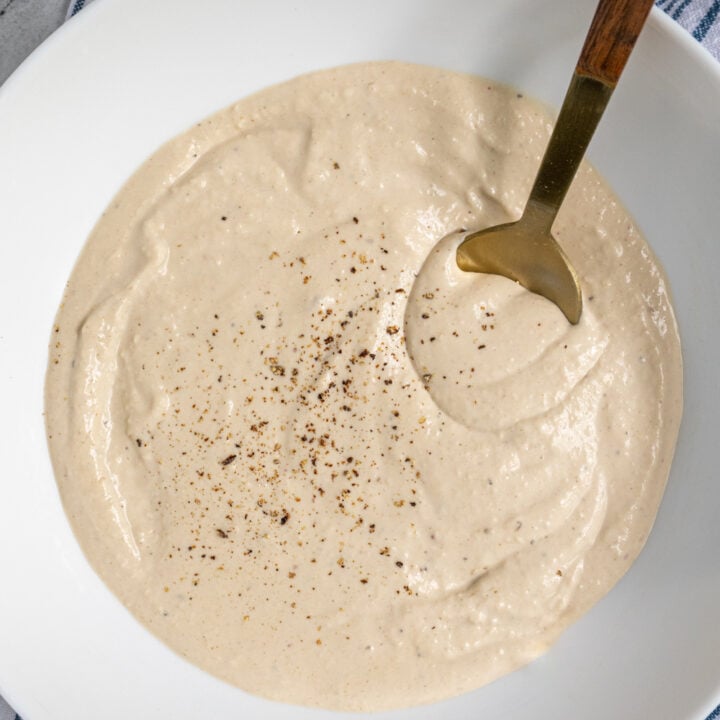 Ready for a delicous and healthy caesar dressing? This one is it! With a greek yogurt base this dressing ditches the egg and oils for a creamy protien rich base flavored with all of the caesar classics like parmesan, anchovy, and worcestershire sauce.
Ingredients
1 cup greek yogurt
1/3 cup parmesan cheese, finely grated
1 teaspoon anchovy paste
1 teaspoon dijon mustard
1 tablespoon worcestershire sauce
1 tablespoon olive oil
1/4 teaspoon kosher salt
fresh ground black pepper to taste
Instructions
Add all the ingredients to a bowl. Whisk together well until smooth. Keep refrigerated in an air tight container.
Notes
In order for the parmesan cheese to incorporate it should be finely grated (I like to use my microplane).
Each greek yogurt brand tends to have a different thickness, if you find your dressing too thick you can whisk in some milk until you get the consistency you like (you could use water as well).
Nutrition Information:
Yield:
8
Serving Size:
3 tablespoons
Amount Per Serving:
Calories:

53
Total Fat:

3g
Saturated Fat:

1g
Trans Fat:

0g
Unsaturated Fat:

2g
Cholesterol:

5mg
Sodium:

200mg
Carbohydrates:

2g
Fiber:

0g
Sugar:

1g
Protein:

4g
Nutritional data is automated, final nutritional information will depend on ingredients used and any changes made.
And make sure you are following me on TikTok, Instagram, Pinterest, and Facebook for all the latest recipes!